A little-known technology is helping business executives make big decisions. The geographic information system has quietly landed in various sectors of the commercial world, allowing executives who recognize its power to analyze information based on location and improve their decision-making.
Consumer goods manufacturers are using GIS and spatial analytics to track social media activity, spotting brand preferences in certain areas of the country and spending their marketing budgets more efficiently.
Insurers are using GIS-based hot-spot analysis—a form of artificial intelligence—to find trends in big data that the human analyst can't see, helping them price risk more effectively.
City planners are leveraging the 3D mapping capabilities of GIS to visualize the design of smart cities, saving time over conventional methods and exposing opportunities for innovation. Meanwhile, retailers are using lidar to map their stores, and technologies like Li-Fi to understand shoppers' preferences—all with the help of GIS.
(Listen to this podcast to learn how leading companies are using location intelligence to enhance BI and CRM.)
GIS analyzes data in the context of geography and time, allowing business leaders to visualize information tied to specific locations. An executive can answer questions such as, How can I optimize the movement of assets to decrease costs? Where do demographic and psychographic trends indicate a profitable location for my new store?
Some companies are pushing GIS into new realms of business insight; others are solving core business problems. In this primer, we'll highlight companies that have earned measurable business benefits by applying GIS technology in specific business scenarios.
Supply Chain Optimization
For any business built on the movement of assets through a supply chain, GIS can be a vital ally. With the help of data from mobile devices, radio-frequency identification (RFID) tags, and the Internet of Things, GIS can provide real-time intelligence on assets in motion as well as insight that helps a company better plan the movement of those assets.
UPS has become a master of GIS-based optimization. From the early days of its founders to today's innovations, the company and its engineers have leveraged operational analytics to pioneer many efficient approaches to goods delivery.
By avoiding left-hand turns, for instance, UPS eliminated the need to cross traffic, saving time and increasing driver safety. GIS technology helped the company operationalize the no-lefts policy—and many other efficiency measures.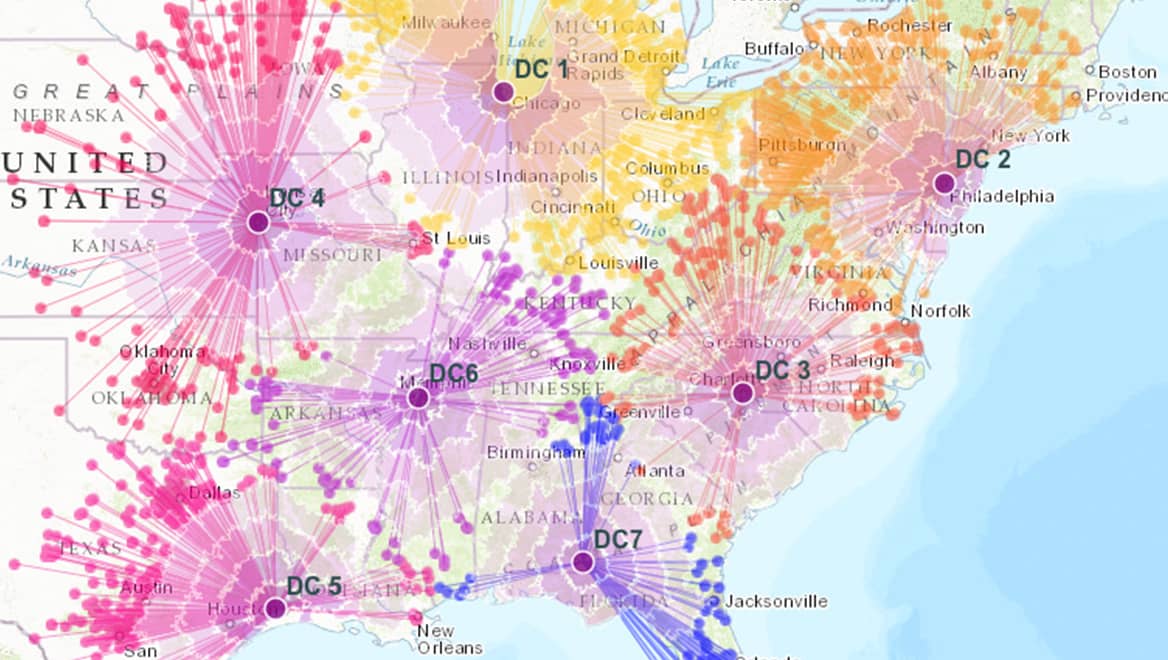 UPS recently implemented a system called ORION (On Road Integrated Optimization and Navigation), which is rooted in GIS technology. The system acts as a logistics command center, weighing the stops a driver must make against variables such as timed deliveries and fuel usage. With the help of advanced analytics, the system often prescribes delivery routes that look counterintuitive to the human eye, but create measurable benefits for the company and its customers. (Learn more in this podcast with UPS's Jack Levis.)
Business Benefit—Through a combination of GIS and business intelligence technology, UPS annually saves 100 million miles, 10 million gallons of fuel, and $300 million to $400 million.
Location Planning
The largest sporting goods retailer in the US is using a creative team of analysts and GIS technology to:
Guide the expansion of its market-leading store network
Gain a deeper understanding of the relationship between online and brick-and-mortar sales and how to expand its personalization strategy
Inform its foray into groundbreaking forms of retail
DICK's Sporting Goods uses location intelligence from GIS technology to understand the physical and digital retail landscape. The company's analysts examine customer demographics and online spending trends to reveal ideal locations for new stores.
Across the industry, companies have struggled to understand the relationship between store sales and online purchases. Many brands lack the insight to create a strategy that keeps both channels healthy and responsive to customer demands. At DICK's Sporting Goods, geographic analysis helped decision-makers find the right omnichannel balance.
"The traditional thinking . . . mostly outside the organization, was that brick-and-mortar was going to be really hurt by e-commerce, and that we might not need as many stores," said Bill Grassel, director of real estate market research and strategy at DICK'S Sporting Goods. "A lot of the spatial analysis that we've been able to do has said when we add new stores, we actually see our entire omnichannel sales go up."
Business Benefit—Initially used to analyze customer demographics and plan store locations, GIS has expanded into other departments, helping decision-makers spot consumer trends, plan marketing campaigns, and understand relationships between sales channels. Executives now rely on GIS to make faster, more accurate decisions with millions of dollars on the line.
Asset Management
Long before the term Internet of Things came into use, utility companies had become IoT and GIS veterans, using the latter technology to monitor thousands of assets and events across sprawling and often complex operations.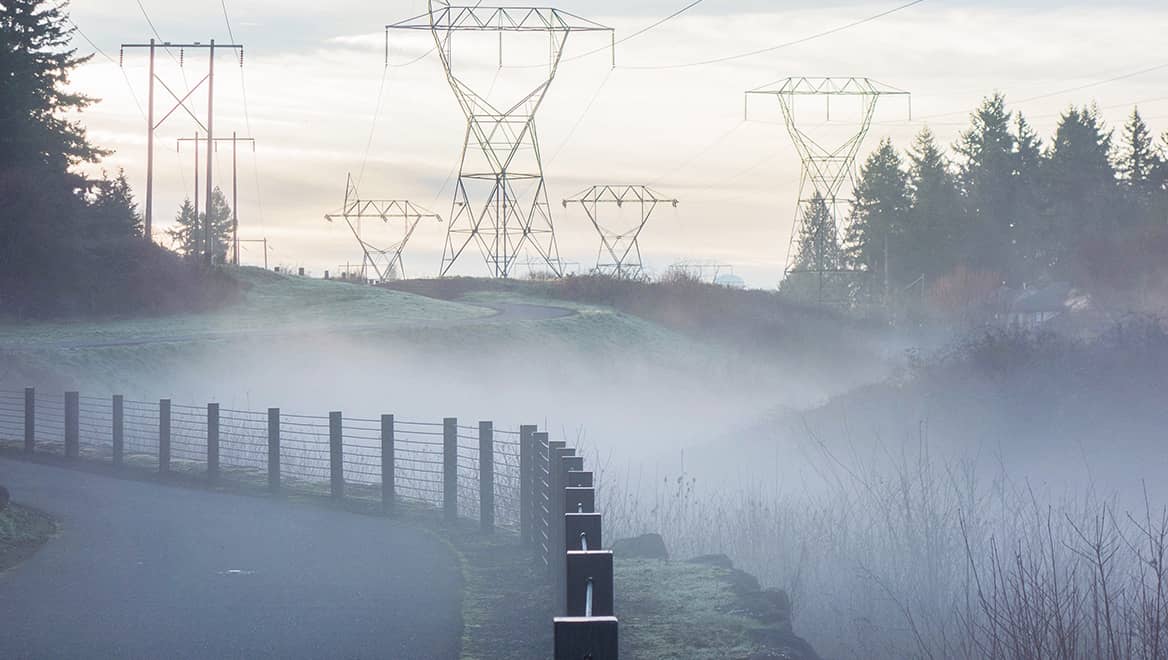 In the realm of power distribution and water management, GIS typically works in conjunction with a supervisory control and data acquisition (SCADA) system. With GIS as the hub of location analysis and SCADA monitoring flow valves, electrical switches, and other assets in real time, a utility can continually adjust its assets for maximum performance.
At one water utility in the southeastern United States, GIS technology helps operations managers visually monitor the status of tank levels, pressure, flow rates, and other critical factors. By putting SCADA information onto a GIS-based map, the utility's managers enjoy a real-time view of operations—a key component of the operational intelligence that drives good business decisions.
Among other sources of insight, the real-time view gives managers a clear understanding of the water needed to meet customer demand throughout a service territory. In the past, managers estimated need based on a spreadsheet of recent tank levels and flow rates—rather than real-time data—and this led to excess production. Today, with the status of each system component displayed on a map, managers are never more than a few clicks away from system optimization.
Business Benefit—Using a map-based view of real-time operating conditions, the utility knows how to meet customer needs without waste, which creates greater customer satisfaction and lowers the cost of operations.
New Product Development
As DICK's Sporting Goods' experience demonstrates, GIS can guide a company's expansion plans by delivering intelligence on where potential customers live and work. GIS can also provide insight into the habits and desires of existing customers to help companies expand services and launch new products.
Another well-known food and beverage chain—a Fortune 200 company with thousands of outlets worldwide—relies on GIS technology to determine the right location every time it opens a store.
Executives also use GIS to better understand their customer base. Recently, the company used location data to decide where to promote its new mobile app, which allows customers to pay with their phones and track their rewards. GIS allowed the company to map areas of high smartphone usage and promote the mobile app in areas where it would have significant impact. Planners also enlisted GIS to analyze the rollout of a new evening menu by targeting stores with high evening pedestrian traffic and complementary spending habits.
Beyond its usefulness in long-range planning for new products and services, GIS also helps the company adjust product promotions in real time, based on changing conditions such as weather. By examining local forecasts, planners can target specific stores for promotions—for instance, offering cold-beverage coupons to customers in areas where temperatures are high.
No detail is too small for an innovative team and a full-featured GIS: managers even use the technology to adjust staffing and inventory based on community events in the neighborhoods around each store.
Business Benefit—One of the largest food and beverage chains in the world credits its enterprise GIS with helping the company grow responsibly and profitably.
GIS in the Enterprise
These examples represent a cross-section of the ways in which GIS can create business value. Its applications are as varied as the data it ingests.
Many leading companies have now democratized GIS, delivering its intelligence to anyone in the company on any device. Managers can easily configure the system to keep sensitive information from certain users and tailor workflows to employees' responsibilities.
For executives who are wary of costly IT integration projects, the leading GIS solutions use standard APIs to collect information from customer relationship management (CRM), enterprise resource planning (ERP), and other company-wide systems.
At the executive and managerial levels, GIS dashboards routinely contribute to operational decisions and strategic plans. Some companies have even opened the GIS portal to partners and suppliers to extend internal intelligence to the supply chain.
These and other innovations are helping leading users of GIS outpace their competition—by driving inefficiencies from their operations, increasing opportunities for revenue, and boosting customer loyalty.