As the urgency to fight climate change intensifies, the United States is trying to bolster its efforts while also shoring up the nation's aging infrastructure. President Joe Biden has pledged to spend $2 trillion on infrastructure improvements, with an emphasis on projects that promote an emissions-free future.
That could mean a push for better rail service, which has a lower carbon footprint than car-based transportation. Biden, a vocal supporter of Amtrak, has touted the idea of launching America's "second great railroad revolution." US transportation secretary Pete Buttigieg says he wants the country to become a world leader in high-speed rail.
An emphasis on location intelligence could help engineering and construction companies interested in joining the effort—as well as retailers, commercial real estate firms, and other businesses that might find new customers due to this once-in-a-generation shift.
Quickening the Pace in the Northeast
Although the US has a long way to go to catch up with countries like Japan and France, interest in high-speed rail is growing. For now, the country's only high-speed rail project under construction is a link between Los Angeles and San Francisco, though other regional plans are being discussed, including routes in Texas, Florida, Nevada, and the Pacific Northwest. The most ambitious possibility is North Atlantic Rail (NAR), a $105 billion plan that would involve eight states. NAR could become the first megaproject of the Biden era, according to a recent Bloomberg CityLab article.
NAR is an attempt to expand and upgrade service in New England and New York, largely through modernization and electrification projects that would strengthen regional systems while extending service to less densely populated areas. It would include a high-speed trunk line transporting passengers between Boston and New York City in 100 minutes, 2 hours quicker than Amtrak's current Acela service.
If the president's infrastructure push helps make North Atlantic Rail a reality, it will present a formidable engineering challenge. The tunnel construction projects alone resemble the mammoth earth-moving and water-diverting efforts of an earlier American era. NAR would require new train tunnels under Boston's infamous Big Dig subterranean highways; near Hartford, Connecticut, and in environmentally sensitive areas of the state's eastern region; under a 16-mile section of Long Island Sound that would create the longest underwater tunnel in North America; and throughout New York City, including under the East River.
Companies hoping to work on these projects will need to keep them on budget and on time while managing the interplay between the built and natural environments without damaging existing physical assets. To accomplish that, they'll need high-fidelity location intelligence. As Harvard researcher Doug Richardson explained in 2018 when he called attention to a federal report advocating work on infrastructure improvements:
Companies involved will need accurate and reliable spatial data . . . to ensure that scarce dollars are spent in the most efficient and effective ways possible. Knowing where infrastructure is located, how different pieces relate to one another, and where the critical dependencies lie are required first steps for making good financial decisions.
Engineering and construction firms have realized the benefits of location intelligence by using geographic information system (GIS) software and related technology. In fact, they have been among the most innovative users of the software, often managing projects with the help of a GIS-based digital twin.
A Digital Twin to Keep Rail Projects on Track
Planners of North Atlantic Rail have been influenced by the UK's Northern Powerhouse initiative, a program to rejuvenate industrial cities in the North of England. A major pillar of that initiative is rail improvements, including HS2, a high-speed connection between Birmingham and London.
The planning and construction of HS2 are handled by a partnership of firms headquartered in Britain, Sweden, and Austria. The joint venture makes extensive use of GIS and building information modeling (BIM) technology.
GIS allows the companies to visualize critical details about networks above and below ground, and how key elements interact. GIS also lends geographic context to the buildings and structures managed in BIM, revealing their integration with the natural environment. The combined view is a project's 3D digital twin.
As Harvard's Richardson noted in 2018:
Employing technologies such as intelligent, real-time GIS and GPS maps to prioritize, plan, and execute new infrastructure projects can help optimize public and private infrastructure investments and avoid inefficiency and waste.
In addition to speeding up planning and enhancing accuracy, the 3D environment improves communication by providing a common reference document—accessible by engineers in the office and workers on-site. "It's like a shop window for everyone on the project, to see what is available to them, and to give them easy and intuitive access," a GIS manager on the HS2 project explained in 2019. "Giving everyone on the project access to the 3D models ultimately makes everything a lot more efficient, and saves time and money."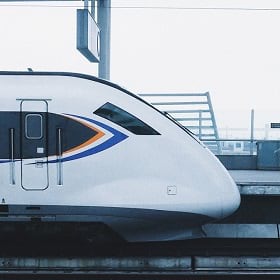 Leading-edge firms are now adding the dimensions of time and budget to digital twins, using GIS and BIM to track not just how the physical project evolves but whether it honors deadlines and spending targets.
---
Regional Transportation to Spark Regional Transformation
NAR is being pitched as a project that will spark needed changes in American society. It would help the US lighten its carbon footprint and mitigate future climate-related damage, proponents say, while providing inland transportation routes as an alternative to existing coastal corridors that could be imperiled by sea level rise.
Project planners also see a social equity angle to NAR. As large cities like New York and Boston have become more costly, the resultant housing crunch has pushed lower-income and middle-class workers to distant suburbs.
By expanding travel options throughout the region, NAR's backers argue that families will gain more flexibility regarding where to live. For instance, a family could live on the NAR network, with two earners traveling in different directions to work, rather than being forced to choose a single metro area that may not offer ideal employment options.
This could have a profound effect on the regional economy and beyond—especially if North Atlantic Rail paves the way for other regional high-speed transit networks. For example, if NAR's boosters are correct that businesses in the region could expand their trade areas as travel times decrease and more customers can reach them, it could change the calculus for retailers, commercial real estate brokers, and service firms planning locations and service territories.
Businesses can get a jump on these decisions by using GIS to visualize where changes are likely to occur. Combining demographic data with their CRM data, business planners can analyze how customer activity might change in areas newly served by NAR and other rail networks.
A Location-Smart Approach to Change  
Large businesses in the Northeast are already struggling to understand how climate change will affect where their workforces will want to live—especially as NAR cities like Boston attempt to revitalize areas that will be impacted by climate-related issues in the coming years.
The COVID-19 pandemic and the switch to remote work have further complicated these decisions. Will tomorrow's business leaders continue to embrace work-from-home practices or bring employees back to the office? Could NAR's decentralization of the region provide companies and workers more flexibility—making it realistic to live farther away from the office while spending part of the workweek in the office?
Either way, as the climate crisis increases the need for large-scale solutions, projects like NAR are likely to set off changes in how people live, shop, and work. Location intelligence will help engineering and construction companies plan these major transportation projects—while helping retail and service businesses anticipate and accommodate the new customers those projects will create.