Any successful business aims for growth. It's all about increasing sales, improving the bottom line, adding new locations, and beating last year's performance.
That may take the form of a modest goal, such as opening a new store, or a more aggressive one—say, launching a dozen outlets. But what if the ambition is far greater? What about opening 2,500 stores in one year, even in a global economy that's bending toward online sales and away from brick-and-mortar retailers?
That's the task facing Igor Pletnev and his colleagues at X5 Retail Group, which is traded on both the London and Moscow stock exchanges. They discovered the only way for their company to dramatically expand was to ramp up its technological capabilities.
"In the last several years, we have managed to make a tremendous leap forward in terms of the numbers of opened stores," says Pletnev, the company's strategic business development director. "Those newly opened stores were good openings, high-quality openings. The percentage of mistaken decisions is very low, so we are very much satisfied with the result."
That performance has helped make X5 the top retailer in Russia by revenue, with a market cap of more than $6 billion.
In the past two years alone, X5 has opened more than 5,000 grocery and convenience stores—a 50-a-week pace it intends to continue this year and into the future. The growth acceleration, which outstrips anything in the US retail market, has raised X5's total store count to more than 13,500.
But until recently, X5 was lucky to open 500 stores a year. The key to the company's explosive growth, Pletnev says, has been its extensive use of location intelligence—a form of business intelligence that helps a company see and predict trends in geographic areas. X5 draws its location intelligence from a geographic information system (GIS). That technology, Pletnev says, is helping the company make more profitable decisions about how and where to grow.
Location intelligence forms the backbone of X5's growth plans, contributing to the top and bottom lines in interesting ways. For instance, executives and managers use insights from location analytics to stock stores with the right products and negotiate more favorable lease rates from landlords.
---
Location Intelligence Drives Profitable Expansion
Growth at such an impressive scale is fraught with risk and ripe with opportunity. To mitigate the risk and bolster the potential, X5 uses location intelligence to create what it calls high-quality openings.
With GIS as its mapping platform, X5 analyzes potential locations for single stores as well as groups of outlets across a region. And location is everything when the goal is to place 2,500 stores in one year.
Leading retail companies often rely on GIS to assess the demographics and psychographics in areas of potential expansion. If residents of the region match the profile of those the company seeks to serve, executives may opt to open a new store. X5 takes that analysis to a new level, making hard-dollar predictions that guide decisions.
The publicly traded company uses GIS to create two critical decision support tools: a heat map and a development roadmap. Together, these maps form the basis for X5's three-year growth plan.
The heat map shows an automated calculation of a potential store's revenue. Would-be stores are color coded, with green representing most profitable, followed by yellow and red. Under the hood of those simple displays are complex analytics capabilities (see image). The estimates inform the development roadmap, steering X5 toward profit and away from risk. And it seems to be paying off: the company's 2015 profit was 14.2 billion rubles—$233 million at the 2015 exchange rate. By 2017, it had grown to 31.4 billion, or $538 million in 2017 dollars.
"The most important extra function is this estimation model, which assesses the amount of revenue for a potential site," says Alina Prigozhina, who was head of X5's GIS team from 2014 to 2018. "It can count how many people live around this potential site. It can estimate how competitors affect this exact site."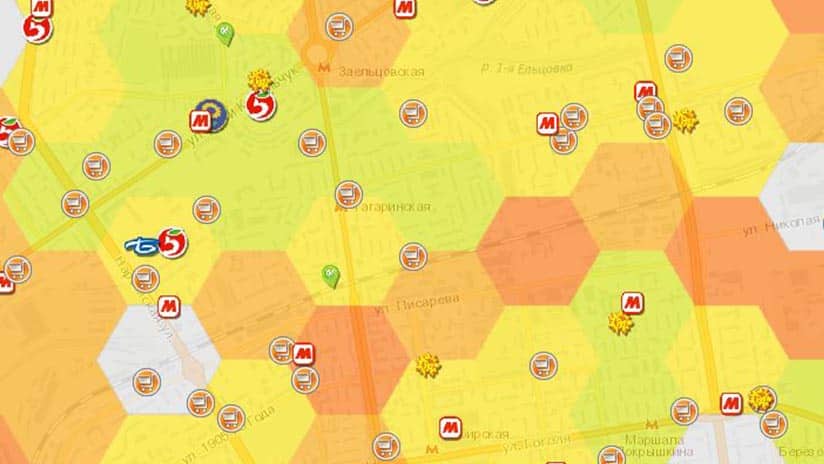 Every February, two teams of managers from every region—one representing development, the other operations—up to 300 people gather to update the heat map with marketplace changes not captured by prior calculations. The new heat map shapes the development road map with target revenue for possible stores. That document becomes the foundation for the three-year development strategy, Pletnev says, which guides the entire company.
"The system helps us to choose the best-case scenario in relation to a group of stores, which is important [for] understanding them holistically," he notes.
Using location intelligence not only to assess an area's potential but also to predict a store's revenue is a sophisticated technique, according to Tom Horan, dean of the business school at the University of Redlands.
"Our research shows that 20 percent of companies are spatially mature, which means they leverage location intelligence to improve decisions across the organization," Horan says. "X5 stands out even among those leaders. Their use of GIS to predict the business impact of location decisions is a model that other businesses are likely to follow."
Democratizing Data to Propel Growth
Once the growth committee determines a master plan, it falls to a group of regional directors to scout new store locations. Each regional director—there are 170 across X5's geographic footprint—oversees a portfolio of 80 to 110 stores. Their focus, Pletnev says, is on quality, not quantity.
"We want a regional director to focus the attention of the whole operating team on a high-quality opening of each new store," he explains.
To do that, they use GIS to analyze a proprietary blend of location data, including income levels of area residents, travel distances to a proposed store, and the area's competitive dynamics.
They also use GIS to determine whether an alcohol license can be obtained from the government. A store that's close to a school, for example, would not be a candidate to sell beer, wine, and liquor, which can otherwise be lucrative.
"Our model," Prigozhina says, "can sum up all these factors and predict the amount of revenue that we can expect, based on the benchmarks of nearby stores we can forecast potential profitability level. It helps a lot to make decisions about this point."
Decentralizing X5's development efforts—and expanding employees' access to GIS—has accelerated the company's growth rate by a factor of five, Pletnev says.
Across the company, some 800 professionals access location intelligence generated by GIS each day, he says. That includes individual employees on the ground looking at possible locations, middle managers such as regional directors who crunch potential sales numbers, and the committee that makes final investment decisions. This represents almost every department in the company, from operations and marketing to supply chain, finance, and development.
"Each person who takes part in the decision-making can see the same data," Pletnev says. "So nobody can send different letters to different people containing different information about the same object."
Divergent Markets
Russia's grocery and convenience store business is markedly different from its US counterpart, which has numerous regional, national, and international brands fighting over a relatively stagnant marketplace.
Buffeted not only by online retailers but also by a glut of brick-and-mortar space, American store owners are shuttering locations, including 105 million square feet in 2017. Yet the U.S. still has the highest rate of retail space in the world, according to Credit Suisse: 21.5 square feet per person. Runner-up Norway has just under 10 square feet per capita, while Russia has 1.3 square feet per capita.
In the US, discount chains like ALDI and Lidl are moving in, ramping up the competition and putting more pressure on the bottom lines of major chains such as Kroger and Publix.
But in Russia, X5, Magnit, and other food retailers are rapidly growing and competing in various local and regional markets. In many cases, there is plenty of room to expand, especially in less populated regions like Siberia. X5 has large concentrations of stores in Moscow, St. Petersburg, the Urals, and Central Russia.
It's important that we can believe in the result of our revenue forecasts for new sites. We have seen accuracy of 90-95 percent from this forecast.
---
Igor Pletnev, X5 Retail Group
Location Intelligence Reveals Best Store Format
X5 offers three types of stores in Russia. The Pyaterochka string of convenience stores makes up the largest segment of the company. The Perekrestok chain consists of supermarkets. And the Karusel hypermarkets offer both groceries and department store items. (See the sidebar, "Catering to the Customer's Mission," for more information.)
Location intelligence helps managers select the right store format for each location—a practice known as best-use analysis. In some areas with strong economic and demographic trends, GIS might indicate that all three stores can coexist and still yield a profit. But in less affluent locations, that mix won't work because one brand likely would cannibalize the sales of another, Pletnev says.
Directors use GIS to help make the call on the type of store X5 opens by delving into per capita income, population density, and the all-important availability of parking. Parking matters less for convenience stores, which are located within walking distance of most customers. But for supermarkets and hypermarkets, parking is crucial in determining a successful store location.
X5 planners also use location data to optimize current outlets. They analyze each location's sales volume, shoppers' buying patterns, and data on where customers live or work. This analysis has led to the renovation of more than 3,000 stores across the country, Pletnev says. In some cases, X5 changes store layout and concept; in others the company downsizes. It all depends on what the location data shows.
Right Products, Right Location, Right Price
Location data even determines which products are stocked in each store. "It helps us to better adjust assortment of the store," Pletnev says, "and avoid keeping a long tail of products or items which may be in lower demand in that particular store because they do not fit generally the store's mission."
As part of that process, the X5 team uses location technology to plot what Pletnev calls "geographic markers." For example, if there are parks or leisure areas nearby, a store will carry picnic foods and refreshments. Regional and local customer preferences are important too, and are added to the product mix. That has resulted, Pletnev says, in a line that is roughly one-third locally sourced.
Pricing for store items is recommended by a GIS analysis of localized economic data. For instance, some items are sold at a cheaper price in less affluent areas, with more expensive products not stocked at all.
Controlling Costs as the Company Grows
While growth remains X5's top priority, the company also uses location technology to reduce expenses and increase efficiency. Company officials have used GIS to analyze up to 10,000 store leases to determine the optimal rent for each location, crunching factors such as local business conditions and nearby lease rates. So far, they have renegotiated 1,500 contracts.
If a landlord balks at the lower rate, X5 can mine its database for a more favorable deal elsewhere. The company has relocated 100 stores in recent months, Pletnev says. "Optimizing our lease costs is a very important bit of work for us, as the company already has quite an extensive footprint in Russia," he says.
Earlier this year, X5 opened its website to potential landlords, allowing them to notify the company if they have property for rent. Pletnev says the site records hundreds of entries per day—all of them fed into the GIS.
"This service helps the landlords realize what would be the relevant lease rate for the property, and then subsequently they can lease this property to us," Pletnev says.
It also speeds the leasing process because X5 managers do not have to go out and scour a region or neighborhood for potential locations. Instead, they can look them up on their computers and phones.
"The landlord," Pletnev says, "could mark his facility as ready to lease, and the system will generate the message to the person responsible for development in that particular area that another facility is available for lease."
Prioritizing Quality Growth
A company adding a smattering of stores each year can rely on local knowledge for insight on which type of store to build where. A company adding thousands of stores a year needs analytics of a higher order.
Before GIS, as many as one in four stores might have opened in a less-than-ideal location or may have stocked the wrong items. Pletnev says location intelligence changed all that.
"The system," he says, "helps us to choose the best-case scenario."
With fewer missteps, X5 now deploys its capital more effectively, freeing up funds for more store openings.
Today, X5 stores serve roughly 11 million customers. Inevitably, the time will come when expansion slows. At that point, Pletnev says, the company will further concentrate on efficiency and increasing per capita spending in each outlet.
For now, with more growth on the horizon, the X5 team is moving quickly yet prudently.
"To us," Pletnev says, "it's not the quantity, but the quality that matters."
For more on how retailers are turning location intelligence into competitive edge, listen to this podcast with Retail TouchPoints' Debbie Hauss.