The world has become increasingly data-driven, with professionals leveraging data to make sense of information, solve problems, communicate, and collaborate in virtually every industry. Optimizing how we present data makes for a more elevated experience for your target audience.
In today's rapidly accelerating business environment, organizations aim to analyze and share information more efficiently. One effective strategy to achieve this is by leaning into the potential of no-code and low-code app builders. With an app builder, you can easily create web applications to showcase your data or maps and engage your audience in a more interactive way.
Exploring Esri's App Builders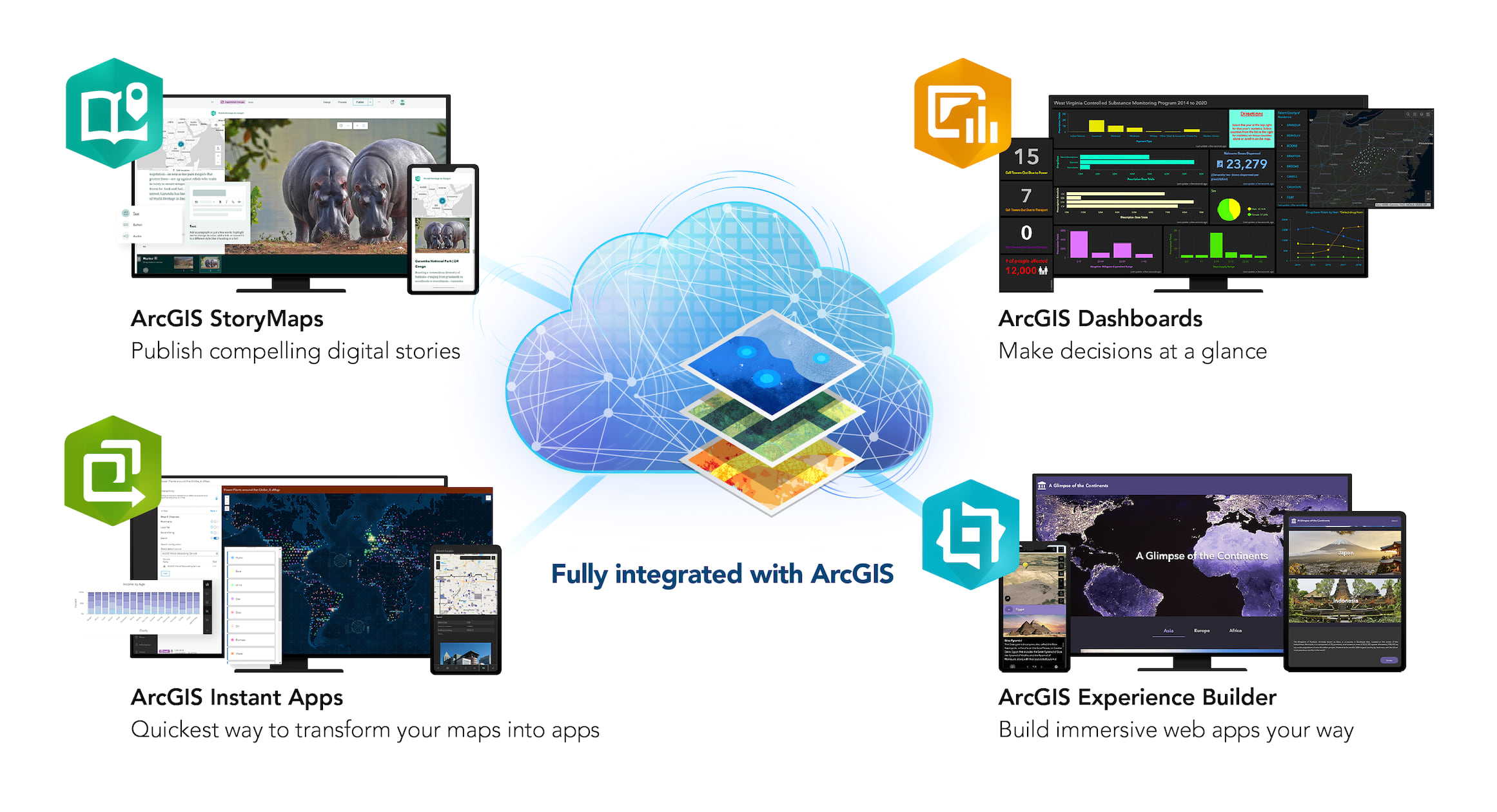 If you can create a map, you can create an app! It's that simple. Some of the common features supported by all app builders include the following:
Configurable: The app builder interfaces are designed to be user-friendly and accessible for all users. They provide a variety of tools like drag-and-drop interfaces, pre-built components, or templates that simplify the process of creating custom applications. Regardless of your coding expertise, you can easily build web apps from scratch without writing code.
Multiple design options: You can create captivating apps that fulfill all your functional and brand requirements. App builders provide a wide range of style, color, and layout options, allowing you to create applications that empower your audience to make informed decisions.
Data and map integration: App builders are available in both ArcGIS Online and ArcGIS Enterprise, facilitating seamless sharing of maps and data with others. Take advantage of a range of pre-existing tools, content, and data.
Mobile-responsive and optimized: The apps you build will be mobile-responsive and automatically adjust to the different screen sizes they are being viewed on. Some of the app builders also offer the option for mobile-optimization, which means your apps can also be configured to look and perform differently on different screen sizes.
Secure sharing: As part of the ArcGIS system, app builders offer robust and effective security framework for controlling access and enforcing permissions. Share your apps with a group, shared publicly, or privately.
Discover the capabilities of each app builder and learn how to select one or more based on your app-building needs.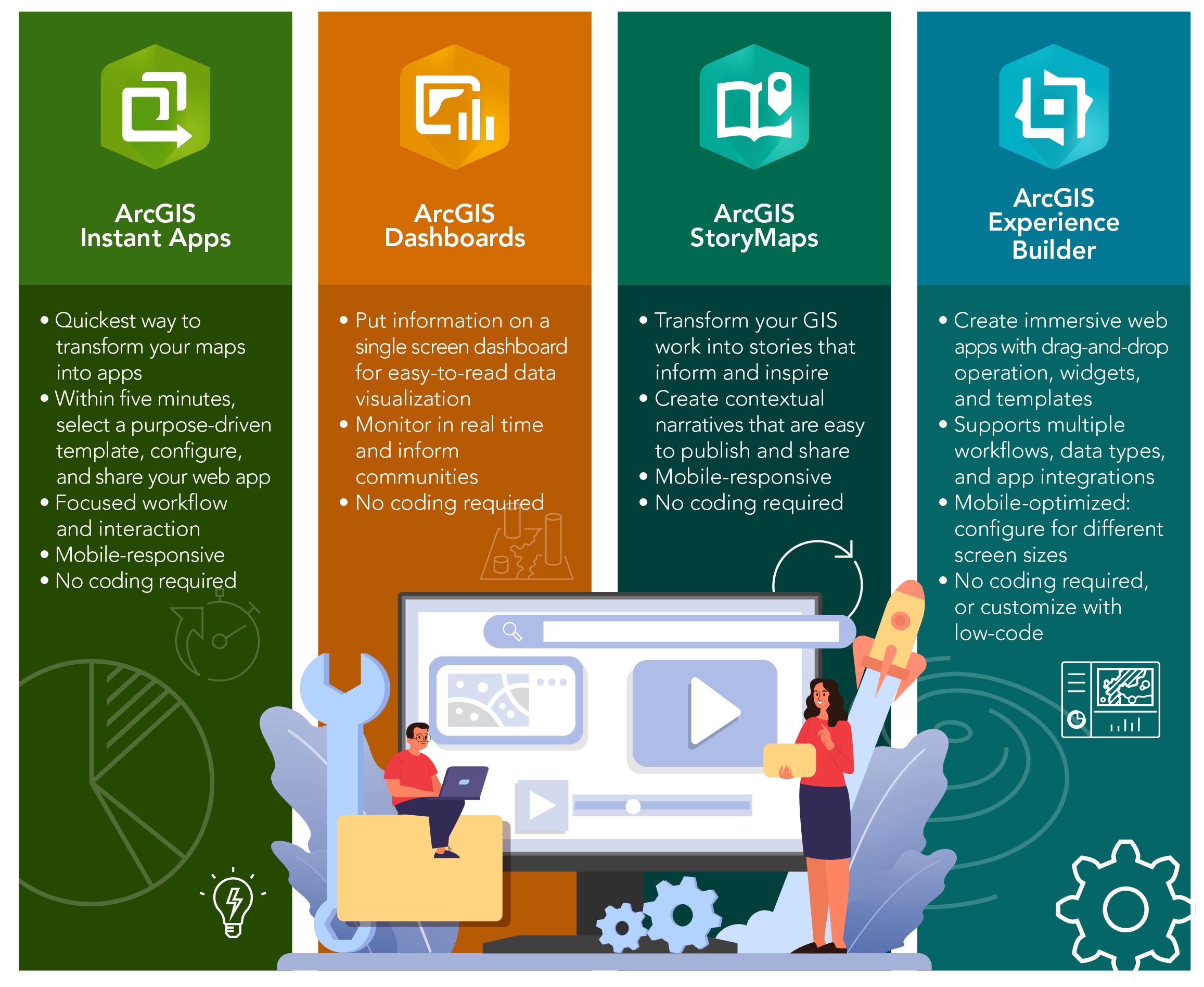 Considerations for Choosing an App Builder 
When deciding what app builder to work with, it is helpful to first consider these four factors: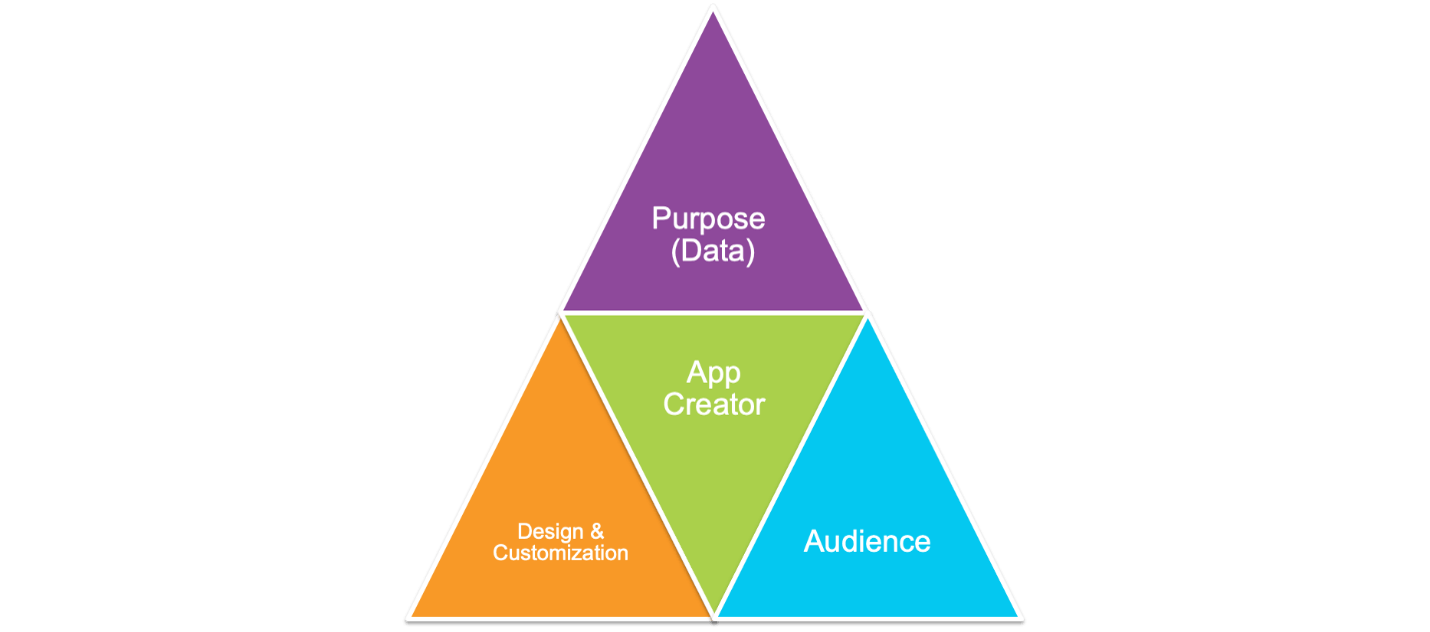 1. Purpose (Data)
Before building your app, it is always a good idea to clearly define the purpose of your application. Determine the high-level goals your app should accomplish, such as communicating status, answering questions, streamlining workflows, telling a story, giving context to data, engaging the public, or collecting data.
Purpose often informs what kind of data you need to collect or integrate. Alternatively, you could start by considering what data you have available and then evaluating its significance to stakeholders or the public — why would users need to interact or learn from the data?
Some questions you may want to ask at this point are:
Is there a sole purpose, or are there multiple?
How will an interactive app enhance my data?
Will it be part of a task within a workflow?
How would I like the final application to function or look?
App builders can be used to achieve a variety of goals, some include:
Showcase your maps:

All app builders can incorporate maps!

ArcGIS Instant Apps

offers

purpose-driven template

s that

showcase

2D and 3D maps with different layouts and tools such as edit and swipe tools, time sliders, insets window, and more. ArcGIS Experience Builder also has map centric templates

that

guarantee

ease of use and

provide

an opportunity for users to interact with 2D and 3D maps.

Provide data interaction:

ArcGIS Instant Apps has several templates that

allow

users to interact with data

on a map

with

symbology,

images, charts, time-enabled

or ranked features.

In addition, users can select a location on the map and view information in close proximity.

 

If you

would like your users to interact with data in a dashboard,

you can also explore ArcGIS Dashboards or ArcGIS Experience Builder.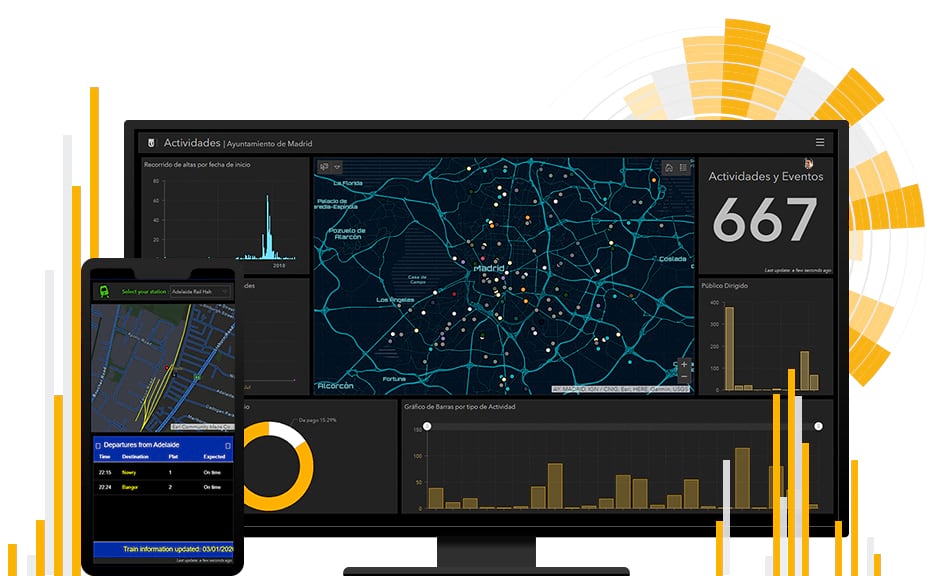 Communicate status:ArcGIS Dashboards provide a focused, single-page app for communicating real-time status and information. These dashboards can also be embedded into the other app builders for users who not only want to communicate status but also create apps with a scrolling screen and multiple pages. ArcGIS Experience Builder also has dashboard templates you can start with and further customize. Coming soon to ArcGIS StoryMaps are Briefings, which you can create to get critical information to your stakeholders, even when disconnected from the internet.
Tell a story: If you want to tell a story or provide context to data, ArcGIS StoryMaps has everything you need to create digital stories that inspire and inform. Through maps, embedded apps, narrative text, images, and other media, you can create an app that provides meaningful context to your work. You can create stories, articles, presentations, reports, crowdsourced resources, briefings, case studies, and more.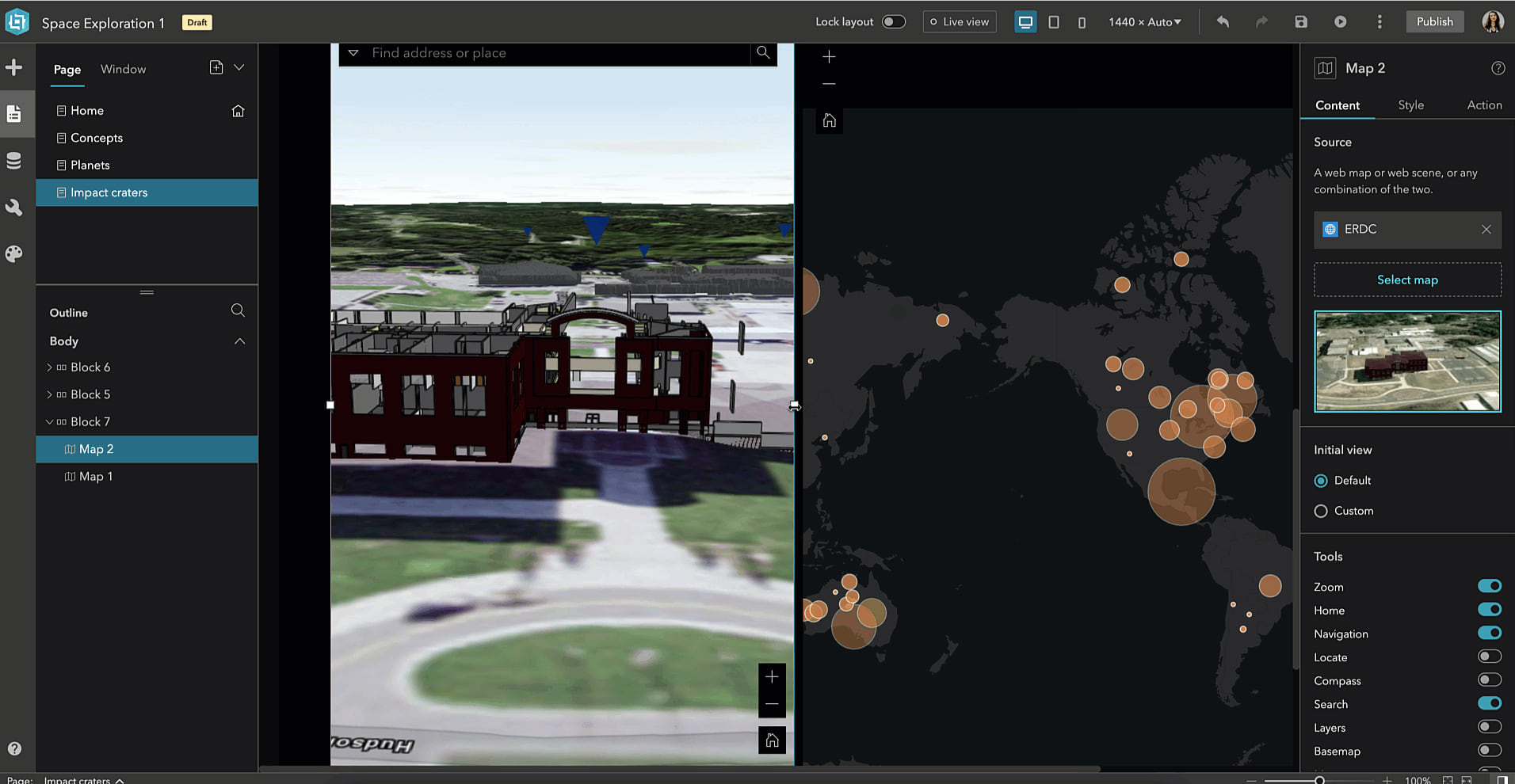 Unify your apps and content in one place: Apps created with ArcGIS Experience Builder can be versatile.

If you need to combine multiple workflows, app integrations, embeds, or pages, then ArcGIS Experience Builder is your best

option

.

 

You can also use ArcGIS Instant Apps

templates such as

Portfolio

and Category Gallery

t

o

showcase

different types

of related ArcGIS content. Create and reorder sections that users can navigate to view maps, scenes, Esri apps, PDFs, video and image files, as well as embedded web pages.

Collect data: If you are looking to collect data, all of the app builders can embed smart forms from ArcGIS Survey123.
Important note: These are a few examples of how certain app builders achieve these goals, however any app builder could be used and there is no "wrong" choice. 
2. Audience  
When determining the appropriate app builder for your project, consider your target audience. Are they an expert in the field, business executives, or impacted citizens? Your audience type will help determine what app builder is suitable for your project. Other important factors to consider are the technical skills of your audience, their familiarity with GIS, tools, or interfaces, their openness to technology adoption and capacity for extensive training. Advanced users may be more willing to interact with applications that support multiple workflows or allow for high configuration.
It is vital to examine the needs of your potential audience. For example, are accessibility or translation support relevant to them? What region or languages do they speak? Will they require access to information via a mobile device or web browser? Will they need to use other applications or solely share information within the app you build?
For more information on accessibility, see the app builder accessibility compliance reports.
For more information on language support and translations, see what languages are supported in ArcGIS Online. The app builders currently do not have content or data translation capabilities.
ArcGIS Instant Apps is planning to release a language switcher feature at the end of 2023 which will initially be made available in three templates. It will allow app authors to translate user-defined text in their apps into one or more languages.
To understand which app builder supports your audience's requirements best, see the matrix in the Design and Customization section.
Important note: If you have multiple purposes or audiences, consider creating more than one app! We recommend a single app per audience or purpose. 
3. Design and Customization 
Once you have a clearer understanding of your app's purpose and audience, it will be easy to identify the layout, style, and features that your app needs.
A few app builder features include 3D data, imagery, attachments, editing, and data collection. Other branding-related features such as custom colors and fonts, CSS, symbology, or custom URL/Embedding allow for layout customization for each app you decide to create.
For a list of features the app builders provide, please see the matrix below:
| | | | | |
| --- | --- | --- | --- | --- |
| | ArcGIS Instant Apps | ArcGIS Dashboards | ArcGIS StoryMaps | ArcGIS Experience Builder |
| Supports multiple pages | Yes | No | Yes | Yes |
| Supports scrolling screen | Yes | No | Yes | Yes |
| Drag-and-drop UX | No | Yes | Yes | Yes |
| Pre-built widgets | Yes | Yes | Yes | Yes |
| Pre-configured templates | Yes | No | Yes | Yes |
| Themes | Yes | Yes | Yes | Yes |
| Developer edition | No | No | No | Yes |
| Mobile responsive | Yes | Yes | Yes | Yes |
| Mobile optimized (can configure for different screens) | No | Yes | Yes | Yes |
| Offline Capability | No | No | Yes | No |
| 3D maps | Yes | No | Yes | Yes |
| Data collection with Survey123 | Yes | Yes | Yes | Yes |
| Data editing | Yes | No | No | Yes |
| URL parameters | Yes | Yes | Yes | Yes |
| CSS | Yes | No | No | Yes  (Developer edition required) |
| Usage Analytics | Yes (Adobe and Google Analytics) | No | Yes (Adobe and Google Analytics) | No |
For a detailed list of ArcGIS Instant Apps template capabilities, view the matrix. 
4. App Creator (You) 
Your capacity and knowledge of GIS technology will play a role in making app decisions. Your skill and design choices will guide your decision in selecting the right tool.
Think about your current knowledge of the data and tools available, how much time you have to complete a project, your desire to learn new technology, and your individual flair and design choices.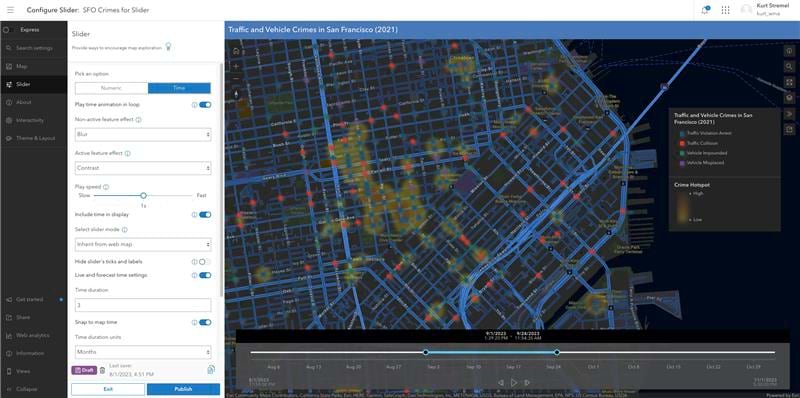 You can select an app builder based on its customization capabilities and your familiarity with the product. If you're looking to create an intuitive web app for a specific purpose in as little as five minutes, ArcGIS Instant Apps might be your best choice.
The express mode offers the minimum set of essential choices that you need to consider to configure and publish a well-functioning app as efficiently as possible. You can also use full setup mode with additional configurations to design your instant app.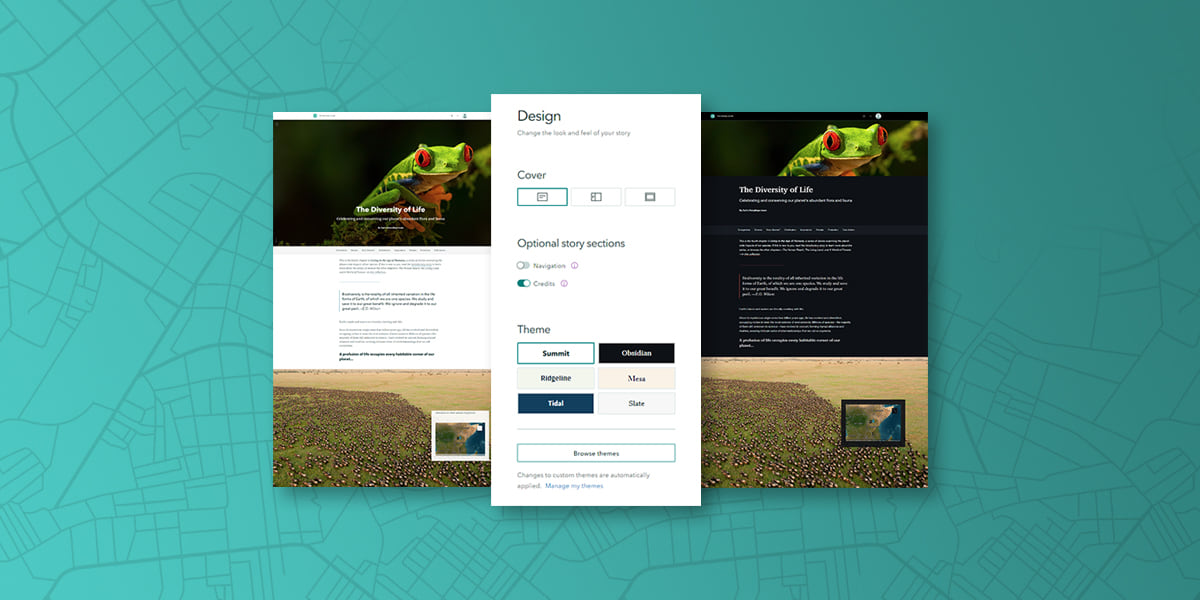 ArcGIS StoryMaps offers modern, stylish designs with elements such as a cover page, themes, image gallery, map tour, sidecar, and timeline you can add. Keep in mind, the art of digital storytelling can require more effort if you are crafting context that will be used to influence your audience.
ArcGIS Dashboards can be designed for specific audiences, events, and situations. With multiple structure and design options, you can take dashboards from good to great. Include data visualization tools, including maps, lists, charts, and gauges.
With ArcGIS Experience Builder, you can start with a focused map-centric template if you have less time for creating your app or if you need to recreate an ArcGIS Web AppBuilder application you were using. If you have more time and coding skills, you might want to build custom widgets and extend your applications by utilizing the developer edition of ArcGIS Experience Builder.
Ultimately, as you become more familiar with these tools, the time and effort needed to create an application will decrease.
There is no correct choice when deciding which app builder to use. It will depend on the purpose of your application, what data you have, your audience's requirements, what level of design or customization you need, and your own skill set and familiarity with the tools. We only hope to provide some guidance on which tool might be best for your situation. We can't wait to see the apps you create!
Learn More
Want to dive deeper into the world of Esri app builders?
We encourage you to ask questions, share ideas, and comment on the Esri Community site or in the App Builders LinkedIn group. Follow us on Twitter for the latest updates and release information.
Resources