ArcGIS StoryMaps is the professional storytelling tool that enables you to transform your geographic work into interactive content to inform and inspire others. It makes it easy to explain complex topics related to your knowledge and experience. ArcGIS StoryMaps is updated regularly with new features and capabilities, and here's what's been added recently:
What's coming to ArcGIS StoryMaps in 2023?
The StoryMaps team recently conducted our annual planning activities and reviewed what we'd like to accomplish over the next 6-12 months. It's safe to say there are a lot of exciting things in store for ArcGIS StoryMaps this year! We will show a sneak peek of what's coming at the 2023 Federal GIS Conference next month, so we hope to see many of you there!
For more about what's happening at FedGIS, see ArcGIS StoryMaps at FedGIS (esri.com).
Publish options for collections
A few months ago, ArcGIS StoryMaps added a brand new publishing experience for stories. Now we're rolling out a similar update for collections.
The Publish options screen is shown when you publish a collection. This makes it easy to update your collection's social metadata to make sure your audience sees the best version of your content when you share it online. Power users also have quick access to an option to unhook the link between the collection info and its ArcGIS item details for situations where you prefer to maintain the item info yourself. Unchecking this option prevents the collection information from being written to the ArcGIS item details during publication.
The Publish options screen also lets you set the sharing level for your collection and contains a link to the collection settings in case you want to make any final adjustments there before publishing.
The video below shows a walkthrough of the new publishing workflow for collections.
Live embeds on small screens
A new choice has been added to the embed options that lets you show the live embed on small screens. This option joins the previous options of representing an embed as a card or an alternate image. The live option can be useful in cases where you have a very simple embed that works well when shown in a small space. The live option enables your reader to see the latest live data and even interact with your embed on their phone, if appropriate.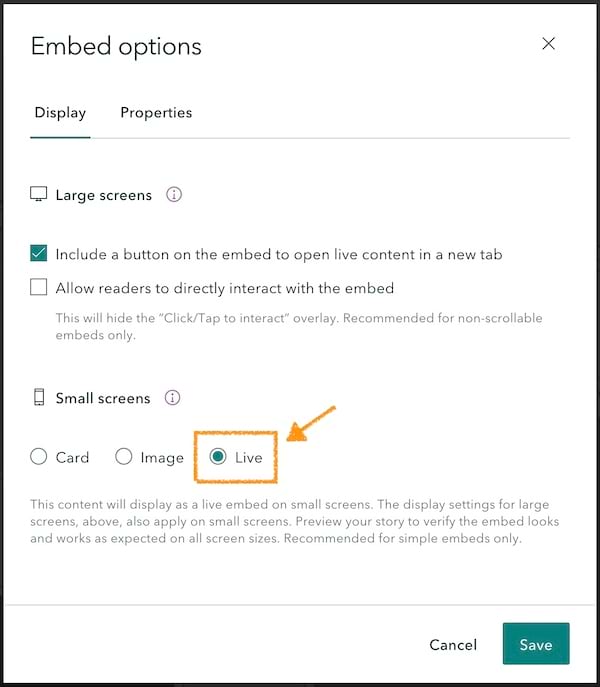 In the examples below you can see a simple custom map visualization and a dashboard with two text-only widgets. Both of these embeds work great on a small screen and enable you to keep your readers fully up-to-date with the most current information regardless of what device they use to read your story.

Be sure to use the live option with care since it may not provide a good experience for all types of content. Consider the card or image options for more complex embeds like multi-widget dashboards, most web mapping apps, other StoryMaps, and full web pages. When using the live option, be sure to test your story and the embed on a phone to make sure it works as you expect.
The live option is available for inline embeds in the main body of the story; it's not yet available for sidecar embeds.
And more…
As usual, our team has also spent time on improving performance and stability. We've also made several updates and additions to our documentation. For a complete list of changes and fixes, see the Release notes.
Banner image by Mikes-Photography via Pixabay