Our facilities and workplaces have transformed dramatically over the last twelve months. We know some of the changes such as reduced capacity and social distancing measures will only be temporary. However, many of us also experienced the benefits of remote work – spending less time in a car, more time with our families, and improvements to our mood and productivity. Considering workspace is the second largest cost to an organization, it's easy to see how mutually-beneficial flexible workspace and better building automation will become more permanent accommodations. Now, more than ever before, the inherently spatial data driving these facilities and workplace management strategies puts indoor mapping and location intelligence in focus.
Organize building information with floor-aware 2D and 3D indoor maps
Indoor maps extend the digital lifecycle of your BIM and offers a common interface for fast and secure access to best available spatial data across the portfolio.
Floorplan data conditions often vary, but Revit floorplans with floor and room polygons, or drawings prepared for Apple's IMDF or integration with IBM TRIRIGA will be ready to load as a good starting point. Once foundational indoor maps are created, the additional operational layers can be added and shared across web and mobile applications and even integrated with 3rd party solutions like IBM TRIRIGA.
ArcGIS Indoors Experiences
In addition to automated data conversion tools, advanced map-making and spatial analysis tools, and database management tools in ArcGIS Pro, ArcGIS Indoors also comes with a set configurable app templates for web, mobile, and kiosks.
Space Reservations and Service Requests
Enable employees to easily find their new seats, reserve flexible spaces or conference rooms, and request services to their location.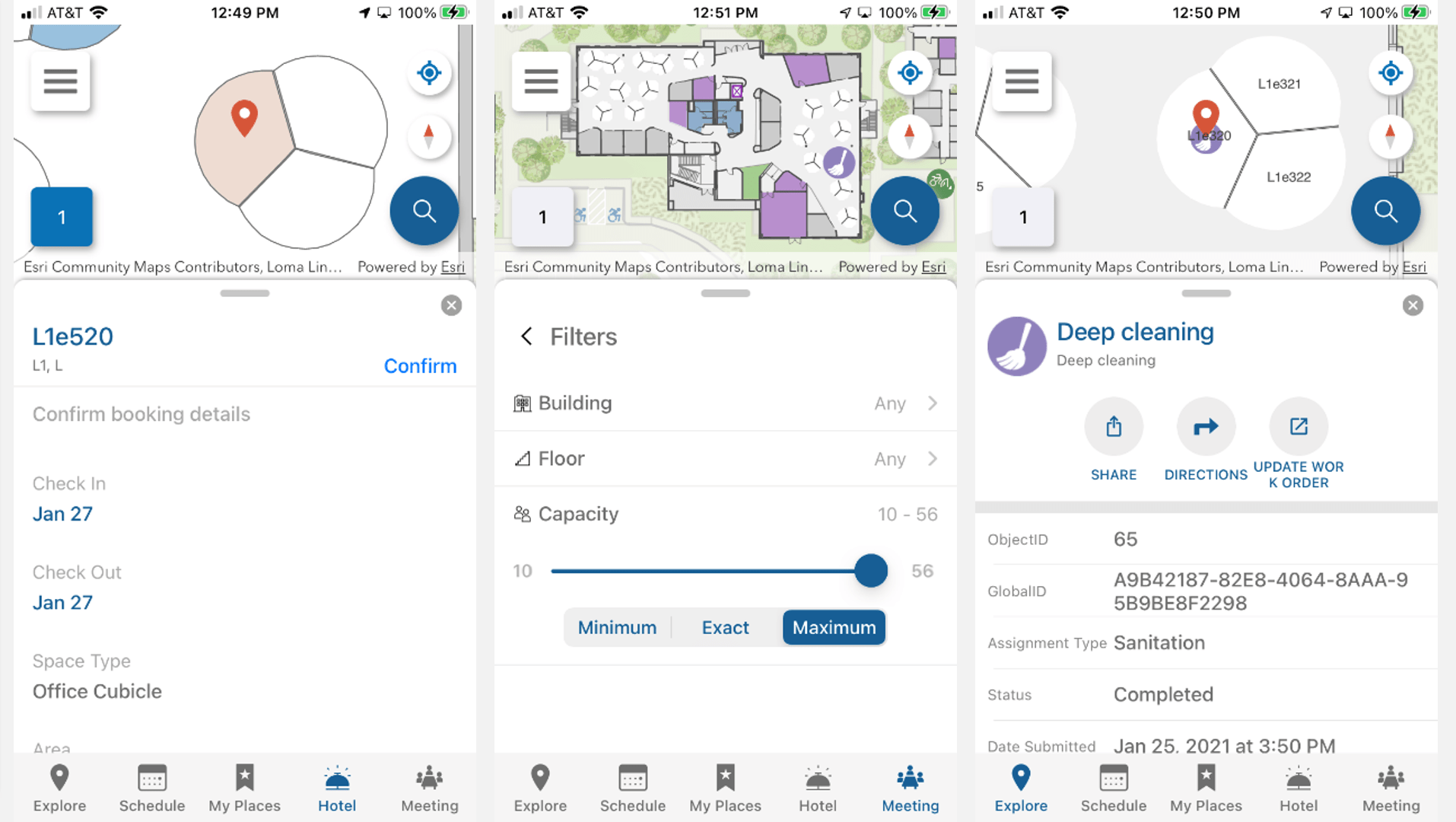 2D and 3D Navigation
Help staff determine the best route to attend a project meeting or resolve work tasks with the same network analysis tools that power some of the world's largest logistics companies.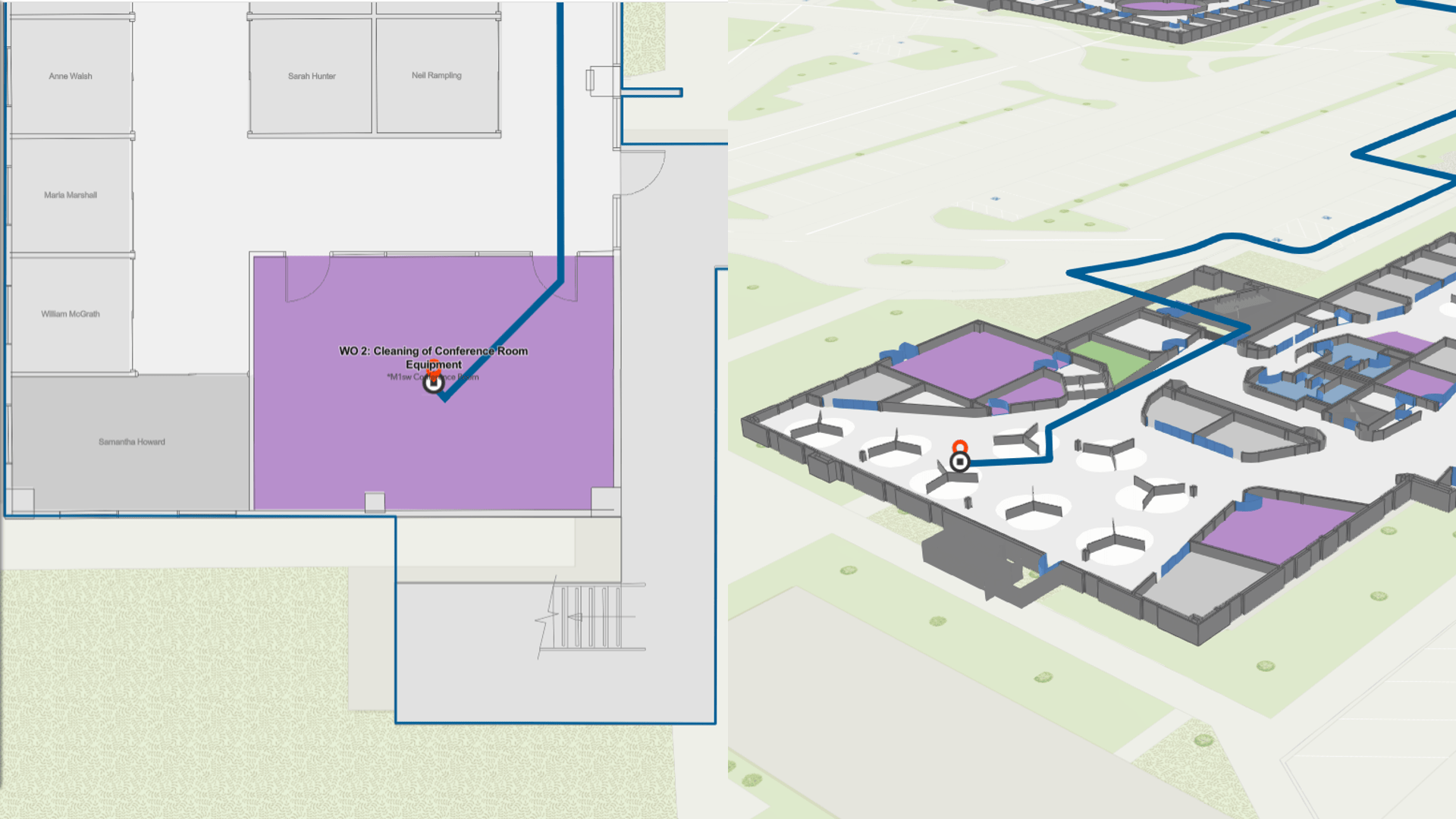 Indoor Positioning and RTLS
Leverage new and existing BLE or WiFi network infrastructure for indoor positioning (IPS) or RTLS from Apple, Cisco, Esri's own IPS for real-time situational awareness. Analyze historical patterns of use or performing post-incident analysis.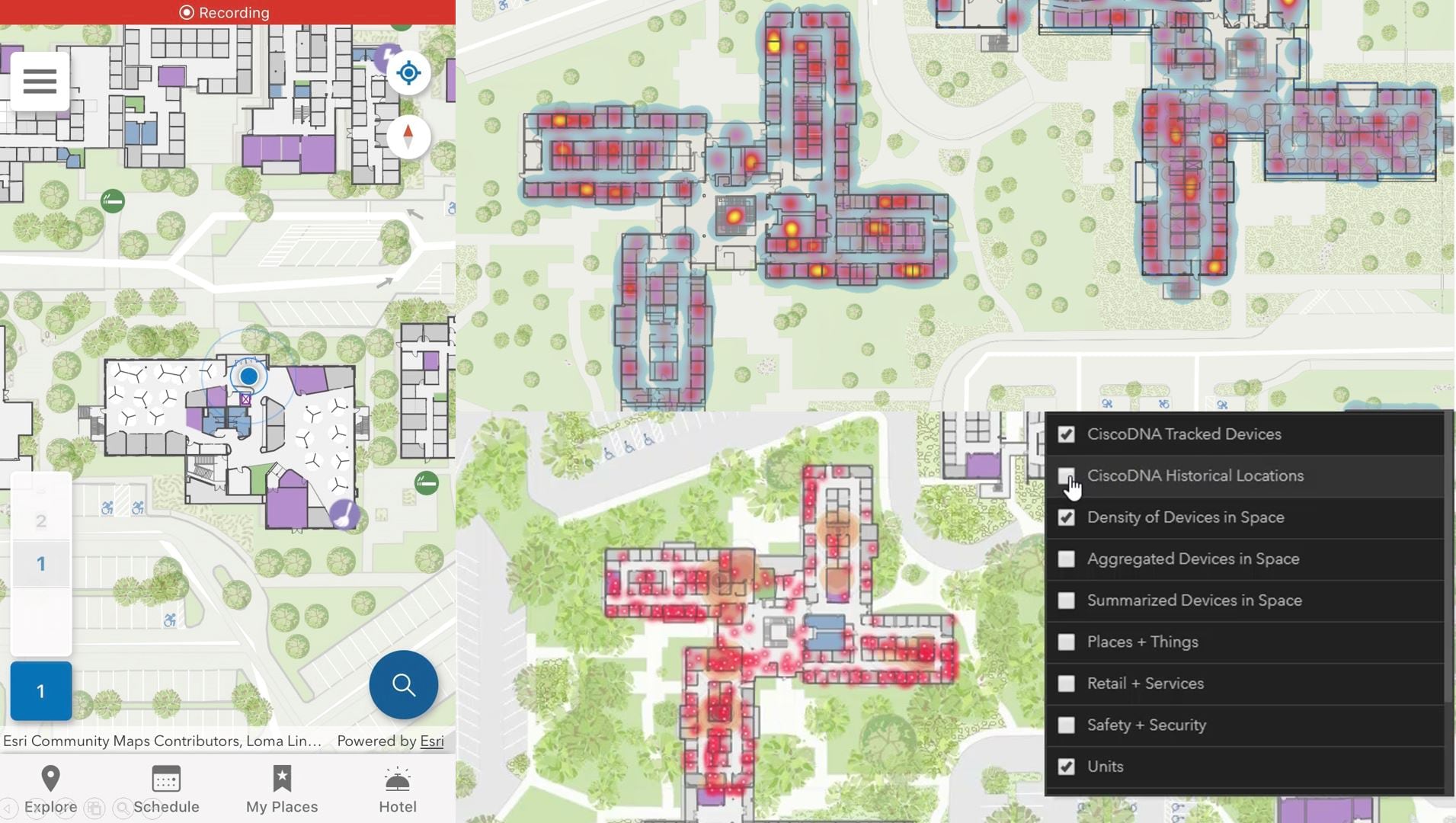 Perform Spatial Analysis
Analyze spatial relationships of thousands of interior spaces across your portfolio in a few button clicks.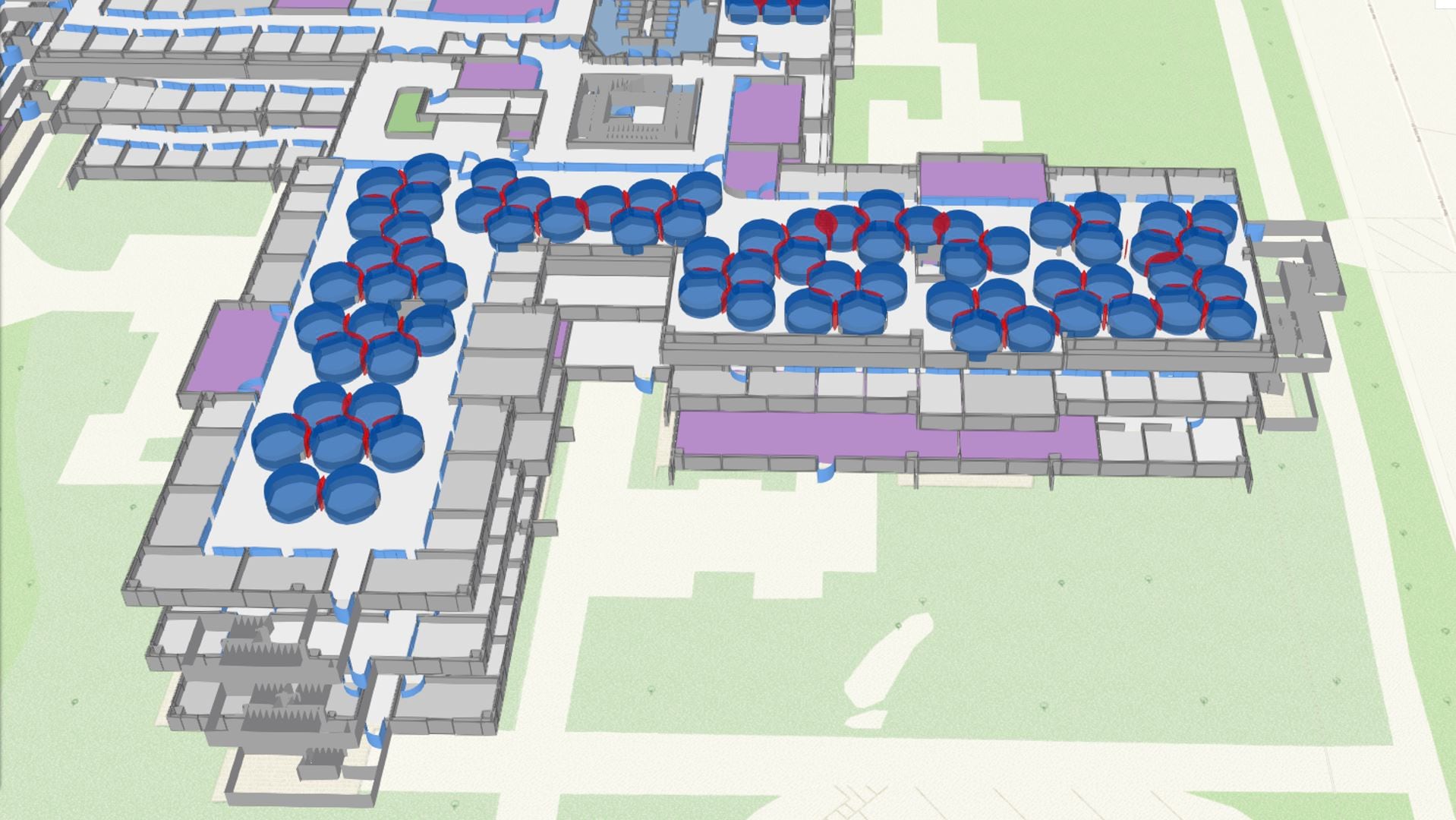 Update and share space plans
Expedite communication between stakeholders when updating floorplans and seating assignments.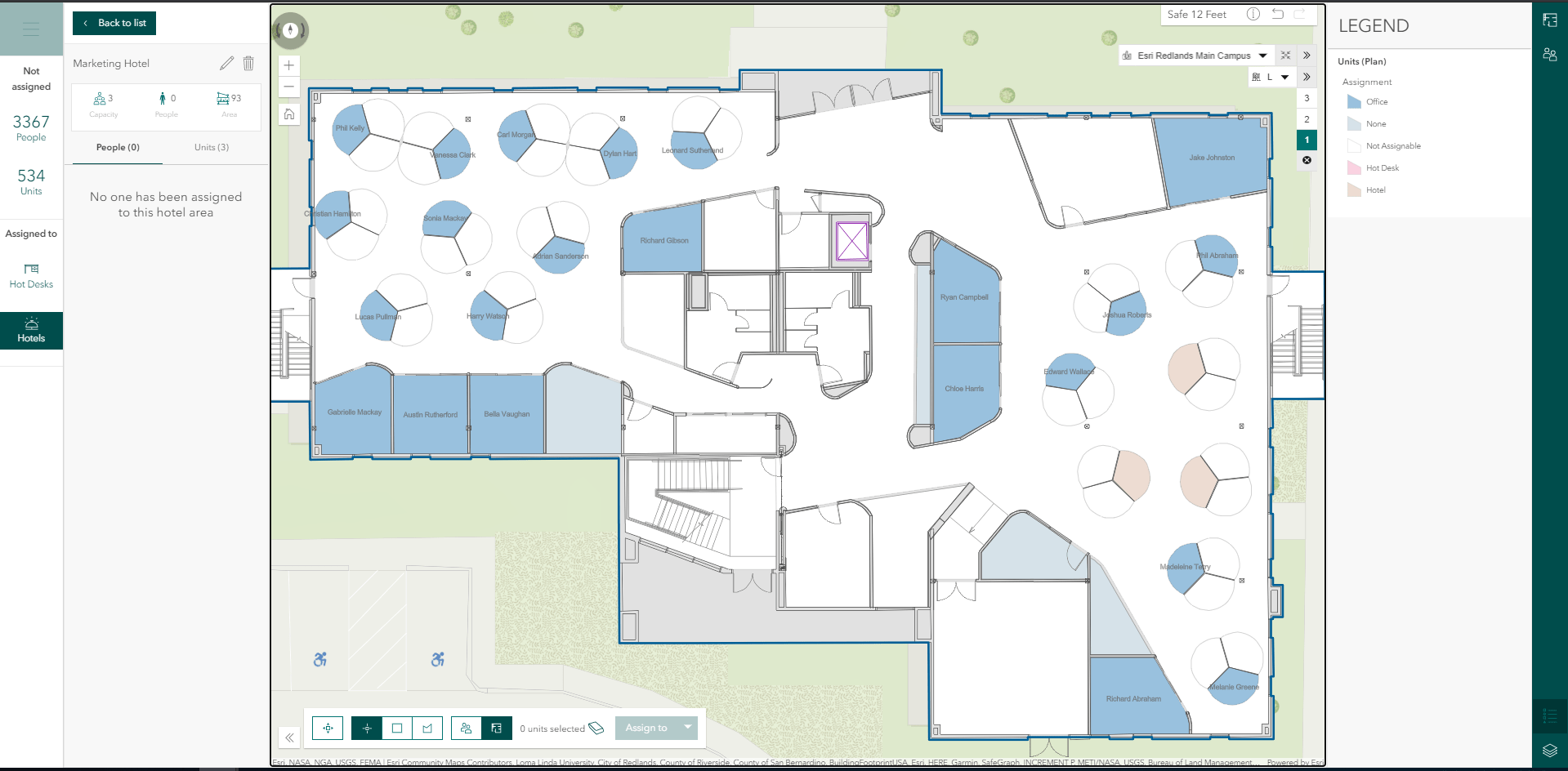 IBM TRIRIGA Experiences
As indoor mapping and spatial analysis drives the next generation of innovation for facilities and workplace management, Esri is partnering with IBM TRIRIGA, a market leading integrated workplace management solution, to make TRIRIGA floorplans into interactive maps for facilities and real-estate teams, and offered to their employees around the world.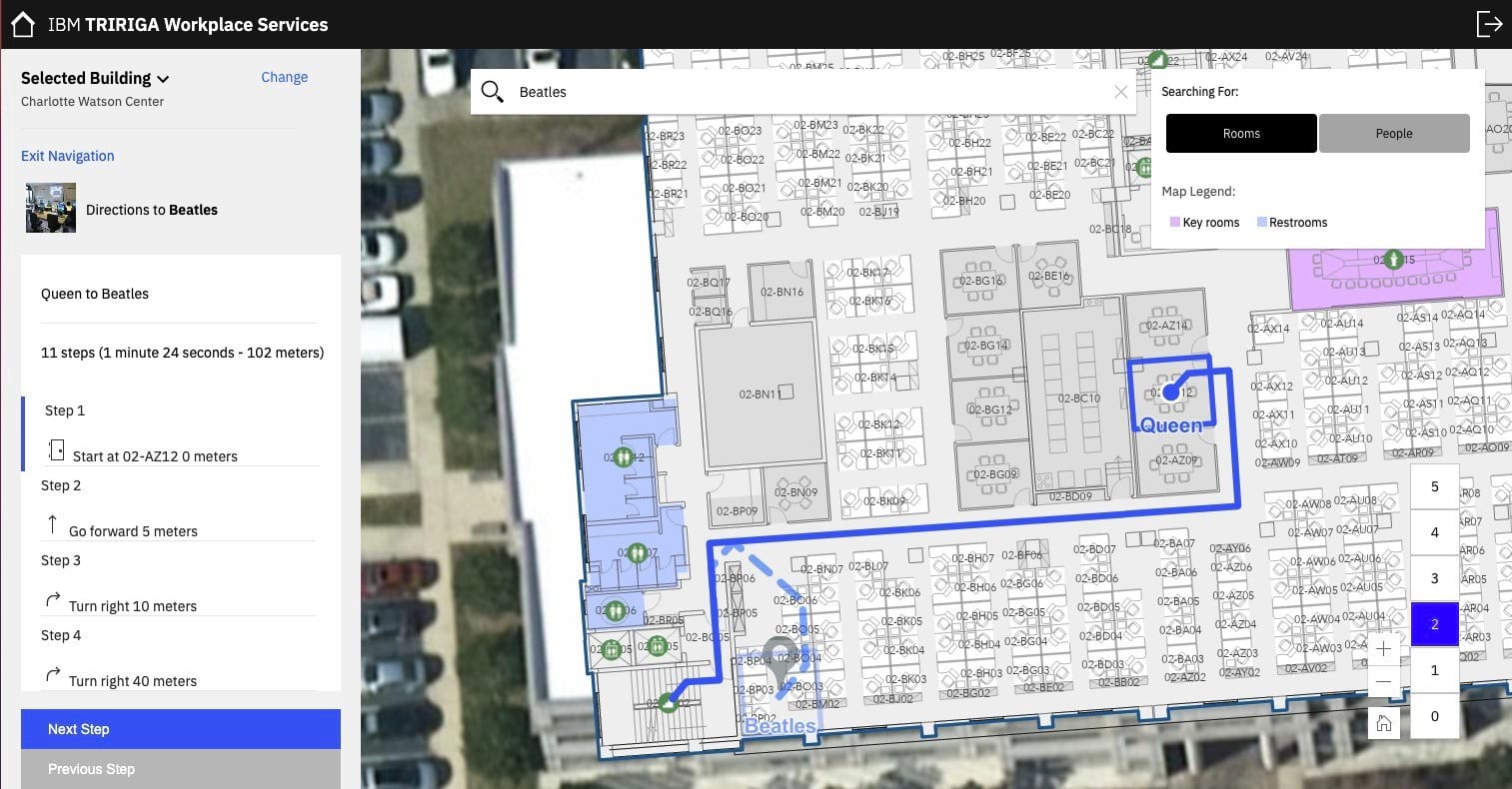 As facilities re-open and employees make their return the ability to quickly locate new seats and navigate new floorplans will be essential, and it marks the beginning of the indoor mapping revolution for facilities and workplace management.
Want to see ArcGIS Indoors and IBM TRIRIGA in action?