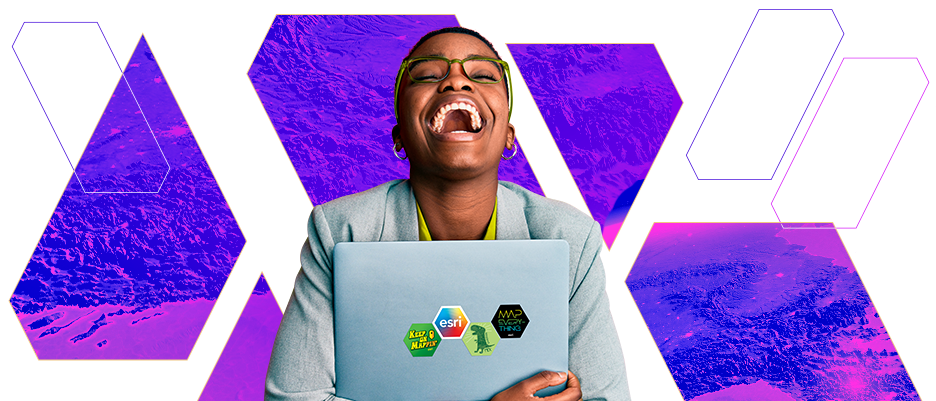 We're so excited to connect with ArcGIS Online users at our July 10–14, 2023 Esri User Conference (UC 2023) in sunny San Diego, California. We hope you'll be one of the almost 19,000 people currently registered to attend the world's largest GIS conference in person or virtually. If you haven't had a chance to sign up yet, you can do so here.
The ArcGIS Online team has been hard at work preparing the latest insights to empower your GIS work through our resilient and secure cloud system. At UC 2023, you'll discover practical tools to streamline how you build and share maps and apps, analyze your spatial data, and store content. To get the most from ArcGIS Online and our complementary ArcGIS products at UC 2023, we've prepared the resources below. Be on the lookout for demonstrations, technical workshops, and spotlight talks that will help you advance your use of modern GIS technology and collaborate seamlessly with stakeholders within and outside of your organization.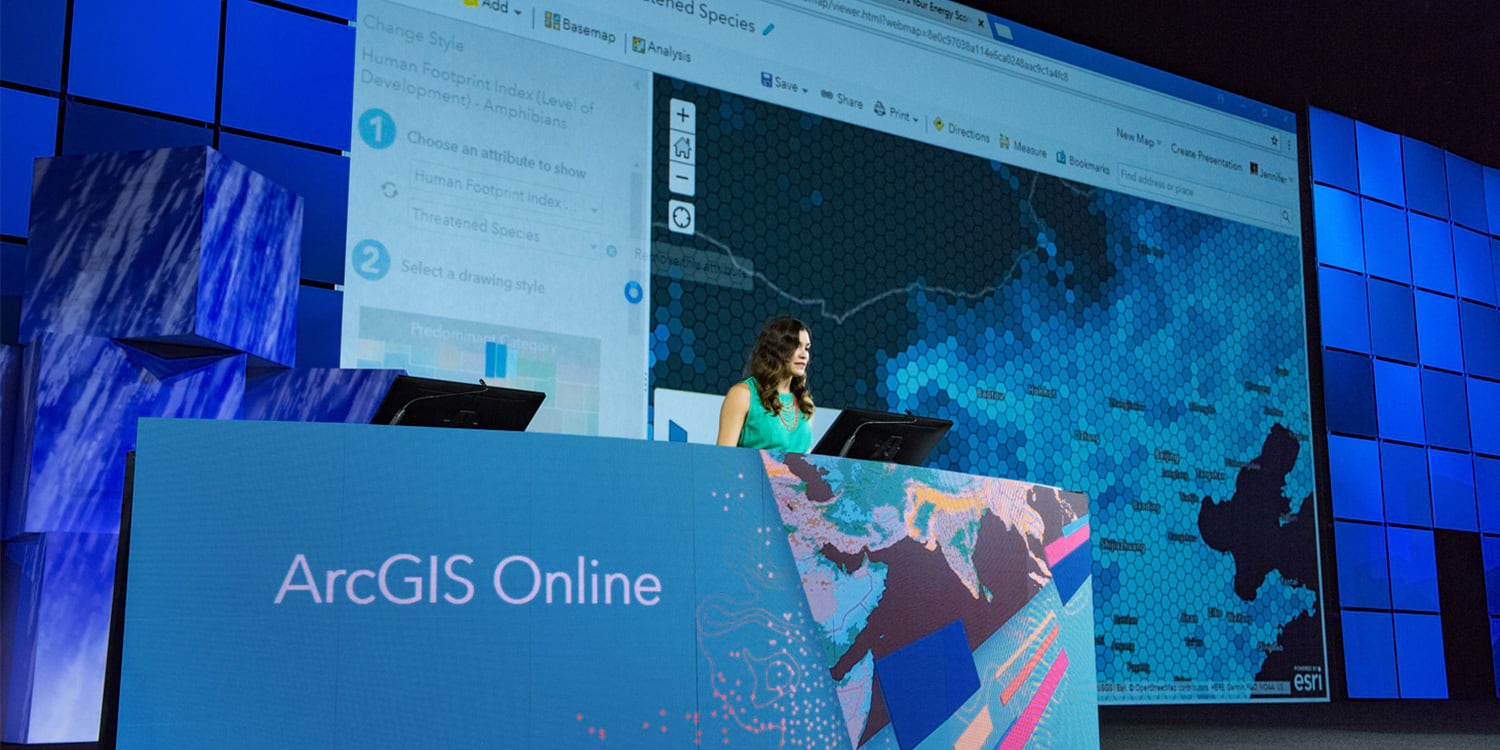 Top 5 ArcGIS Online Annoucements at UC 2023
Mapping and spatial analysis in the cloud is better than ever. You can use ArcGIS Online to create end-to-end spatial workflows in a secure environment powered by reliable infrastructure and organized to fit your needs with rich administrative tools. Visit our showcase area to talk to technical experts to see how you can leverage ArcGIS Online.
Your peers, including some of the world's most respected enterprises, are using ArcGIS Online every day for their critical initiatives. Watch user presentations to see examples of the many use cases for our technology–it's sure to inspire your work!
There's no need to purchase and maintain your own infrastructure; ArcGIS Online manages it for you. Join our technical sessions, demos, and Map Gallery Reception, or talk to our team to see how you can harness the power of GIS in the cloud.
Discover how to leverage our modern and feature-rich apps, such as Map Viewer, ArcGIS Instant Apps, and ArcGIS Experience Builder, in your spatial workflows.
Our technical sessions and user presentations demonstrate how you can use ArcGIS Online to share your work and collaborate with a wide variety of stakeholders. Distributed collaboration allows you to provide data to ArcGIS Enterprise organizations, and partnered collaboration lets you work in real-time on a single source of truth with contributors in another ArcGIS Online organization.
Map Out New Features and Visualize the Road Ahead for ArcGIS Online
Recently updated with upgraded aggregation techniques, web analysis tools, new ArcGIS Instant Apps, and more intuitive capabilities that help you adapt ArcGIS Online to your needs, this year, we're helping you create the world you want to see. Here's a quick recap of some of the latest features we've added to ArcGIS Online:
Spatial analysis tools and related records are now available in Map Viewer.
Users can upload their own png, gif, jpeg, or svg images to use for feature symbology in Map Viewer.
There is now a streamlined administrative experience for deleting a member.
Users can create mobile dashboard views in ArcGIS Dashboards.
General accessibility improvements were implemented across ArcGIS Online.
Beta apps and features invite user feedback: Data Pipelines, Metadata Editor, new ArcGIS Instant Apps templates (e.g., Atlas), and 3D Basemaps.
Get an in-depth view of ArcGIS Online: What's New at this UC 2023 session.
In addition to learning what's currently available in ArcGIS Online, we invite you to meet members of our team and provide your feedback as we share the road ahead. For more focused sessions and demonstrations on our new releases, check out our handpicked schedule of ArcGIS Online events at UC 2023.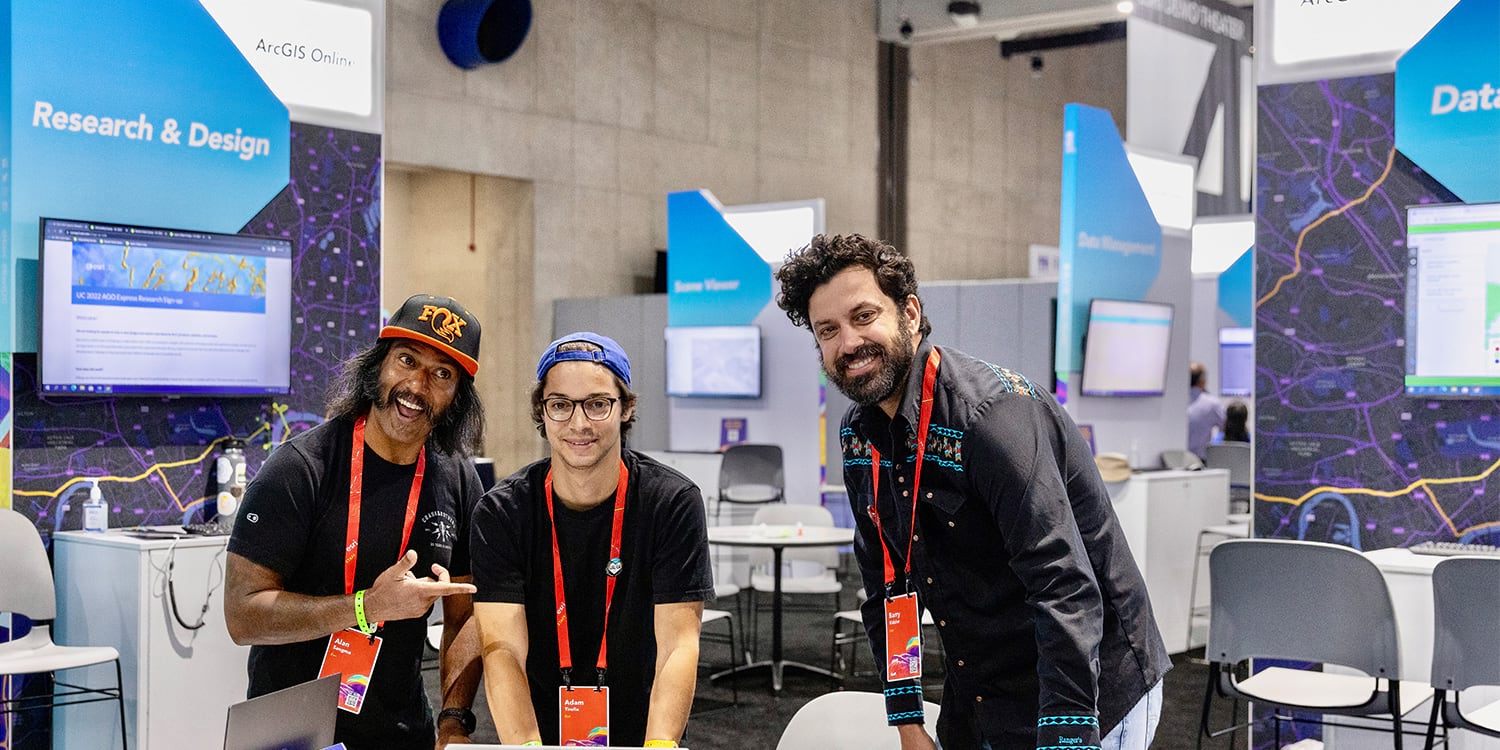 Meet Us at the ArcGIS Online Showcase Area on the Expo Floor
We're here to help! We develop ArcGIS Online with you in mind, and we'd love to meet you. You can stop by at the following times to share your ideas, provide feedback, and ask the team any questions you may have!
| Day and Date | Time | Location |
| --- | --- | --- |
| Tuesday, July 11 | 9:00 a.m. – 6:00 p.m. | Hall B |
| Wednesday, July 12 | 9:00 a.m. – 6:00 p.m. | Hall B |
| Thursday, July 13 | 9:00 a.m. – 4:00 p.m. | Hall B |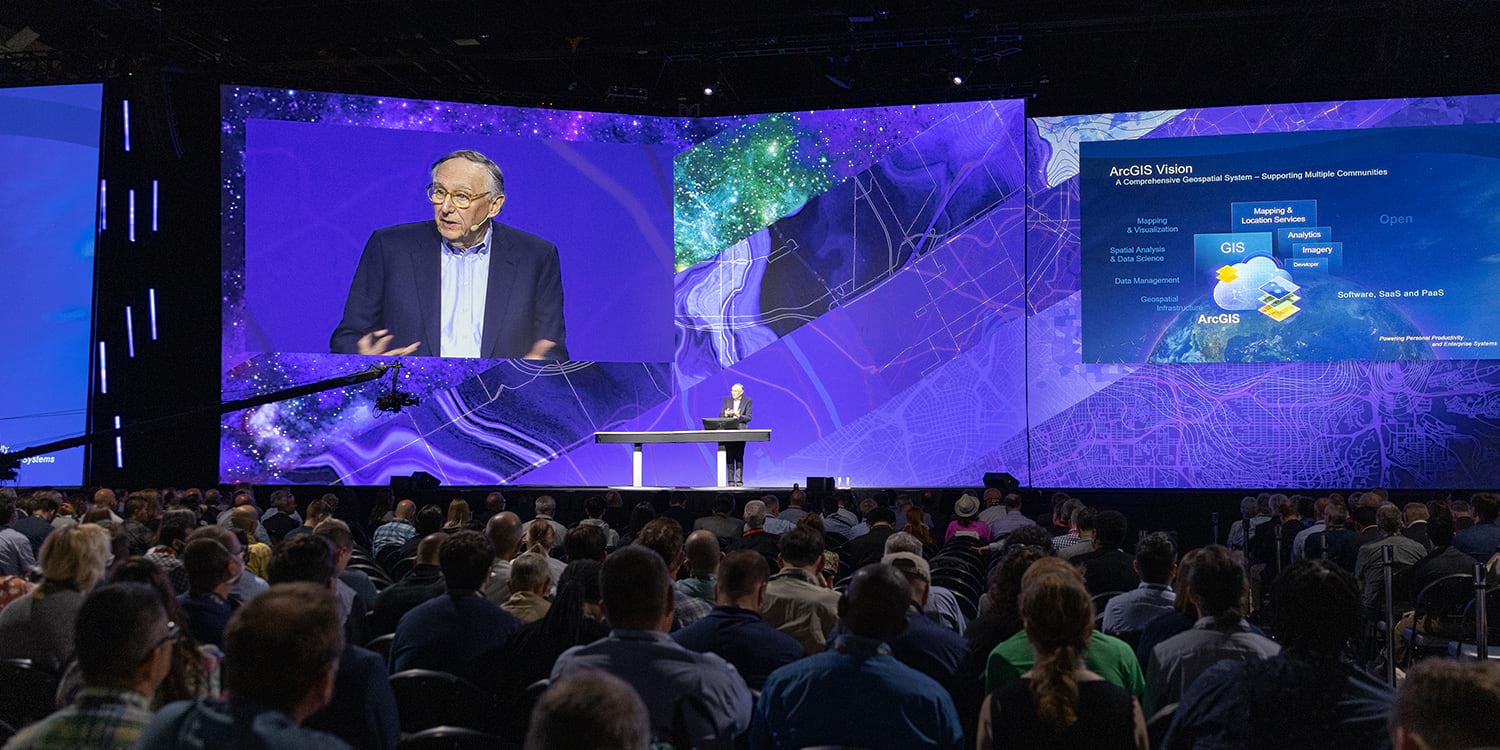 Get Inspired: See How ArcGIS Online is Helping to Solve Some of Humanity's Greatest Challenges
It's our 43rd annual Esri User Conference, and we have a stellar lineup of speakers to help us celebrate! Led by Esri founder Jack Dangermond, our Plenary on Monday, July 10, is where you can get inspired by extraordinary examples of using ArcGIS Online to address critical issues around the world.
A keynote presentation by Richard W. Spinrad, Ph.D., highlights how we can leverage GIS to examine the unexplored 95% of our planet's ocean. Additionally, Dr. Steve Boyes shows us how his incredible work exploring the Okavango Delta's watersheds reveals how ArcGIS Online is used globally to tackle climate change and conservation.
You'll also hear from customers like you, who use ArcGIS Online to find patterns and make the informed decisions that shape our world. Learn how California's Orange County uses ArcGIS Online to plan and manage one of the most innovative GIS implementations across the country. Electrify America, the ultra-fast electric vehicle charging network, will share how they select new sites, manage their nationwide presence, and deliver optimized and unique customer experiences with ArcGIS Online. Do you want to find out how ArcGIS Online is being applied to the active build of a two-million-square-foot, $1.7 billion hospital? PCL Construction will give us an in-depth look into how they are planning, monitoring, and delivering the New St. Paul's Hospital in Vancouver, British Columbia.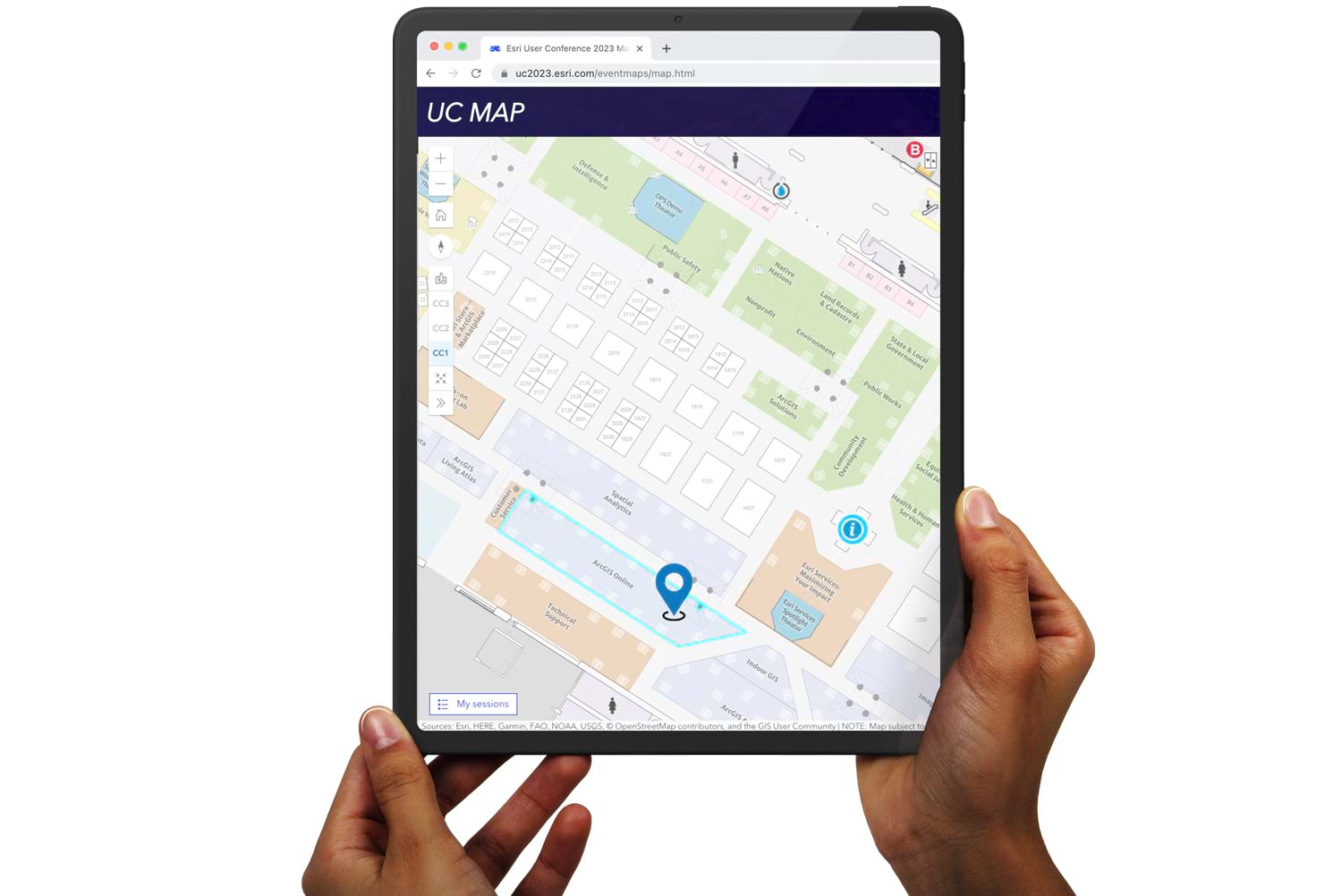 Your Compass to the Esri User Conference
Our 2023 User Conference has close to 1000 activities, including technical workshops, demonstrations, user presentations, and networking events, so you have many options to choose from! We've compiled a list of ArcGIS Online-specific resources to help you navigate it all: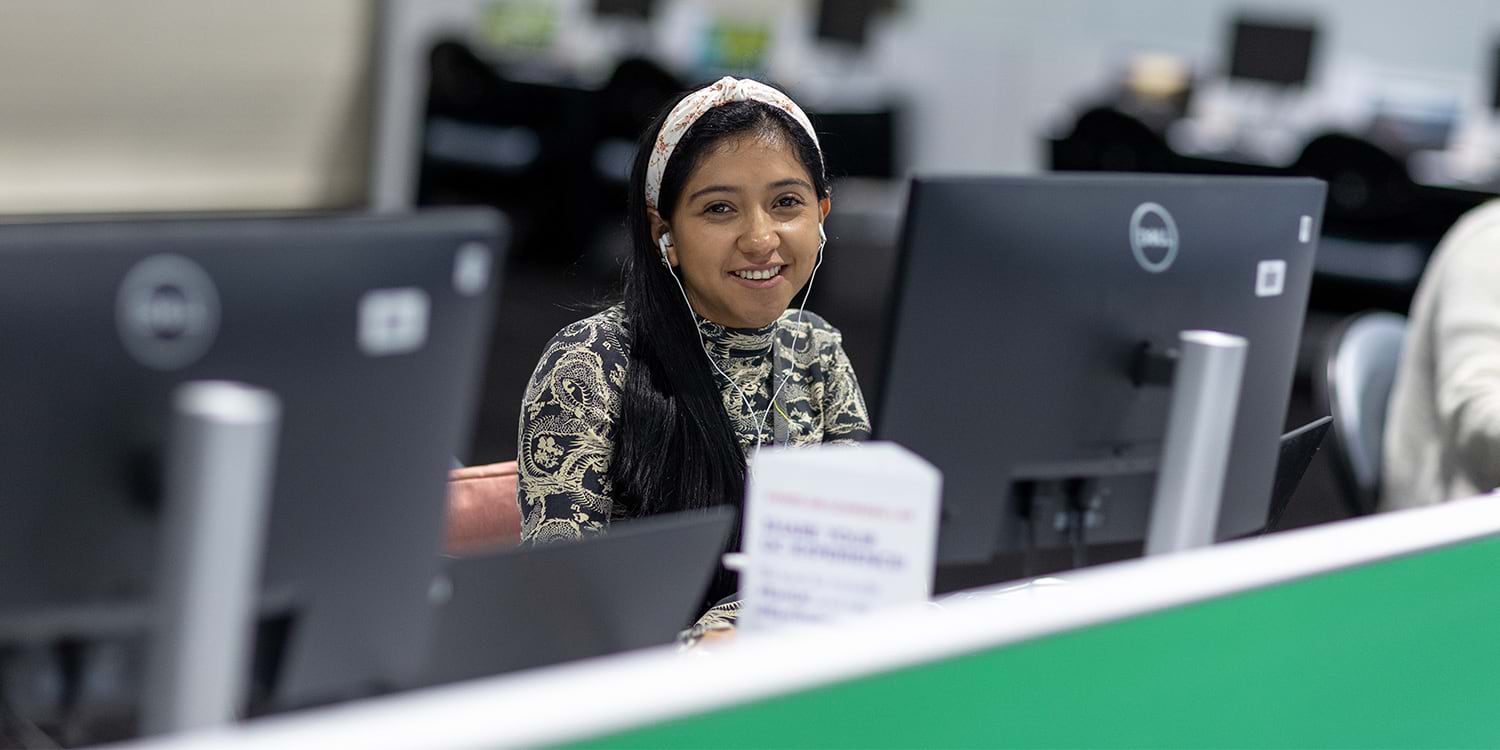 Schedule a Service Appointment
Did you know that you can schedule complimentary one-on-one time with a GIS consultant? Learn more about this opportunity here.
Additional Resources
We can't wait to have you join us for another User Conference!
ArcGIS Online Team