As part of the ArcGIS 2022 Q2 release, ArcGIS Pro enables users to expand their GIS abilities with all-new capabilities, performance, and productivity improvements. Catch up on all the new features within ArcGIS Pro through our What's New in ArcGIS Pro 3.0 video, or please continue reading to discover just a few highlights of this recent update. Before we dive into the highlights, but sure to review the best practices for both migration and working between ArcGIS Pro 2.x and 3.0, feel free to click the link here for the latest.
Migration from ArcGIS Pro 2.x to 3.0
After reviewing the new system requirements and installing ArcGIS Pro 3.0, projects and files that you or others created in ArcGIS Pro 2.9 or earlier can be opened because they are forward compatible. When you save them using ArcGIS Pro 3.0, they are enabled with properties that allow you to take advantage of new capabilities.
Backward compatibility
Because ArcGIS Pro 3.0 is a major release, the files it saves may or may not work with the ArcGIS Pro 2.x series. Details of what works and what doesn't are provided later in this topic. However, you don't need to worry about those details if the projects and documents you create or save are always used in ArcGIS Pro 3.x. This is the case when the following occurs:
You don't share your 

ArcGIS Pro

 files with other 

ArcGIS Pro

users, such as if you are the only GIS analyst in an organization.
You and your colleagues, between whom you share 

ArcGIS Pro

 files, upgrade to 

ArcGIS Pro 3.0

at the same time.
Considering that collaboration is simplified when colleagues are on the same major version, organizations may plan to simultaneously migrate all of their instances of ArcGIS Pro 2.x to 3.0.
Highlights
Now that you're caught up to speed and ready to run the latest release of ArcGIS Pro, here are some of our favorite features that we are excited to bring you.
Package Manager
The Package Manager page allows you to manage conda environments for use within ArcGIS Pro. Formerly identified as the Python page, the Package Manager page now supports the upgrade of conda environments you've created in previous versions of ArcGIS Pro to the current version, the repair of broken environments, and the renaming of existing environments.
In addition, the Package Manager is more responsive, with a new task queue to keep track of the status of your environment and package changes, and detailed conda messages are provided for all operations.
Add maps to reports
You can now add a map to a report. Maps that you add to the report header or footer are static. You can activate the map frame to adjust the map extent or scale. Maps that you add to a group header, group footer, or details subsection are dynamic. In the report view, the map frame of a dynamic map cannot be activated; however, the exported result updates in scale and extent to reflect the feature or features included in that subsection.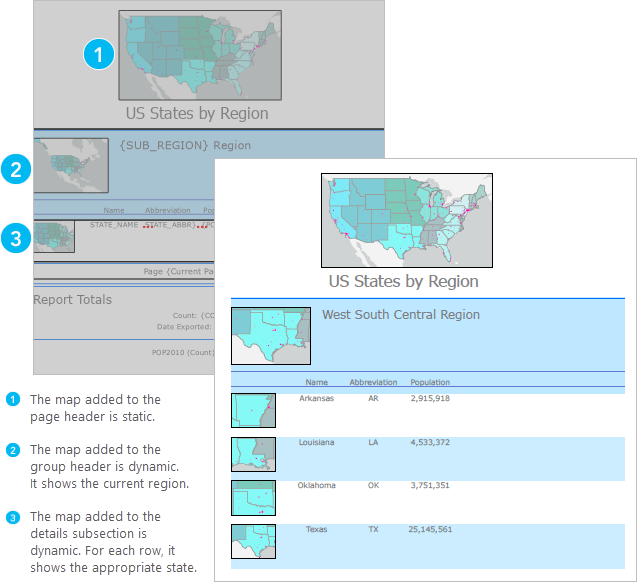 ArcGIS Knowledge
If you have configured an ArcGIS Enterprise 11.0 Knowledge Server appropriately, you can create a new investigation and knowledge graph using a Neo4j database as a NoSQL data store.
A new Geographic layout is available for link charts. Entities in the link chart are positioned on a map using their spatial geometry. Spatial data can also be added to the link chart and a basemap can be used to provide context for the knowledge graph's spatial entities.
For more new functionality and updated licensing information, see ArcGIS Knowledge in the Data management and workflows section.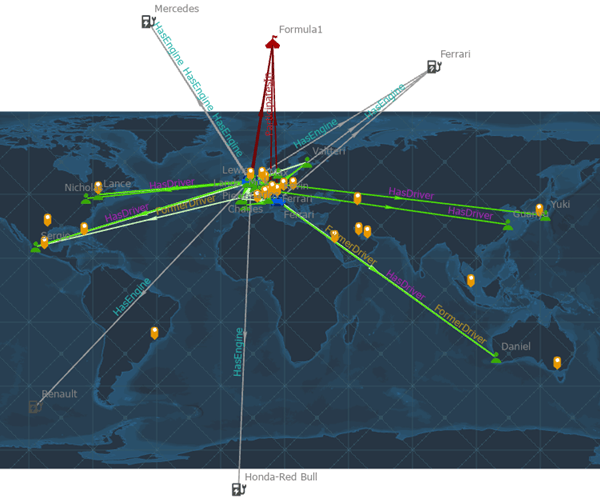 Export presets
You can create export presets for maps and layouts in ArcGIS Pro. Export presets save all the settings for a particular export type. When you export a map or layout, you can select a default preset or a custom preset you created. This allows for a faster and more consistent export experience.
Presets are available in the export gallery on the Share tab of the ribbon. You can also browse to preset files (.xprt) on the file system. Presets can be created for any export type.
Hungry for more? Catch up on all the new features within ArcGIS Pro 3.0 through the recent What's New in ArcGIS Pro 3.0 video today.
Not Yet An ArcGIS Pro User?
That's fine, feel free to try ArcGIS Pro for yourself through our ArcGIS Pro Trial below.