Here is a map of the Triple Crown of US long hikes: the Pacific Crest Trail, the Continental Divide Trail, and the Appalachian Trail.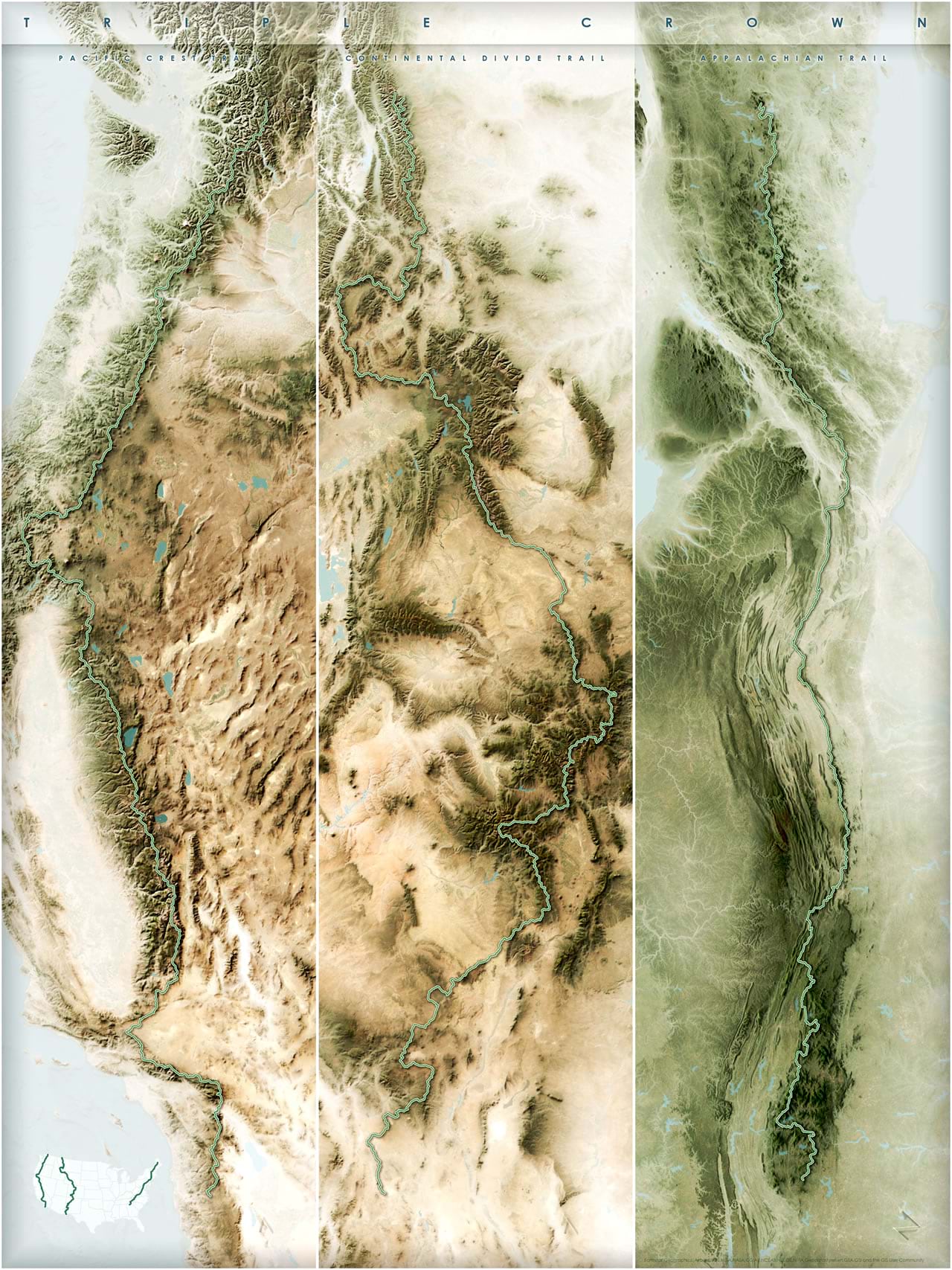 This past fall, Jacqueline Nova, a colleague here at Esri, asked if I would make a map to commemorate her father's completion of the Triple Crown. What a feat! The hiking; not the mapping. This is the map I made and here is how you can make it, or something like it…
…
…
It uses open data from the three trails organizations (two of them were ArcGIS Hubs), world imagery basemap tiles and the terrain image service from Living Atlas, and whipped up into a triptych poster in ArcGIS Pro. Here's the cheat-sheet…
0:00 Rapturous introduction
0:28 The data! My shameful googling trick to find GIS data in the wild
1:01 Data cleanup (dissolve and merge GP tools)
3:30 Line symbology (cased line with fake dropshadow)
5:02 Terrain styling (hillshade, blurry hillshade, and mist!)
7:09 Assembling the 3-panel layout
9:08 Adding in a glassy north arrow
9:31 Gently wrapping it in a vignette
11:07 Title text styling (cased text with fake glow effect)
12:10 Cute little overview map
Growing up, my father often talked about how he would like to take my brother and me to hike on Isle Royale. Like many optimistic plans the day-to-day of life happens and time and opportunities slip away. As an adult (allegedly) myself, I've sometimes thought that it would be nice to revive that goal and take him there. But he is 81 years old now, and I fear that I've missed my chance. Unfulfilled goals can be a funny thing. Even those inherited from a father. They sneak up on us with pangs of regret, but there is a thin layer of comfort and nostalgia just knowing that there was a goal and that I was a part of its imaginings.
Love, John