This post was originally published in September 2019, but has been updated more recently to reflect the newest capabilities and enhancements added to collections in subsequent releases of  ArcGIS StoryMaps.
_______________
The next generation of ArcGIS StoryMaps is growing by leaps and bounds. If you've kept up with our running list of latest features, you know what I mean. Unsurprisingly, many of these features will enhance the story authoring experience. But we also want to make it easier for you to share your work with whomever you like.
That's why, in August, 2019, just a couple of months after ArcGIS StoryMaps was rolled out, we introduced a new feature called collections. You can use collections to quickly group stories together and share or present them as a cohesive, easily navigable set. Since they were first introduced, though, we've enhanced collections quite a bit. Not only have we made some improvements to the experience of creating a collection, we've also expanded the range of things you can put in them, including:
Stories made with the classic Esri Story Maps
Configurable apps like Compare or Minimal Gallery
Apps made with ArcGIS Experience Builder, Hub, Insights, Operations Dashboard, and WebApp Builder
Other items you've saved in ArcGIS Online
Any embeddable content from anywhere on the web, via URL or iframe code
Photos, videos, and PDF files uploaded from your own computer
Let's quickly go through what collections are and when you might use them. If you'd like to go further, there's also a short, step-by-step tutorial you can follow to make your first collection in just a few minutes. If you have any feedback, we're eagerly awaiting comments, questions, and suggestions in this GeoNet discussion.
What is an ArcGIS StoryMaps collection?
A collection is pretty straightforward—it's a set of stories and other apps that you manually bundle together. Once you've added items to a collection you can share it with the public, your ArcGIS organization, or specific groups in ArcGIS Online.
Collections start with an overview page that shows the collection title, description, and a grid of thumbnails representing the items included in the set. When you click on a particular item card, or Get started, you'll enter a collection's main viewing experience. Here, stories and apps are shown one at a time at the full width of your browser. You can move through them sequentially using the navigation at the top, or re-open the collection overview and use the thumbnails to jump around.
Why group stories together like this?
There are a number of instances where a collection could be useful. Our authoring community will undoubtedly come up with a variety of unexpected ways to leverage them, but here are the three most common scenarios where we think having a collection will be a big help.
You want to create a portfolio of your work
A collection is the perfect way to showcase the body of work you've made with ArcGIS StoryMaps and other ArcGIS apps. Spin one up to create a shareable catalogue of all the great things your organization has published, or use it to show the range of projects you may have worked on as a consultant. My team created one to show off some of our favorite stories we, and our colleagues, created last year.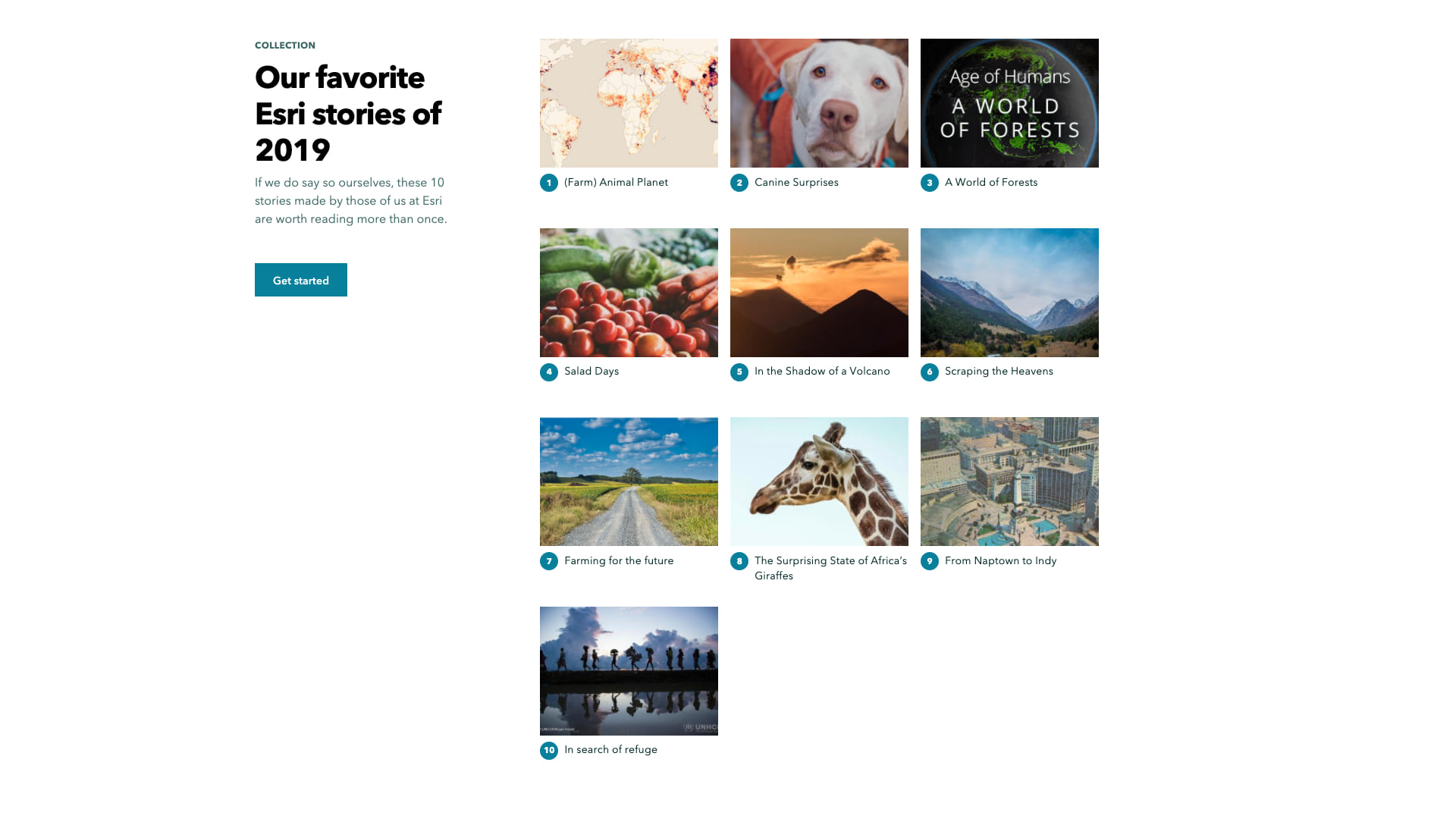 You have one big story you'd like to tell in several installments
Some subjects are just too vast to cover in a single story. If that's the case, breaking your material up into chapters can make it much easier for a reader to approach and work through at their own pace. While linking between chapters within the stories themselves is always a best practice, you can also use a collection to provide a polished, informative series overview. The story card details make it easier for someone to pick back up where they left off, and can even pique their interest in later chapters. If there is an app that adds even greater context to your narrative, or lets a reader dive deeper into the material, be sure to include it!
Here's a quick example of this use case: It didn't make sense for my teammate to create a single story combining four different lists of the Seven Wonders of the World—it would have made for an awfully crowded story. But, by including all four stories in a single collection, he can now share the whole set. This makes it easy for readers to see how long a read they're in for while also letting them browse at their leisure.
You have several apps on closely related topics
If you have a variety of stories and apps that you'd like to keep together as related resources, collections can make your life a whole lot easier. They're the perfect way to aggregate training materials, tutorials, student assignments, apps that give a snapshot of a current disaster response effort—the list goes on and on. Here's one example that aggregates information being shared by state and local governments about the 2020 Census. Or another example is the collection we use to keep all our weekly community updates together in one place.
Ready to make your own collection? Go ahead and open ArcGIS StoryMaps to start experimenting and see what you come up with. Or, if you'd like a more structured approach, use the tutorial linked below to learn the ins and outs of collection creation. Just be sure to let me know how helpful you found by using the star rating system at the end. Thanks!