Last week we released a slew of updates to ArcGIS StoryMaps (which itself had only been released in July). We're hoping this latest round of enhancements gives you a sense of our vision for where ArcGIS StoryMaps is heading, both in terms of our overall approach and the speed at which we're working to get there.
If you saw our overview of new features, you know there's a lot that's been added to StoryMaps. Unsurprisingly, many of these features will enhance the story authoring experience. But we also want to make it easier for you to share your stories with whomever you like. And there's one new feature in particular—ArcGIS StoryMaps collections—that opens some exciting new doors in the sharing arena. With collections, you can quickly group story maps together and share or present them as a cohesive, easily navigable set.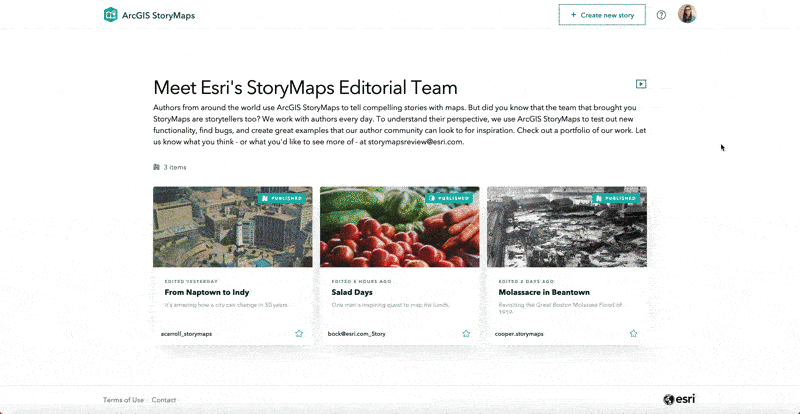 To get you up and running, let's quickly go through the what, why, and how of collections. Just keep in mind that this feature is currently in beta. If you have any feedback, we're eagerly awaiting comments, questions, and suggestions in this GeoNet discussion.
What is a StoryMaps collection?
A collection is pretty straight forward—it's a set of stories that you manually bundle together. Once you've added stories to a collection you can share it with either the public or just your ArcGIS organization and distribute the link as needed.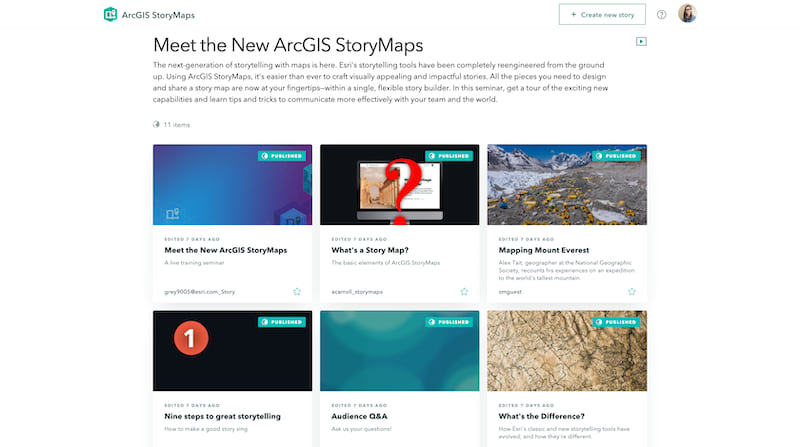 A reader has two ways to engage with a published collection. From the collection overview they can read the short description you've written about this particular set of stories, browse a gallery of cards with the title and description of each story in the set, and open up a particular story to start reading.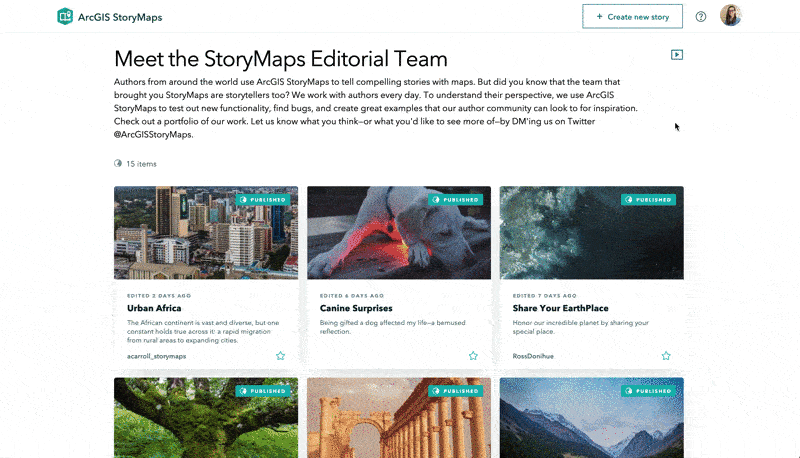 Or, a reader can enter a collection's presentation view. Here, story maps are shown one at a time at full width and a reader moves through them sequentially in the order you set when authoring the collection. Your reader can scroll through a story, step between stories one at a time using the navigation in the collection header, or jump around the collection by opening the table of contents and selecting their next read.
Why group story maps together like this?
There are a number of instances where a collection of stories could be useful. Our authoring community will undoubtedly come up with a variety of unexpected ways to leverage them, but here are the three most common scenarios where we think having a story collection will be a big help.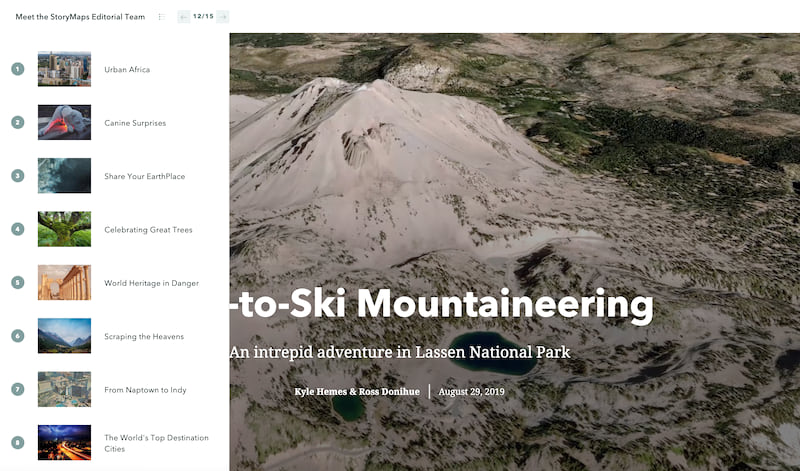 You want to create a portfolio of your story maps
A collection is the perfect way to showcase the body of work you've made with StoryMaps. Spin one up to create a shareable catalogue of all the stories your organization has published, or use it to show the range of projects you may have worked on as a consultant. My team created one as a helpful, one-stop-shop for the stories we've made showcasing the versatility of StoryMaps.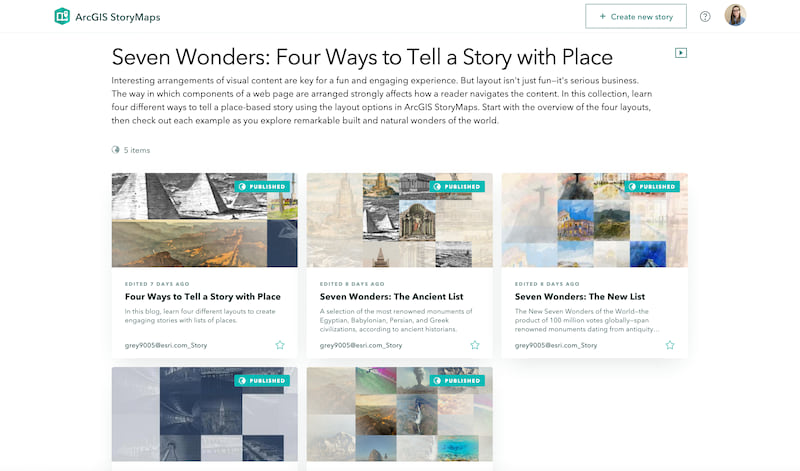 You have one big story you'd like to tell in several installments
Some subjects are just too vast to cover in a single story map. If that's the case, breaking your material up into chapters can make it much easier for a reader to approach and work through at their own pace. While linking between chapters within the stories themselves is always a best practice, you can also use a collection to provide a polished, informative series overview. The story card details make it easier for someone to pick back up where they left off, and can even pique their interest in later chapters.
As an example, it didn't make sense for my teammate to create a single story combining four different lists of the Seven Wonders of the World—it would have made for an awfully crowded story. But, by including all four separate story maps in a single collection, he can now share the whole set, making it easy for readers to see how long the full read is and letting them browse at their leisure.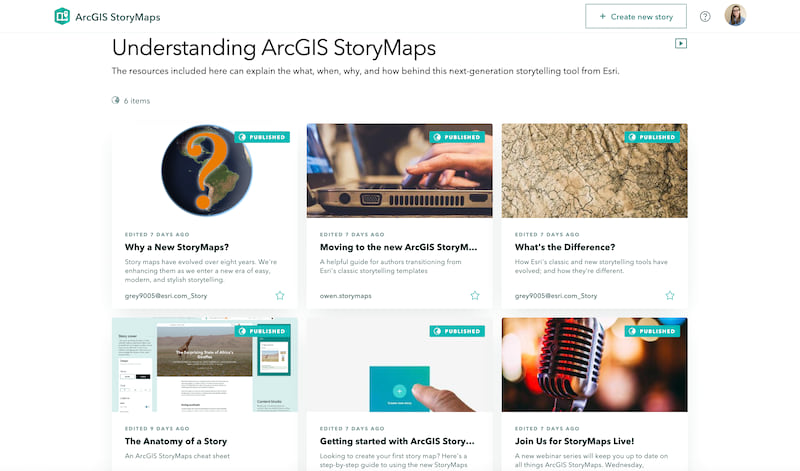 You have several stories on closely related topics
If you have a variety of story maps that you'd like to keep together as related resources, collections can make your life a whole lot easier. They're the perfect way to aggregate training materials, tutorials, student assignments, or any other kind of story maps you want to keep as a set. We created this collection of resources for anyone who has questions about the goals, release, and timeline of ArcGIS StoryMaps, for example.
How do you make your own collection?
Creating your first collection should be a snap. To get started, navigate to storymaps.arcgis.com and sign in. Click your profile image in the header to open the menu of options available there and navigate to My Collections (beta). The My Collections space should look familiar—it contains the same tabs and capabilities as My Stories, but here the My Favorites and My Organization tabs will display collections instead of story maps.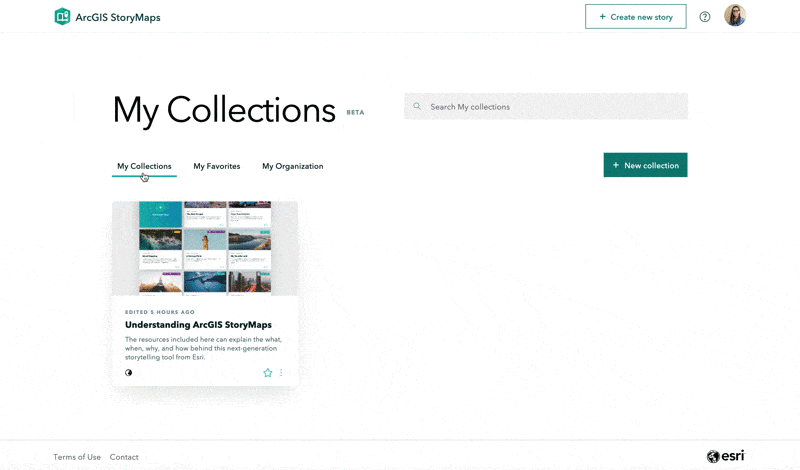 Click Create new collection to get started, then give your collection a working title and description. You can edit these and adjust the sharing settings later if needed. The details modal will close once you save the collection, bringing you into the collection builder.
Currently, collections can only contain published stories made with ArcGIS StoryMaps. Use Add item to add stories that you've made, saved to your favorites, or are shared with your organization. Stories are added to a collection one at a time, though the ability to select multiple pieces at once is in the works. (Have another request? Tell us.) As you add stories, you'll see them appear as cards in the collection builder.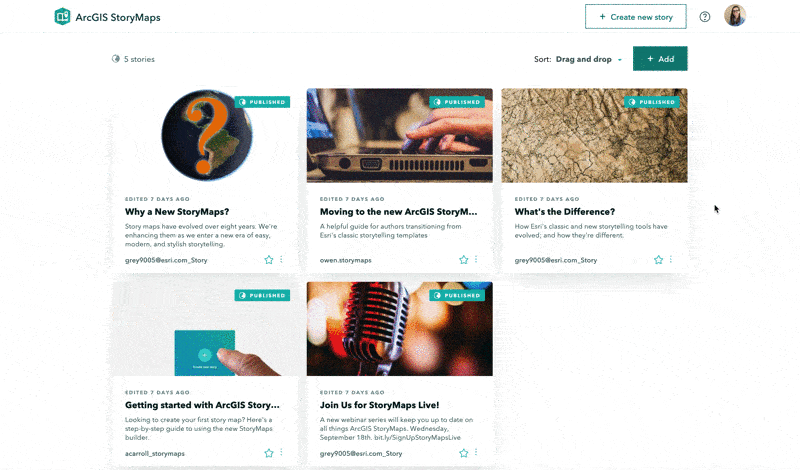 You have a few different ways to order the content in your collection. Stories will first appear in the order in which you added them; you can drag and drop cards to re-order as you like. Or you can choose to automatically sort your stories alphabetically, or by the date they were modified, by choosing either of these options from the Sort menu.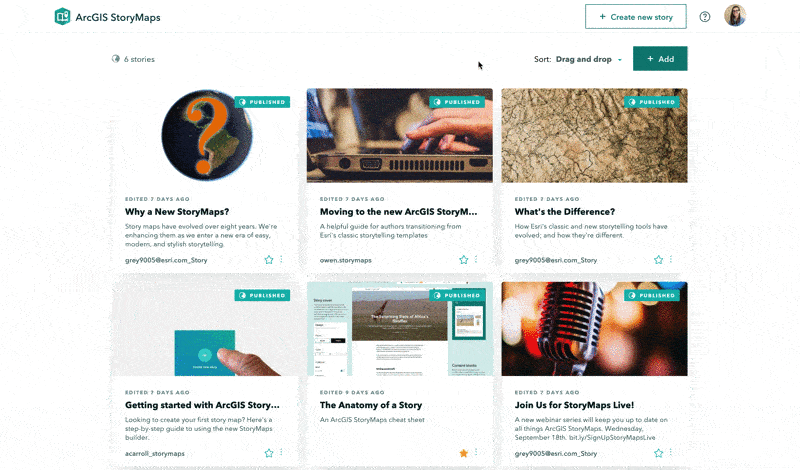 You can enter the presentation view of your collection by clicking the little play icon above Add. Clicking the three dots next to the play icon will also open a menu where you can choose to adjust your collection details (the title, description, and sharing permissions) or delete the collection entirely. Once your collection is shared with the appropriate audience, simply grab the link and send it around.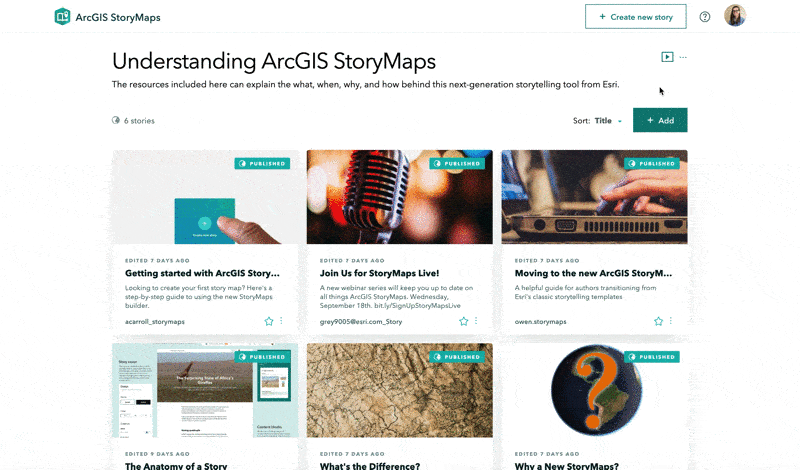 As a final reminder, collections are currently a beta feature. (That's why you'll need to go to your collection's item page in ArcGIS Online to add a thumbnail for now.)
We have several planned enhancements in the works, but we also want to know more about:
The ways you could see yourself using collections,
What other capabilities you're hoping they'll have, or
If any part of the collection-authoring process doesn't make sense for your workflows.
As you start making collections of your own, be sure to let us know how it's going in this discussion on GeoNet. And, as always, don't forget share your finished collections with us on Twitter!