This post was originally published in September 2019, but has been updated to reflect the newest capabilities and enhancements added to collections in the October 2019 and January 2020 releases of ArcGIS StoryMaps.
_______________
The next generation of StoryMaps is growing by leaps and bounds. If you've seen the latest list of newly released features, you know what I mean. Unsurprisingly, many of these features will enhance the story authoring experience. But we also want to make it easier for you to share your work with whomever you like.
That's why, in our August release, we introduced a new beta feature called collections. You can use collections to quickly group stories together and share or present them as a cohesive, easily navigable set. This month, though, we've taken collections a step further. Not only have we made some improvements to the experience of creating a collection, we've also expanded the range of things you can put in them to include a number of other ArcGIS apps, including:
Stories made with the classic Esri Story Maps
Configurable apps like Compare or Minimal Gallery
Apps made with Web App Builder or Operations Dashboard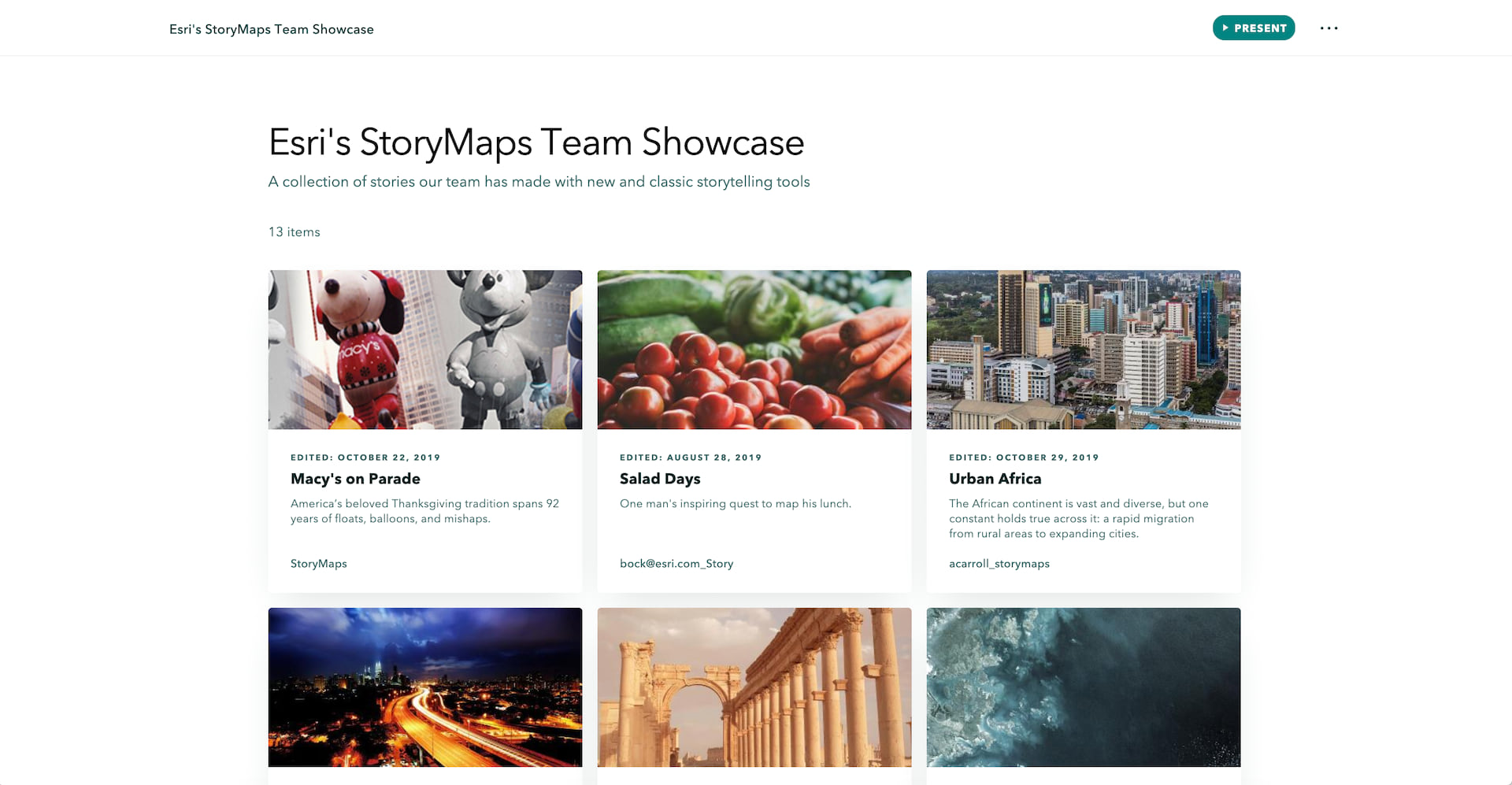 To get you up and running, let's quickly go through the what, why, and how of collections. Just keep in mind that this feature is currently in beta. If you have any feedback, we're eagerly awaiting comments, questions, and suggestions in this GeoNet discussion.
What is a StoryMaps collection?
A collection is pretty straightforward—it's a set of stories and other apps that you manually bundle together. Once you've added items to a collection you can share it with either the public or just your ArcGIS organization and distribute the link as needed.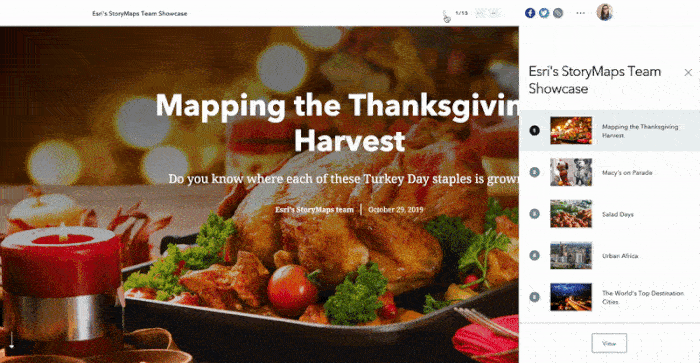 You have two ways to engage with a published collection. From the collection overview you can read a short description about this particular set of items and browse a gallery of cards with the title and description of each piece in the set. When you click on a particular item card, or Present in the upper right corner, you'll enter a collection's presentation view. Here, stories and apps are shown one at a time at the full width of your browser. You can move through them sequentially using the navigation in the collection header or jump around the collection by opening the table of contents and selecting whatever catches your eye.
Why group story maps together like this?
There are a number of instances where a collection could be useful. Our authoring community will undoubtedly come up with a variety of unexpected ways to leverage them, but here are the three most common scenarios where we think having a collection will be a big help.
You want to create a portfolio of your work
A collection is the perfect way to showcase the body of work you've made with StoryMaps and ArcGIS. Spin one up to create a shareable catalogue of all the great things your organization has published, or use it to show the range of projects you may have worked on as a consultant. My team created one as a helpful, one-stop-shop for browsing our favorite stories we've made with both Esri's new and classic storytelling tools.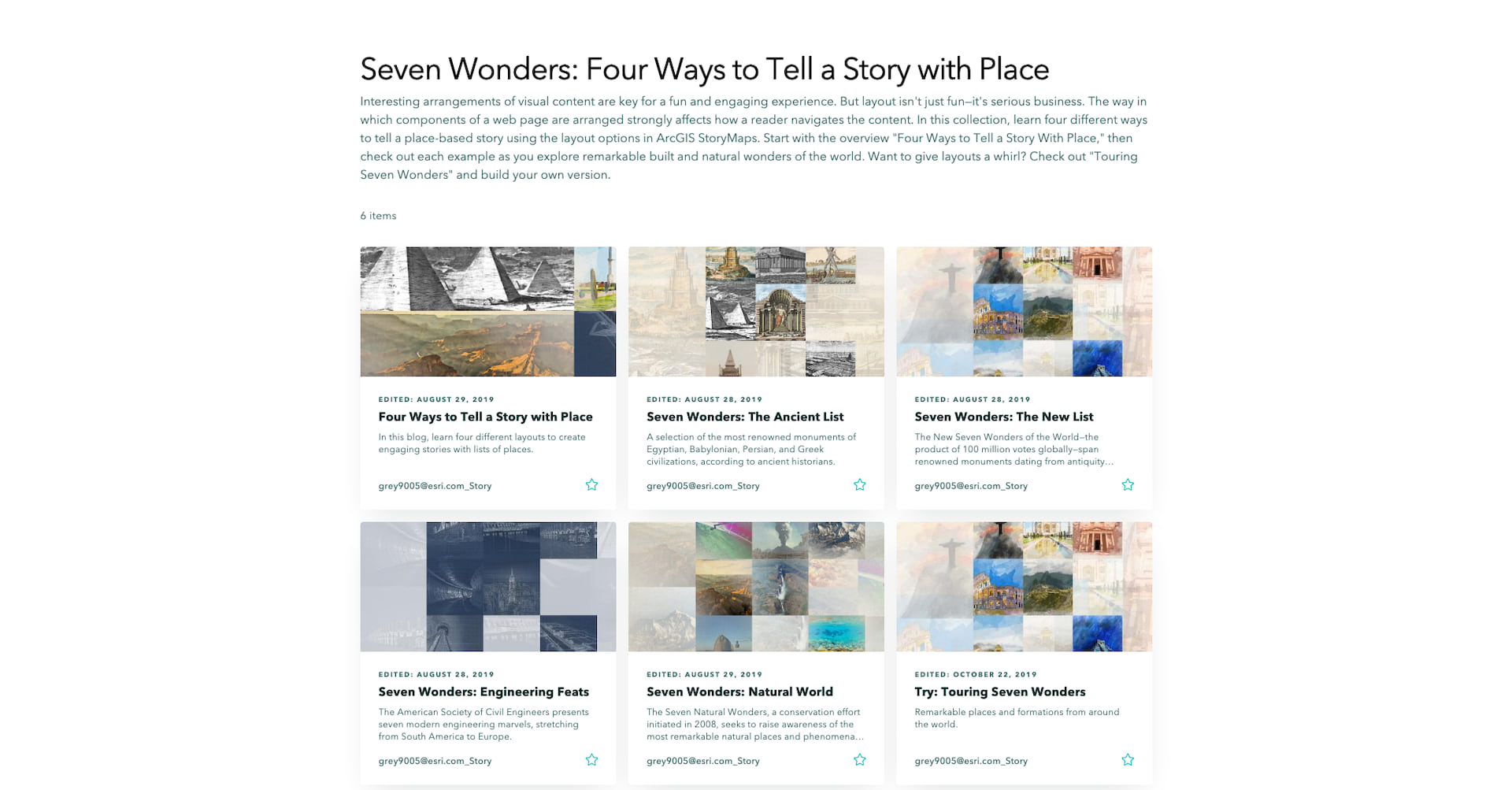 You have one big story you'd like to tell in several installments
Some subjects are just too vast to cover in a single story map. If that's the case, breaking your material up into chapters can make it much easier for a reader to approach and work through at their own pace. While linking between chapters within the stories themselves is always a best practice, you can also use a collection to provide a polished, informative series overview. The story card details make it easier for someone to pick back up where they left off, and can even pique their interest in later chapters. If there is an app that adds even greater context to your narrative, or lets a reader dive deeper into the material, be sure to include it!
Here's a quick example of this use case: It didn't make sense for my teammate to create a single story combining four different lists of the Seven Wonders of the World—it would have made for an awfully crowded story. But, by including all four story maps in a single collection, he can now share the whole set. This makes it easy for readers to see how long a read they're in for while also letting them browse at their leisure.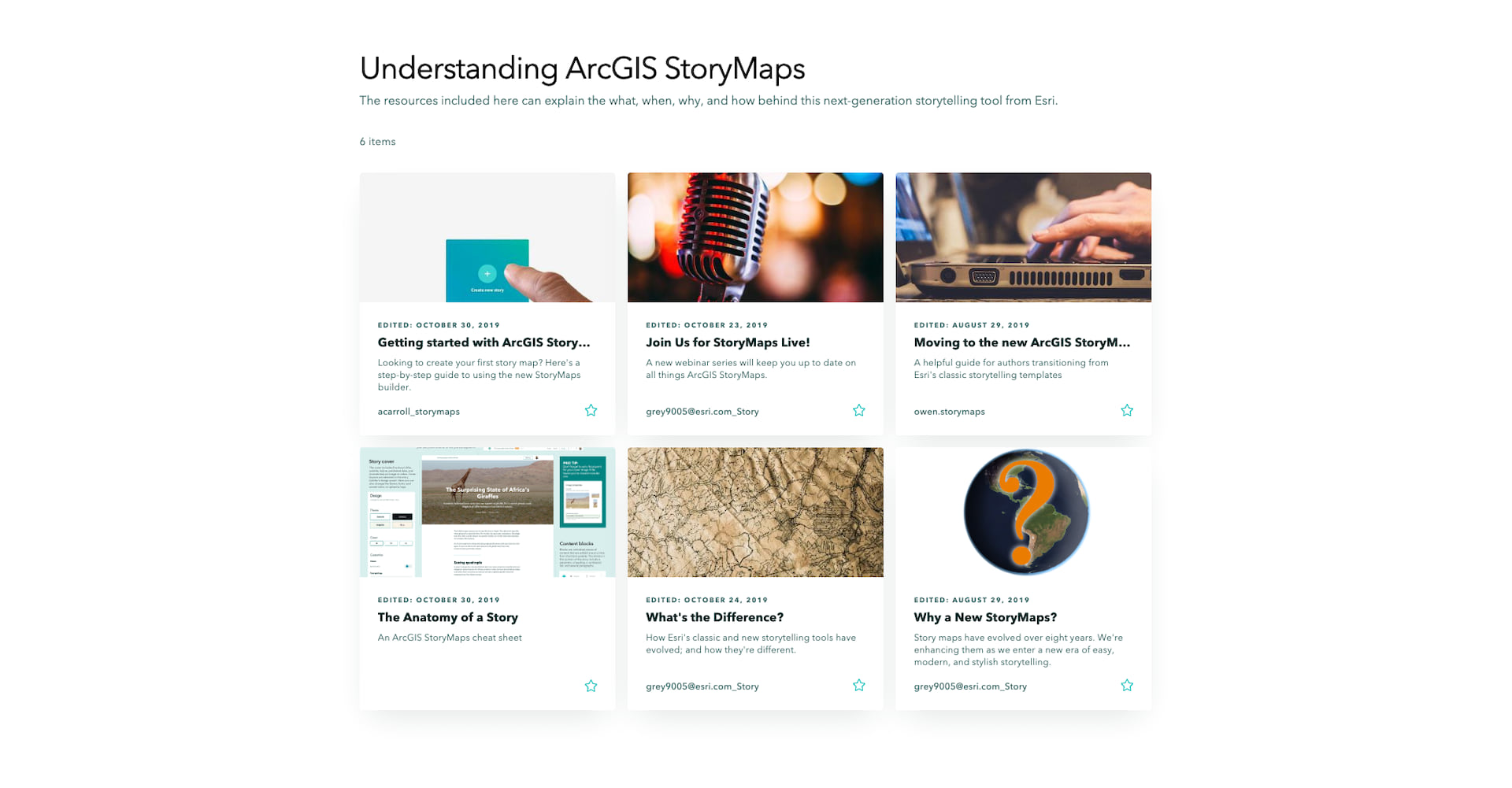 You have several apps on closely related topics
If you have a variety of story maps and apps that you'd like to keep together as related resources, collections can make your life a whole lot easier. They're the perfect way to aggregate training materials, tutorials, student assignments, apps that give a snapshot of a current disaster response effort—the list goes on and on. We created this collection of resources for anyone who has questions about the goals, release, and timeline of ArcGIS StoryMaps, for example.
How do you make your own collection?
Creating your first collection should be a snap. To get started, navigate to storymaps.arcgis.com and sign in. In the ArcGIS StoryMaps header you'll see a Stories tab—where you manage your individual story maps—and a Collections tab. The Collections space should look familiar—it contains the same tabs and capabilities as Stories, but here the My Favorites and Shared with Me filters will display collections instead of story maps. You can also move between these two management spaces through the menu attached to your account avatar.
Click Create new collection to get started, then give your collection a working title and description. You can edit these at any time—just start typing in the text fields at the top of the collections builder.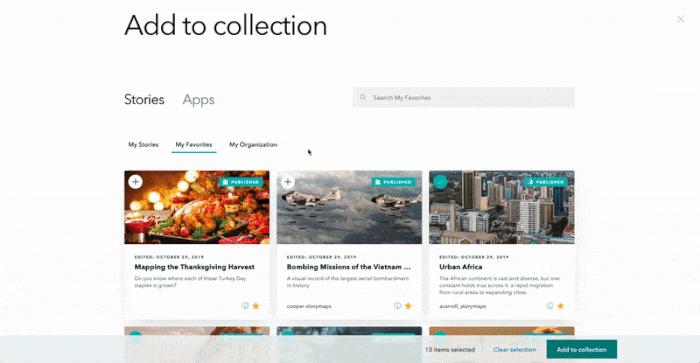 Click Add item to open up the content browser. The Stories tab will display any story maps you've made with ArcGIS StoryMaps, and has familiar filtered views like My Favorites and Shared with Me. The Apps tab is pretty much the same, except this is where you can add in classic stories and—you guessed it—your other ArcGIS apps.
Click the little plus in the corner of each item card to select it. Collections can hold up to 30 items, and your selection will persist as you move between tabs. When you're satisfied with your selection click Add to collection. (You can click clear selection to start over, if you needed.)
Once it's been added, you have a few different ways to order the content in your collection. Items will first appear in the order in which you added them, but you can drag and drop cards to re-order as you see fit. Or you can choose to automatically sort the cards alphabetically by title, by the date they were last modified, or by the date you added them to this collection (a great choice for projects that will grow over time). You can select any of these arrangement options from the Sort: menu.
Once your collection is looking good, click Publish in the builder header and set your sharing settings. You can change these later if needed from the More actions menu (that's the … in the builder header).
When your collection is published you'll be taken to its overview—the card gallery view. You can share this link with anyone you like, or you can enter the presentation view and share from there if you want your audience to be dropped right into this more immersive reading experience.
If you'd like to keep editing your collection, return to the overview using the button at the bottom of the table of contents, or by removing /present from the URL, then click Edit collection. Like the story builder, the collections builder will automatically save any updates you make to a published collection as unpublished changes, marked by that familiar purple badge in the header. When you want to make these changes visible to your audience, simply republish the collection.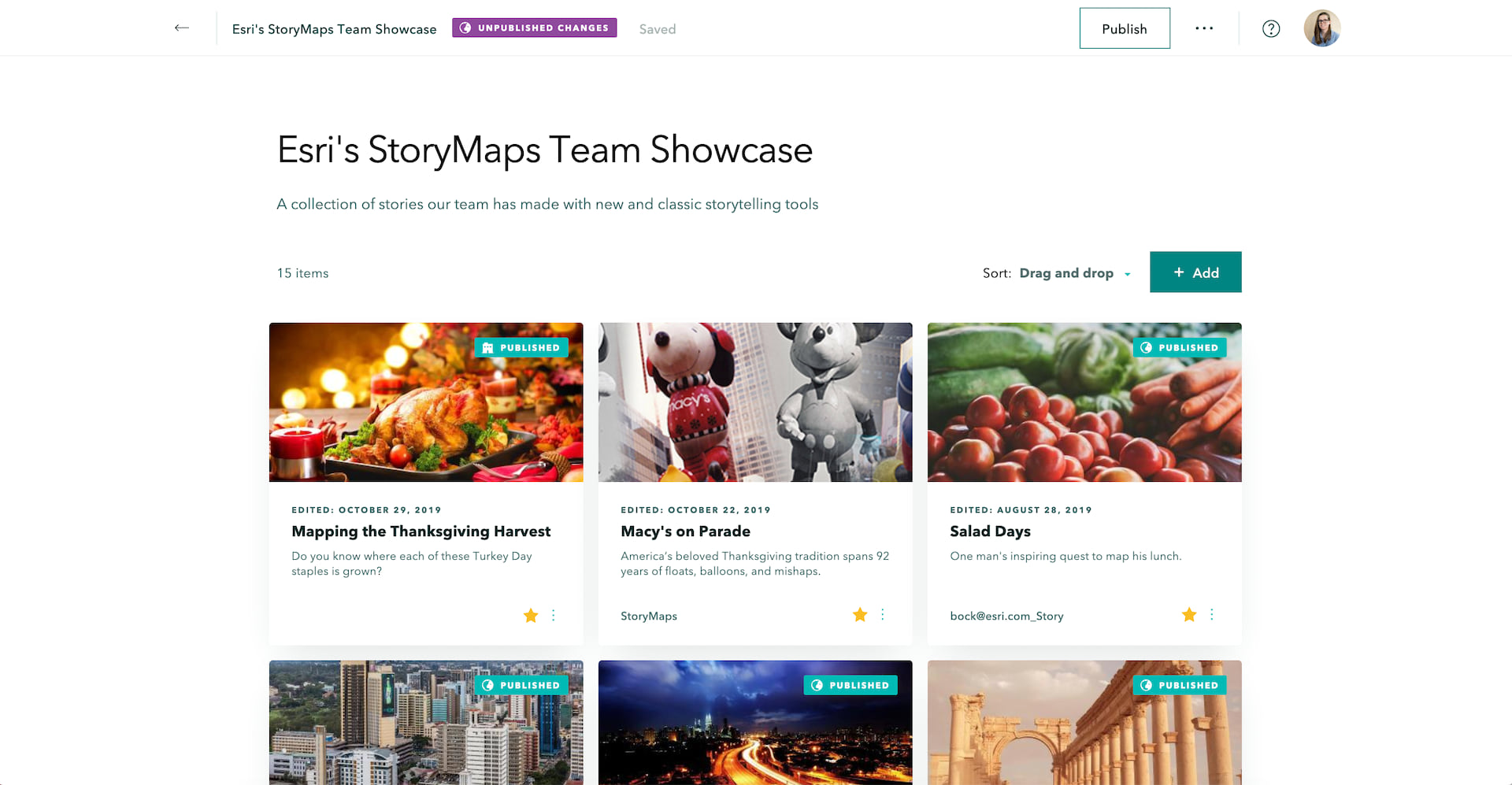 One thing you should do before sharing your collection widely is add a thumbnail, which is the image that will appear for social cards and other link previews. To do this, navigate back to the Collections space from the profile menu. Your new collection will be waiting front and center for you. Open the Quick actions menu on the collection card, select Update thumbnail, let your desired image upload, and voilà! Now your collection is ready to be sent to the masses, if that's your thing.
While we're on the topic of sharing, you should note that any content in your collection with more restricted sharing settings than the collection itself may not appear for all of your readers. For example, if your publicly shared collection has three publicly shared stories and two stories that are only shared to your organization, anyone viewing the collection who is not a member of your org (or who isn't signed in) will only see the three public items.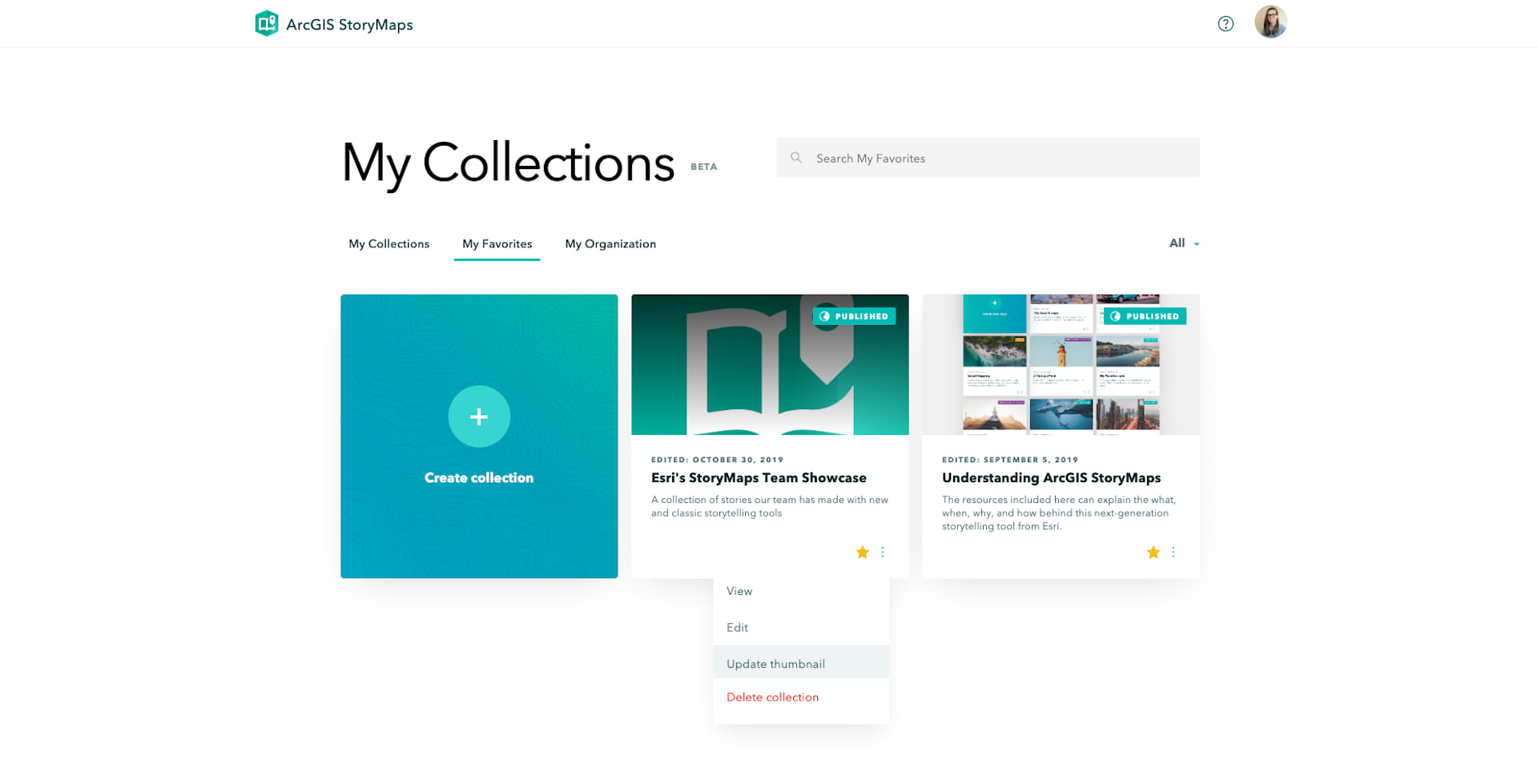 That's pretty much everything you need to know about collections. As a final reminder, we're eager to hear your thoughts on, and suggestions for, this beta feature. Please share your reactions with us in this discussion on GeoNet. And, as always, don't forget share your finished collections with us on Twitter!
Commenting is not enabled for this article.