G'day Internet! I feel like with the Esri UC in full swing and the official release of the long anticipated ArcGIS Urban platform, it's time to use the internet for good once again and clarify a few things about what this means and how CityEngine and ArcGIS Urban play together.
Where are we at now?
Our cities are facing massive challenges and there are a lot of changes happening, mainly due to real estate development and the corresponding infrastructure investments. What has become increasingly obvious is that there is no one holistic view of a city that can be used as a base model to evaluate all the steps that go into city planning. Governments use different tools to the real estate developers who use different tools to the AEC (Architecture, Engineering, Construction) sector who use different tools to the citizens who also have a stake in the decision making process.
You catch my drift…lots of different areas working on one common project off of different data sources and with different tools. I liken this a tiny bit to travelling on a train from A to B with many stops in between and a lot of passengers getting off and on at each stop. We'll get there eventually, but it's a long trip and the influx of passengers at each stop is doing nothing to help us streamline the travel time and speed up the trip.
With all of this happening, it makes sense that we're facing some challenges.
Challenges like: "What's the overview of active development in the city?", "How do we best visualize regulatory zoning codes in an understandable way?", "How can all the applicable reports and a lot of very complex information be communicated to the public in a comprehensive yet easily graspable fashion?"
In many cities, zoning codes are represented in either a textual or tabular way, they are cumbersome and hard to transform/project to real-world scenarios.
The difficulty in interpreting and understanding it slows governments, stalls developers, and delays the ability of cities to meet citizens' needs.
What is ArcGIS Urban?
The short story:
A simple yet powerful modelling and planning tool to orchestrate the development of construction projects.
The longer story:
ArcGIS Urban is a web-based 3D modelling tool designed to improve urban planning and decision-making. As a user, you can quickly visualize projects in your local context and leverage location intelligence to drive better decisions.
It is a solution to give urban planners and designers engaged in government, real estate, and engineering projects better city information so that they know the best places to build and develop.
ArcGIS Urban will visualize zoning codes, track project life cycles, and measure the impact of projects after completion.
Basically, what this means is that ArcGIS Urban is a web-based solution to not only aid professionals who plan and build cities (e.g. a city planning department or a real estate development company), but also be a hub for information and citizen engagement.
ArcGIS Urban can consume data from a lot of different data sources and applications (one of them being CityEngine) and is essentially also part of the glue that helps to tie in the web world with the desktop world here at ESRI.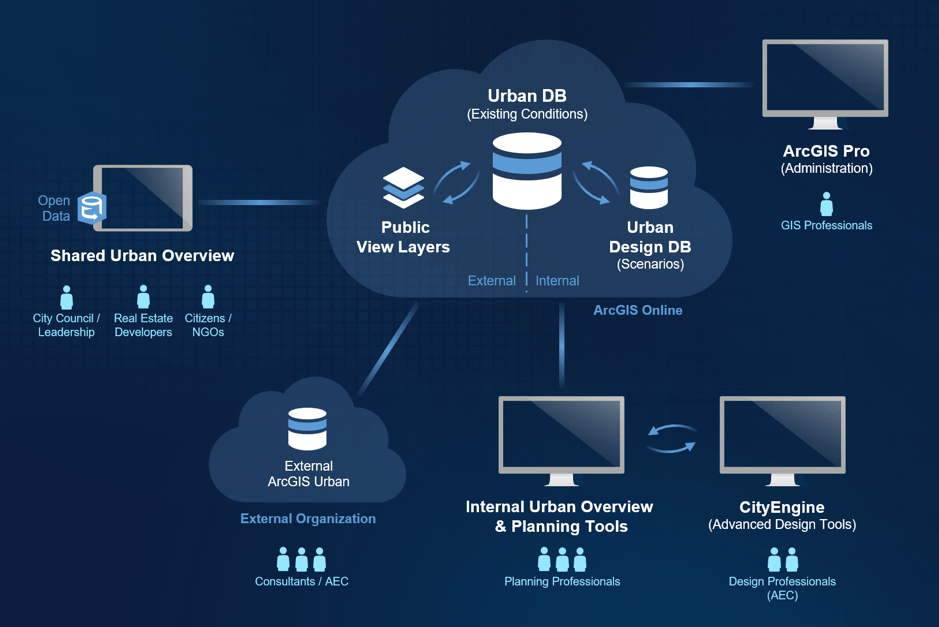 If you would like to know more about this, have a watch of this presentation from the Esri Geodesign Summit earlier this year!
…or make sure you head to the relevant sessions or come and visit us at the 3D GIS booth at the 2019 ESRI UC.
What is CityEngine's role in all of this?
CityEngine, as we have just discovered has certain interoperability with ArcGIS Urban.
At ESRI, we view CityEngine's part in ArcGIS Urban as one use-case of many for CityEngine.
CityEngine's capabilities are inherently generic, which is also why it finds its use in many different disciplines from Urban Planning to Architecture and even the Entertainment Industry.
As we can see in the image above, the ArcGIS Urban use-case targets different end-users ranging from city council to design professionals. Each one of these groups of end-users would likely have a different relationship with ArcGIS Urban. For example city councils or real estate developers are typically the ones who would access the "shared urban overview" (which is essentially the web application front-end part of ArcGIS Urban – the beauty of this, is that it's simple to use and a great tool for communication that can easily bring all stakeholders onto one page in different development projects).
Design professionals on the other hand would still be using CityEngine together with their other design tools. Their designs would be uploaded into the ArcGIS Urban database using the ArcGIS Urban Sync functionality from within CityEngine.
The ArcGIS Urban database is where key indicators and other standardized information is stored. So no matter where in the world you are located, ArcGIS Urban offers a platform that is suitable as a hub for your urban design projects.
Key Takeaway
Our aim with ArcGIS Urban is really to make it more than "yet another urban planning tool". It should serve as a platform that offers a way of standardizing information and workflows, a seamless integration with other ESRI products and open data standards, a tool to facilitate communication between all stakeholders all with the greater picture in mind that a solid foundation for urban planning is a means to a more sustainable future.
Commenting is not enabled for this article.