ArcGIS Field Maps is Esri's premier maps app for smartphones and tablets. It fuses together the capabilities of map viewing, map markup, high accuracy GPS data collection, form-driven inspections, and battery-saving recording/broadcast of location, into a single app experience that is easy to use and simple to deploy.
Built natively for the iOS platform, Field Maps works great on iPhone or iPad devices, and embraces Apple's Human Interface Guidelines. It takes advantage of user interface elements within the iOS development platform, to provide a natural intuitive experience that cannot be achieved using cross-platform development frameworks.   
Let's take a look at key iOS platform integrations that you can take advantage of:
Dark Mode
Dark Mode provides a great viewing experience, especially in low-light environments. Field Maps honors the Display & Brightness setting in the Control Center and provides a Dark Mode experience when you need it.
Dark Mode provides great contrast when filling out a smart form or viewing a map using the Imagery Hybrid or the Streets (Night) basemap.
Learn how to turn on Dark Mode on your iPhone or iPad.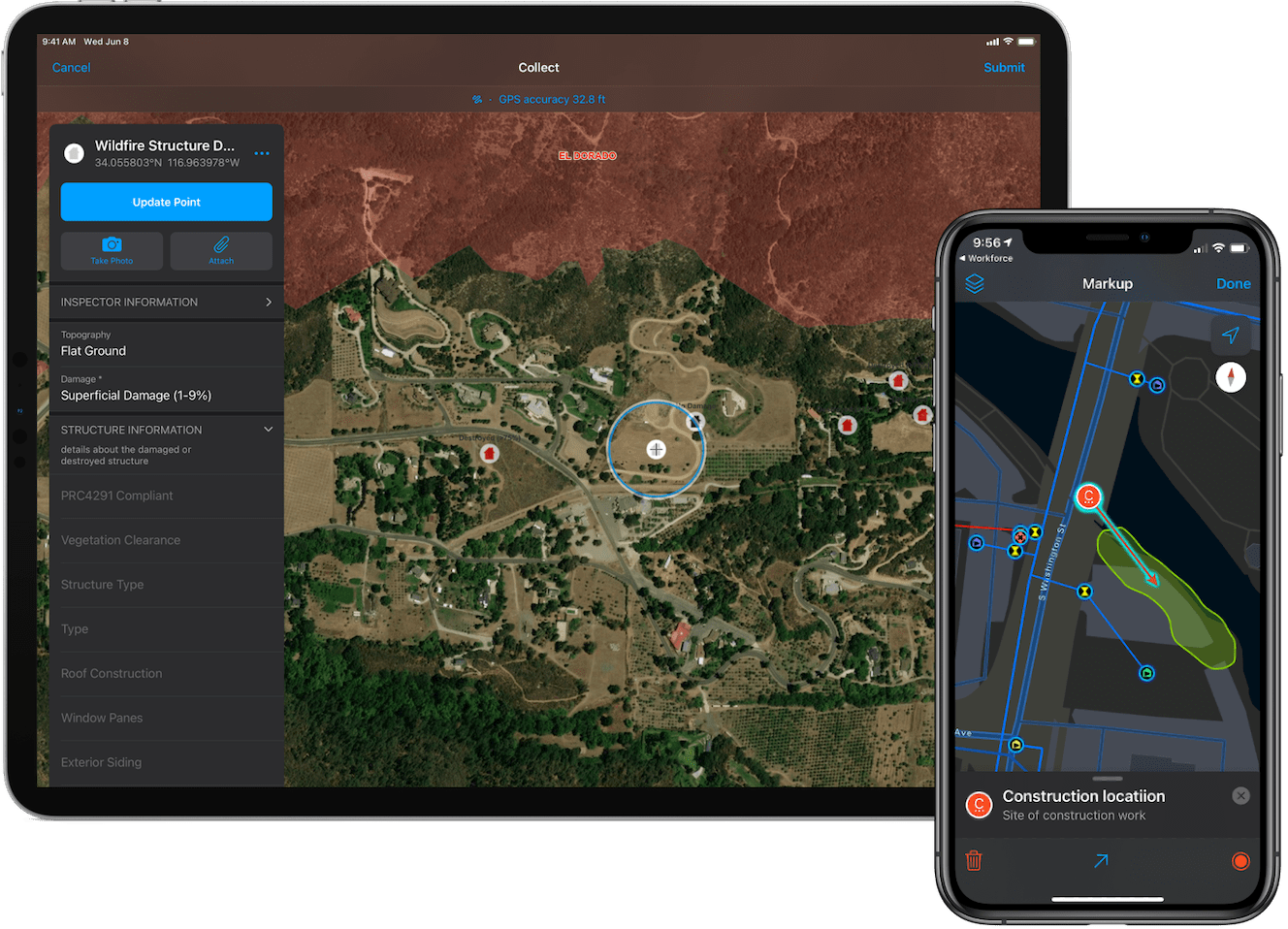 Sign in with Apple
With ArcGIS Field Maps, you can sign in to your ArcGIS organization and authenticate with Face ID or Touch ID using Sign in with Apple. Allowing members of an ArcGIS organization to use their Apple ID simplifies the sign in process, and takes advantage of the added two-factor security built in to Sign in with Apple. Field Maps uses the SFSafariViewController element when signing into your ArcGIS organization to provide a secure, AutoFill experience.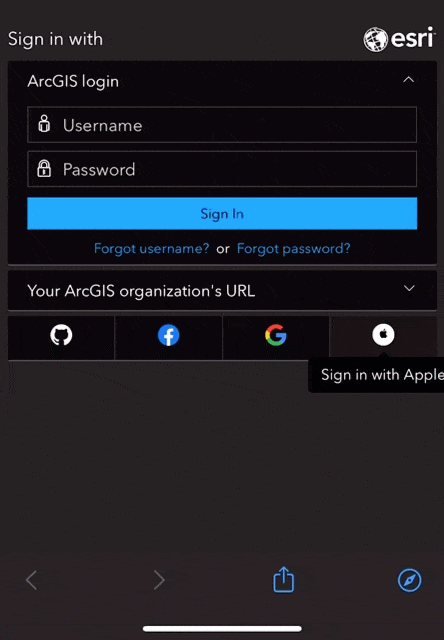 Apple Watch
Apple Watch stays in sync with your iPhone or iPad. Installing Field Maps on your Apple Watch, you can quickly view the state of location tracking from your favorite watch face – just add Field Maps as a watch complication. Without having to unlock your phone, you can turn off tracking or turn it on and set a track duration using the Field Maps watch app.
This is the start of our integration with Apple Watch and we'd love to hear what capabilities of Field Maps you'd like to see on your watch.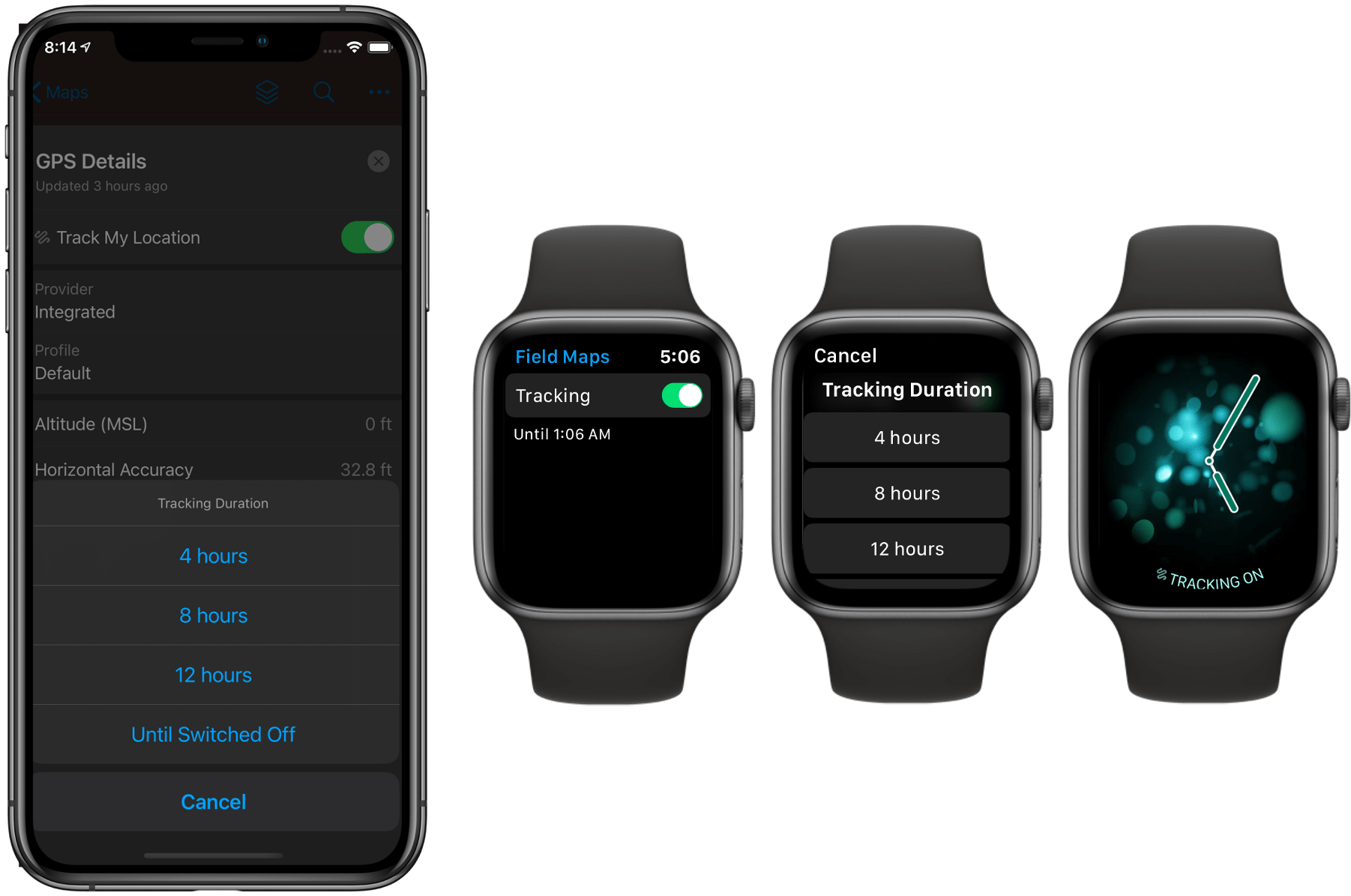 Scribble on iPad
Without opening or using the onscreen keyboard, you can use the Apple Pencil and Scribble to enter text on your iPad. Scribble converts your handwriting to text directly on your iPad, so your writing stays private. You can use Scribble to fill out a smart form quite easily in ArcGIS Field Maps.
Do you use an Apple Pencil? We're looking to do more with the Apple Pencil so let us know what you'd like to see!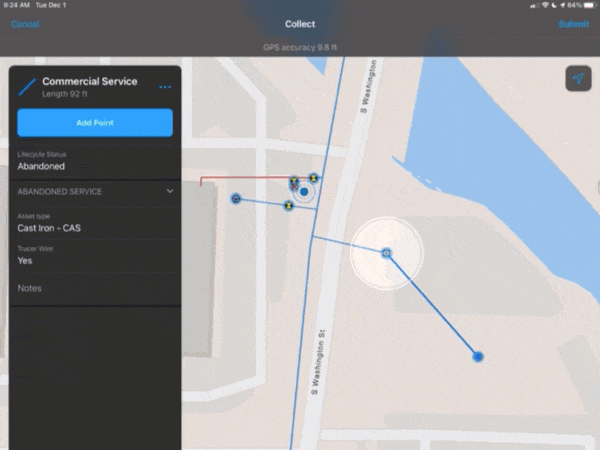 Scribble even works when your handwriting extends beyond the edges of the text field!
Multitasking on iPad
On your iPad, you can use multitasking to work with two apps at the same time in Slide Over, Split View, or Picture in Picture mode. Start an assignment using ArcGIS Workforce and capture an asset location in Field Maps at the same time with Split View or use Field Maps with other Apple apps like iMessage to collaborate with other mobile workers as you work, or the Mail app to direct Field Maps using app links.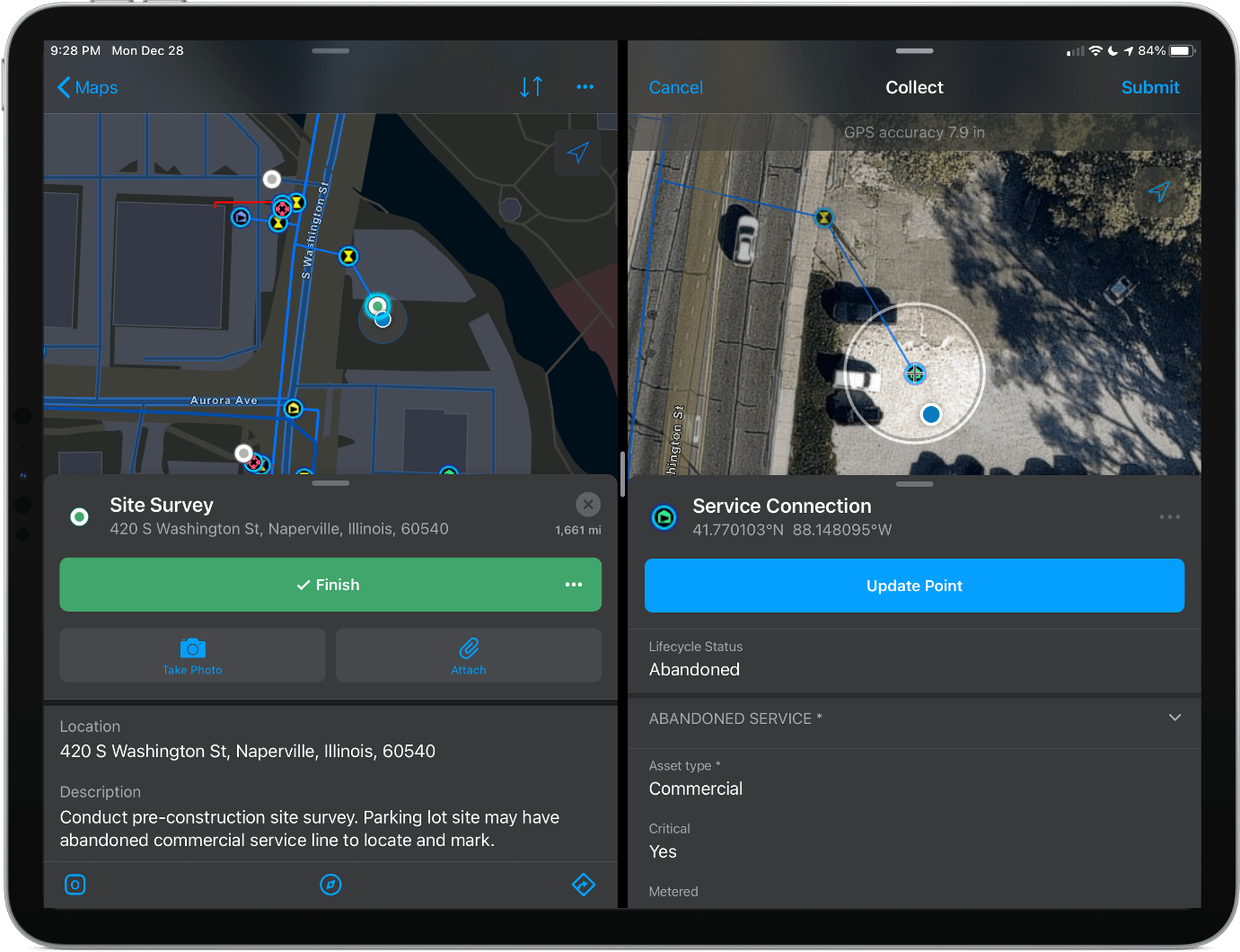 Additional Features
In addition to the features listed above, Field Maps integrates the following capabilities of the iOS platform:
Photo, video and audio capture features using the AVFoundation Capture subsystem provides standard features available in other platform apps.
Direct barcode and QR code scanning using the camera on your iOS device when signing in, searching for features, or filling out a form.
Motion-based battery savings logic that utilizes core motion on the iOS platform.
Siri integration when filling out any text field.
Haptic feedback when snapping.
AirDrop and iMessage sharing support for maps, screenshots and markup.
We'd like to hear about your experiences with Field Maps and iOS devices. Please leave a comment on this blog article, letting us know how you are using Field Maps and what additional platform features you'd like to see.