Following the initial release of ArcGIS Field Maps on November 2nd, our December update completes the first phase of bringing together map viewing, high-accuracy data collection, and smart form-driven inspections – coupled with battery-saving location tracking capabilities into one app that you can deploy within your organization.
December updates, now available on the Apple App Store and Google Play, include:
Support for new smart form capabilities.
Start tracking for a duration of time.
Start tracking from your Apple Watch, a link, or even by voice using Google Assistant
Dark Mode support for iOS devices
The ArcGIS Field Maps web app is now released and dramatically lowers the bar for configuring and deploying maps for use with ArcGIS Field Maps.
Key features include:
We'll be providing a setup for ArcGIS Enterprise 10.8.1 in early January that can be downloaded from the My Esri website.
Release Highlights
Let's take a look at a few highlights from this release.
Smart forms
Smart forms are now a part of your maps. As part of the new ArcGIS forms spec, in November we introduced the creation of forms, grouping of fields, and conditional visibility. With this update we have introduced the following:
Set a required property for a field in your form using the Field Maps web app. Now you don't have to set it at the schema level. This provides greater flexibility and is one of the top most requested data collection features. It's supported via conditional visibility in the mobile app as well!
Qualify input types for certain fields. For example, only capture the date and not the date and time. Further constrain that to a date range. For text, specify both minimum and maximum character counts.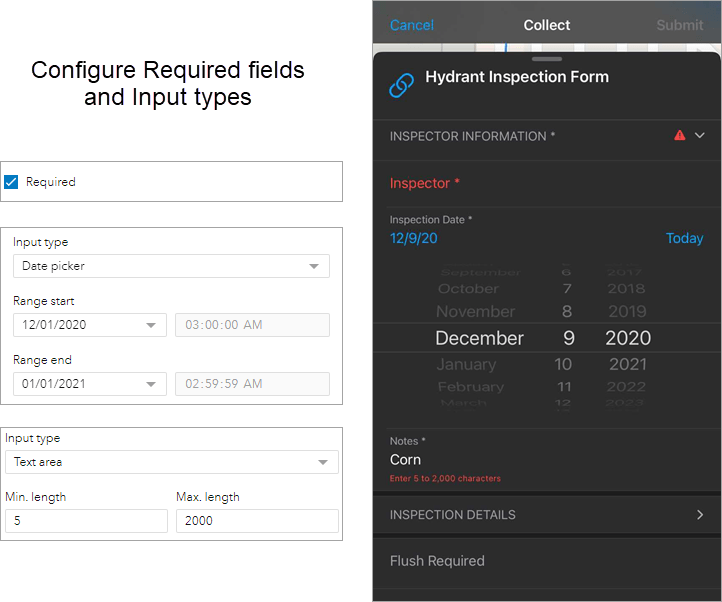 Choose if an individual field should be read-only. This is extremely powerful when workflows involve updating the attributes of an existing feature and there are certain fields you need the mobile worker to see, but not be able to edit (material of an asset, install date, etc).
Give your form a name. With a proper title you can sharpen the task of filling it out.
Provide hint text for each text or numeric field. Hint text can be used to illustrate an example of values that should be entered.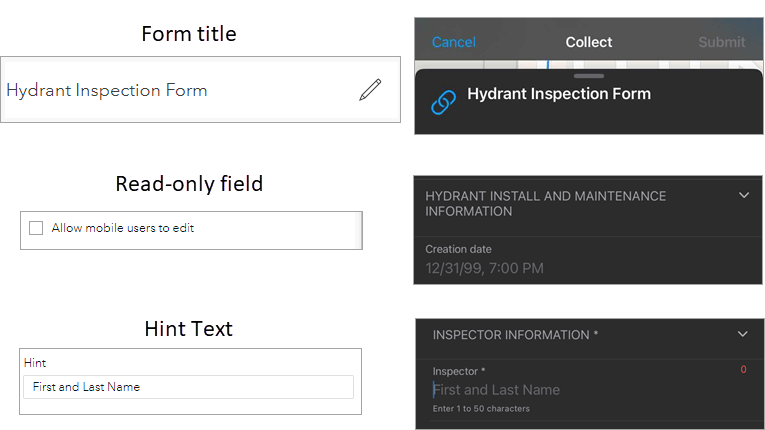 To familiarize yourself with the Field Maps web interface, see our new Web app quick reference!
The forms that you design using the Field Maps web app, and use in the field, are stored in your map. If you use the Map Viewer beta to add a feature, those same forms and their corresponding logic are applied.
Location Tracking Improvements
Integrating location tracking into Field Maps means you can record and share your location while you work, with the simplicity and battery-savings logic provided by ArcGIS Tracker.
With this update, we've added a few great new features:
Tracking for a duration of time – when you turn tracking on, you can choose how long you want to be tracked. When you have reached that duration of time, tracking will be turned off automatically.
Apple Watch support – you can add Field Maps to your watch as a companion watch app. Using the watch app you can turn tracking on or off without having to unlock your phone and you can view tracking status from a watch complication.
Start tracking using app links – now you can control tracking behavior using app links and that includes the ability request Field Maps to start, turn on tracking for a duration of time, and stop tracking when the duration is reached.
We've added app actions so that you can use Google Assistant to control tracking behavior using your voice with a phrase like "Hey Google, start Field Maps and begin tracking for 2 hours".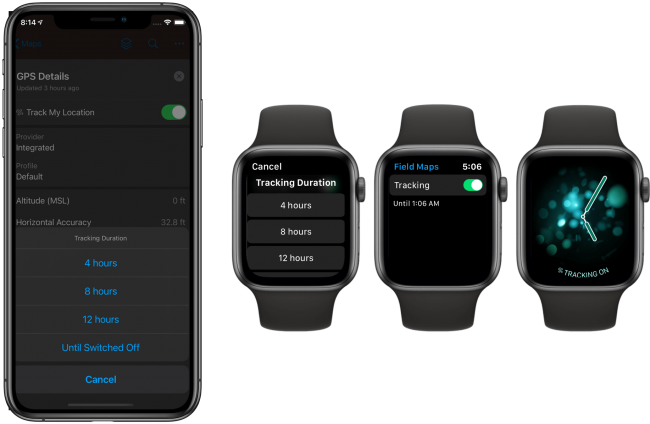 Dark Mode support (iOS devices only)
Dark Mode provides a great viewing experience in low-light environments. You can turn on Dark Mode from Control Center. ArcGIS Field Maps is now responsive to Dark Mode and will adjust accordingly. Dark Mode provides additional contrast in sunlight conditions as well. If you plan to use Dark Mode, consider choosing a basemap like Imagery Hybrid or Streets (Night) to provide similar contrast.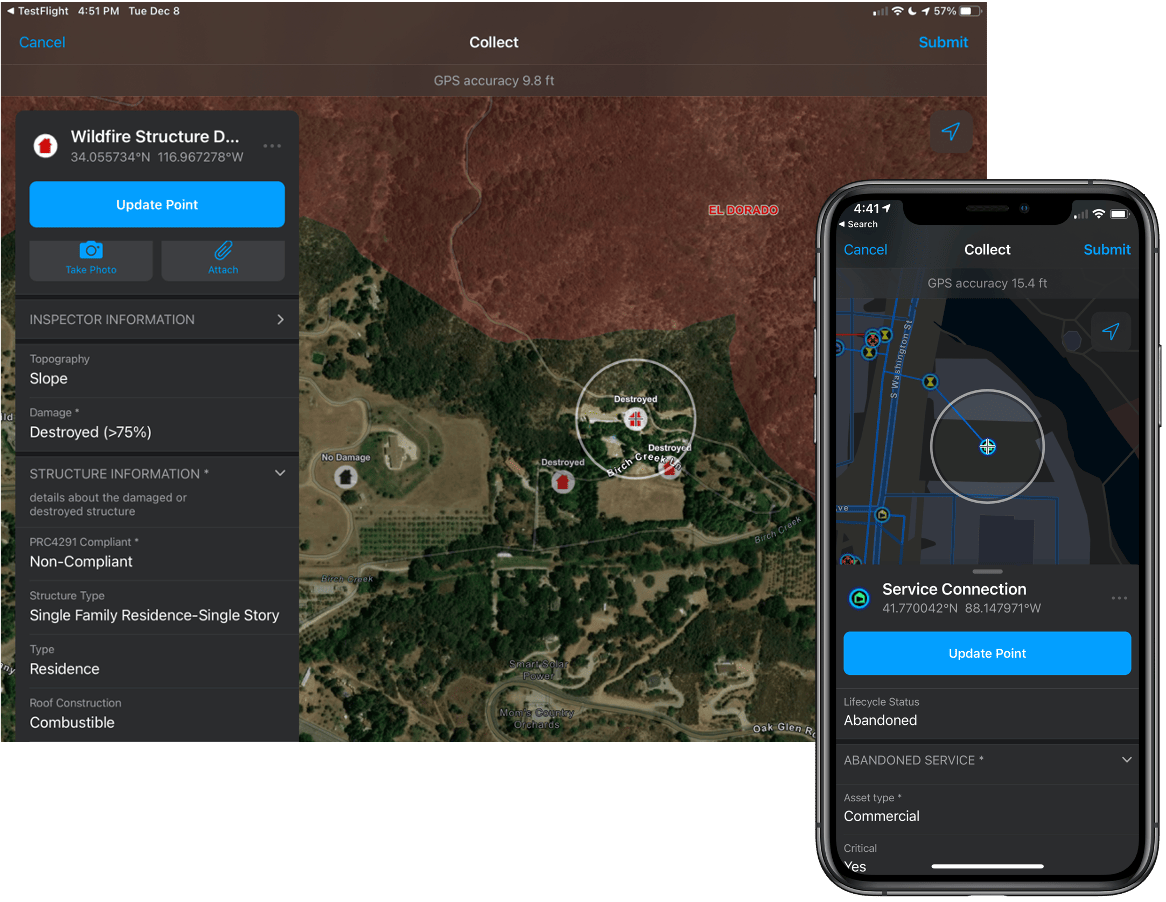 You can find additional details on what's new with this release, and find links to the issues that we have addressed in the What's New section of our doc website.