Thank you to those who attended our webinar: Seamless Migration to ArcGIS Field Maps. If you didn't get chance to catch our webinar you can still watch it here. We received some great questions which we have themed and answered in the Q&A below.
__________
Retirement, Licensing, Windows, and ArcGIS Enterprise
1. When are Collector, Explorer and Tracker retiring?
Collector, Explorer, and Tracker all retired on December 31st 2021. On November 1st, 2022 they were removed from Google Play and the Apple App Store. This includes Collector Classic.
2. Is there a functionality matrix for the different licensing levels?
In the ArcGIS Field Maps Migration guide there is a matrix under Account Requirements that lists the licenses needed to use each capability in ArcGIS Field Maps.
3. What is the timeframe for Field maps support on Windows?
We are looking to make a beta available late 2022/ early 2023.
4. Do we need to upgrade ArcGIS Enterprise to use Field Maps?
ArcGIS Field Maps is made up of two apps. The mobile application used in the field and the Field Maps web application. The Field Maps mobile app is supported in ArcGIS Enterprise 10.6.1 and later, and the web app is supported in 10.8.1 and later.
If you're using 10.8.1 to use the Field Maps web app you will need to install it onto your Windows or Linux machine. All versions after 10.8.1 do not need to be installed separately as they are part of the Enterprise installation
Please note that some capabilities are enabled by the Field Maps web application, for example Geofences. As such, it might be that an upgrade of ArcGIS Enterprise is needed to take advantage of newer capabilities.
__________
Smart Forms
1. When creating a smart form using the Field Maps web app, how is this form stored?
Forms are built upon existing, published web feature layers and related tables. The forms you create in the Field Map web application are stored in your map meaning you can use the same form across the ArcGIS system. In fact, the forms are included as part of the web map standard.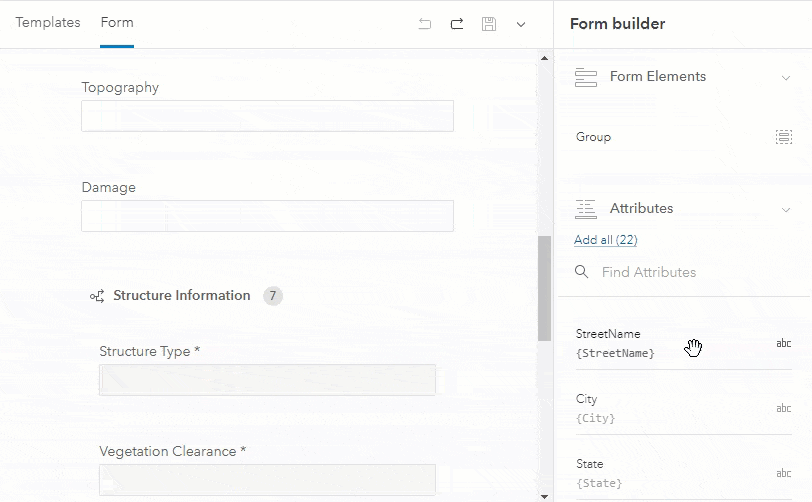 2. Can you make a field conditionally required?
Currently in the Field Maps web app, you can conditionally show or hide a field. It is not currently possible to conditionally require a field. We continuously offer new capabilities in each release and you can add this as an idea to Field Maps ideas on Esri Community.
3. Can you save forms as templates so a new blank form can be applied to a new project?
Not today, but we are considering this as a future enhancement. If you would like to show further support for this you can log this on Field Maps ideas on Esri Community or show kudos for this similar existing idea. Next year we will be supporting writing the forms to the layer so the same form would be available even if the layer was in a different web map.
4. Can fields be prepopulated, such as the person conducting field work and the date it was completed?
Yes, this is possible using calculated expressions in the Field Maps web app. To get the name of the user who is editing you can use GetUser($layer).fullName and to get the time and date use Now(). For more examples, see Common calculated expressions for ArcGIS Field Maps.
__________
Creating and Editing Geometry
1. Is streaming available in Field Maps?
There are multiple ways to capture features in Field Maps including being able to stream location using GPS. You can use your location as you walk or drive the length or boundary to create smooth sections matching the shape of the asset or observation – supported for lengths and areas.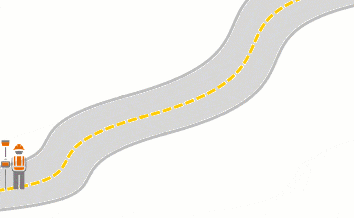 2. Will there be an ability to draw polygons freehand rather than having to draw polygons with the circle target feature?
We are assessing this as a future enhancement. You can show your support by adding Kudos to the Idea on Esri Community.
3. Are attachments supported?
Yes, attachments are supported in ArcGIS Field Maps.
__________
Location Sharing
1. Is the Track Viewer web app still available to use?
Yes the track viewer app is still available to use and is supported.
2. Am I able to use Location Sharing to get the location of all users of Field Maps, even viewers?
Yes. If your user is using a Mobile Worker Named User, then they can share their location without any further licensing requirements. If they are using a Viewer, Editor, Creator and GIS Professional User Type they will require the Location Sharing User Type Extension. Licensing and migrating to Location Sharing in Field Maps is detailed in the Migration Guide.
3. Why is the My Tracks map card not appearing in Field Maps?
To view and interact with the My Tracks card you will need to have the correct user permissions and your organization must enable the location sharing capability in ArcGIS Online or Portal for ArcGIS. For the user permissions this can be achieved by using a Mobile Worker User Type or a different user type with the Location Sharing User Type Extension applied.
4. Is it possible to view my tracks whilst I am sharing my location or is it only sharing my location in the background?
You can view your own tracks by opening the My Tracks Map from the Maps page in Field Maps. In addition to the My tracks map, you can view your tracks in any map in Field Maps. To view your tracks on a map, tap Layers, and turn on My tracks. You can view tracks stored on your device whether or not you have an internet connection. See our documentation on how to View Tracks.
__________
GPS & High Accuracy
1. Can GPS metadata fields be added to the Form? When I add all fields to the form they are not included.
GPS Metadata fields are added to a layer and auto populated when capturing location using GPS. They are hidden from the form when editing. However, if you want to view these after a feature is captured, they can be added to the pop-up.
2. Will Trimble Mobile Manager be needed to connect to Trimble GNSS receivers such as the Trimble R1 in the future?
Yes, Trimble Mobile Manager is required to connect Trimble GNSS receivers to Field Maps and will be going forward into the future. Our documentation takes users through how to configure and connect GNSS receivers for use in Field Maps.
__________
Schema
1. Does Field Maps support related features?
Field Maps does support related features and tables. It is a common schema which is used for organizations conducting asset inspections.
2. Does Field Maps support linear referencing?
Field Maps supports linear referencing. In Field Maps you can find a measure, store M-Values of new point features if the layer is aware, and even label values using Arcade.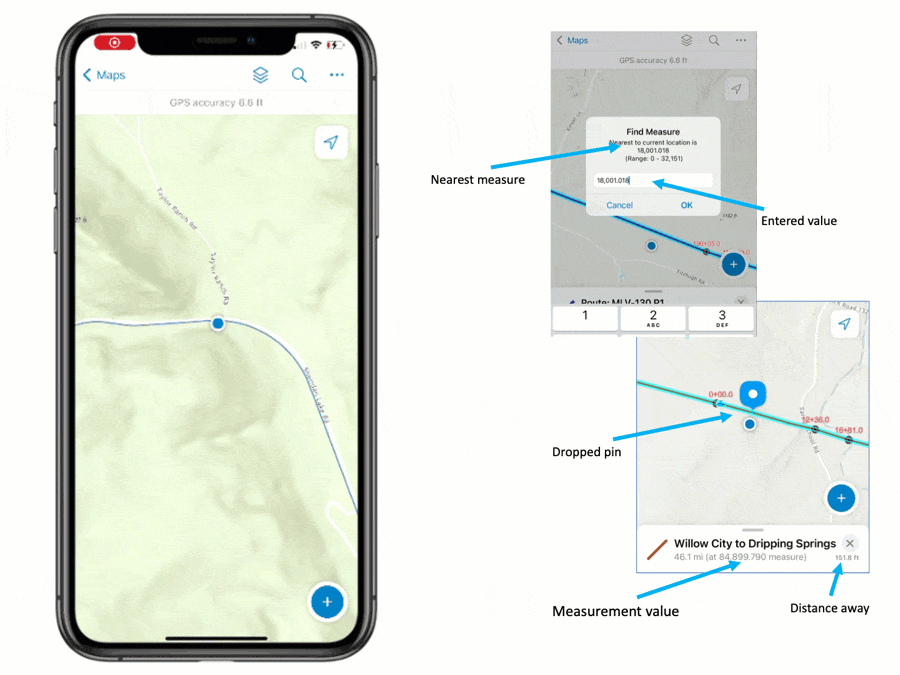 3. Does Field Maps have subtype group layer support?
Field Maps supports subtype group layers.
__________
Geofences
1. Will geofencing work with polygon layers?
Geofencing works with polygon layers today. Point and line layer support is coming in our November release.
2. Will Geofence alerts be written to a feature layer?
Geofences are defined using an existing layer. Polygons are currently supported, with line and point features coming in the November release. Users passing into and out of geofences are not written as events into a feature service, however, location sharing would provide the location tracks of users in the field and these could be intersected with geofence layers. If this is needed in real time, ArcGIS Velocity may offer the desired capability.
__________
Offline
1. Can users access offline map areas after the data has been synced?
Offline map areas are still available after data has been synched. Users would have to purposefully remove offline map areas – either from the app or removed as an offline area from the portal to prevent future access.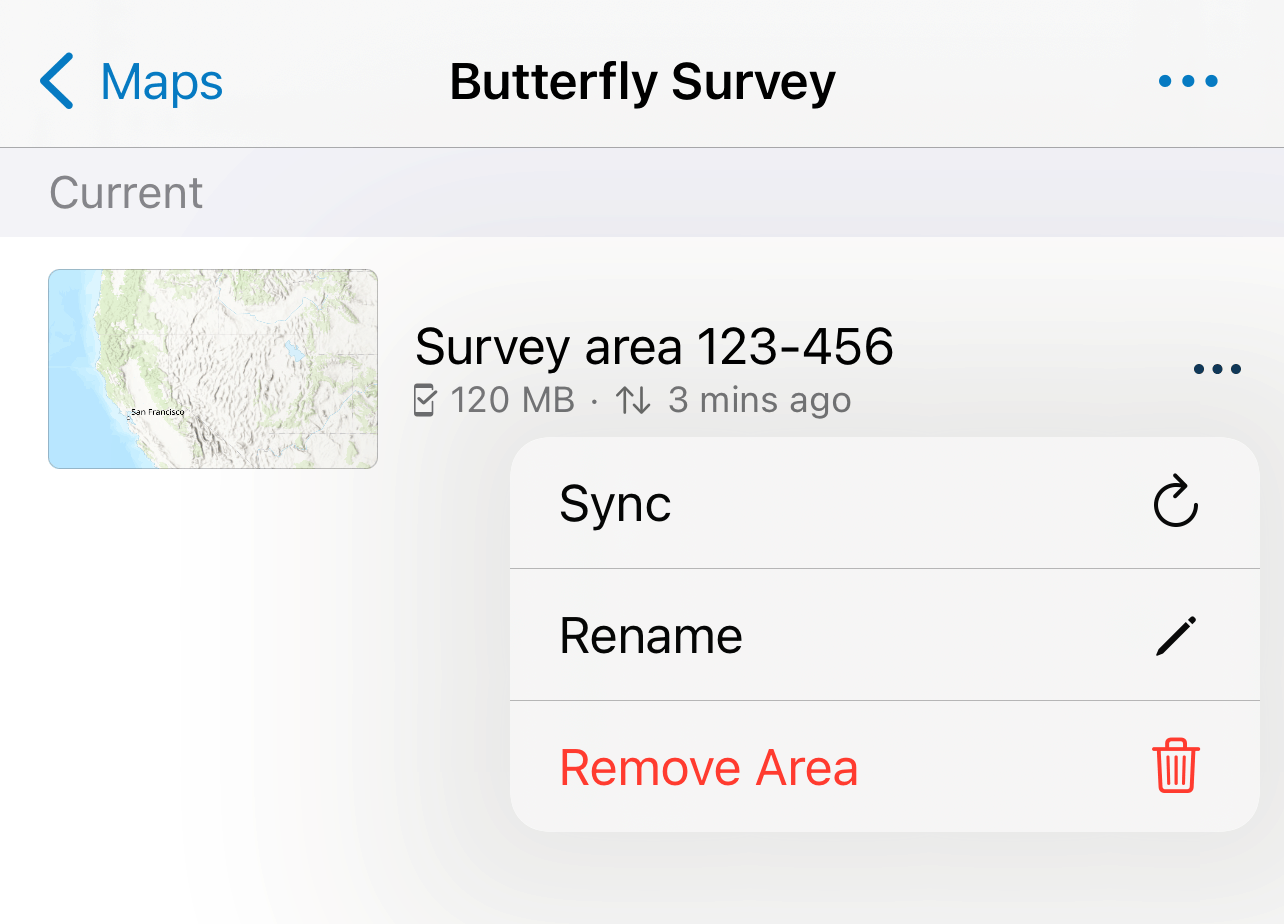 2. Will Field Maps support editing the Utility Network offline?
Yes, this is on the long-term roadmap. We are currently researching the different workflows users would like to achieve whilst in the field using a mobile device to edit the Utility Network. If you would like to contribute your workflows, please contact your Esri account manager who can arrange a call with the product team, alternatively you can post these ideas to Field Maps ideas on Esri Community.
__________
Survey123
How does Field Maps interact with or complement Survey123?
Field Maps is the map centric application for the field. When you need to see multiple features, interact with geometry, and edit existing features, Field Maps may offer the desired user experience. Survey123 is our form centric application for the field, meaning data collected is primarily form based, it can be seen as replacing paper forms with a digital one. Our field apps have been designed so you can choose the appropriate user experience for your field tasks.
The two apps can work together, or separately, and many organizations use both for their field operations. If you want to integrate the two together this can be achieved by using Field Maps and Survey123 app links.
This blog post was originally published on 10/10/22 and has been updated.
Commenting is not enabled for this article.