ArcGIS Monitor complements ArcGIS Enterprise by providing holistic monitoring of its components and underlying infrastructure. Monitor collects data metrics on an enterprise GIS deployment and provides alerting, notifications, and reporting capabilities. It helps GIS managers and administrators ensure their enterprise GIS is working efficiently and can reduce and prevent system downtime.
ArcGIS Monitor 2023.2 is a minor update that contains one new piece of critical functionality: the ability to set a data retention policy. As data metrics and logs are collected for components and stored in the ArcGIS Monitor database, its storage size can grow quickly over time. To help ensure storage needs fit within the underlying disk space of the database, administrators can configure how long the collected data will be retained by ArcGIS Monitor. This property is called the data retention policy.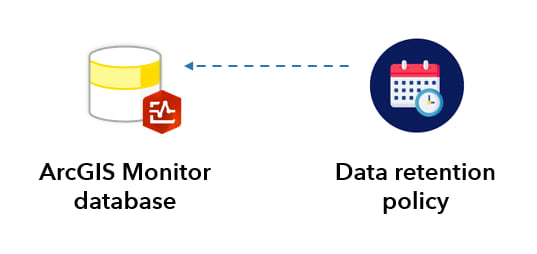 With the ArcGIS Monitor 2023.2 release, administrators can set the data retention policy for the ArcGIS Monitor database under the Administration tab > Database > Data Retention Policy.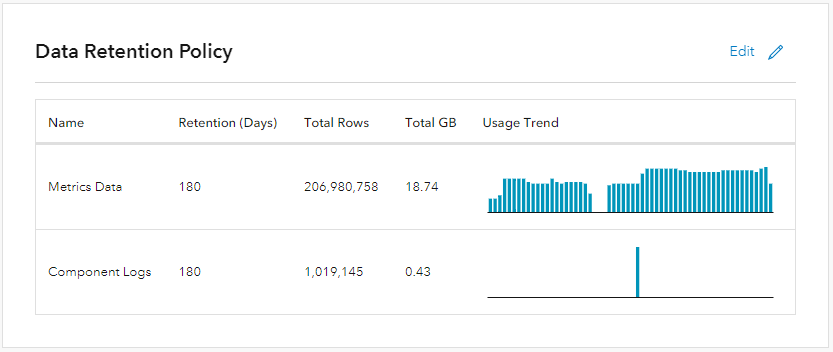 The Data Retention Policy section displays the following: retention policy (days), total rows, total storage, and usage trends for both the collected data metrics and component logs. The default data retention is 180 days, which means collected data metrics will be retained for 6 months. Data collected beyond this date (i.e., older than 6 months) will be deleted from the database. The data retention property can be adjusted based on your business needs via the Edit button. Data can be retained for up to 2 years, but keep in mind this will affect the storage capacity of the ArcGIS Monitor database. For guidance, please review the Database storage requirements section in the ArcGIS Monitor system requirements help topic.
A complete list of updates are listed in the ArcGIS Monitor 2023.2 release notes.
To learn more and connect with us about ArcGIS Monitor 2023.2, please visit:
Sincerely,
The ArcGIS Monitor team