Update: Did you miss us at UC? See all the big takeaways in this helpful recap.
It's almost here, that time of year when thousands upon thousands of GIS professionals and enthusiasts assemble in San Diego to learn from and be inspired by one another. The StoryMaps team will be at Esri User Conference in full force. It's going to be a big year for us, and we're excited to share all we have in the works. If you're attending the conference this year, here's a quick rundown of where and when to find us.
Get the full list of StoryMaps sessions at UC
Technical workshops
Want to dive deep into the process of telling a story effectively, and getting the most out of our storytelling tools? These 60-minute sessions are just what you need. We'll have lecture-style talks offered each day of the conference that get into the details of storytelling with maps, how to create a compelling narrative, and how to use story maps to champion your cause.
Who's ready for day three of #EsriUC? 🙌

Come say hi to the Story Maps team on the Expo floor—here's where to find us 🏃‍♀️🏃‍♂️ pic.twitter.com/qbYY2m0Zia

— Esri Story Maps (@EsriStoryMaps) July 11, 2018
Demo theaters
If you're more of a visual learner, be sure to stop by these sessions to see our software in action through a 45-minute, live demonstration. While technical workshops focus on core principles and strategies, these demos show you how to put those principles to work in your own stories. Discover all the nuanced capabilities in our tools that help you become an expert storyteller.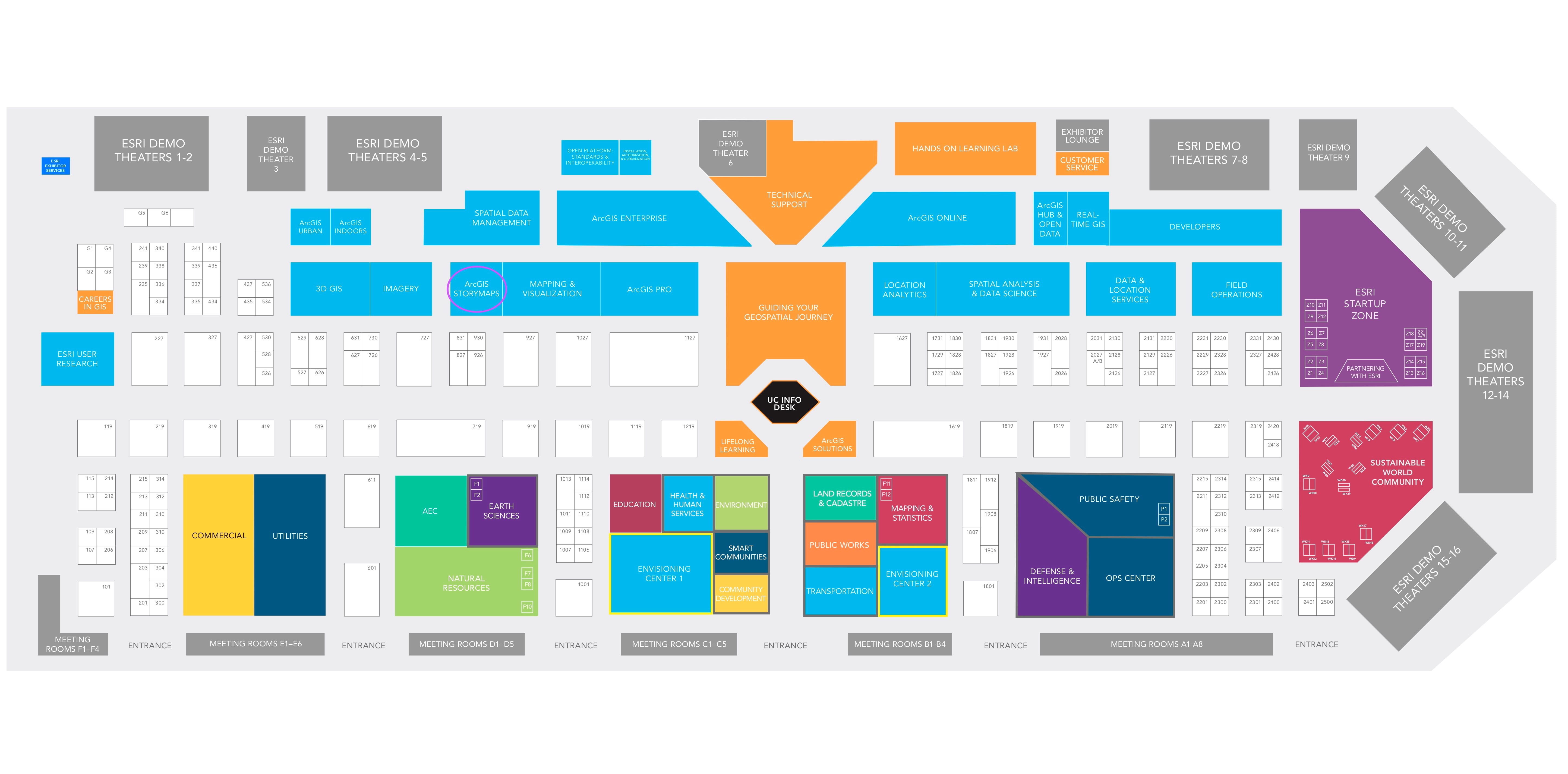 The Expo and spotlight sessions
The Expo is truly the heart of the conference. Not only is it where you'll find the demo theaters mentioned above, but it's also where you can meet Esri partners and staff—like the StoryMaps team!—and ask us any questions you may have.
StoryMaps will have its own island in the Expo hall this year, so be sure to swing by and say hi. If you're standing at the UC information kiosk with your back to the hall entrance, head left past a few booths and take a right toward the back of the hall. You'll find us near the Mapping & Visualization area.
Closing out #EsriUC day three with another packed spotlight session. Have you stopped by yet? We'll be here from 9-1:30pm tomorrow 👍 pic.twitter.com/cf9da4eA2J

— Esri Story Maps (@EsriStoryMaps) July 12, 2018
While you're over there, stick around for a spotlight talk or two. These 20-minute sessions focus in on a super specific task, like choosing the right kind of map for your narrative or making your story more accessible to visually impaired readers. The Expo will be open from 9am-6pm Tuesday and Wednesday, and 9am-4pm Thursday; we'll be giving spotlight talks throughout each day.
See a complete list of StoryMaps session titles and times for UC 2019
While you're in San Diego…
Don't forget to enjoy the neighborhood! There's plenty to eat, do, and see while you're in town. If you're looking for ways to spend your time outside of UC, this story map of hidden gems should provide plenty of inspiration.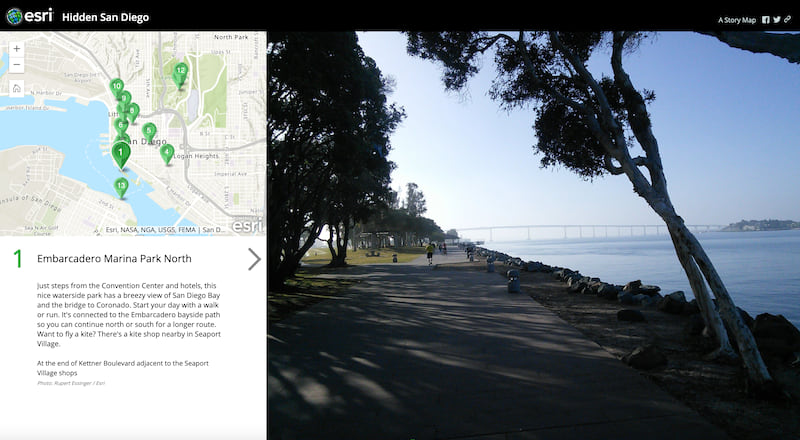 We'll see you there!
Commenting is not enabled for this article.