ArcGIS Survey123 brings together the power of forms and GIS. Use Survey123 to build anything from the simplest, to the most sophisticated form; share your forms over the web or the Survey123 mobile app. Collect the where of things and show your organization the value of visualizing and analyzing form data geographically.
In this blog, we will share some of the exciting new features in our October 2022 release. Start using these features today!
Read on to learn what's new:

Jumpstart form building with Survey123 templates
You can always build a new form from scratch, but having a starting point is always a plus. Don't you think?
More Esri templates
The Esri template gallery comes with dozens of ready-to-use survey designs. They illustrate the many ways people use Survey123. In fact, most templates are inspired on designs from Survey123 users like you. Explore, learn from and fine tune Esri templates to best fit your needs. This release adds the following Esri templates in Survey123 Connect:
ECAAS Field Mapper: Inspired by our recent work with the NASA HARVEST program, this form is designed to support the Enabling Satellite-based Crop Analytics at Scale (ECAAS) Initiative. Collect agricultural ground reference data to help the development of agricultural monitoring, evaluation, and decision-support systems.
Outcrop Mapping: Document outcrop observations for geological mapping. This survey collects data such as geological unit, dip, annotated maps, geological profile sketch, and photos. This survey demonstrates how to use custom annotation palettes and photos with dynamic watermarks.
Tailgate Safety Briefing: Designed to support work site compliance. I

nform and remind workers about safety rules, best practices, and the hazards of the job.

Collect each attendee's name, company, signature, time in, and time out.
MS4 Compliance Inspection Report: Use this MS4 (municipal separate storm sewer system) form to document discharging storm water inspections on a site. Generate an accompanying report for the compliance inspection.
Watch below how to access the Survey123 Esri Template gallery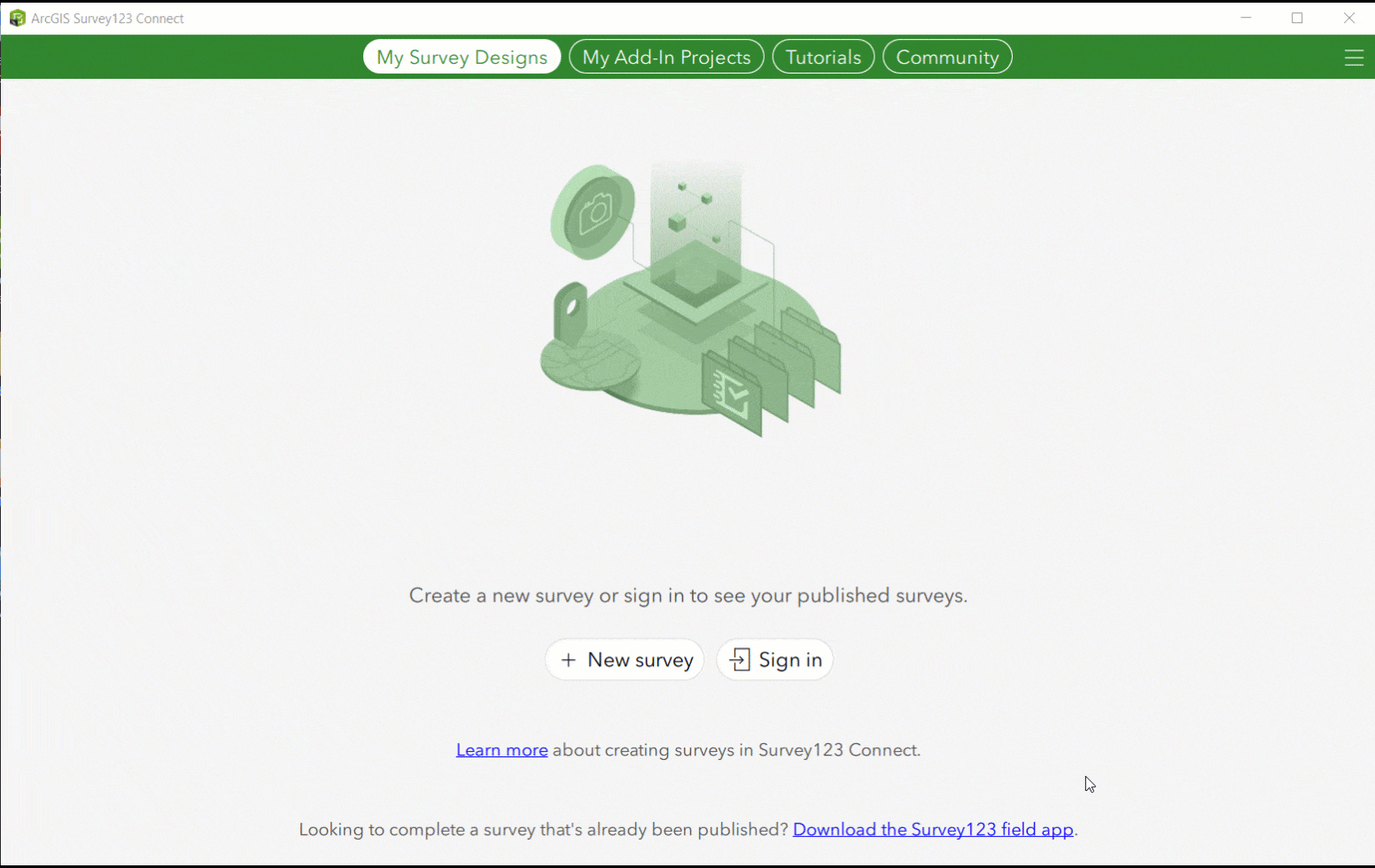 ArcGIS Survey123 community gallery
Are you proud of your own survey design and want to share it with other Survey123 users?  Starting with this update, you can submit your own designs for inclusion in the community gallery. The Esri team will review your submission for consideration and, if approved, it will become a featured community template in Survey123 Connect or Survey123 web designer.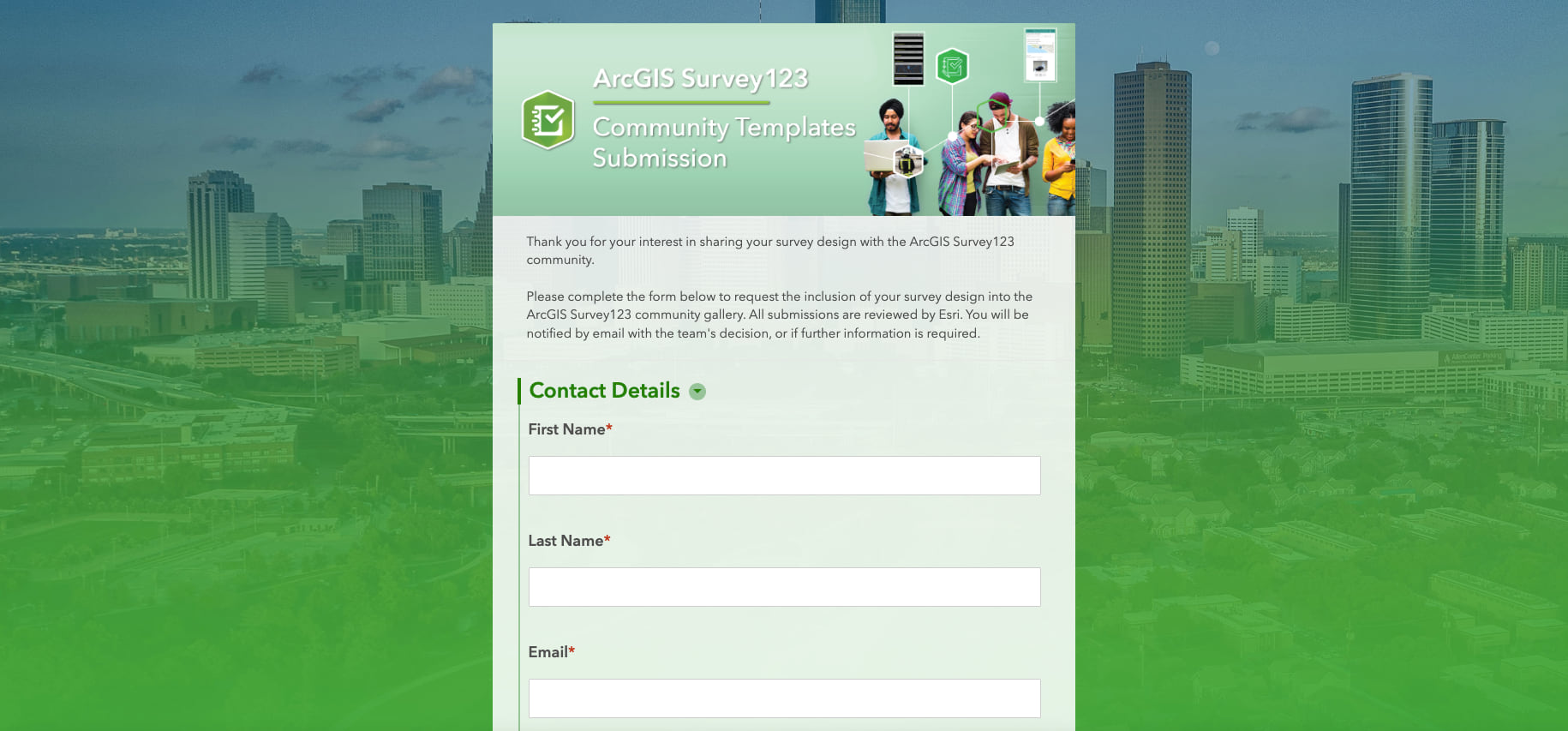 Organization templates
This is a new concept. As an administrator, you can now configure what templates will be shown to Survey123 authors in your organization. You can choose to hide the Esri and Community templates if you think they will be a distraction. Most importantly, you can also create your own gallery of templates. This is very useful for various reasons:
Define templates that follow your organization branding guidelines
Share templates to help people jumpstart common survey designs and follow best practices
Watch the step by step video included in this blog post to learn more about Survey123 design templates.

Make your forms geographically smarter with layer queries
What if your form could automatically populate questions based on a user provided location or address?  Check the following animation as an example: The Assessor's Parcel Number is automatically calculated  as the building is selected in the map.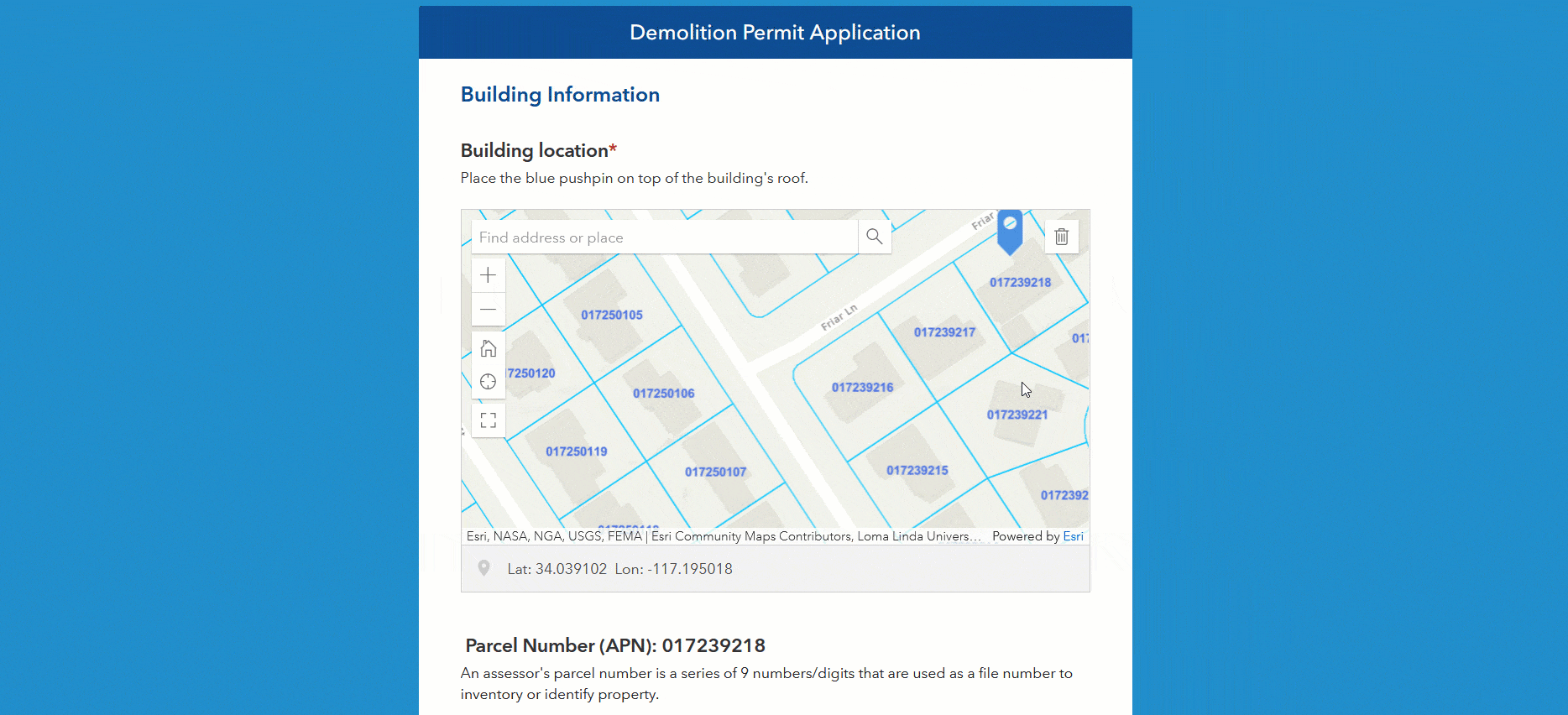 Not that this is a new concept for Survey123 forms as many of you have been doing this already for a while. What's new in this release is that you can now setup geo-calculations right from within the Survey123 web designer. We also have simplified the XLSForm syntax for doing this through the new pulldata("@layer") function. No more custom JavaScript functions needed.  Best of all, you can include these geo-calculations in public surveys too!

Other highlights
New audio question type: Record and upload audio files right from your Survey123 forms. Audio files will get stored as ArcGIS attachments. The new audio question type is available in the Survey123 web designer as well as Survey123 Connect.  It works great in both the web and mobile apps!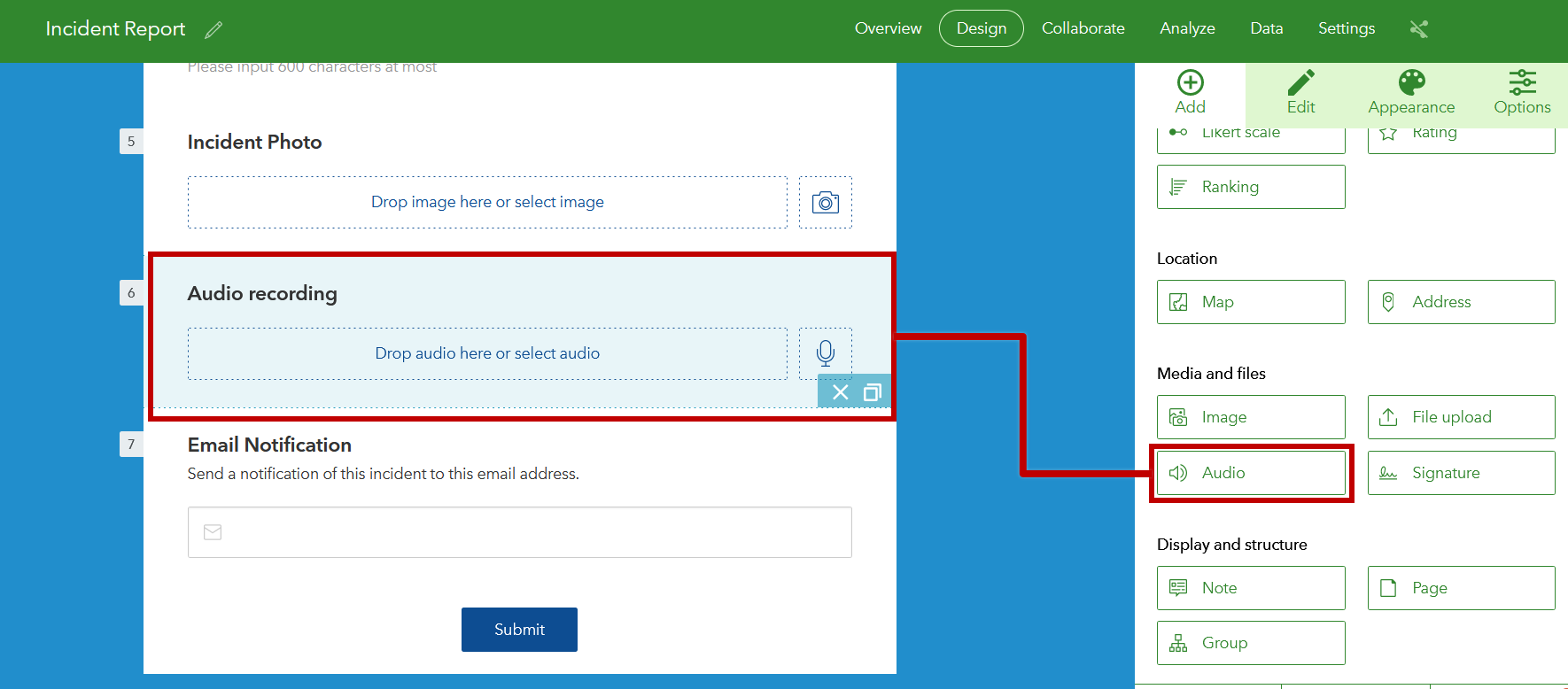 Survey123 Connect enhancements: Three new improvements in Connect will make your publishing experience better:

Connect will now update layer attribute domains when you make changes to XLSForm lists.
The bind::esri:fieldAlias XLSForm column will help you set an alias to your ArcGIS fields independently from the label of your question.
Designing a new survey on top of an existing feature layer? Connect will help you identify any survey questions that do not have a corresponding layer field.
To learn more about what's new in Connect, check this Esri Community blog post.

Learn more
We hope you enjoy all the features and improvements the team has worked hard to build for this October 2022 release of ArcGIS Survey123. Please visit the following links for more information:
Next steps

Our next update is planned for early December. Do not miss the opportunity to give us your feedback through the Survey123 Early Adopter website. Features in the works include:
Author multilingual surveys from the Survey123 web designer
New Create Report action for the Microsoft Power Automate Survey123 connector
Location sharing and support for LaserTech laser rangefinders in the Survey123 mobile app
Commenting is not enabled for this article.