Science is at the heart of Esri's mission to transform society and design a better, more sustainable future. In the Esri tagline, The Science of Where, as well as the definition of the acronym Esri, Environmental Systems Research Institute, science underpins everything Esri produces.
Through the Esri science portfolio, researchers can learn about the various projects underway with our many scientific partners while also accessing resources, tools, and lessons that may enhance their projects.

Map and Apps
If you're looking for convenient and user-friendly tools, check out the science portfolio's Maps and Apps page, which features Explorer apps, Online analysis apps, Dashboards, ArcGIS StoryMaps and StoryMaps, and ArcGIS Hub.
Explorer Apps
Explorer apps showcase how scientists are using GIS to examine and quantify how our planet is changing.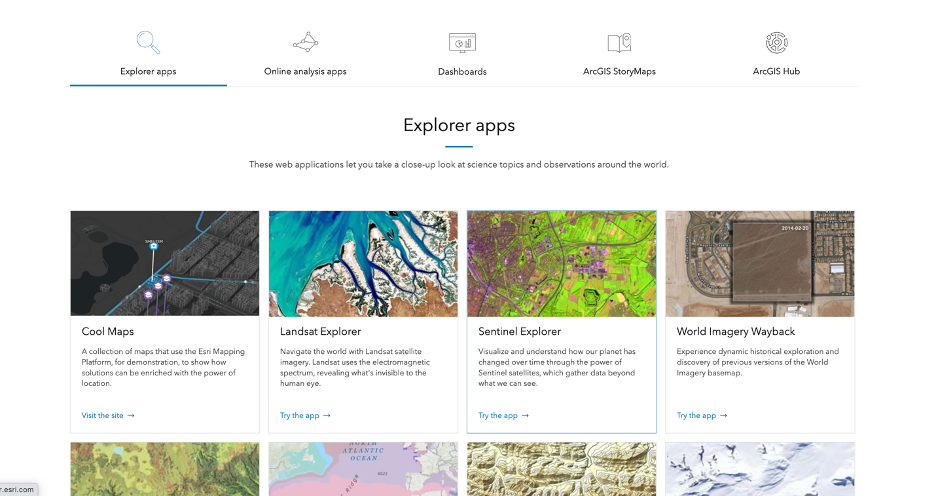 Apps such as the Ecological Marine Units Explorer enable users to visualize the ocean through millions of data points that display variables such as temperature, salinity, dissolved oxygen, phosphate, nitrate, and silica from the surface of the ocean to the seafloor. This app is essential for those who want to examine oceanic conditions and see how these vary with depth. The data can be used for climate change impact studies, conservation priority setting, economic and social valuation, and marine spatial planning.
Another Explorer app called the Ecological Tapestry of the World allows users to perform land-use planning or ecosystem services assessments by displaying bioclimates, landforms, rock types, and land cover across the globe.
Online Analysis
To draw out meaningful insights from online datasets, the Online Analysis app section showcases web-based analytic tools developed for the scientific community.
For example, the Water Balance app gives users access to the National Aeronautics and Space Administration's (NASA) Global Land Data Assimilation System, which displays how freshwater availability changes over time. Knowing the amount of freshwater available in an area allows community planners to strategize for disaster preparedness and prepare for droughts or floods.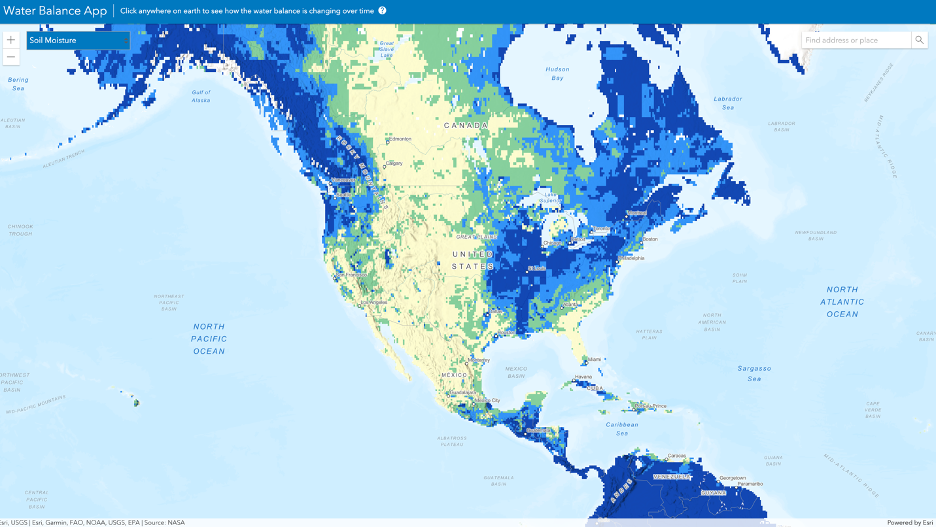 The US CroplandCROS analysis app is helpful for those who need to derive and compare agricultural commodities. Users can examine crop types across the US from 1997–2022 and perform statistical analysis on areas of interest. Created by the US Department of Agriculture, this app can export crop-type data for selected polygons, or users can import shapefiles to define an area of interest. The exported data can then be uploaded into ArcGIS Pro for further analysis.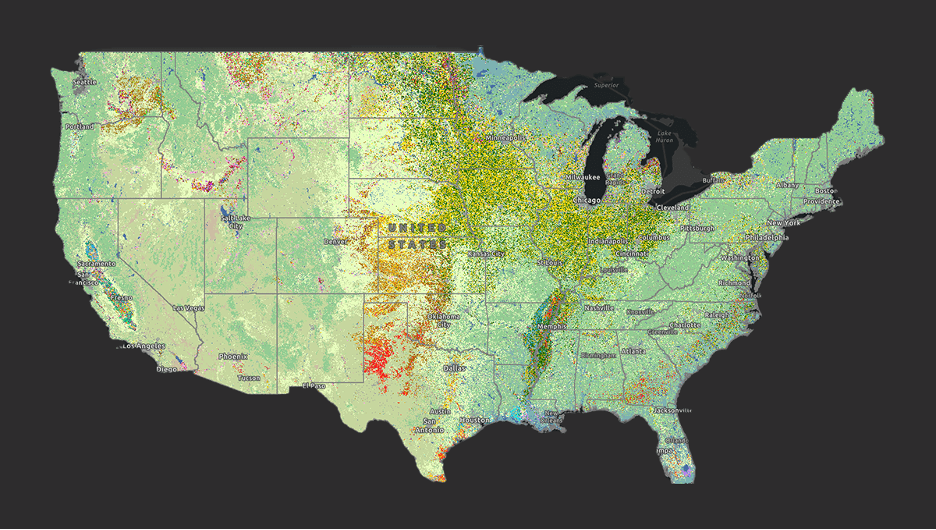 Dashboards
The Dashboards tab is optimal for finding apps with near real-time data for quick decision-making. A dashboard such as the popular Corona Virus Covid-19 Global Monitoring board by Johns Hopkins instantly shows coronavirus cases, deaths, and vaccinations worldwide. Displayed using proportional symbols, users can instantly see which country is experiencing the highest case numbers as well as how cases, deaths, and vaccination numbers have changed over time. Crucial tools during the height of the pandemic, dashboards are perfect for operational awareness and efficiency that improve decision-making.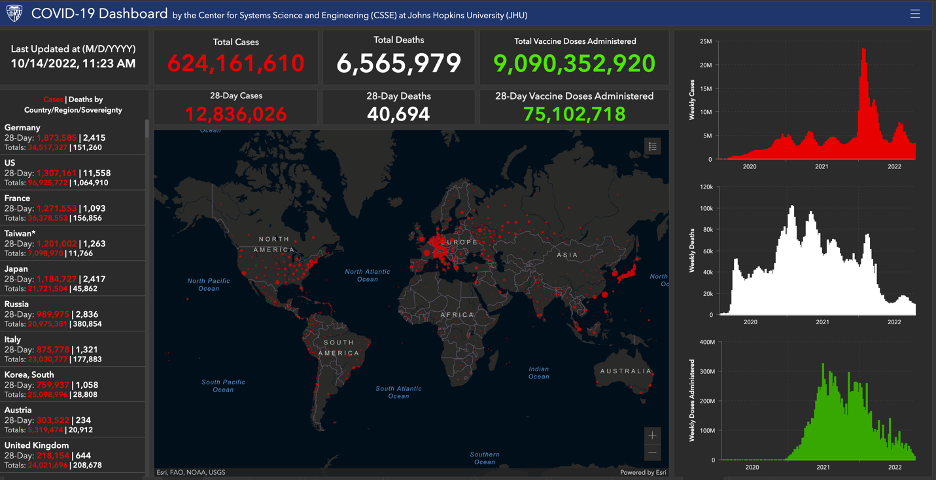 Another useful dashboard, Coral Reefs at Risk of Bleaching, shows the locations of the world's coral reefs. This dashboard uses sea surface temperature data from NASA's Coral Reef Watch Program to display alert levels for areas where the ocean's temperature might exceed a reef's heat tolerance level. This dashboard is useful for policymakers and marine scientists who need to monitor real-time bleaching conditions in their waters to take swift conservation action.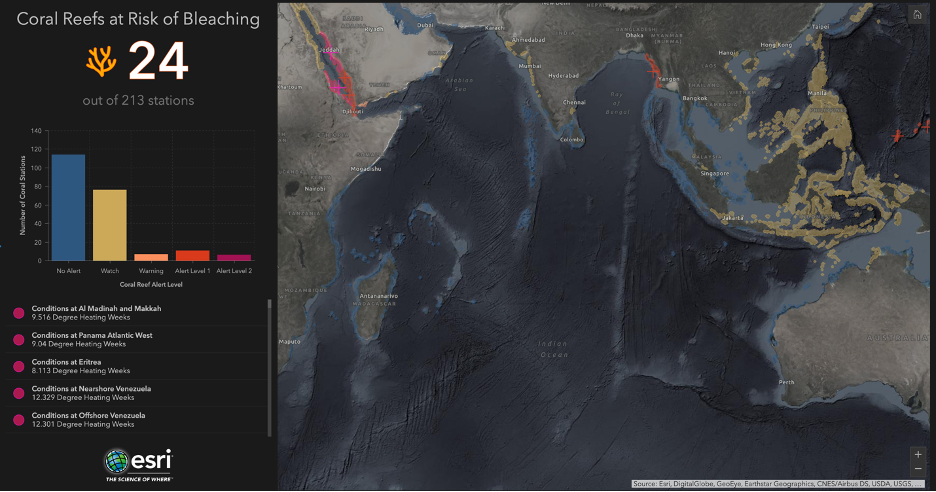 ArcGIS StoryMaps
ArcGIS StoryMaps and the new StoryMaps, which is available without a GIS subscription, allow scientists to communicate their work in a visually compelling way. Every research project has a story, and ArcGIS StoryMaps and StoryMaps allow you to tell the details of your project using maps, images, audio recordings, and Esri analysis tools.
Explore this ArcGIS StoryMap from the marine biology research team at the University of Aberdeen. Their team has used ArcGIS StoryMaps to share their work and introduce members from their lab. https://storymaps.arcgis.com/stories/8ba006f4317e4dad93e8be9fd9d5fe69[replace with title on the ArcGIS StoryMaps page for consistency]
ArcGIS Hub
Lastly, ArcGIS Hub is a tool that brings open data, web apps, dashboards, StoryMaps, and more into one online platform to help science organizations engage and collaborate more effectively with their communities. In this tab, you can explore hub sites such as Unstable Ground built by Woodwell Climate Research Center. The site uses dashboards, maps, and stories to showcase how the Arctic is altered by climate change.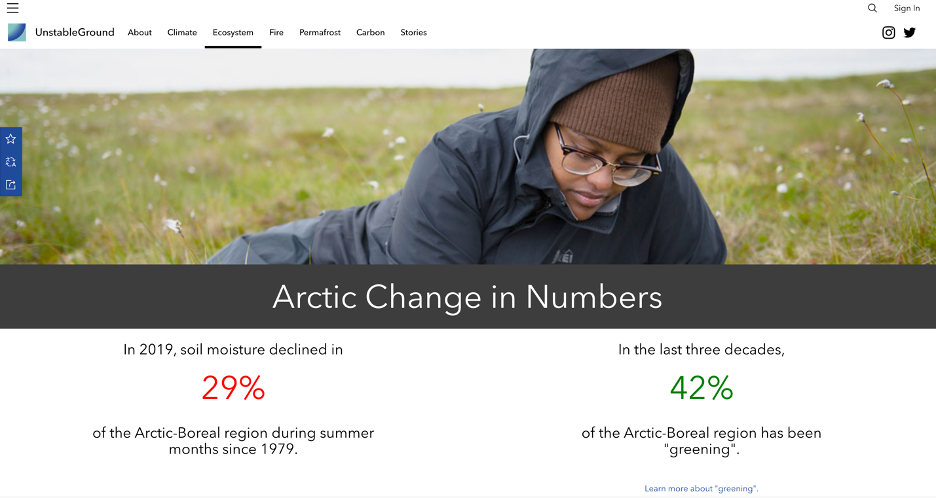 Initiatives
For GIS resources specific to your field, the Science Initiatives pages display curated content showcasing the latest resources from Esri. Esri collaborates with experts in the fields of open science, weather and climate science, ocean science, solid earth science, geographic information science, and social science. Each page describes projects, case studies, and tools with accompanying articles, datasets, videos, and more.

For example, the Solid Earth Science page features the Land Cover 2020/2050 projects that allow Earth scientists to analyze both present and historical land cover and land use. The page also spotlights specific users such as our collaborators at the Washington Geological Survey. Their geologists use GIS to study landscapes, uncover the history of volcanic eruptions and ice age floods, manage mineral and fossil resources, and identify areas at risk from landslides and tsunamis.
Events
Our science team actively participates in numerous conferences each year to discuss trends and emerging technology. To find out where our chief scientist, Dr. Dawn Wright, and other science team members will be speaking, view our Science Events page. You'll also find on-demand webinars there.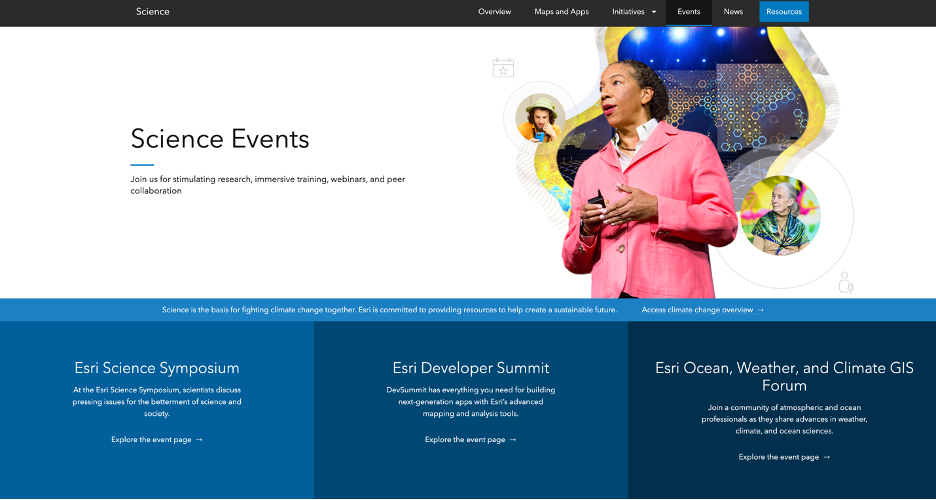 News
To stay inspired and learn about the latest GIS tools for science, visit our News page. This page features stories from our team and our users. Here, you'll find articles, books, blogs, and podcasts all sharing how GIS is used to strengthen and advance science. Our chief scientist writes a quarterly column in ArcNews, "Scientific Currents," that features Esri's latest involvement in scientific advancement. You can explore the column here.
Resources
If you are looking for additional resources, we also have tailored lists of authoritative tools, content, and training to help you on your research journey. These include the six disciplines mentioned above—geographic information science, ocean science, social science, open science, solid earth science, and weather and climate science. Explore the Resources page to access these lists.
We believe GIS is foundational for scientific discovery. We are committed to providing the scientific community with reliable, authoritative, easy-to-use GIS solutions. We invite you to join our science community and explore our science portfolio to see the possibility of implementing GIS in your research. Have questions about science at Esri, or want to connect with our team? Email us at