Across the globe, people are reeling from the impacts of the novel coronavirus, including the task of procuring food. In the US, more than 29.8 million students typically receive free and low-cost lunches and breakfasts at school. With these services no longer available due to school closures, school officials are coordinating to try and resume distribution of these meals. Panic buying has depleted grocery stores of basics like canned food and baby formula. As unemployment rates climb, many households face desperate situations—the lack of food and funds gets compounded with parents and children home all day.
In response, city and county governments are deploying smart maps and dashboards built with geographic information system (GIS) technology to address food needs and shortages—from delivering aid to those who need it most to supporting local businesses with local maps of delivery and takeout options.
Responding to Food Insecurity
In many cities across the country, food banks are taking action and using maps to support their mission. The Atlanta Community Food Bank (ACFB) launched its COVID-19 Help Map for families in need, communicating food pickup sites across the Atlanta metro region.
"We estimate 1 in 5 children are in food-insecure households within our 29 service areas," said Heather Moon, public relations coordinator with ACFB. "That means roughly 20 percent of all children do not always know when they'll have their next meal."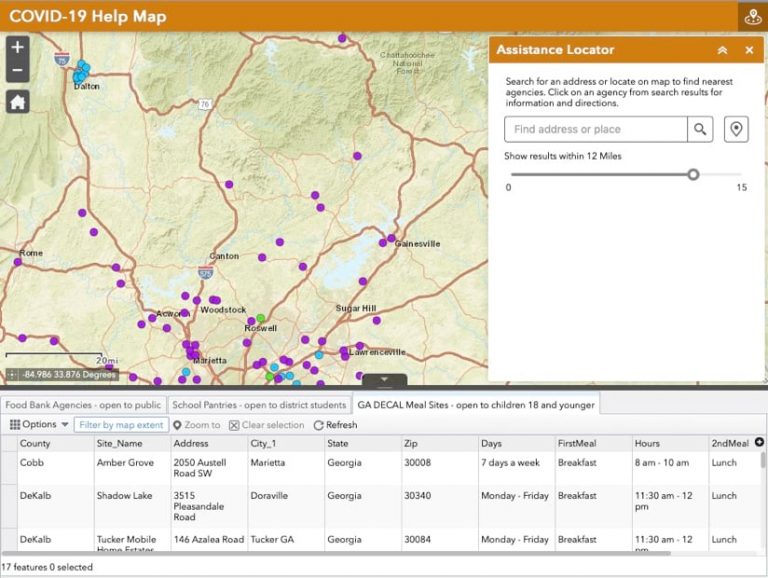 Moon said the food bank is working with local public schools to provide the meals students would normally receive in school as well as groceries families can take home.
The COVID-19 Help Map aggregates data from ACFB's partner agencies. Keeping with the sense of community, the food bank sources its goods from various vendors and encourages other relief organizations and local governments to utilize the map's feature layers inside their GIS platforms.
The mapped information provides agencies in Atlanta and north Georgia with an authoritative set of points to visit for outreach programs such as the Supplemental Nutrition Assistance Program (SNAP).
Users of the COVID-19 Help Map can navigate subsets of food banks, such as school pantries and meal sites for children 18 and younger. People without access to the map can text a simple message, such as "find food," to a phone number set up by the ACFB to get a reply with the nearest food pantry locations.
ACFB's COVID-19 Help Map had more than 11,300 views since launching in mid-March, and ACFB has distributed nearly one million pounds of food. As the crisis continues, the pace has been picking up. It now delivers 250,000 pounds of food per week to 21 public school sites for those affected by school and business closures.
Mapping Essential Business Services
State and county social distancing mandates have shuttered many businesses and left people unsure of where to turn for childcare, medical care, or food pantries. Restaurants that still operate have difficulty letting customers know they are still open for delivery or takeout orders.
In Santa Monica, city officials responded by setting up an online survey for business owners to communicate essential services and restaurants on a map. Survey results are processed twice daily to provide a dynamic up-to-date map. Santa Monica residents can search the map by name or business type.
"Information is shared with the public as quickly as possible since businesses often change the services they offer and their hours of operation," said Zachary Robinson, a GIS analyst for the City of Santa Monica
Participation from local businesses has been strong, with more than 20 percent of Santa Monica restaurants completing the survey within the first few days, and more results coming in daily.
"We've heard a lot of positive anecdotal testimony from business owners who were excited to see the city trying to promote their businesses during this pandemic," Robinson said. "The Santa Monica Essential Business Services Map is also being shared widely among residents."
Grocery Store Inventory for the Public by the Public
With grocery stores across the country still restocking after the initial panic triggered bulk buying, consumers are left not knowing where to find staples. In Cobb County, Georgia, government staff developed a crowdsourced grocery store inventory survey and map so that shoppers can help others know the availability of essential supplies.
The map shows information about store locations, hours, services, and inventory—organized around key categories such as paper goods, disinfectants, medicines, bread, dairy products, meats, and other popular items. The map lets users know if items are sold out, and also how crowded the shop is and whether shoppers are practicing social distancing. The data, fueled by updates from residents, changes daily.
The Cobb County Grocery Store Survey Dashboard combines all inputs for an overview of shopper sentiment, what's in stock, and how patterns are trending over time. More than 650 reports were entered within the first week, showing the power of crowdsourcing data in times of crisis.
As more cities and counties deploy maps and dashboards to support residents, they provide much needed support during the COVID-19 crisis for families as well as local businesses.
Learn more about how Location Intelligence Enhances COVID-19 Collaboration and read a white paper on Geographic Information Systems for Coronavirus Planning and Response. See the COVID-19 GIS Hub for location intelligence resources. The Coronavirus Response solutions page provides a collection of maps and apps that can be used by public health agencies to understand the virus's impact and share information about the pandemic with your community.