Editor's note: In October 2020, Swarovski's Richard Bezuidenhout and Jochen Schmidt shared their thoughts on how retailers could succeed in the post-COVID era. Twelve months later, the pandemic remains a prominent feature of daily life. To address the continuing challenges, Bezuidenhout and Schmidt return to share seven recommendations for WhereNext readers.
Crises have clarifying power, and the COVID-19 pandemic showed many retailers their weaknesses. Companies without data-mature operations saw customers gravitate to other brands and retail channels. Many brands fell behind because they failed to connect customer data with location intelligence.
Blame traditional business silos for the disconnect. In some companies, location intelligence, generated by geographic information system (GIS) technology, remains the province of real estate executives who plan store locations. Their colleagues in sales and marketing have been slow to adopt a geographic approach to customer data collected through loyalty programs, customer relationship management (CRM) databases, mobility and footfall information, and online sales.
More than 80 percent of retailers say that combining geographic data with demographic data for better business decisions is very valuable, according to RSR research. But few have mastered that art. Only about 11 percent of brands effectively use customer data to personalize communication and maintain loyalty, Forrester recently revealed.
Industry-leading brands are overcoming this divide by using GIS technology to analyze, organize, and map customer data. The resulting insight on buying trends can be key to helping retailers succeed in the COVID era and beyond—where consumer habits are marked by Rubik's Cube-level complexity.
Drawing Location Insight from Consumer Data
Location-based analysis of customer data—aggregated by groups rather than viewed individually—shows how and where people are shopping differently due to short-term trends like vaccination rates. It's also providing insight on long-term trends like geographic decentralization, caused by the hybrid home office trend in which employees commute to the office a few days a week and work the rest from home. Some observers have predicted this practice will last for the next few years
Business leaders use GIS analysis to reveal those patterns in specific locations and across demographic categories like age, gender, income, or lifestyle. This location intelligence supports decisions about whether to close or open stores, renegotiate leases, or launch new concepts to capture market share.
Leveraging a CRM database and GIS analysis enables businesses to personalize messaging, deals, and communication, strengthening customer loyalty at a time when shopping habits and preferences are fluid. According to a McKinsey report, as many as 30 to 40 percent of consumers are continuing to change brand allegiances, guided by better value or purpose alignment.
Based on our own journey, these are the seven keys to combining customer data with location analysis.
Define OKRs that will help you advance company strategy—and stick to them
In the midst of COVID disruption, executives must establish clear business objectives and key results (OKRs)—whether that's rebalancing online and offline sales or raising revenue to pre-pandemic levels. Then they need to identify the key performance indicators (KPIs) that support them.
The key is to focus on the most important KPIs—factors like sales per square feet, footfall trends, store catchment area potential, digital traffic, or customer retention. These KPIs can be used to group stores by category, so you're comparing apples to apples. With smart maps showing how these metrics are performing across markets and regions, from US outlets to European high streets, executives can sharpen their strategies and analyze how to uplift individual stores.
Identify the best-performing store in each group, then use GIS analysis to define what distinguishes the standouts from underperforming locations. Analyzing staff numbers, staff training, seniority levels, turnover, and in-stock merchandise can yield further clues. Running what-if scenarios—e.g., If we upgrade staff training, can we boost sales 5 to 6 percent?—can help align analysis with action.
When you have a lot of data at your fingertips, it's easy to fall down rabbit holes. Instead, focus on simple inputs, strong modeling, and simple outputs that lead to actionable advice.
We're getting reports left and right on daily sales, how the new collection is working, store traffic levels, and COVID. Data really is everywhere now, and you need to make it digestible for the organization so employees can work on key goals.
---
Jochen Schmidt, Vice President of Distribution and Real Estate, Swarovski
Build a geographic perspective on your KPIs
For retail business leaders, there is no single path to recovery—online or offline—in Europe, America, or elsewhere. That's why retailers must develop a reliable view of each market where they operate—a view informed by customer data and contextualized by a geographic approach.
Each country or region requires a tailored strategy. The Swiss economy is firing on all cylinders, while Italy and Spain, where the impact of COVID-19 was much stronger, are seeing higher unemployment rates, less consumer confidence, and slower store traffic.
Performance varies across store formats as well. In Korea, department stores continue to thrive, and in the Middle East, shopping malls are already approaching pre-COVID levels of business. But both categories are suffering in the West. The outlook for locations like New York City's Times Square—places that rely on tourism and commuters for the bulk of their business—remains unclear.
How the physical retail landscape correlates to online sales is a Gordian knot for business leaders to untangle—a complex problem solvable by applying location intelligence to customer data. GIS-based dashboards allow decision-makers to track where online sales have grown, both among CRM customers and online guests.
As stores closed during the pandemic, many retailers saw shoppers migrate to online channels. We used GIS dashboards to track where digital sales grew and by how much (see the maps at left). With that geographic insight, we identified new trade areas where we might consider opening a physical store in the future.
As sales fluctuate in certain locations, a retailer might explore pop-up possibilities or a shop-in-shop venue. These are low-risk options in unpredictable times, and could be useful transition strategies if the hybrid home office trend lasts longer than a few years. More permanent trends—such as companies leaving California for Texas and other states—could influence decisions about opening new stores or extending leases.
Even if sales are down, executives must carefully consider store closures. Removing too many locations may decrease visibility to consumers and hurt online shopping. (More on this halo effect here.) When a closure is necessary, CRM and location data can help marketing teams guide former customers of one store to an online channel or to nearby stores.
You need to keep tabs on everything at this stage—including digital channels—and technology like GIS is there to do this. If a customer's local store is closed or relocated, we need make sure we guide them to the right channel, whether it is online or a new offline store.
---
Richard Bezuidenhout, Manager, Global Distribution Operations, Swarovski
Blend data for a complete picture
CRM databases are treasure troves of insight. A consumer who has joined a membership program typically spends double what a walk-in customer does each year, and has a higher value per ticket. For those reasons and more, it's smart to incentivize store staff to encourage loyalty sign-ups.
Companies get more from their CRM databases by connecting them with location analysis. By combining mobility data and online purchasing metrics, retailers can read the currents of consumer sentiment in ways competitors can't.
For instance, we're currently renegotiating leases in a number of areas, and footfall data is a key metric in the analysis. We're following data on where our customers are going, and a lot of foot traffic is moving from high streets to suburbs and smaller cities. That information, highlighted on a GIS dashboard, could prompt a retail executive to request a rent reduction or to relocate to a new location in an emerging area.
By analyzing CRM patterns, mobility data, and online sales, we can understand which types of shoppers come to or pass by our stores, and transform that knowledge into strategy.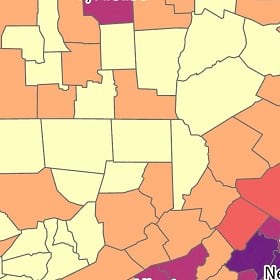 You can do super interesting analysis from a real estate point of view. But if you add consumer data, traffic patterns, consumer behavior, then you really maximize the GIS software and draw even better conclusions. There's so much more potential if you have that part right and then add your consumer data to create one view of your locations.
---
Jochen Schmidt
4. Internal partnerships drive customer understanding
For many retailers, thriving in a post-COVID reality means finding new ways of working and collaborating. To unlock the benefits of CRM and GIS, business decision-makers must feel comfortable reaching across the aisle to GIS analysts, and vice versa.
The simple act of sharing information on one project can ignite a domino effect. We've seen that when one department showcases how they've used a tool like GIS, colleagues often find inspiration in the work. For example, when we used GIS to analyze a recent boost in online shopping, we were able to access internal data that helped us put new customer segments on the map and gauge how much those groups are spending per purchase, and how often.
In the past, this information might have remained cloistered in one department. By sharing the insight with colleagues in e-commerce, marketing, and executive leadership, retailers can put the whole weight of the organization into capitalizing on this location and customer intelligence. It may lead to new store siting strategies, better targeting of online advertising, or even new hiring practices to ensure that employees reflect the customer base of the local community.
You need to cultivate data sharing in an organization. There are no secrets between departments. It's about letting the other departments know what you have in hand and what you can do with your technology.
---
Jochen Schmidt
5. Personalize the customer experience to deliver value
A fine-grained understanding of your customer base has never been more advantageous. In the wake of the COVID pandemic, new categories of customers are emerging, and groups that have acted one way in the past are displaying new behaviors. Some people have been eager to get the vaccine, yet are still reluctant to shop in person. Older customers who may have ignored online shopping channels in the past now rely on them exclusively. These are the kinds of shifts that retailers can miss when they aren't analyzing customer data through a location lens.
By mapping customer data with psychographic and demographic layers, retailers can tailor communications to consumers. For instance, rather than blanketing a region with a generalized promotion, a brand can identify locations where customers are interested in sustainability and send those recipients news on the company's net zero efforts.
At a time when customers are quick to switch allegiances, it's essential for retailers to mine customer data to fine-tune their approach (see map above).
When you know where certain groups of consumers shop, what they like to shop [for], and what they're interested in, you can tailor your communication in ways that the consumer finds helpful and engaging. Personalizing your communication starts with CRM data and location analysis.
---
Jochen Schmidt
Know thyself—and thy neighbors
A deeper knowledge of customers leads to greater self-knowledge as a brand. Companies with a good grasp of what distinguishes them from competitors can use that information to shape strategy, especially as it relates to location advantage.
Some brands thrive on foot traffic—they want to be on main shopping avenues and high streets, where greater footfall traffic tends to drive sales. Other companies are destination brands. They achieve a level of prestige by investing in a brick-and-mortar experience that's compelling enough to draw customers from across counties and ZIP codes. Through location analysis, brands can identify stores in different industries that attract the same kind of customer. For instance, a high-end clothing retailer may prefer to site stores near a personal care and beauty store that attracts higher-income shoppers.
GIS reveals those relationships as well as the negative or positive outcomes of locating near competitors. With dashboards, retailers can assess their distribution footprints and measure how geographic choices affect the perception and performance of their brand.
Store distribution—including how close our stores are to other brands—influences our perception among customers. Through analysis of customer insights, we've learned that this relationship is a lot stronger than we expected.
---
Richard Bezuidenhout
Rebrand or launch new concepts to connect with a shifting customer base
Business leaders can integrate spatial analysis and customer data for location intelligence on socioeconomic trends to spark innovation. As customer habits evolve, a brand may need to adopt a new look or create a fresh store concept to remain current.
We recently launched  a new store concept in 27 locations globally, including stores on Oxford Street in London; in New York's SOHO; and in Iguatemi, Sao Paolo. These locations reflect the new brand expression and an immersive shopping experience that elevates the brand.
The good news is that this and the other six practices are interconnected, and tackling one can lead seamlessly into achieving another. Collaboration can facilitate data blending, which can create sharper, more personalized customer insights, and perhaps lead to the launch of a new product or store format.
It's one thing to have your company's vulnerabilities exposed by a disruptive force like COVID-19. It's another to learn from the experience, using customer data and location intelligence to meet consumers where they are now, and where they will be in the years ahead.
Stores are becoming hubs of experiences. People want to go there, share the pictures, and remember the experience. When your customer visits your store and they're wowed, that generates repeat traffic.
---
Richard Bezuidenhout