In the dawning age of net-zero commerce, the carbon credit business is drawing significant attention. While some observers have questioned the industry's efficacy, one prominent company in Brazil is applying a data-rich, science-based approach to validate its work.
The voluntary market for carbon credits, generated through projects that sequester carbon or protect carbon-trapping natural resources like rainforests, reached $2 billion in 2021. Some analysts estimate that the market could be worth $50 billion by 2030.
For the burgeoning set of businesses that create and sell carbon credits, a geographic approach is proving indispensable to ground-truthing their projects and impacts.
At Carbonext, a certified B Corp and the largest generator of carbon credits in Brazil, geographic information system (GIS) technology informs nearly every stage of the company's work. Carbonext's leaders rely on the spatial context afforded by GIS to locate carbon-rich areas in the Amazon rainforest that face the threat of deforestation. The past two years have seen the highest rates of Amazon deforestation since 2009, Reuters reported.
The insights gained by GIS, known as location intelligence, also support the business side: private landowners who partner with Carbonext can often make a higher profit by leaving natural resources as they are instead of clearing the land for farms.
After the credit is sold to a country, company, or even an individual, Carbonext's GIS team tracks and analyzes key indicators of forest health over decades to ensure the value of the carbon credit.
Carbonext says its projects have protected over 4.9 million acres of rainforest from the threat of deforestation and degradation and have saved around seven million tons of greenhouse gases from being released into the atmosphere. A geographic approach has been instrumental to laying the groundwork for this progress.
"GIS is a legal tool, it's a social tool, it's a biodiversity tool, it's everything—a marketing tool, a commercial tool," says Rafael Martins, MRV (monitoring, reporting, and verification) manager at Carbonext.
Inside the Carbon Credit Business
Over 80 companies, including ride-sharing firm Uber, transportation startup Buser, and wine company Zebrah, have bought carbon credits generated by Carbonext since it was founded in 2010.
The projects that form the basis for Carbonext's carbon credits follow the REDD+ framework developed out of UN climate negotiations. These practices focus on protecting rainforests and the communities intertwined with them.
Carbonext's work involves three main stages, each of which relies on location intelligence:
Identifying carbon-rich, biodiverse plots that face a demonstrable threat from deforestation or degradation
Analyzing historical land-use patterns to predict the carbon emissions that will be generated by deforestation if the plot is not preserved
Monitoring the plot for 30 years after third-party verification to protect the land from threats like wildfire or illegal deforestation
In the first stage, Carbonext's GIS team employs satellite imagery and remote sensing and site selection analysis to scan millions of acres of the vast Amazonian rainforest. "We are talking about the Amazon biome—a huge, huge area with a lot of challenges, such as lack of consistent spatial data," Martins says.
Spatial analysis accelerates this process by locating plots that fit the requirements for carbon credit projects that avoid deforestation. Using GIS, Martins and his team map data about privately owned land; calculate carbon potential through historical land-cover analysis; and target indicators associated with deforestation, like economic activity, proximity to roads, and relatively flat ground.
Analyzing the Past to Understand the Future
In the second stage, project development begins. After defining the boundaries of a project, GIS analysts study historical land-use patterns of surrounding areas, correlating those trends with deforestation drivers.
This probabilistic analysis enables Carbonext's leaders to forecast from past data how much forest land would be cut down and how much carbon would be released if nothing were done to protect the land. This creates the baseline—a quantitative measure that determines the size of the carbon credit associated with the project.
Once the carbon credit is certified by a third-party auditor, Carbonext begins a long, data-intensive process of monitoring. If a company buys a carbon credit but the forest it is based on burns down a few months later, the credit becomes worthless.
Carbonext's geographic approach combines surveillance of forest plots via remote sensing with on-the-ground human agents. These individuals are often hired from local communities and trained to collect survey data about forest integrity using GIS apps on mobile devices. This real-time intelligence alerts Carbonext leaders to early signs of threats like fires or illegal deforestation.
"We need processes and tools that allow us to be efficient because we have a lot of projects with a lot of KPIs—data being collected in the field all the time," Martins says. GIS gives Carbonext a centralized platform to organize and analyze its data streams, which soon will include field-based sensors.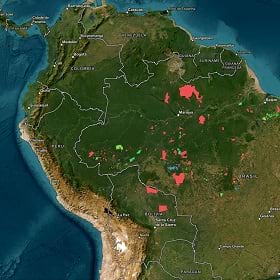 Thanks to a geographic approach, an abstract discussion about land and value suddenly becomes something immediately recognizable and familiar.
---
Brazil: A Major Carbon Credit Player
Brazil, which possesses an enormous bounty of natural resources, has become a major center for the carbon credit business. The country plans to reach carbon-neutral status by 2050, and Brazilian officials have speculated that the country could sell up to $100 billion in carbon credits over the next decade.
Carbonext has taken a leading role. While the company has been in operation for over a decade, executives have picked up the pace of projects in the past two and a half years, in part due to growing demand. Currently, 19 REDD+ projects are ongoing; the majority of those instituted since 2019. The company hopes to add another 10 projects by the end of 2024.
Recognizing the value of location-based monitoring, Carbonext has supported Martins in building a team of more than a dozen GIS professionals.
Capitalizing on the Shift to Sustainability with GIS
In recent years, Carbonext's leaders have seen a significant shift. The company's agents once had to convince landowners not to clear their plots for soybean plantings or other agricultural purposes. Now those landowners are approaching Carbonext. According to Martins, "most of them are looking for us to help them, [saying] 'I heard about carbon credits, and making money with my forest to [help] conservation, biodiversity, and climate change. Tell me more about how we can develop this.'"
One of the most important ways location technology helps companies in the carbon credit field is by presenting information in a visual format that facilitates understanding. On the wall at Carbonext, a huge screen displays the ongoing projects monitored and protected by the company. Frequently, Martins says, that screen sparks a "light bulb moment" for landowners or potential carbon credit buyers.
"It's a connection, and they see the real value of GIS," Martins says. "They understand that we are looking at that area every day, every time. And we will help [them] protect this area—that's how I think of GIS nowadays."