Our earliest memories of maps tend to be of flattened, 2D images: wall-mounted world atlases in grade school classrooms, thumb-worn TripTiks in the glove compartment of the family car.
While these paper-based maps offered a helpful sense of place, they couldn't realistically convey the vastness of the continents and oceans, or show the deep tapestry of neighborhoods and landscapes glimpsed in passing on road trips. And they certainly couldn't read real-time data from a mobile phone or weather sensor.
Thanks to cutting-edge geospatial technology, maps today are that smart. Coordinating layers of data from countless sources, a geographic information system, or GIS, turns dots and lines into an intelligent nervous system, or smart map.
GIS-powered maps capture the richness of geographic context: the socioeconomic contours of a city's population, topographic features surrounding a proposed solar farm, the proximity of real estate to the coastline or other points of interest. This insight, known as location intelligence, has made smart maps indispensable in mastering the new data-driven frontiers of business, from health care to retail, logistics to manufacturing.
Enabled by advances in cloud computing, artificial intelligence, and satellite imagery, digital maps can now function as living organisms, sensitive to historical trends and real-time data, able to forecast the future based on the present and past.
The ways that companies like FedEx, Carhartt, and BP are using smart maps today can be categorized into five areas of innovation where location intelligence from GIS is driving transformative change:
Better investments and executive decisions
Improved sustainability and equity
New levels of efficiency and business resilience
Data-driven customer responsiveness
Increased collaboration and communication
In this new age of mapping, data isn't left inert in spreadsheets or documents, but is infused with spatial meaning that yields competitive advantage and guides ethical corporate stewardship. Here's a look at how that happens.
1. Grounding Investments and Executive Decisions in Geographic Truth
When company leaders confronted fluctuations in their business in the past, they often had to speculate about underlying causes. GIS's ability to illuminate trends in data across time and space can take the guesswork out of important questions. Smart maps reveal the complex ecosystems that connect a store, office, or service center to the surrounding community, giving executives guidance on the best ways to allocate time and capital.
A hospital seeing declining patient visits in a once-stable market might attribute that phenomenon to any number of factors, from poor outreach to changes in health-care policy. By studying the market on a smart map, the leaders of one hospital network discovered that a rise of competitors in the area was the main source of the patient drop-off. That geospatial analysis helped executives respond to the competition, instead of wasting resources chasing a solution to the wrong problem.
Such acuity is even more valuable in newer fields that don't have decades of results to learn from.
Driven by lower costs and greening consumer sentiment, energy producers today face a surge of demand for renewable or carbon-free energy. Clean energy providers use GIS to understand the complex factors that influence the siting of offshore wind farms and other new power sources. Smart maps make it possible to visualize seabed geology, water, and wind patterns, as well as how new structures would connect to existing infrastructure.
By unlocking competitive advantages concealed within data, location intelligence makes decision-making at the highest corporate levels less an article of faith and more a fact-based exercise.
2. Smart Maps for the Era of Corporate Social Responsibility
On urgent issues ranging from sustainability to racial equity, the C-suite is rising to the challenge of social responsibility and stakeholder capitalism, with industry leaders like Google and Nike pledging to change business models to reflect corporate obligations to society. Forward-looking executives are turning to location intelligence to illuminate the bridge between promises and action.
Smart mapping is helping one of the world's leading refiners of palm oil monitor the plantations it works with to determine whether suppliers are contributing to deforestation. Satellite imagery gives business leaders eyes on tens of millions of acres where encroachment or harmful practices might be occurring. Meanwhile, artificial intelligence enables the automation of imagery analysis, using metrics like proximity to roads or distance between plantations to predict areas most likely to be vulnerable to logging. That predictive capacity allows the company to take proactive steps while reducing the need for on-the-ground trips.
GIS makes the supply chain more transparent, ensuring that the palm oil it moves can be traced back to the mills where it was originally processed. The company is able to stay in line with industry-wide compliance efforts while reducing brand and environmental risks.
Smart maps are also playing a role in reversing one of the most damaging trends to marginalized populations in the United States: redlining, or the practice of refusing loans and mortgages to non-White communities and immigrants. This systemic prejudice has created economic deserts with low rates of entrepreneurship and homeownership.
One firm is attempting to spur economic growth in such places by using location intelligence, targeting areas where local populations don't have access to fair banking—a fact that has typically left residents at the mercy of predatory institutions like payday lenders and check cashers. Instead, this microfinance pioneer employs smart maps to find neglected neighborhoods using anonymized data on metrics like income levels and country of origin. Offering small fixed-interest loans in underserved areas creates ripples of positive economic change, contributing to growth in household wealth, business creation, and community health.
As more leaders in the Fortune 500 and beyond join the movement to instill corporate social responsibility into their operations, GIS is becoming an essential tool to align sustainability and equity goals with everyday practices.
3. Achieving New Heights of Efficiency and Business Resilience
Imagine the difficulty of tracking 20,000 aircraft flights each month, many of them carrying not only packages with delivery times to hit but also replacement parts and tools needed to maintain other planes crisscrossing the globe.
The complexity of that logistical choreography led shipping giant FedEx to rely on location intelligence. Serving as the foundation of FedEx's tracking system, smart maps display real-time progress for hundreds of jet aircraft and make it possible to pull up information about each plane and its cargo with a single click. Because of these efforts, only .025 percent of FedEx's flights fail to take off within 15 minutes of scheduled departure times.
GIS excels at slicing through knotty logistics challenges because managers in charge of keeping trains and planes on time don't have to sort through manuals, spreadsheets, presentations, or PDFs for answers. They can go directly to shareable, interactive maps that show up-to-date data—in essence, a digital twin of the transportation network—allowing users to plan thoughtfully and adapt on the fly.
Responding effectively to the unexpected is a core element of business resilience, and it's in such situations that winners often separate themselves from the pack. Almost no one predicted the scale of last year's COVID-19 pandemic at the start. Yet the quick response mounted by Bass Pro Shops' chief security officer, who was well-versed in GIS, helped the company maintain business continuity.
Dashboards displayed the operational status of the outdoor brand's nationwide network of stores, color-coded to show which were closed, open, or partially open. That common picture united the efforts of the company's C-suite, making it easier to shift inventory to the busiest stores and even allocate personal protective gear after the founder donated one million masks to frontline health-care workers.
Today, with Americans trusting CEOs more than their government, customers often turn to employers, top brands, and local stores for information and the goods and services they need in the midst of crisis. GIS gives business leaders the tools to keep pace with that level of customer demand, sustaining operational resilience in the face of disorganization and disaster.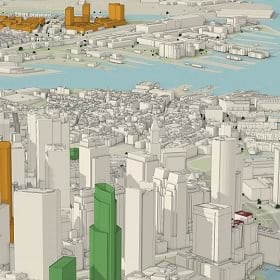 With GIS-based smart maps, an overlay of data sources can form a common picture of the business, including COVID-19 infection rates and store sales numbers.
---
4. Crafting Customer Responsiveness Strategies
It's not just the world that's changing—customers change too, migrating to new digital platforms or shopping channels with a velocity that can catch businesses off guard. Companies that don't have the agility to be more responsive to the needs of their client base risk losing ground to competitors.
Everything from store design to safety measures can be tailored to better serve customers with insight from smart maps. Using geospatial technology, a design and engineering firm consulting on a new residential development in North London found efficiencies that allowed for a blend of affordable housing and desirable green spaces.
A New Jersey utility combined headsets, augmented reality, and location intelligence to empower workers to "see" through concrete before excavating underground water and gas pipes. That technology avoids burst lines and costly repairs that might make busy roads inaccessible.
Brands like Carhartt and Swarovski are employing smart maps to understand subtle shifts in consumer behavior. And many retailers are realizing that a two-year-old market analysis on the income, education, and population characteristics of a given ZIP code won't offer the kind of granular insight a brand needs to stay ahead today.
Customers now have a menu of retail options, from curbside pickup to online order and delivery. Understanding how, where, and why consumers are shopping the way they are is fundamental to crafting an omnichannel strategy. Mapping can plot out how those habits are changing daily so a company can better serve customers whether they're walking in the door or connecting online.
The coronavirus pandemic perfectly demonstrates how forces outside an executive's control can trigger new factors and microtrends that GIS is uniquely capable of tracking. Pandemic-related patterns—including that more men were shopping in-store than women during lockdown phases, or that some main avenues had less foot traffic than side streets—could influence strategic decisions. A CEO might use that location intelligence to decide which sites stay open, or how to target marketing to niche groups. Small adjustments can be the difference between survival and closure in trying economic times, and smart maps give companies that edge.
5. A Shared Platform for Collaboration and Communication
Communication technologies have advanced exponentially in recent decades. The time elapsed between the invention of the telephone and email was roughly 100 years, yet in just the last 10 years, we've seen a profusion of platforms—from social media to Slack—that are reshaping how we interact.
GIS is often found at the intersections of innovative change because maps are fundamentally shared platforms, inspiring understanding and collaboration like few other modes do. Employed on an enterprise level, geospatial analytics helped energy giant BP share data across departments otherwise siloed from each other. That has led to the creation of a new kind of analyst, one who is "bilingual" in the business vernacular of executives and the GIS analysts who track the latest developments in data science.
The connective power of location intelligence has extended even to the ski slopes, where old, analog modes of information often left important details about infrastructure locked in the minds of employees. When that information was instead coded into a smart map of the mountain, everything from repairs to snowmaking became simplified and streamlined, contributing to even more economic success.
Even with the recent tectonic shifts in technology and commerce, certain concepts remain fixed in the human mind, fundamental to our understanding of the world. A map is one such archetype. Adapted from paper form to the digital realm, where they enable new advances in pattern-finding and strategic planning, maps have never been more powerful than they are today as agents of business change.