Facilities are transforming. They have been for a while, but the Covid-19 pandemic accelerated the process tremendously. The adoption of the working-from-home model over the past 18 months has made many organizations rethink their work culture and utilization of space.
Seeing that their businesses keep running smoothly even with employees working from home, many are planning to take a more flexible approach in the future. In fact, according to a study by Microsoft, 66% of businesses are considering turning their offices into hybrid work environments.
This is even less surprising when we bring to mind that rental space is one of the biggest cost centers for an organization. Reducing rental space to embrace the flexible workplace and cut costs seems like the next logical step.
While space utilization is a driving force for facility transformation, there is more to it than that. Aside from the flexible workplace model, the complete occupant experience and how people inside the facility can interact with it is undergoing change. At the center of it all – data.
Data interoperability is key to success
The journey to successfully and sustainably transform your facility starts with data. However, the problem most organizations are facing is that their data is non-interoperable, e.g. pen and paper documents, Excel sheets, or thousands of records organized in tabular formats in an IWMS, CMMS, etc.
The National Institute of Standards and Technology investigated the cost associated with non-interoperable data in the US capital facilities industry, which are estimated at $ 0.23/sqft. When we extrapolate this to the size of university or corporate campuses, they can incur horrendous costs.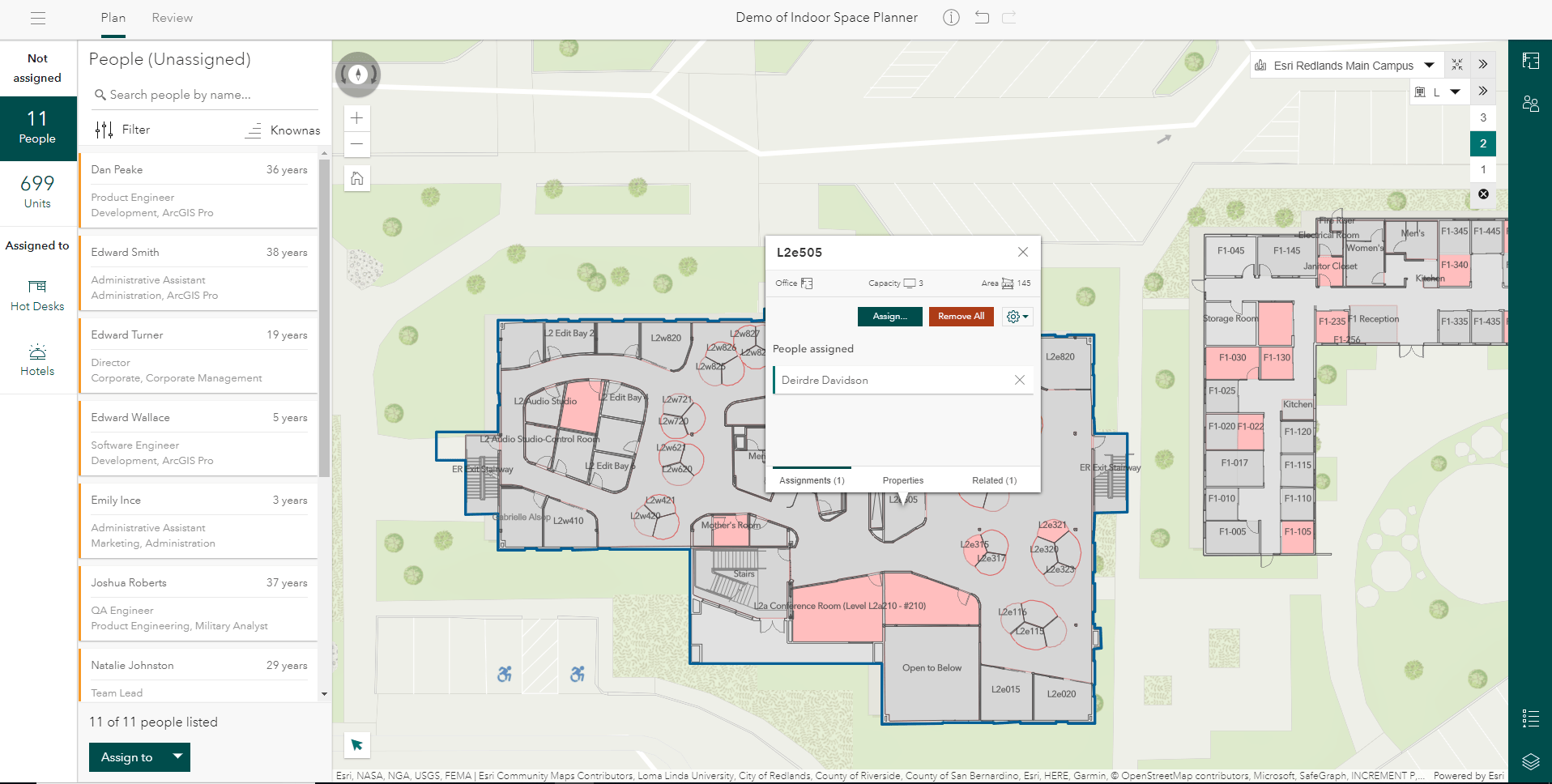 Centralized data management and visualization
ArcGIS Indoors is a system of record that visualizes your facility data on a digital indoor map which can easily be shared across the organization, creating a common operating picture for all employees or other stakeholders. It is an indoor GIS for facilities and workplace management that helps organizations:
Visualize their facilities
Streamline data sharing
Complete more projects
And reduce operating costs.
Indoors extends the lifecycle of CAD and BIM drawings by taking them from the design and build phase into the operations and maintenance phase.
Why integrate ArcGIS Indoors with Facility Management Systems?
Using ArcGIS Indoors, everyone in the organization can see facility information visualized on a map, such as where specific rooms, amenities, resources, and people are. Using ArcGIS Indoor Viewer or ArcGIS Indoors Mobile, they can search for nearby office hotels or conference rooms and book them for meetings or their workday at the office and route to them via the map.
Operations and maintenance can be optimized by making facility occupants active participants in crowd-sourcing facility issue reporting, e.g. employees can report broken assets or other maintenance requests via the app. This can be done through integrations with CMMS such as ServiceNow or Cityworks. By making facility information readily available to all occupants, processes can be optimized, and projects be completed faster.
With the Indoors Space Planner, managers can better plan how to use and assign space to employees, supporting the creation of office hotels and flexible workspaces and coordination of space moves.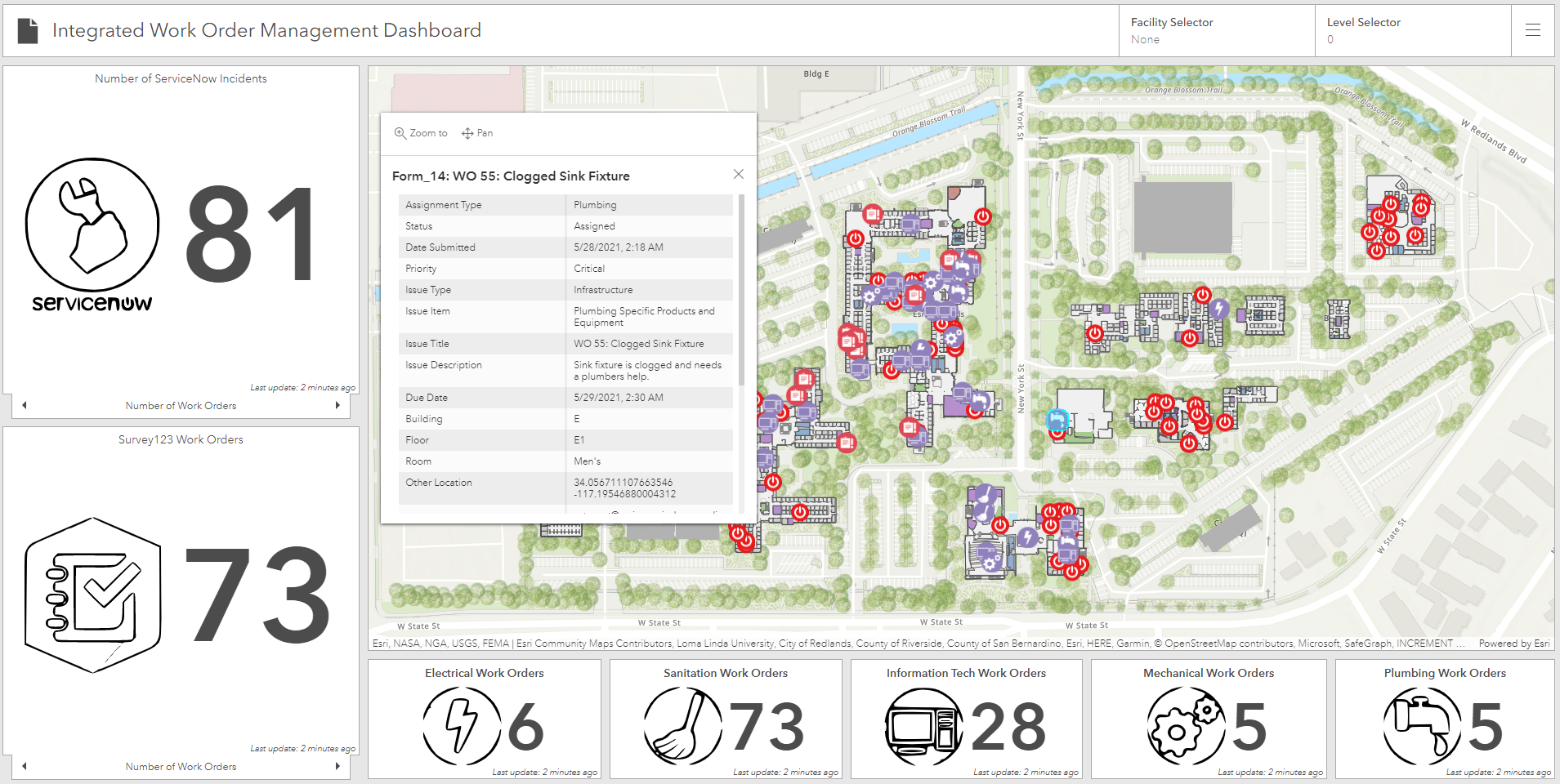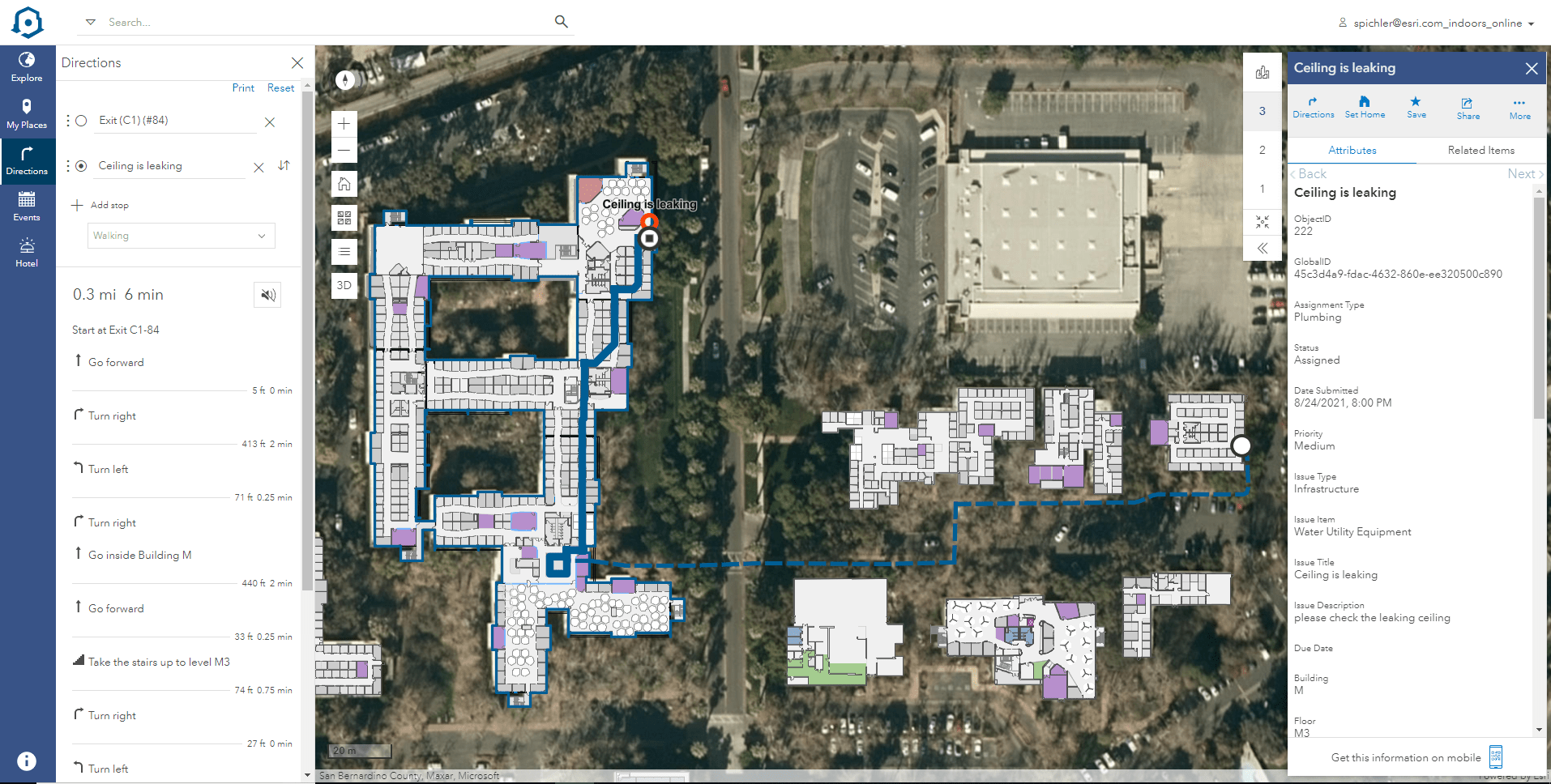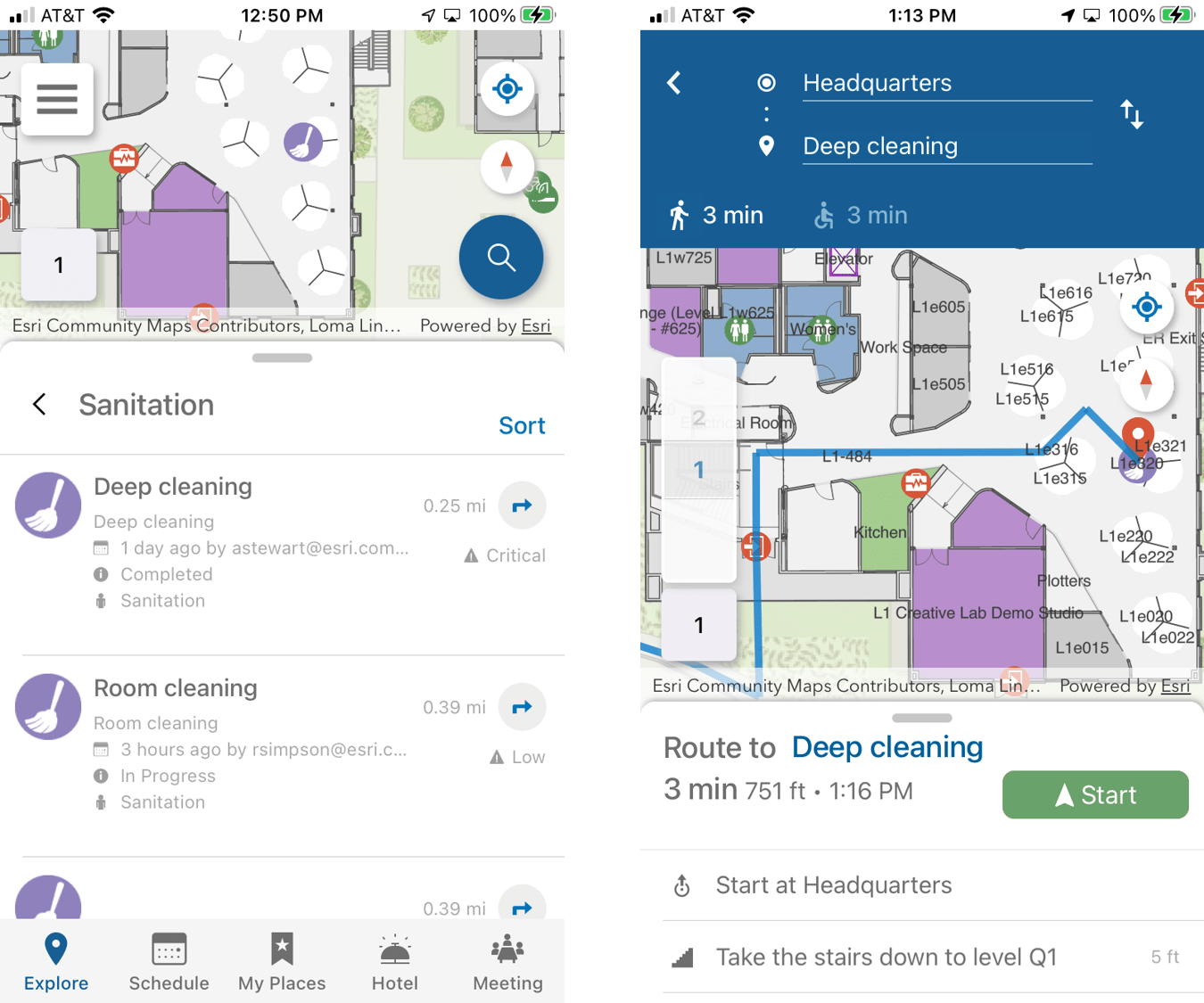 At a glance, Indoors helps with:
Mapping and routing to places, work orders and assets
Crowd-sourcing facility issue reporting
Workspace reservation
Map-based space management
Visualizing, analyzing and sharing facility information
There are a variety of facility-, asset-, incident- and work order management systems that integrate with ArcGIS Indoors without any custom coding. Common integration patterns include:
Loading facility data into the ArcGIS Indoors Model
Adding floor aware maps to facility apps
Bringing facility data into ArcGIS Indoors maps
Smart launching facility apps from ArcGIS Indoors
Smart launching ArcGIS Indoors from facility apps
Recently, we were able to announce the introduction of a new ETL, the TRIRIGA to Indoors Spatial Tool, that makes fast integration of IBM TRIRIGA floorplans and space data into ArcGIS Indoors maps possible. IBM TRIRIGA is an integrated workplace management system (IWMS) that, combined with ArcGIS Indoors, allows real estate and facilities management teams to work with interactive maps. Watch this webinar recording to learn more.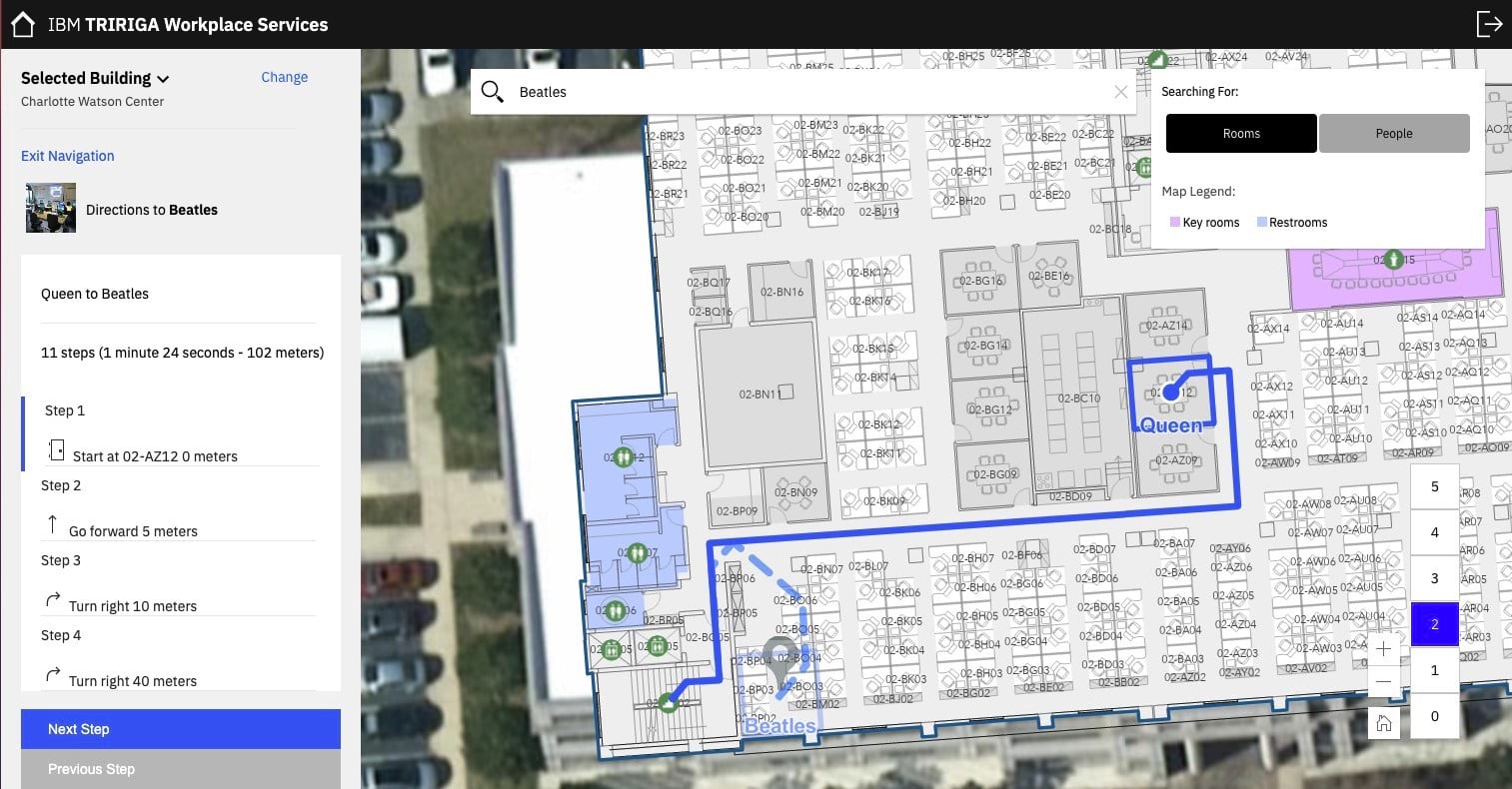 Integrating your facility management systems with ArcGIS Indoors allows you to make all information centrally available to stakeholders and provide them with a map interface to maintain continuity of user experiences between different systems applications. It adds capabilities for data management, space planning and the occupant experience (workspace reservation, wayfinding, location sharing, issue reporting) to optimally support your facility management workflows.
Watch this presentation from the 2021 Esri UC for more information on ArcGIS Indoors and Facility Management Systems.
Contact us today to learn more about ArcGIS Indoors and get a demo.