Now more than ever, businesses are rethinking the way they are organizing their workplace. The work-from-home culture imposed on us by the pandemic has clearly shown that employees do not necessarily have to physically work from an organization's office to be effective and efficient.
According to a survey by Microsoft, 66% of businesses are therefore considering redesigning their offices to accommodate hybrid work environments, i.e., supporting both, an in-office and remote workforce. ArcGIS Indoors contributes to this approach with solutions that usher in the digital workplace.
The goal of creating a digital workplace is to help teams and individuals be more productive through consumerization of their work environment. One way this can be achieved is via a company-wide app, that empowers users with information and tools to better engage with their workplace and colleagues.
Enhance spatial awareness
A great workplace experience already starts before arriving at your workspace and does not stop there. ArcGIS Indoors provides all building occupants and visitors with an interactive indoor workplace map that visualizes places, assets, and people – this can be done via the Indoors Viewer web app, Indoors for iOS and Android mobile apps and kiosk systems.
To provide a warm welcome and allow all building visitors to find their way around the facility with a sense of confidence, organizations can deploy kiosk systems in key locations such as the lobby. Users can search for or select a point of interest they want to visit (e.g., conference room, café, office) directly from the map and get a route to that destination.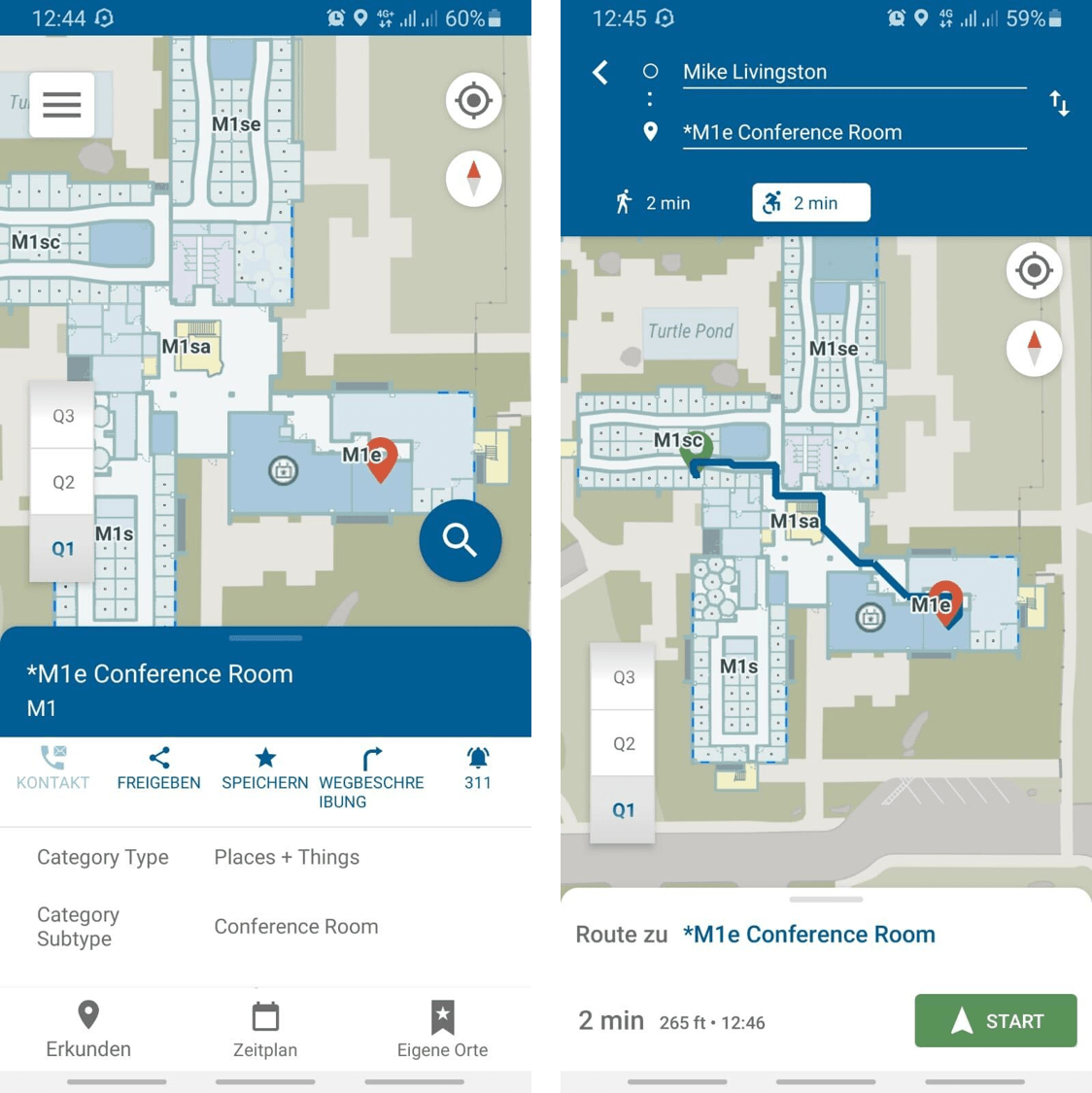 Users of ArcGIS Indoors for mobile apps can do the same even before entering the facility on their mobile device. In addition, they are able to see their own real-time position on the map in the form of a blue dot. This gives them a better sense of where they currently are inside the building, if they are on the right path to their destination, and how much time it will take them to get there.
The ability to navigate inside and between different buildings (e.g., of a corporate campus) creates a frictionless on-site experience that helps everyone go where they need to go independently and timely.
Plan your space
An integral part of a functioning workplace is the maintenance department, ensuring the facility and all resources and assets are working and ready to use. Enabling the maintenance team with a digital work order management system helps them react to repair requests faster and get their work done more efficiently.
Everyone in the organization using the mobile app becomes part of the solution – upon noticing a defect, all employees can file a repair request via mobile device, marking the location on the map and adding notes about what needs to be fixed. The technician assigned to the task knows exactly where to go, how to get there and what tools to bring to fix the described issue. Once the task is completed, they can mark it complete in the system, informing all stakeholders.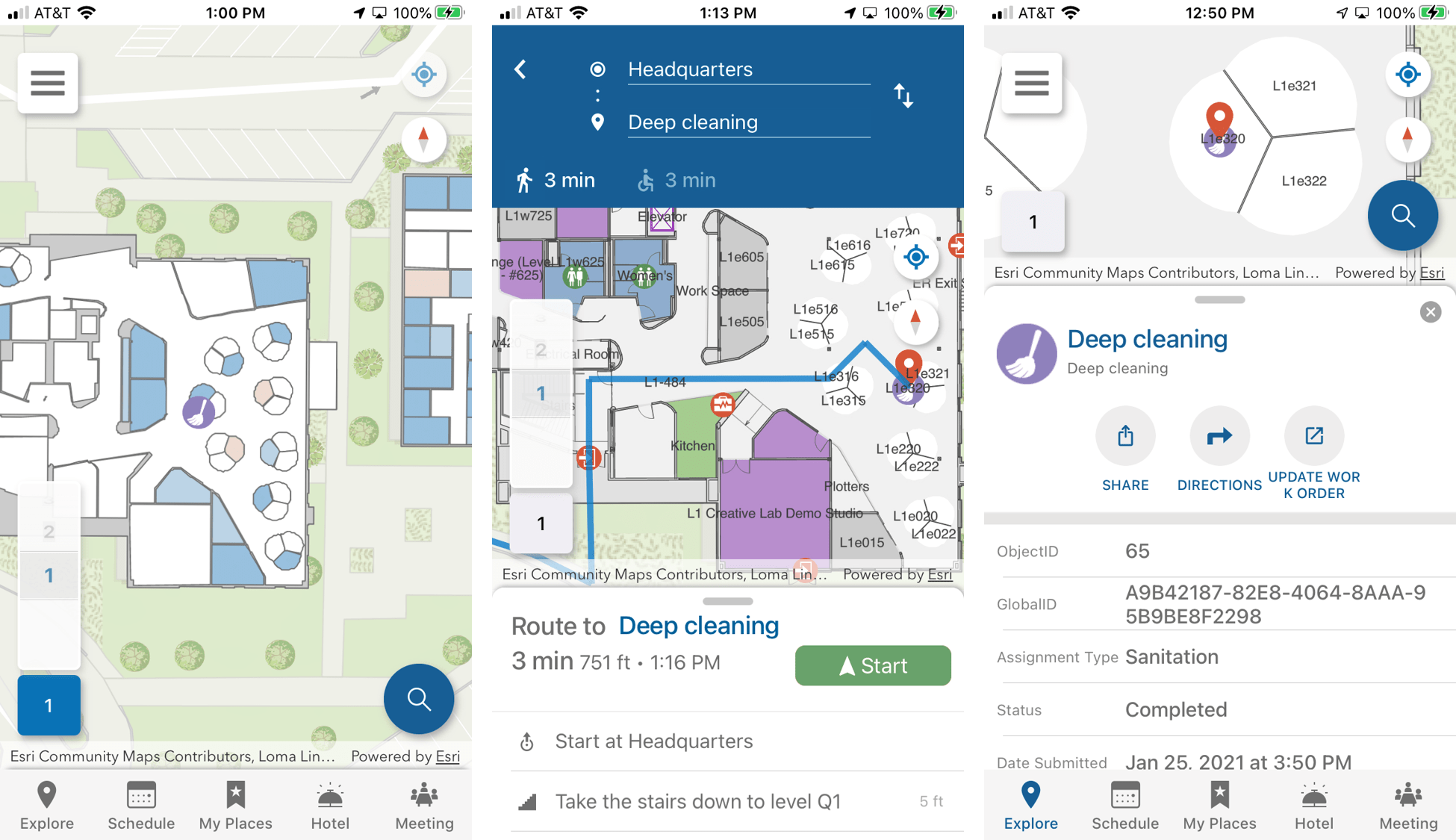 Many organizations will have to rethink their space usage, as post-pandemic workplace models are expected to focus on flexibility. Moreover, organizations will want to provide their employees with increased spatial awareness to endorse social distancing.
The ArcGIS Indoors Space Planner allows you to digitally apply changes to your workplace layout, taking social distancing measures into account. Assess capacities for individual rooms, plan which teams and individuals can sit where without compromising operations and assign them to specific workspaces. Share the new space plan across teams and allow all employees to understand the new layout as well as find their newly assigned workstation when consulting the workplace map.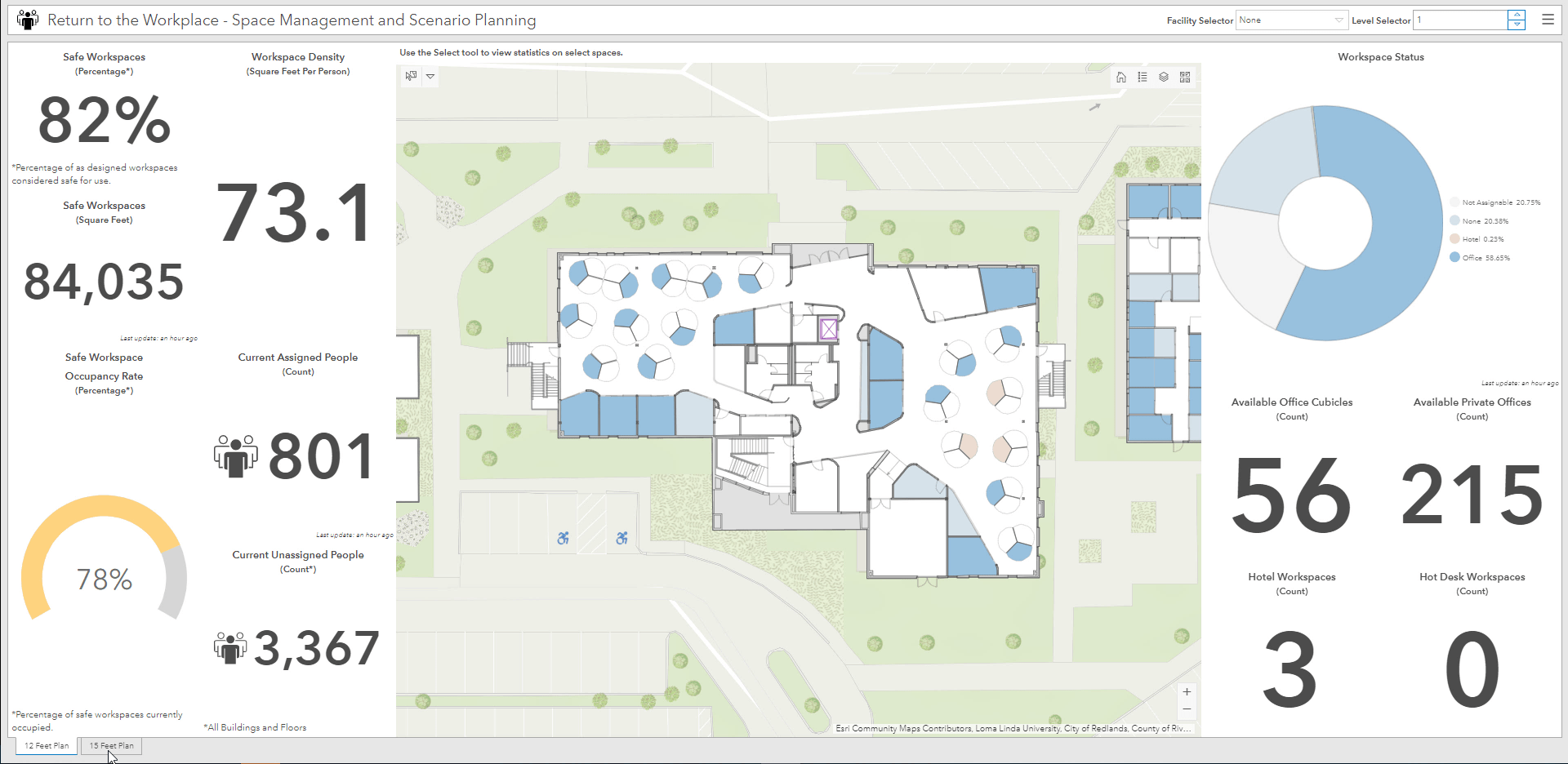 Embrace flexibility
One of the main themes underlying the shift from an in-office-only to a hybrid workplace model is flexibility. A model where employees can work from home on a regular basis also brings about change in the way office space is used. Not everyone will need their own personal office at the workplace anymore. Instead, the same space can be used more flexibly by multiple employees in a week or even a day.
This could be done by repurposing office space and turning it into office hotels that can be booked for a specific timespan. Using the ArcGIS Indoors web and mobile app, employees are able to reserve these hotels before they come to the office and once on site can navigate there via the mobile app.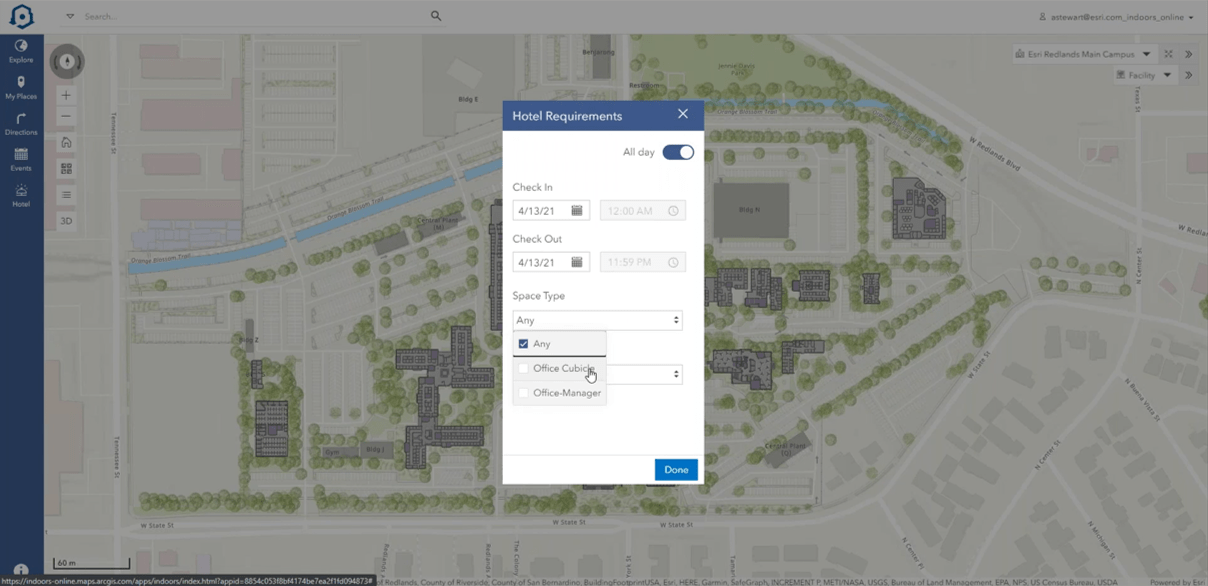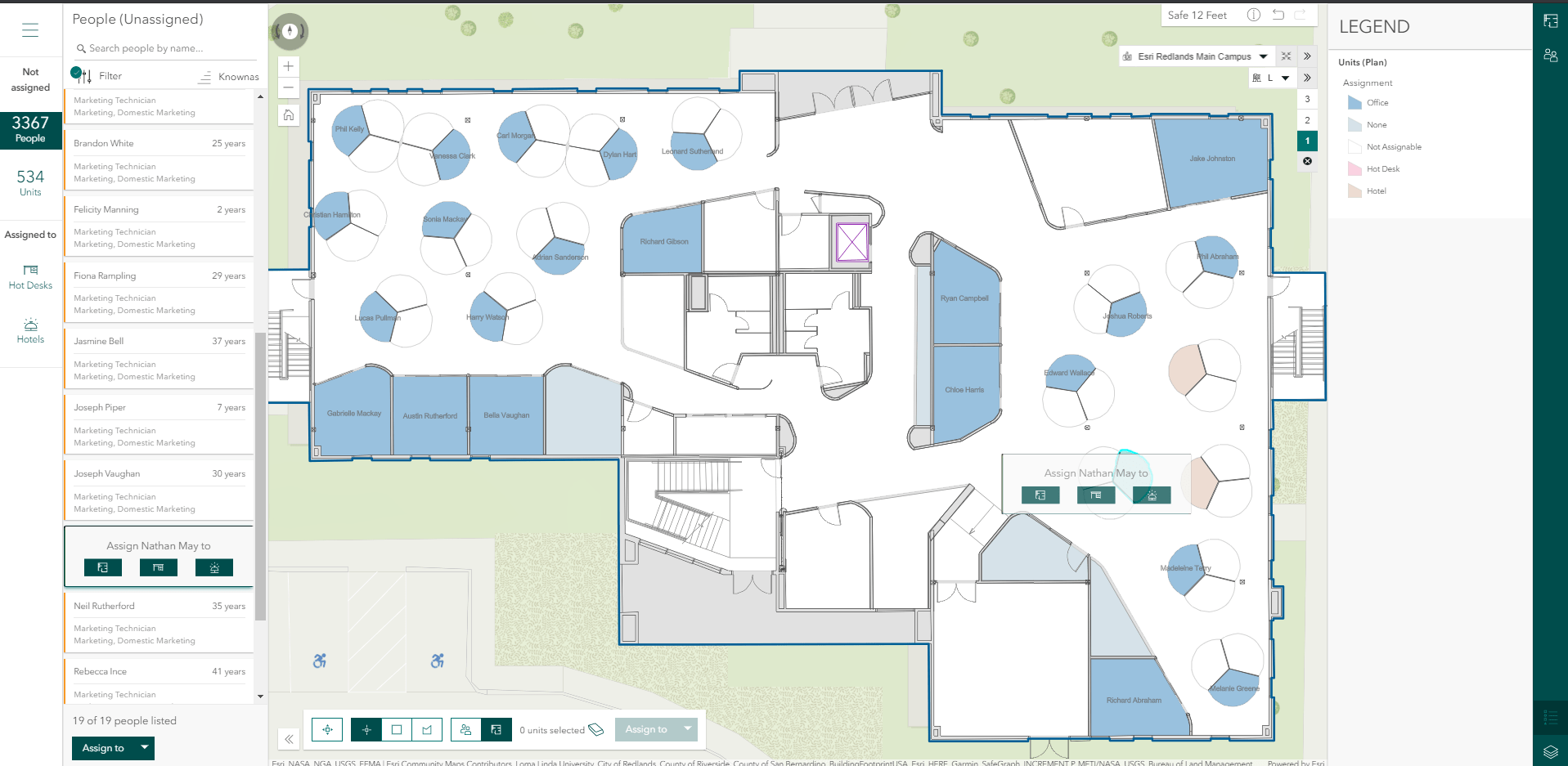 What is more, workspace reservation also extends to conference rooms. Employees can search for the closest conference room that is available at the time they need it, select criteria the room should fulfill (e.g., in terms of capacity or technical equipment) and reserve it for the selected period. Due to an integration with Office 365, you can add the meeting to your calendar and invite other attendees in the same step as well. Indoors empowers its users to find, reserve and share the location of your next meeting within the one and the same interface.
Cross-departmental collaboration is a major indicator of a healthy work culture and imperative for a strong, successful organization. Physical separation of departments at large organizational entities, however, can be a real obstacle for face-to-face communication. While the Marketing department is in building A, the IT team may be found in building C, which can impede teamwork significantly.
ArcGIS Indoors helps overcome the difficulty of meeting colleagues from other teams in unfamiliar areas of the workplace. While the wayfinding feature allows users to navigate to specific meeting points such as the cafeteria or a conference room, employees can also share their real-time location with each other for simplified ad-hoc meetings. This colleague-finder saves time and trouble meeting up and communicating face to face, promoting a productive and collaborative work environment.
Leveraging indoor geo-enabled technology such as ArcGIS Indoors to adapt a digital workplace strategy helps spatially inform your decisions and create a smarter workforce. Interested in learning more? Schedule an ArcGIS Indoors demo today!