Not everyone is a GIS expert, nor do they need to be. But maps are an incredible tool to help bridge the gap between data and those who need it to make decisions. For example, policymakers could more effectively allocate limited resources if they knew where those resources were needed most. But they need more than just a map with data, they need a policy map. So what exactly is a policy map?
"A policy map clearly shows where there is an opportunity to intervene"
In order to help policymakers and those who work with them, the Esri Maps for Public Policy site contains policy maps and resources that are ready to use and share; no GIS experience needed. Let's take a quick tour:
Overview – Start here to learn more about policy maps and find examples of success stories
Explore – Create your own collection of maps focused on your area of interest by browsing/searching through various topics
Issues – Find layers, maps, and story maps to help you start making policy maps of your own
Resources – Find education, training, best practices, and industry perspectives to help you get started with mapping for policy
Follow along by opening the Esri Maps for Public Policy site:
Overview
The purpose of the Esri Maps for Public Policy site is to inspire and enable anyone to use spatial data for public policy. This page on the site is a great starting point for those who are new to policy mapping, and it provides examples and collections to get you started.
At the bottom, browse through various pre-built collections of maps to help get you going. Type in your city, and click "Explore Your Community" to start your policy mapping journey. The next section will show you what appears after you choose a collection and area.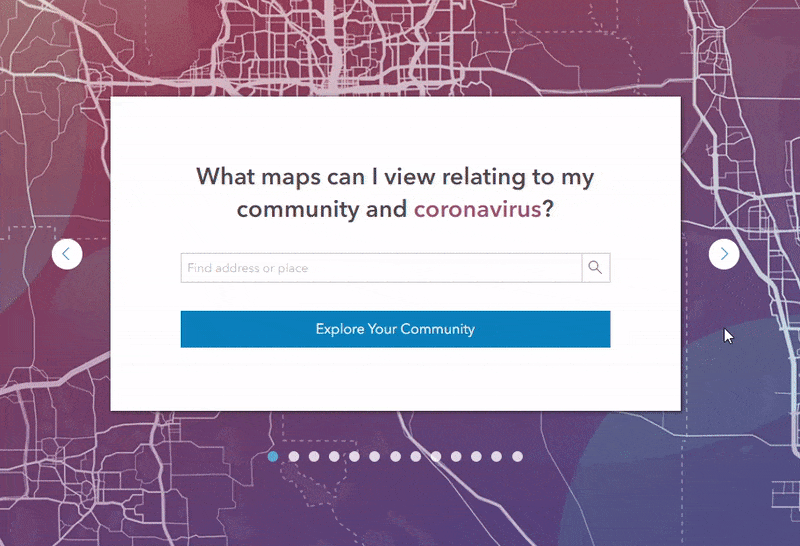 Explore
You may have chosen a collection from the first page, or you may have come straight to the Explore tab on your own. Either way, you can browse, search, view, collect, and share maps from a large variety of topics on this page. If you haven't yet, start by searching for your city to collect maps for that area of interest. Browse through the categories or search for a topic. You can add or remove maps for your collection using the Collect/Remove buttons that appear on each card.
If you started from the overview page:
If you started from the Explore tab: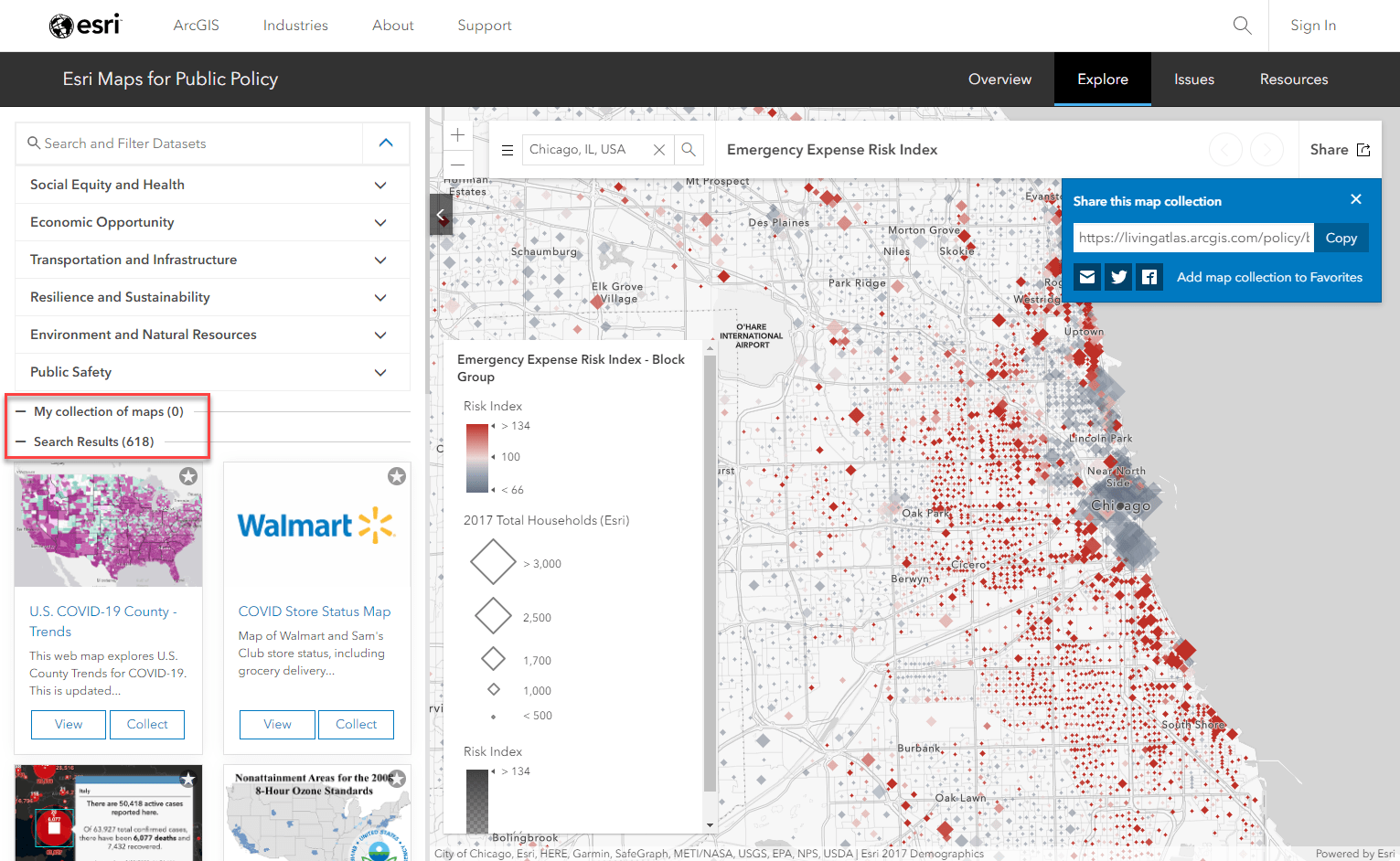 Maps you choose to collect will appear in "My collection of maps" on the left panel, and within the map itself.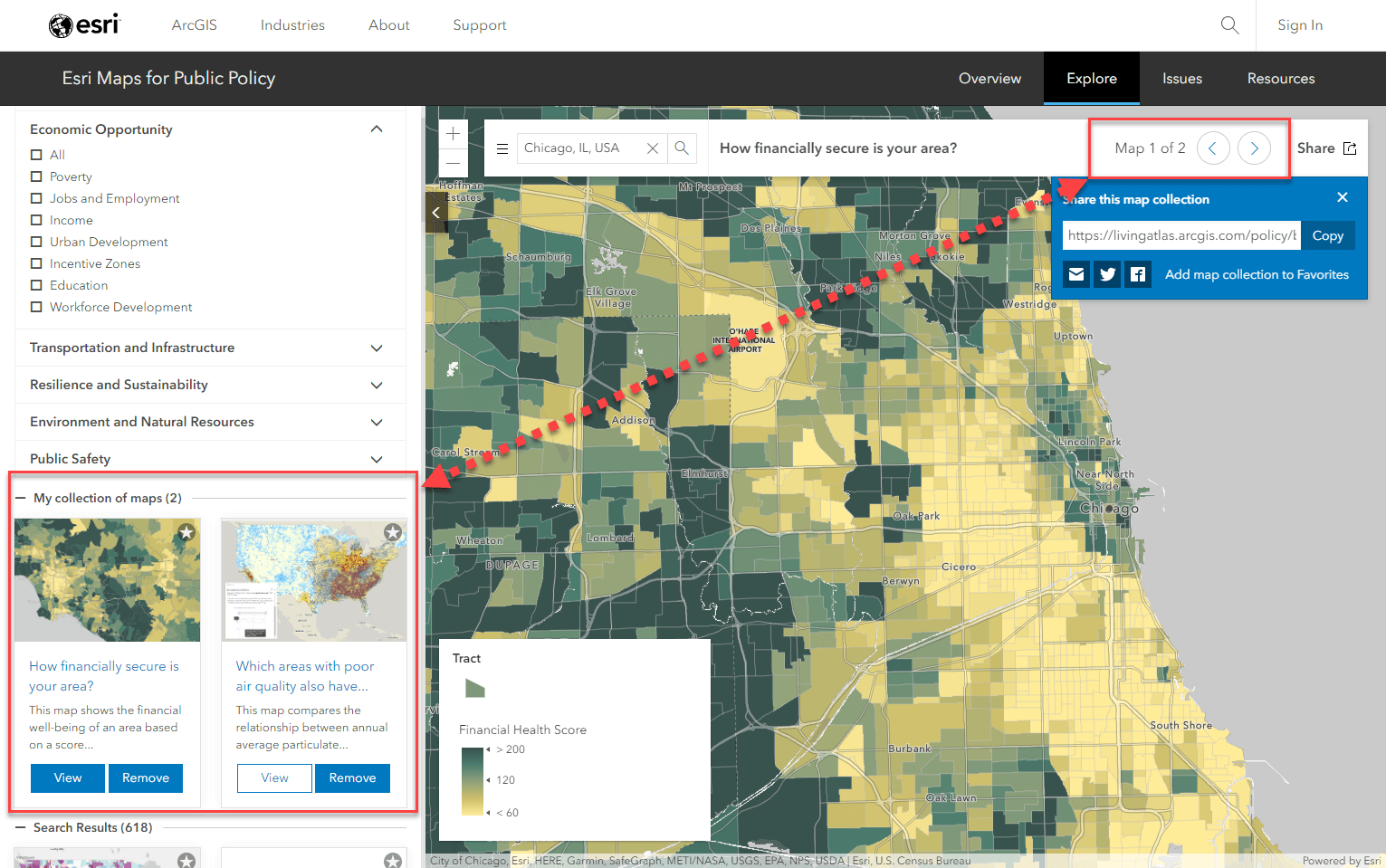 Once you have created a custom collection of maps related to your topic, use the various sharing options to provide the page exactly as you see it to anyone who needs it.

By URL
By email – a pre-built email with the list of map titles will be generated for your collection
Twitter/Facebook
Add the collection to your Favorites in ArcGIS Online
These sharing methods will share your unique and custom collection of maps so that anyone, GIS expert or city mayor, can instantly learn and understand more about the topics you curated.
Issues
Use the Issues tab to go one step further by using the maps from the Explore tab within your own maps and analyses. The Issues tab contains geographic content categorized as you saw in the Explore tab. Browse or search for layers, web maps, and story maps. Once you've found your desired layers or maps, click on the item to read its full details and add to your existing projects.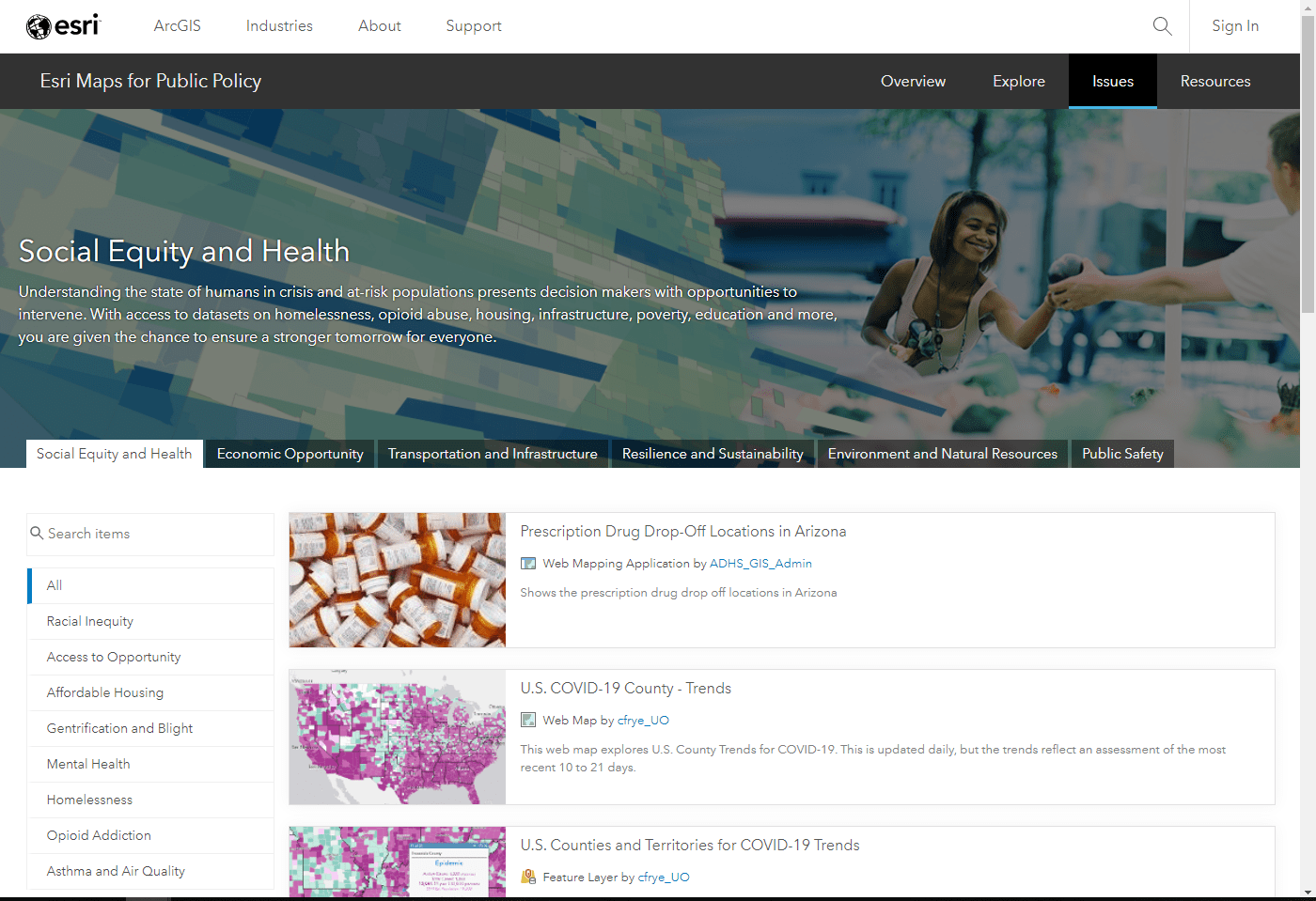 Resources
Now that you've been inspired and found maps to get you started on the other pages of the policy site, the Resources tab is here to help you do more. Create your own custom policy maps with help from many different resources:
Community Perspectives
How are today's thought leaders using GIS to help tackle their toughest policy hurdles? Read how others are handling COVID, the opioid crisis, and other pertinent issues using spatial tools.
Story Maps/Blogs/Presentations
Learn more about policy mapping and how to apply it to your own GIS projects.
Learn Lessons
Go through step-by-step tutorials to learn methods for applying the science of where for policy purposes. These lessons guide you through real-world examples that give you the tools you need to succeed in your own work.
Best Practices
Be inspired by the work of your peers who are leading the charge to tackle today's issues. See their work and see how you can apply their methods for your area.
For a more detailed walk-through, watch this short informative video:
You can also learn more about the policy site and how to make your own policy map with this video.
Do more with Policy Maps: