The ArcGIS Online team is excited to announce the release of Map Viewer Beta to all ArcGIS Online users. Map Viewer Beta is the next generation map making tool for ArcGIS Online and ArcGIS Enterprise. It aims to inspire experimentation and creativity while providing an enhanced experience for key map authoring workflows. We encourage you to try out the Map Viewer beta to see instant updates when modifying symbols, pop-ups, and filters as you author and explore your map and data. Build compelling pop-ups with one or more content elements including attachments and rich text. Use the new dot density smart mapping style to tell new stories with your data. Map Viewer beta is available for ArcGIS Online users now and will be coming to ArcGIS Enterprise in the future.  Read this article for an overview of five updated features and where to get access to the future of interactive mapping, today.
New look and layout
Map Viewer Beta has a fresh new look that provides a logical flow from left to right when authoring a map. Tools for key workflows such as adding layers, changing basemaps and saving are located on the left, the map is in the middle, and refining tools such as change style and configure pop-ups for layers are available on the right. Map Viewer beta was built with calcite web components that will be used across the ArcGIS Platform. Expect to see similar designs and flows across the ArcGIS platform moving forward.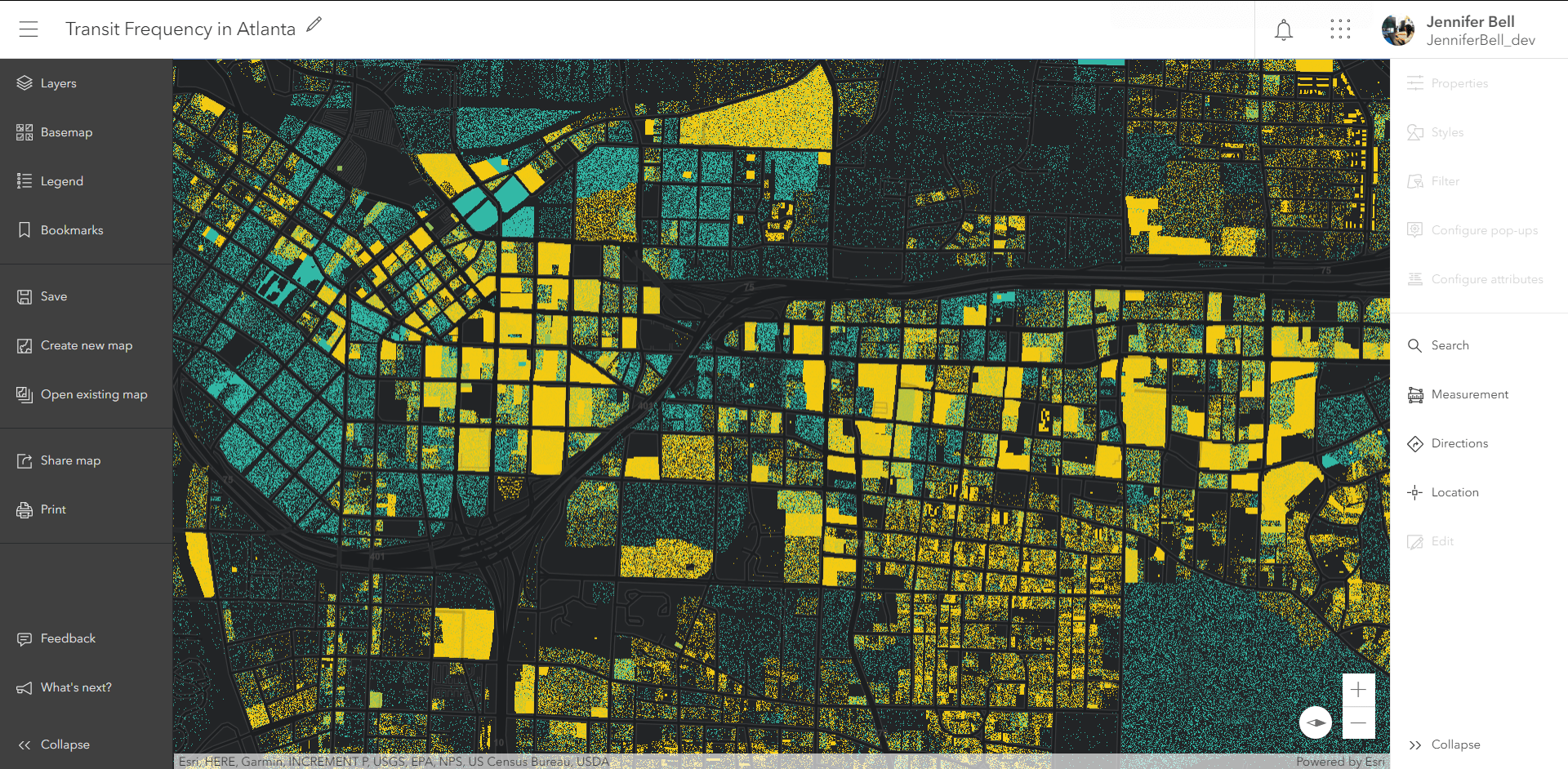 Fast, flexible and immediate
Receive instant visual updates when selecting a symbol style, refining data, and selecting a map style. Map Viewer Beta is built using the ArcGIS API for JavaScript 4x. In addition to more functionality, like being able to reorder all layer types and dynamically search for field names, the new framework enables fast client-side rendering, which allows you to see style, filter, and pop-up configuration changes immediately. When you click through the 300+ color ramps available, the map updates immediately, allowing you to experiment with color and filtering to find the story to tell with your data.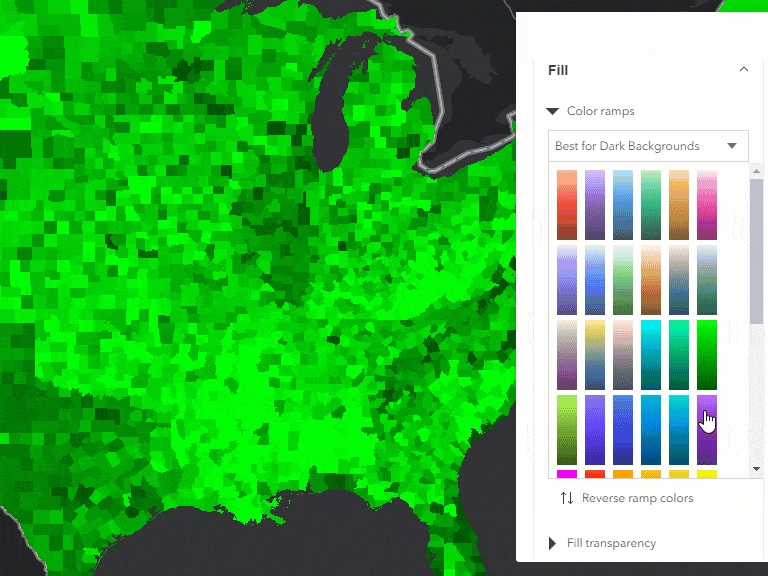 Compelling pop-ups
Map Viewer Beta provides a new experience for configuring and viewing pop-ups that can enhance existing pop-ups and transform an otherwise dull list of attributes into a meaningful display of information. Map Viewer Beta provides more options when configuring pop-ups, such as including different pop-up content elements, integrating viewing attachments in pop-ups, and immediate configuration updates. Pop-ups can now be configured with multiple content elements allowing you to include attribute information, rich text, and attachments or images together in the same pop-up. In the example below, the pop-up split the initial attribute table into two attribute content elements, highlighting the well information and reading information in different sections of the pop-up. The attached images are also displayed in the pop-up as a gallery of images, allowing the reader to see both the attribute and attachment information.
More printing layouts
Map Viewer (classic) supports printing the map with a scale bar or legend. Map Viewer Beta includes the map-only printing option, but also includes several additional default layouts and the ability to specify a scale and DPI value for the output.
New tools with smart mapping and more

With Map Viewer Beta, some existing workflows have improved, and some brand-new functionality has been added. Dot density, a new smart mapping style, is available in Map Viewer Beta only. There is also the ability to rotate the map from true north and the ability to search and copy coordinates using x,y and other coordinates. We encourage you to be adventurous and explore Map Viewer Beta, and let us know what you like, what can be improved, and your ideas for the future.
Where to Find Map Viewer Beta
Map Viewer Beta was released on November 19, 2019 and is available to all ArcGIS Online users. You will be notified of Map Viewer Beta when you first open Map Viewer but will also be able to launch Map Viewer Beta from the app launcher and content and item pages for web maps and feature layers.
Note. If you want to hide the Open in Map Viewer Beta button on the item page for your organization, you can turn it off in the administrative settings as outlined in this resource.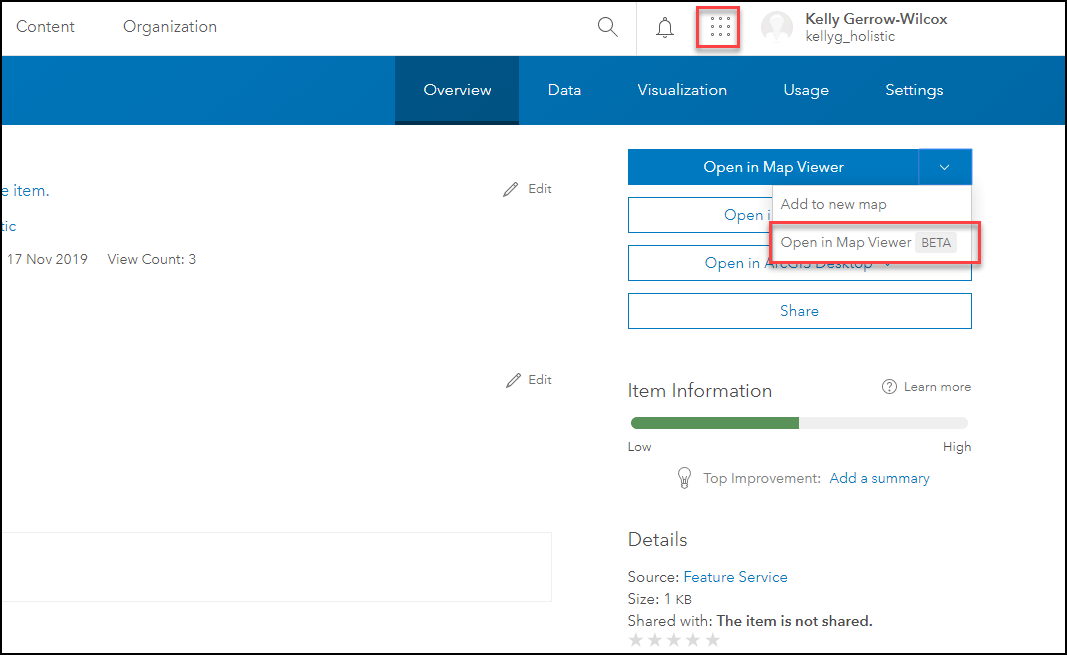 Provide Feedback
Getting your feedback about new software is very important to Esri. We have set up a GeoNet space specifically for information, feedback, and discussion from people using Map Viewer Beta. Once you have a chance to try some workflows, share your feedback with the product team and other users at https://community.esri.com/community/arcgis-online-map-viewer-beta. This space already contains links to resources including a quick-start tutorial, Map Viewer Beta Roadmap and compatibility guide. This will be the space where updates and more resources are posted. It will also be monitored by the ArcGIS Online Product team that is excited to answer your questions and see what maps you are creating.
There will be continuous updates over the next few months, so stay tuned on GeoNet, and the what's next button in the Map Viewer to see what we are working on for the future. Map Viewer Beta is only available to ArcGIS Online users now, but will eventually be available in ArcGIS Enterprise. We also encourage ArcGIS Enterprise users to test and provide feedback about the Online version of Map Viewer Beta. Now stop reading this article and go try out Map Viewer Beta!
Commenting is not enabled for this article.