ArcGIS StoryMaps helps you tell remarkable stories with custom maps that inform and inspire. A story can effect change, influence opinion, and create awareness—and maps are an integral part of storytelling. ArcGIS StoryMaps can give your narrative a stronger sense of place, illustrate spatial relationships, and add visual appeal and credibility to your ideas.
ArcGIS StoryMaps is updated regularly, and this month in addition to several usability and workflow enhancements we're also announcing a big new feature: theme builder!
Read on to learn more…
Theme builder (beta)
The ability to create your own themes is here!
We know many of you in the storytelling community have been looking forward to having more flexibility to change the appearance of your stories. Now, in addition to the themes and other options available in the design panel, you can use theme builder to create your own themes.
A theme currently defines the colors, fonts, and block styles used in your story. You can name your theme and configure the aspects of a theme in the theme builder. After you finish creating your theme, you'll want to publish it so it can be used in stories.
To apply a published theme to a story go to the story builder, open the design panel, and click Browse themes. You'll see your published themes and can click one to select it.
If you want to browse all the themes you've created, you can get to the Themes page from your profile menu (shown below) or by clicking Manage in the Themes section of the design panel in the story builder.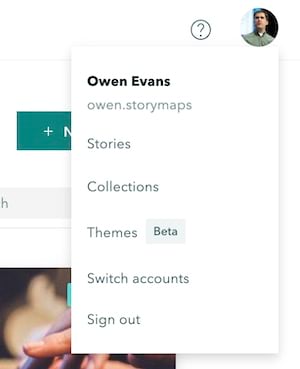 Want to learn more about working with themes? Check out these additional resources:
What's coming for themes?
We're excited to make theme builder available, but keep in mind this is just the first beta release. We know you'll want more, and we've got a lot more planned!
Something to be aware of is themes are currently only available to their creators. That means you can (for now) only use themes you've created. But don't worry, we know a big advantage of themes is sharing them, and we're working on providing the ability to use themes created by others in the near future.
Some other things we're looking at for the future include:
Color picker
Adding logo and basemap to a theme
Contrast checker (to let you know if your theme colors meet accessibility guidelines)
More style, font, and spacing options
Please let us know what you think of theme builder so far and what you'd like to see by dropping us a note on GeoNet.
Usability improvements
Esri conducted more than a dozen usability studies as part of the recent virtual Esri User Conference. A goal of these studies is to improve your experience of using ArcGIS products.
The study focusing on ArcGIS StoryMaps identified several quick usability wins we could implement and uncovered two potential design issues for us to keep an eye on. We also confirmed that authors appreciate consistent patterns within ArcGIS StoryMaps and when those patterns are consistent with other ArcGIS products.
This month, we're rolling out several of the quick wins identified in our study and we hope they make a positive impact for first-time authors and experienced storytellers. For example, all new stories now use the minimal cover style to make it easier to see how to continue building a story. Also, the slides panel is initially expanded after adding an immersive block, like a sidecar or guided tour, so it's more apparent that you're building a set of slides in these blocks. These and other small changes should make it easier for authors to discover and use the available builder tools.
Our team has more studies planned for the future, and we'll continue to work to improve the usability of building and reading stories.
And more…
Other enhancements added this month include:
Co-authors can duplicate stories and collections. A co-author is a colleague who can also edit your story via membership in a shared update group. For more information on collaboration workflows, check out this blog post.
Support for uploading SVG images to a story. This may come in handy if you've exported a model diagram from ArcGIS Pro, for example.
A release notes section was added to the ArcGIS StoryMaps product documentation so you can get more information about what's been added, changed, and fixed in each update.
Banner photo by Robert Katzki on Unsplash