We're only a few days away from the 2021 virtual Esri User Conference (#EsriUC), the world's largest GIS conference, July 12-15. The plenary is open to EVERYONE, and if you're an Esri customer or partner, the entire conference is FREE!
Register today to take advantage of an interactive, online experience with Esri and the GIS community. Network with exhibitors, participate in sessions, and view presentations that offer geospatial solutions. Browse the online Map Gallery, gain new skills through technical sessions, and much more.
Agenda: Sessions & Demos
Review the agenda overview and full schedule to build your program – check out our focused UC fliers for industry-specific sessions to assist your planning or review the attendee guide.
We recommend you take advantage of unique demos from Esri partners showcasing their groundbreaking applications and offerings. Using the 'Session Type' filter, search the event platform to watch these inspiring live and on-demand sessions at your convenience. For example,
Expo: Exhibitors
Don't miss the expo at this year's virtual #EsriUC featuring hundreds of innovative partner exhibits providing offerings that align with your needs. Connect virtually with a diverse array of global Esri partners, including startups at the forefront of geospatial technology. Discover GIS-powered products Interact with company experts for 1:1 questions, resources, and demos by leading entrepreneurs. Visit the expo anytime throughout the experience.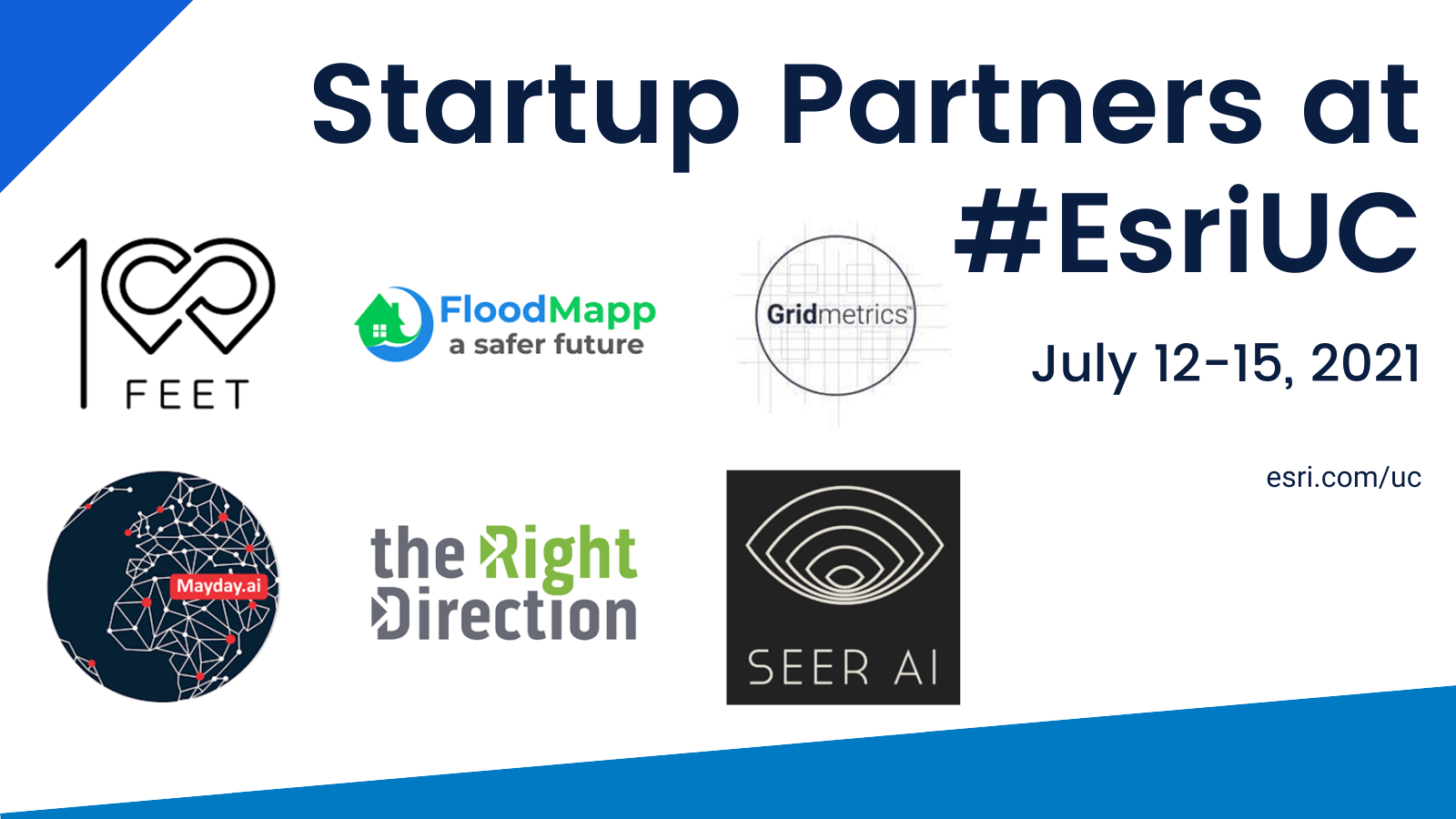 Meet Startup & Emerging Partners Exhibiting at Esri UC:
Within Esri's Startup Program and Partner Network (EPN), partners address a broad spectrum of industries. These companies drive innovation across a wide array of themes, including augmented reality (AR), real-time analytics, machine learning (ML), big data, IoT, mobile, and more. Below we've outlined current and graduate startup/EPN partners delivering powerful solutions that help Esri customers gain even more value from their investments.
Many companies have listings in the ArcGIS Marketplace – Esri approved provider apps, location data, and solutions extend ArcGIS to drive your business forward. Interested in accessing their offerings? Get started with:
Data:
Apps/Solutions:
View all partner Expo exhibitors here.
Exhibiting Esri Startup Program Partners
Gridmetrics offers PENS the Power Event Notification System providing near real-time status of power in the last mile. PENS is available as a live Esri Feature Service to easily integrate into decision support tools, situational awareness dashboards or emergency services solutions. Power notifications are provided in the USNG (US National Grid) 1km x 1km projection plane and categorized by magnitude, duration and the potential impact on people based on Landscan data set. PENS is available for Esri users to purchase as an ArcGIS Online hosted feature service and will also be available via the ArcGIS Marketplace in the very near future.
Mayday.ai is a centralized and artificial intelligence-based platform providing real time and near real time disaster information services. We provide early warning and two-way communication services within the same ecosystem by leveraging Satellite Imagery (Geostationary, Polar), Camera Imagery, 911, as well as Social Media Sentiment analysis.
One Hundred Feet
One Hundred Feet (OHF) geospatial data-as-a-service provider, addresses the challenges stemming from the lack of accurate sub-address geocodes by creating a wealth of data for apartments and multi-dwelling units at scale. OHF provides data in several formats, including a hosted geocoding service, hosted feature services (units, entrances, POI, and more), reference tables, and global database exports easily integrating into ArcGIS Online web applications, mobile apps, ArcGIS Pro, and more. View Session: One Hundred Feet: Precise Geospatial Data
SeerAI
SeerAI is a geospatial artificial intelligence, data fusion, and analytics company answering questions at the use case level with our cloud native knowledge as a service platform, Geodesic. Through cloud native scale and spatiotemporal expertise, our platform can help answer your organization's toughest questions. A mixture of both open and proprietary APIs makes the Geodesic platform easy to integrate along-side other platforms, including the ArcGIS platform.
The Right Direction
The Right Direction has extensive experience and knowledge of the products ArcGIS Online and Portal for ArcGIS. We offer our own product for these products to support the management of these products: Portal Analyzer. With the Portal Analyzer we provide insight into data. Our Portal Analyzer gives you insight into the content and users and groups in the portal. The product will help you simplify management
Exhibiting EPN Silver/Bronze Partners (Startup Graduates & Emerging)
Airspace Link
Powering every UAS operation by building Highways in the Sky! Airspace Link is a key provider of the digital infrastructure, data services, & management solutions required for the safe integration of drones into communities. Our AirHub™ Platform is the only cloud-based, geospatial digital infrastructure focused on the needs of state and local governments to plan, build, manage, and engage their UAS community.
DataCapable
Critical Event and Threat Detection for Utilities, Government, Business, and Public Safety — The DataCapable® Platform™ is powered by patented artificial intelligence (AI) and machine-learning algorithms that analyze data in real-time to empower your business intelligence, inform your operations centers, and increase safety for first responders, organizations, and communities by eliminating communication gaps via the real-time discovery and visualization of high-impact events.
iSpatial Techno Solution Private Limited
iSpatialTec provides smart solutions in the area of Location-based GIS 2D&3D Web/Mobility solutions, Utility Network Model Upgrade Services, GIS Managed Services, Enterprise Systems implementation, and system Integrations, GEOAI and Data Analytics. We offer solutions to various industry clients such as Smart Cities, Government Sectors, Oil & Gas, Utilities, Transportation, Property Development, Environmental Science.
HawkEye 360
HawkEye 360 is a RF data analytics company. We operate a first-of-its-kind commercial satellite constellation to identify, process, and geolocate a broad set of RF signals. We extract value from this unique data through proprietary algorithms, fusing it with other sources to create powerful analytical products that solve challenges for our global customers. Our customers include a wide range of commercial, government and international entities.
Recorded Future
Recorded Future is the world's largest provider of intelligence for enterprise security. By combining persistent and pervasive automated data collection and analytics with human analysis, Recorded Future delivers intelligence that is timely, accurate, and actionable. In a world of ever-increasing chaos and uncertainty, Recorded Future empowers organizations with the visibility they need to identify and detect threats faster and take proactive action to disrupt adversaries.
Our mission is to provide space-based knowledge and insights about Earth from the ultimate vantage point – space – to enable organizations to act now and make smarter, better, faster decisions about what to do next in a rapidly changing world. Leveraging its proprietary multi-purpose satellite constellation and sophisticated predictive analytics, Spire gives commercial and government organizations an unprecedented competitive advantage to solve their toughest challenges, empowered with knowledge
Join Us
Don't miss the world's premier GIS event, register today. We hope to you there!