We can't wait for the 2022 Esri User Conference (#EsriUC), July 11-15, the world's largest GIS conference in San Diego, CA.
Register today to take advantage of an interactive experience with Esri and the GIS community. Network with exhibitors, attend demos, special interest group user meetings, and socials. Gain new skills through technical sessions, and much more!
Agenda:
View the agenda to start planning your experience – we highly recommend reviewing our focused industry & product UC fliers which compile key activities catered to your interests (Download the Startup Zone Flier).
Expo:
Tues, July 12, 9:00 am–6:00 pm
Wed, July 13, 9:00 am–6:00 pm
Thurs, July 14, 9:00 am–4:00 pm
Don't miss the Expo at this year's #EsriUC featuring hundreds of innovative partner exhibits, focused Esri showcases, product areas, and industry neighborhoods in Halls A,B,C. Connect with a diverse array of global Esri partners, including startups at the forefront of geospatial technology. Visit the expo anytime throughout the experience.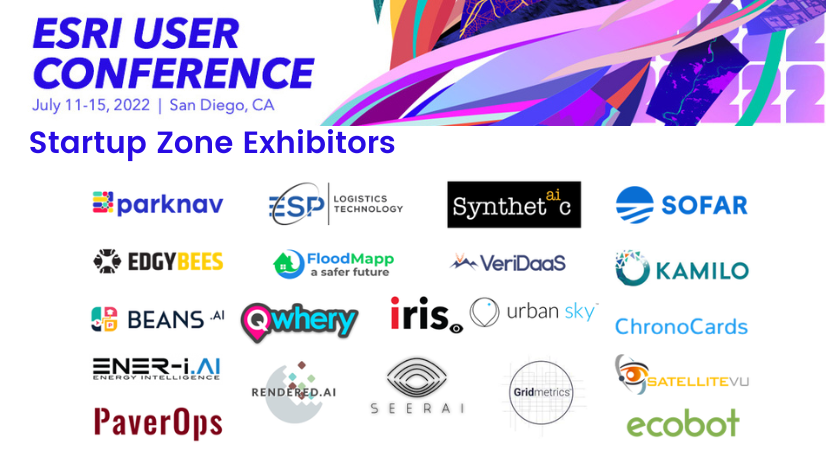 Startup Zone (SUZ) & Partnering with Esri Showcase, Hall A
Come learn about the many ways companies are partnering with Esri, and you can partner with us via Esri's Startup Program and Partner Network (EPN). Interact with Esri experts for 1:1 questions, resources, and demos.
Exhibitors – Startup Zone:
Within Esri's Startup Program, partners address a broad spectrum of industries. These companies drive innovation across a wide array of themes, including augmented reality (AR), real-time analytics, machine learning (ML), big data, IoT, mobile, and more. Below we've outlined current and graduate startup/EPN partners delivering powerful solutions that help Esri customers gain even more value from their investments. View all Expo exhibitors & sponsors.
2022 Startup Zone Exhibitors
Company
Description
Booth
Beans.ai
Beans.ai is a location intelligence platform that creates precise geospatial data for apartments. This includes 3D maps and indoor turn-by-turn directions. Explore, and analyze high-quality apartment unit geocodes from Esri's ArcGIS Online, ArcGIS Pro, Web App Builder, and more.
Z1
ChronoCards
ChronoCards is an ArcGIS Pro add-in that logs metadata about your team's activity within Esri's ArcGIS system and streams it in real-time to a web dashboard. Managers gain insights into individual or group productivity, and team members can easily share workflows across the organization.
Z17
Ecobot
Turn field data into decisions faster. Ecobot platform eliminates natural resources reporting complexity while enabling greater accuracy, speeding regulatory approval, and reducing overall project costs. Customers optimize environmental permitting and leverage field data to improve the construction and mitigation banking lifecycles.
Z16
Edgybees
Edgybees provides accurate geo-registration and augmented reality of aerial video in real time, enabling defense, public safety, and critical infrastructure command centers to accomplish life-saving missions. Edgybees' Visual Intelligence Platform, a software-only solution based on Computer Vision and Machine Learning technologies, delivers highly accurate geo-mapping and tagging of aerial video in real time.
Z9
ENER-i
ENER-i.AI provides powerful web-based solutions for our clients. Our solutions are designed and supported by experienced power-system engineering professionals and software engineers. We specialize in connecting disparate data and complex systems with smart analytics engines and AI, delivering energy intelligence for planning and operating Smarter Grids to meet the future energy demands of our clients and their customers.
Z4
ESP Logistics Technology
ESP solves issues in supply chain. Our aim is to acquire and develop technology platforms that enhance the productivity of the Supply Chain, from factory to consumer, that in the collective will form the backbone of a tech-enabled visibility platform for end-to-end transparency in goods movement, based on the Esri ArcGIS geospatial systems.
Z2
FloodMapp
FloodMapp is an early-stage technology company specializing in rapid real-time flood forecasting and flood inundation mapping. We seek to provide greater warning time that can potentially save lives and reduce damage and associated financial losses. Our core mission is to build a safer future. We want to see a world where no lives are lost in flood events. Where people get home safe to their families and loved ones, always.
Z20
Gridmetrics
Gridmetrics provides hyper-local, real-time power intelligence power event tools and data services. Gridmetrics data set is comprised of over 300,000 sensors across the US updated every 5 minutes, with a 2-year history. Gridmetrics offers PENS, the Power Event Notification System, and is available as a feature service in the Esri ArcGIS Marketplace. PENS data layer provides an independent, observational view of the US power distribution grid, creating improved power visibility for situational awareness and analysis.
Z3
IRIS R&D
IRIS is determined to bring together communities, spark creativity, and foster innovation and collaboration in solving Smart City & Municipal challenges. We believe that by leveraging existing city assets, V2X (Vehicle to Everything) IoT, and open data – we can create AI-Enabled Data Points and Next-Generation GIS Applications. IRIS solutions help cities make data-driven decisions, through building better roads, finding preventive maintenance opportunities, or creating asset inventories, irisGO™ is your complete data collection system that allows for direct integration with your ArcGIS software.
Z10
Kamilo
Kamilo uses unique digital identifiers and Esri ArcGIS tools to track and verify that plastic waste is truly recycled and kept out of the environment and delivers geospatial technology to identify the environmental benefits and bring full transparency to the recycled resin content of plastic products. Kamilo partners with CPG Brands and businesses in the recycling supply chain to map material movement and provide environmental attribute data such as pollution prevented and climate change greenhouse gas (GHG) emissions avoided.
Z13
PARKNAV
PARKNAV has been revolutionizing on-street parking in real-time with a highly accurate and scalable solution. Using BIG DATA and AI, our award-winning data science and machine learning team brings the most precise parking availability information for mobility, smart city, transportation, and automotive.
Z8
PaverOps
Maranta is a GIS-centric software development firm based in Northern California, focusing on the real and practical needs of municipalities, counties, utilities, paving authorities, and all underground infrastructure operators. Our flagship product, PaverOps, increases project coordination and data sharing among infrastructure managers, reducing project costs, time, and incidents, and decreases impacts on ratepayers, residents, and all who use the roads in our communities.
Z12
Qwhery
Qwhery creates voice enabled experiences for Google Assistant and Alexa enabled devices so that anyone can get localized information from their Region or City by simply asking their smart speakers or virtual assistants questions. The Qwhery Cloud enables Cities to connect their services with their residents in a way that is truly unique – through geo-enabled chatbots and smart home technology. Qwhery connects Smart Homes with Smart Communities through Location Intelligence & Voice Technology.
Z15
Rendered.ai
Rendered.ai is a Platform as a Service for data scientists, data engineers, and developers who need to create and deploy unlimited, customized synthetic data generation for machine learning and artificial intelligence, reducing expense, closing gaps, and overcoming bias, security, and privacy issues when compared with the use or acquisition of real-world data. Rendered.ai is used for physics-based computer vision use cases, from synthetic satellite imagery to radar, x-ray, and multispectral data.
Z19
Satellite Vu
In 2023 Satellite Vu will launch the world's first commercial constellation of high-resolution thermal imaging satellites. The constellation will be capable of resolving building level measurements, providing an accurate determination of relative temperature at multiple times of day or night. This unique technology will help us better understand change and activity within the built and surrounding natural environment that traditional visible wavelength imagery will not detect.
Z11
SeerAI
SeerAI is a spatiotemporal analytics and data fusion company. SeerAI is focused on answering planetary-scale questions through our Knowledge as a Service platform called Geodesic. The SeerAI platform exposes a powerful set of tools to enable data scientists to efficiently tackle spatiotemporal questions and complex AI/ML workflows at scale. SeerAI's continuously growing knowledge graph of complex use cases lets you answer questions you didn't even know you could ask.
Z6
Sofar Ocean Technologies
At Sofar, we aim to deliver large-scale ocean data to accelerate climate insights. Ocean data and insights are increasingly critical for successful climate mitigation and adaptation solutions. As a first step, we are building the world's largest real-time ocean weather sensor network, which provides the most accurate marine weather information and forecasts to power industry-specific solutions.
Z14
Synthetaic
Synthetaic: on a mission to fast-track the world's transition to practical AI. This means: Instant automated detection for anything. Detection in minutes without labeled data. From SAR to RGB, build an AI from massive datasets with just a few minutes of human interaction. Rapidly extract key insights from geospatial data; import data seamlessly into your ArcGIS account.
Z7
Urban Sky
Urban Sky is an earth imaging company providing 10cm RGB imagery and 3.5m LWIR imagery via Stratospheric Microballoon Remote Sensing System. Our imagery is aerial quality resolution, satellite-like coverage, high revisit rate starting at $5/sq.km. We are an unbeatable high-quality, low-cost imagery provider to a wide variety of industry verticals, including InsurTech, environmental, energy, utilities, agriculture, and forestry.
Z18
VeriDaaS
VeriDaaS is a leading geospatial solutions provider based in Denver, CO. The company focuses on providing geospatial products and solutions utilizing the best data available at a country level. Founded in 2015, VeriDaaS was born of opportunity, evolution, and experience. Our roots are deep in the geospatial community, starting with a core management team possessing combined geospatial expertise of over 150 years.
Z5
Startup Zone Spotlight Theater – Don't Miss These Talks
Attend demos and talks from startup partners exhibiting within the area showcase in Hall A. View the detailed agenda to plan your experience.
Startup Zone Spotlight Theater Schedule – Expo, Hall A
Tuesday, July 12
Start
End
Title
Company
10:00 AM
10:20 AM
Climate Action & Pollution Prevention: Recycling 'Traceability as a Service' with Digital Twins
Kamilo
10:30 AM
10:50 AM
Bringing Predictive Location Analytics to the Supply Chain
ESP Logistics Technology
11:00 AM
11:20 AM
Voice Technology & Location Intelligence: Connecting Smart Homes with Smart Cities
Qwhery
11:30 AM
11:50 AM
Beans.ai: Unlocking Possibilities with 3D Geospatial Data
Beans.ai
1:00 PM
1:20 PM
Ecobot: A New Platform for Smarter Natural Resources Management
Ecobot
1:30 PM
1:50 PM
Real-time Ocean Data to Optimize Offshore Operations
Sofar Ocean Technologies
2:00 PM
2:20 PM
Real-time Flood Models Integrated with Waze for Live Traffic Routing
FloodMapp
2:30 PM
2:50 PM
Gridmetrics Power Event Notification System
Gridmetrics
3:00 PM
3:20 PM
Optimized Electric Grid Planning with ENER-i Direct from ArcGIS Utility Network
ENER-i
3:30 PM
3:50 PM
Automate Your ArcGIS Workflow Documentation & Geoprocessing History with ChronoCards
ChronoCards
4:00 PM
4:20 PM
Learn About Esri Startup Program: Helping Early-Stage Companies Go To Market with ArcGIS
Esri Startup Program
4:30 PM
4:50 PM
ArcGIS Marketplace: Apps, Data, and Services for ArcGIS Online
Esri Partner Network
Wednesday, July 13
10:00 AM
10:20 AM
Cutting Fresh Pavement: Overcoming Hurdles in Utility & City Paving Coordination
PaverOps
10:30 AM
10:50 AM
Applying AI Transportation & Pavement Reporting Technologies to Empower Communities
IRIS R&D
11:00 AM
11:20 AM
Smart Parking for Smart Cities with Parknav
PARKNAV
11:30 AM
11:50 AM
How Esri Partners Apply GIS Across Their Business: A Startup Program Partnership Success
GeoCam
1:00 PM
1:20 PM
Delivering Transparency to Global Challenges with High-Resolution Thermal Infrared Imagery
Satellite Vu
1:30 PM
1:50 PM
Aligning Full Motion Video (FMV) Data to Achieve Mission Success
Edgybees
2:00 PM
2:20 PM
Building a Geospatial AI in Minutes without Human Labeled Data with Synthetaic
Synthetaic
2:30 PM
2:50 PM
Feature Extraction using VeriDaaS Geiger-mode LiDAR
VeriDaaS
3:00 PM
3:20 PM
Using ArcGIS Raster Services for Synthetic Training Data with Rendered.ai
Rendered.ai
3:30 PM
3:50 PM
Zero-Emission, Low-Cost & High-Res: Remote Sensing from the Stratosphere
Urban Sky
4:00 PM
4:20 PM
Spatiotemporal Data Fusion At Scale with Geodesic
SeerAI
4:30 PM
4:50 PM
Esri Partners & Partner Specialties Supporting Esri Customers
Esri Partner Network
Thursday, July 14
10:00 AM
10:20 AM
Leveraging LiDAR & ArcGIS Pro for Accessible Wayfinding Solutions with GoodMaps
GoodMaps
10:30 AM
10:50 AM
Scale with Picterra ML-Powered Object Detection in ArcGIS
Picterra
11:00 AM
11:20 AM
Accessing Extensive Real-Time Weather Data
Synoptic Data
Join Us
Don't miss the world's premier GIS event, register today. We hope to you there!