The annual Esri User Conference last week in San Diego was the largest in history, with over 19,000 live participants and thousands more who attended online. Whether you were present in person or if you participated virtually through our live streams, I'm excited to share the key takeaways from the imagery and remote sensing events.  
The Esri User Conference: A source of inspiration.
I'll admit that I'm still a little star-struck by the Esri UC. From the first time I attended as an employee of an exhibiting company in 2007, to this year when I had the privilege of being with Esri, this international conference continues to inspire me. The energy and enthusiasm of over 19,000 GIS enthusiasts is contagious and truly motivating. 
While the UC covered a wide range of GIS-related topics, my focus was on imagery and remote sensing, which coincidentally happened to be a fan favorite at the show. In the recap below, you'll find valuable takeaways that can help you achieve your own goals with imagery and remote sensing and GIS in your organization.  
Popular imagery and remote sensing topics at Esri UC 2023
Imagery was truly everywhere at the conference, appearing in the education and distributor summits, theater presentations, technical workshops, and captivating showcase demos. Here's what you need to know: 
1. Accessing and managing imagery doesn't have to be hard 
One imagery theme I heard many times at Esri UC 2023 is that organizations are challenged with finding, accessing, managing, and storing imagery. Accessing imagery is crucial for GIS professionals to maximize the value and decision-making potential of their GIS projects.  
Fortunately, there are many sources of free and readily available imagery, including USGS, NASA, and NOAA. ArcGIS Living Atlas of the World is a prominent, easy-to-access resource. It is renowned for its extensive collection of free, global geographic data, including imagery. These resources enable professionals to leverage a world of geographic information to solve problems, make discoveries, or drive a business forward. For instance, the ArcGIS Living Atlas World Imagery Wayback collection allows anyone to access and compare imagery of an area of interest over time.  
Many organizations maintain their own image collections, which can be invaluable for specific projects or areas of interest. However, we heard from them that managing and accessing these collections can present challenges. Storage costs, various types of imagery, and the size of image files can pose obstacles when it comes to accessing and processing data efficiently.  
For those organizations, whether they're using a cloud or on-premises model, we were able to demonstrate how ArcGIS provides scalable tools for managing growing imagery collections. ArcGIS allows them to manage all types of imagery, including drone, aerial, satellite, oriented imagery, historical imagery, and other raster data in one system alongside their vector data. This creates a holistic view of data for more comprehensive decision making. 
A demo from the UC 2023 plenary shows how Orange County, CA was able to use ArcGIS Excalibur to access and manage both drone imagery and motion video to locate the source of a leak in the rooftop of John Wayne Airport.
2. AI accelerates imagery workflows
AI is on nearly everyone's mind right now, and the interest in AI for imagery is no exception. Imagery is often the most up-to-date information available and is critical to decision making and accuracy. Geospatial artificial intelligence (GeoAI) is the application of artificial intelligence (AI) fused with geospatial data, science, and opportunities to accelerate real world understanding of business opportunities, environmental impacts, and operational risks.  
Deep learning, especially the use of pre-trained models, generated significant interest at the show, with numerous discussions and inquiries taking place in the expo hall, imagery summit, and technical workshops. Workshops and booths dedicated to imagery specific GeoAI were packed with attendees eager to learn how to get started and gain a competitive edge, expedite research, and maximize their imagery investments.  
There were plenty of opportunities to educate organizations on the spatial deep learning capabilities in ArcGIS. Session attendees were interested in how to perform image segmentation, classification, feature extraction, change detection, and more. Keep an eye out for session recordings so you can learn how to use ArcGIS for image analysis and AI.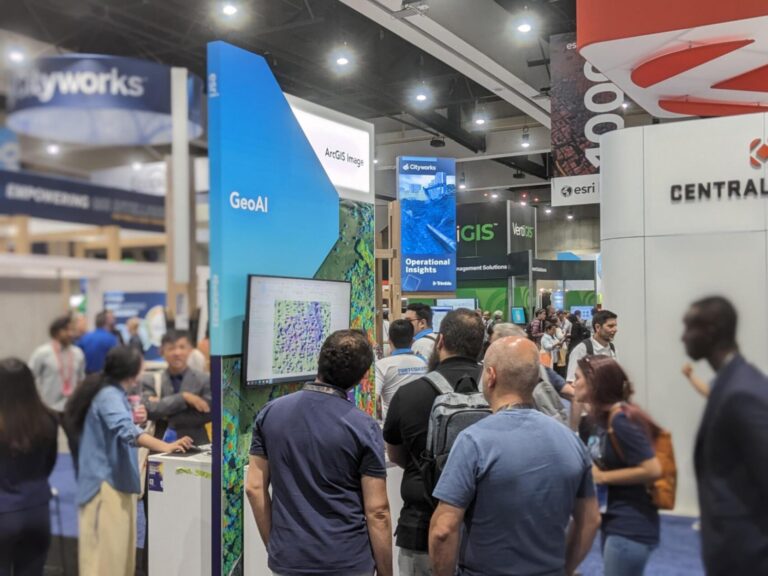 3. Reality mapping is a decision-making game changer 
Virtual worlds and reality mapping emerged as hot topics at the conference. Reality mapping involves using drones, crewed aircraft, or satellites to capture images or lidar data of an area of interest. Once captured, images are processed into digital representations so they can be geographically aligned with maps and layered with additional geographic information.  
This approach bridges the gap between the digital and physical worlds, providing a realistic and immersive user experience that is prime for analysis and AI. It supports applications across industries that require detailed views of project sites, cities, or even countries. In many cases, it eliminates the need for traditional on-site project management. Think construction management, urban planning, and infrastructure assessment. As conference goers saw, Esri has developed a suite of ArcGIS products to seamlessly incorporate reality mapping into GIS, creating an efficient and streamlined workflow. 
We were lucky to see reality mapping in action straight from the main stage at the plenary. And, we heard throughout the conference that organizations are willing to make an investment in reality mapping. Technical workshops and in-booth demonstrations were overflowing introduced conference goers to the new ArcGIS Reality suite. ArcGIS Reality enables reality mapping for everything from contained project sites that can be captured with drone imagery, all the way to cities—and even countries—using aerial imagery and satellites. We found session attendees and showcase visitors were especially interested in scalability and logistical management as they anticipate their projects growing. 
Watch how the City of Cambridge, MA use ArcGIS Reality to create a 3D mesh that allows city officials and citizens to assess current conditions in the city and prioritize needs for response from various government teams.
Resources 
I hope you can apply these takeaways to enhance your own GIS projects. Below are some ideas on how you can expand your knowledge about the imagery and remote sensing themes from Esri UC 2023: