This is the 6th blog in an 8-part series that highlights new capabilities in the Business Analyst extension for the latest 2.5 release of ArcGIS Pro.  Other blogs in this series can be viewed here.
The latest release of the Business Analyst extension for ArcGIS Pro contains new features for working with custom data, or to get techie: Statistical Data Collections (SDCX).
Here are the new custom data features at 2.5:
Build SDCX files with no locally installed Business Analyst dataset
Use your own Apportionment Layers to control the granularity of your analyses
Build SDCX Performance Indexes to speed up processes
Let's quickly walk through these to learn more…
SDCX files with no local data
You can now work with Business Analyst without installing a local dataset or connecting to online data.
Here are a few benefits:
You can build any boundary file into an SDCX file for use in Enrich Layer
You can build SDCX files in any country or continent
You can avoid installing a local dataset, which in the US is approximately 90GB
These capabilities support new ways of working with Business Analyst where traditional demographics aren't found.  Bathymetry layers?  National Parks?  Oil fields?  Shipping ports?  All possibilities.
Here are a handful of SDCX files I am working with now…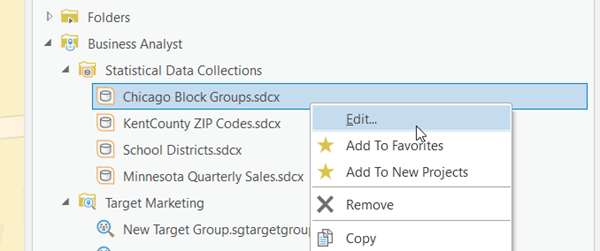 Apportionment Layers
You can now use your own apportionment layers in your SCDX data.  Apportionment layers are point features containing values about how much of something is in a location.  These points are used to estimate how much data are within larger features.
By default, Business Analyst uses Census Block Points with weighted values, such as population or households counts.
If you are school district, for example, you might have a geocoded layer containing homes where students live.  The weighted value is the number of students per household.  You can use this layer to more accurately determine the demographics of the district.
Below is an example showing standard Census Block Points and a more granular custom apportionment layer – home locations with the count of students residing there…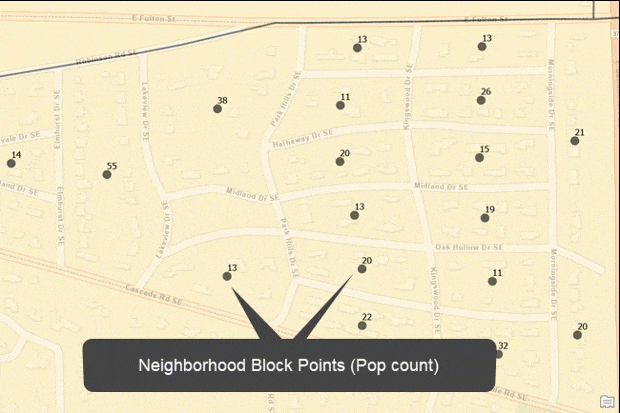 SDCX Performance Indexes
You can now create performance indexes for your SDCX files to speed up processing – this allows tools to calculate at the same speed as standard Business Analyst data.  We've added a geoprocessing tool, or you can build and manage indexes from the SDCX Edit dialog.  Like this…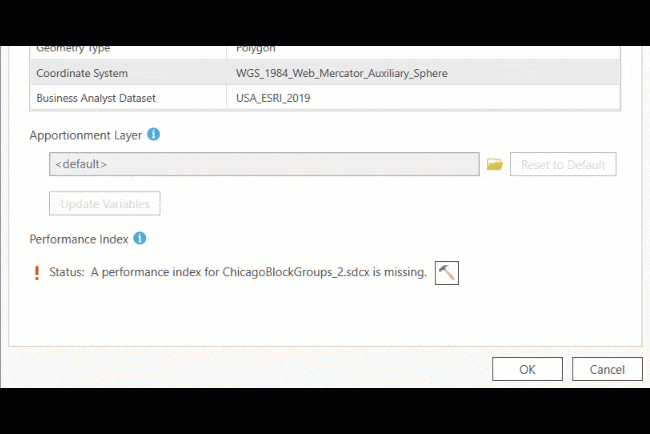 We're very excited to share these new capabilities with you.  Please reach out and let us know if you have any questions about these two new tools or any other capabilities in ArcGIS Business Analyst.
Email the team: businessanalyst@esri.com
Below you can find some links for Business Analyst that you may find useful.