I watched it in awe and it inspired me to find out more about Rambøll. Who are they and what do they do?
I started off with the obligatory google search which spat the following sentences back at me:
Rambøll is a leading engineering, architecture and consultancy company founded in Denmark in 1945.
Rambøll employs 16,500 people globally and has especially strong representation in the Nordics, UK, North America, Continental Europe, Middle East and Asia-Pacific. Rambøll are present in 35 countries and combine local experience with a global knowledge-base, constantly striving to achieve inspiring and exacting solutions that make a genuine difference to our clients, end-users, and society at large. Rambøll works across the following markets: Buildings, Transport, Water, Environment & Health, Energy and Management Consulting.
This google search showed me that this company is pretty big and well established across a multitude of disciplines. I put on my Sherlock Holmes deerstalker cap and dug a little deeper. I found out that Rambøll have been involved in a plethora of projects all over the globe like the Tate Modern extension or the largest advanced wastewater treatment plant in Washington DC.
"But what has all this got to do with CityEngine", I hear you ask. Great question and something I wanted to know the answer to as well. So instead of burying myself deep in the information on the Interwebs, I went straight to the source and spoke to Kenneth Lindhardt at Rambøll.
I learnt that the main purpose of CityEngine use within Rambøll, is to create smarter and more intelligent 3D content within a short timeframe, and that this is something that they are not able to do with other tools. Hooray for CityEngine!
Currently, CityEngine is being used in three different main areas – Urban Planning, Transportation and Visuals. They all have different workflows, competences and necessary outputs. Let's take a closer look at these three different areas.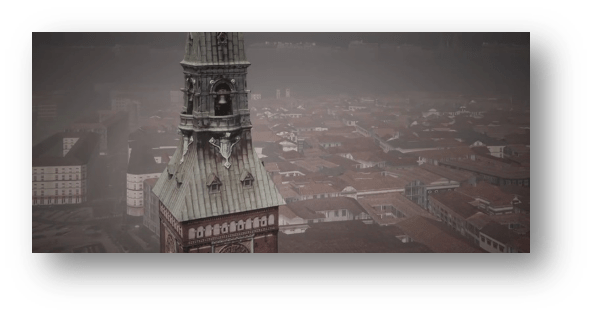 Visuals
For visuals, Rambøll essentially uses CityEngine as a 3D container. By this I mean that they collect many different types of already designed 3D models and import them into CityEngine. The types of 3D content varies from BIM models, 3D CAD models, Sketchup models or reality capture models from drones. They then use CityEngine's procedural modeling capabilities to create backdrop designs, like creating existing buildings and adding foliage to bring their 3D models into a realistic context. The final scene is then visualized in tools like Twinmotion or Unreal Engine.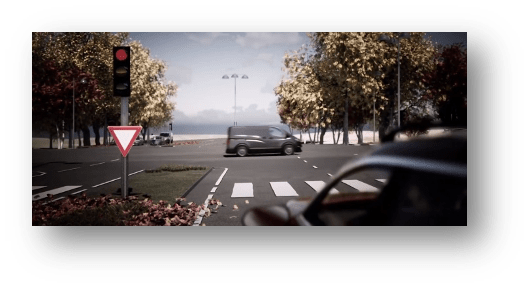 Transport
For transportation, Rambøll developed a workflow which brings 3D CAD files into ArcGIS Online for public engagement of new road proposals. CityEngine, together with ArcGIS Pro and the ArcGIS API for JavaScript play a big part in this workflow.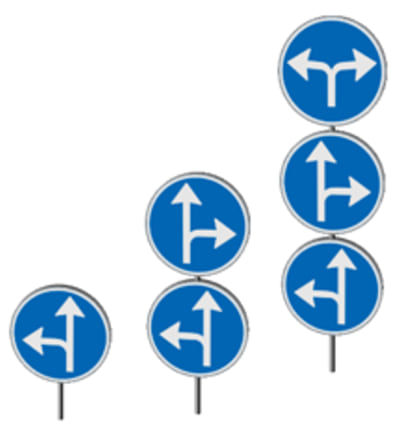 In most cases, the roads are already modelled in a 3D CAD program. However; using 3D CAD data in its raw form is not particularly well suited for online consumption due to complex geometries and materials that are not natively rendered by browsers. On export, the polygon count tends to be quite high and generally we will also lose the assigned materials during this step in the process. With CityEngine, it's possible to merge the faces and clean them up, so you don't get an unnecessary polygon count, and from there you have the ability to assign beautiful materials, that will work both for renderings and online.
Rambøll use CityEngine to assign assets to the roads. Often times lamps, traffic signs, traffic lights etc. are detailed in 2D, with information about the type stored as attributes.
Since we are developing these applications for visual design for public engagement, we can use the information from the sign placement and automatically create 351 different signs, place them on top of each other in any combination. It would not have been possible to build such a detailed environment within the given timeframe without procedural modeling and CityEngine.
Urban planning
Rambøll envision making urban planning easier and faster with a workflow going from sketches to design to reporting of urban environments and iterating through different design scenarios to compare and choose the best scenario for further design. This is great news because this workflow aligns perfectly with CityEngine's geodesign ability. One very important thing with Rambøll's urban planning projects is to use the DGNB system (which is the global benchmark for sustainability). DGNB is based on a holistic understanding of sustainability. This means that with DGNB not only a building is evaluated, or an urban area based on – for example – how environmentally sustainable it is, but also based on how socially and economically sustainable it is.
The basic idea of DGNB is that a building or urban area is only viable in the long term if these three parameters are each sustainable.
A part of the DGNB input is data generated by designing ground surfaces. With the help of CityEngine around 40 quantitative questions can be answered, even more when the models are used for further analysis inside ArcGIS Pro, for example by doing a sun or shadow analysis.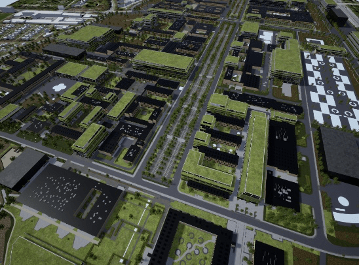 Rambøll have created a workflow with CityEngine and CGA (Computer Generated Architecture, CityEngine's own scripting language) together with the Danish Technical University to answer quantitative questions and export the data to get the needed information to achieve DGNB certification.
The focus of this project is not on design, but on the geometries created and the data it will provide (although a certain level of design is needed to get the correct information for DGNB).
A simple parameter to explain this, is the bio-factor calculation. One thing that could improve the bio-factor is to create green facades, but you can't place green facades on windows, so you'll need to determine a particular window design. You'll also get a better score if you include some green space on the lot, so you will also need to be able to create different building footprints to showcase this. So in the end, even though the focus is not specifically on design, there will actually be a lot of design possibilities.
The instant feedback in the dashboards in CityEngine is very powerful to understand the impact of the decisions made.
Take for example the bio factor improvement going from an asphalt roof to a green roof:

Or the change in the GFA (Gross Floor Area) depending on the building design: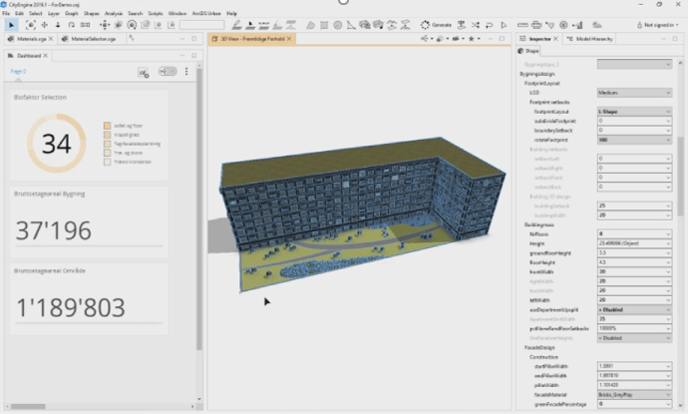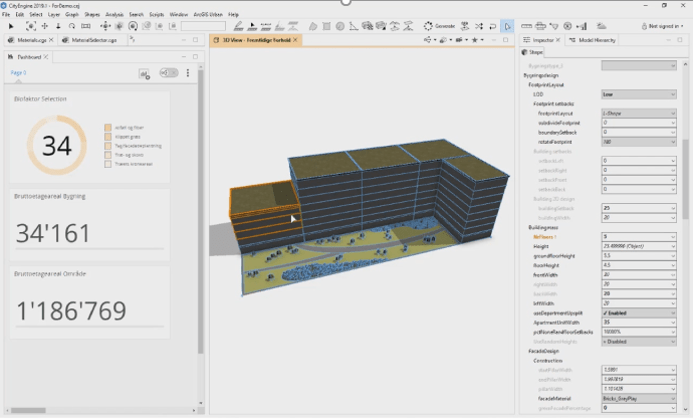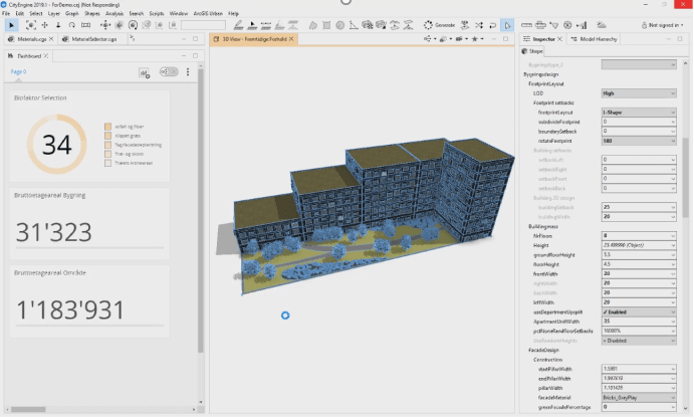 To see Rambøll embrace CityEngine and procedural technology to this degree is extremely inspiring. CityEngine is so multi-faceted and especially together with the ArcGIS platform, provides users with an unprecedented toolset for gaining insights and designing built environments.
Try it out for yourself!