"A map is a symbolic depiction emphasizing relationships between elements of some space, such as objects, regions, or themes." –  Wikipedia definition of a map.
Wikipedia goes on to mention "electronic" maps, with reference to OpenStreetMap, Google Maps, Yahoo Maps, and even MapQuest — but there is no mention of Esri! And, shockingly, no mention of maps and mobile devices!
Why maps?
As someone who has built GIS apps for the past 27 years, this was a soul crushing read. Depressed, looking to validate life choices, I turned to ChatGPT asking Why should I use a map?.
Here's what my new Open AI compadre had to say:
Why maps on mobile devices?
Feeling lucky, I doubled down and asked why should I use a map on a mobile device?.
The answers were obvious and validating from the perspective of personal use:
Then I asked why should a Utility company use maps on a mobile device?.
These answers were spot on and what every Utility should understand and value:
As a GIS professional, you shouldn't need to search for inspiration to understand the value a map provides, but it may just validate your career choices!! The reality is, we often take maps for granted, and it's important to step back and consider the advantages and benefits they provide, especially when you have the power to provide maps to others in your organization.
On the Field Apps team, we're guilty of this in another sense as well. We focus a lot of our energy on the advanced capabilities of field data capture using high accuracy GNSS receivers, smart forms that use Arcade to streamline workflows, and expect everyone to understand maps as a natural container for the stuff they put into it. Not selling data collection short, we built 3 apps that do a really great job capturing data in the field, but there is so much more you can do with a map!
Spatial awareness
These "electronic" maps are interactive and multi-functional. They are aware of your location, work with or without connectivity, and support real-time updates. You can tap them and get information, they know where you are, and they can even talk back to you!
Maps in ArcGIS Field Maps are very portable and convenient – maps work anytime, anywhere, and on any device. Field Maps supports different types of map layers, published in various projections, that have various capabilities. Maps and map content can be authored, published, and shared by GIS analysts using ArcGIS Online, ArcGIS Enterprise, or ArcGIS Pro.
Your mobile workforce can sign into Field Maps using a Viewer User Type or they can sign in with a Mobile Worker User Type if editing is required. Other types, like Creator and the GIS Professional are supported as well. In fact, you can deploy maps for anonymous use if you like! Consider that a small percentage of your organizations' workforce needs to capture data compared to everyone that can benefit from the spatial awareness viewing a map can provide.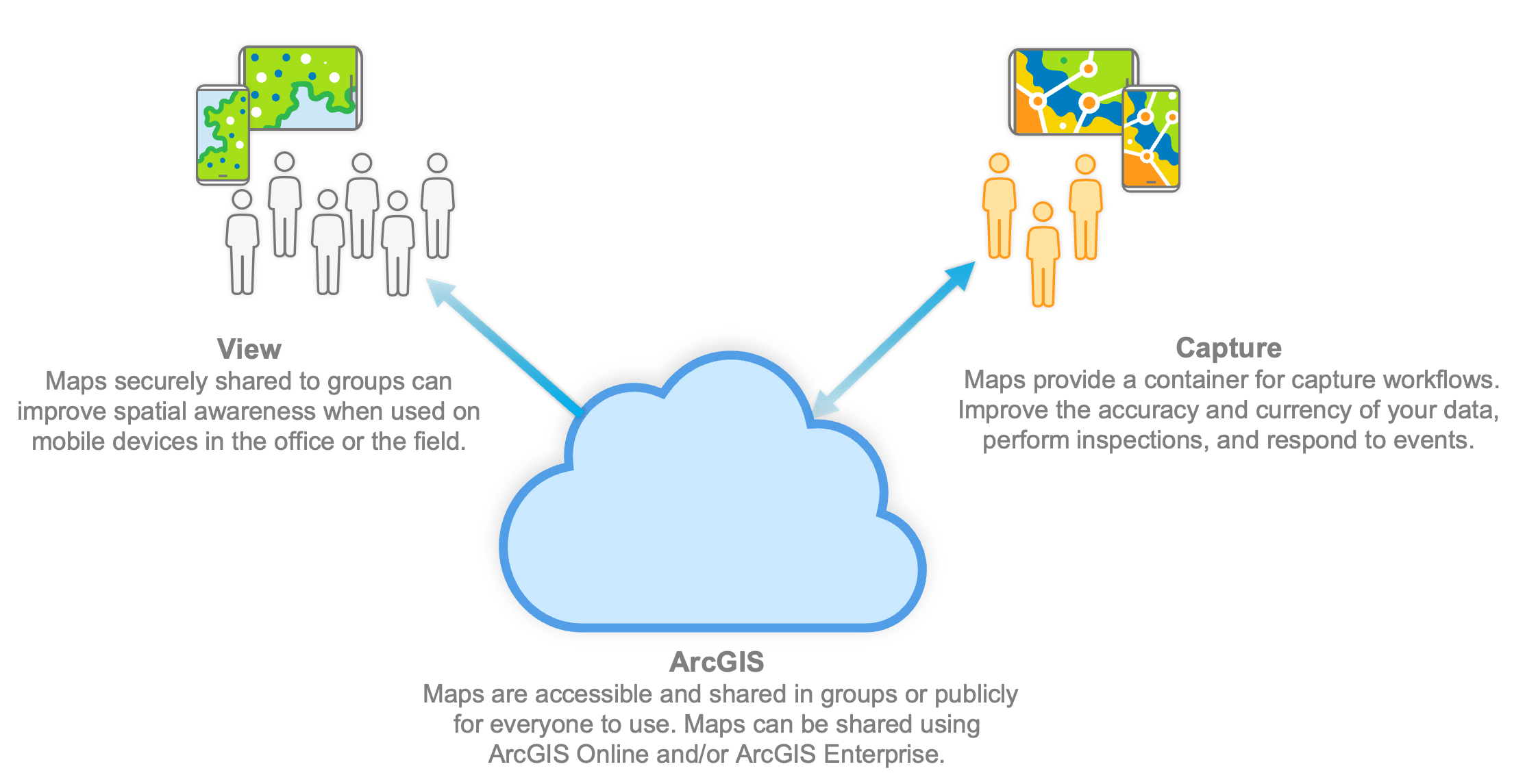 Maps provide understanding
ArcGIS Field Maps brings maps to life and for consumers of your map, the map IS the app. It's not Field Maps, that's just what they tap on from their home screen. They think about the Nashville Electric Utility app or the California Wildfire Mitigation app because the map brings context and understanding. As a GIS professional, you craft purpose-built maps for your intended audience and through the capabilities of both the map and the app, it comes to life.
Let's explore some of the capabilities in the ArcGIS Field Maps mobile app that bring your maps to life:
Find your location on the map – tap the Location button to show where you are on the map, and keep the map centered on your location. The blue circle shows the accuracy of your location, and tapping the GPS banner shows additional detail about your location.  Tap the Location button a second time and the map will orient where you are facing and alter course as you move.
Choose what you see – use the Layers tool to turn map layers on or off. When enabled, you can tap the filter button for a layer and dynamically filter its content by criteria like type of species or status of repair. From the menu, tap the Legend Tool to understand what you see on the map, and tap the Basemap Tool to flip between topographic, imagery, or navigation basemaps.
Tap the map to discover what's there – content is interactive and you can gain insight by simply tapping on what you see. You can view detailed content, media, charts, nearby or related information, and even linked content from a simple tap. Map authors, DO NOT show the OBJECTID or GLOBALID. Have mercy on your users and present information that matters. Understand what's important and show it!!
Search for content and locations – maps can search for different things. Search by location (online or offline) using a variety of different coordinate units like Degrees Decimal Minutes, US National Grid or even MGRS. Search by address and place name. Search for data by a specific field value (by setting up feature search), or scan a Barcode or QR code of an asset using the camera to find it on the map.
Locate places and get directions – mark places as a Favorite on your device, tap the Directions tool to get driving directions, or locate data by bearing and distance as you walk using the Compass tool.
Measure distances and areas – tap on the map or use GPS to measure distances and areas with the Measure tool . Display distance measurements in feet or yards or miles. Areas by square feet, square yards, acres or square miles. Or even change units and display results using the metric system.
Use maps connected or when offline – use maps where you need them. In Field Maps, you can work connected, download map areas on your device, or download map areas packaged for you.
Stay current with map updates – content in maps are often dynamic as well as interactive. Field Maps will update map layers when a refresh interval is required. Offline map areas can sync changes or set up Field Maps to auto-sync changes for you. If other field crews or office staff are updating data, sync will ensure you are always working against the most current map representation.
Make notes, draw on maps, and share with others – using the Markup tool, you can add notes and draw on top of maps. Organize sketches into markup layers, and use the markup across maps or share the markup with others.
These foundational capabilities transcend what a consumer mapping app provides. Powered by your maps, Field Maps is an effective tool for your mobile workforce. Read the Quick reference topic for more details on these capabilities.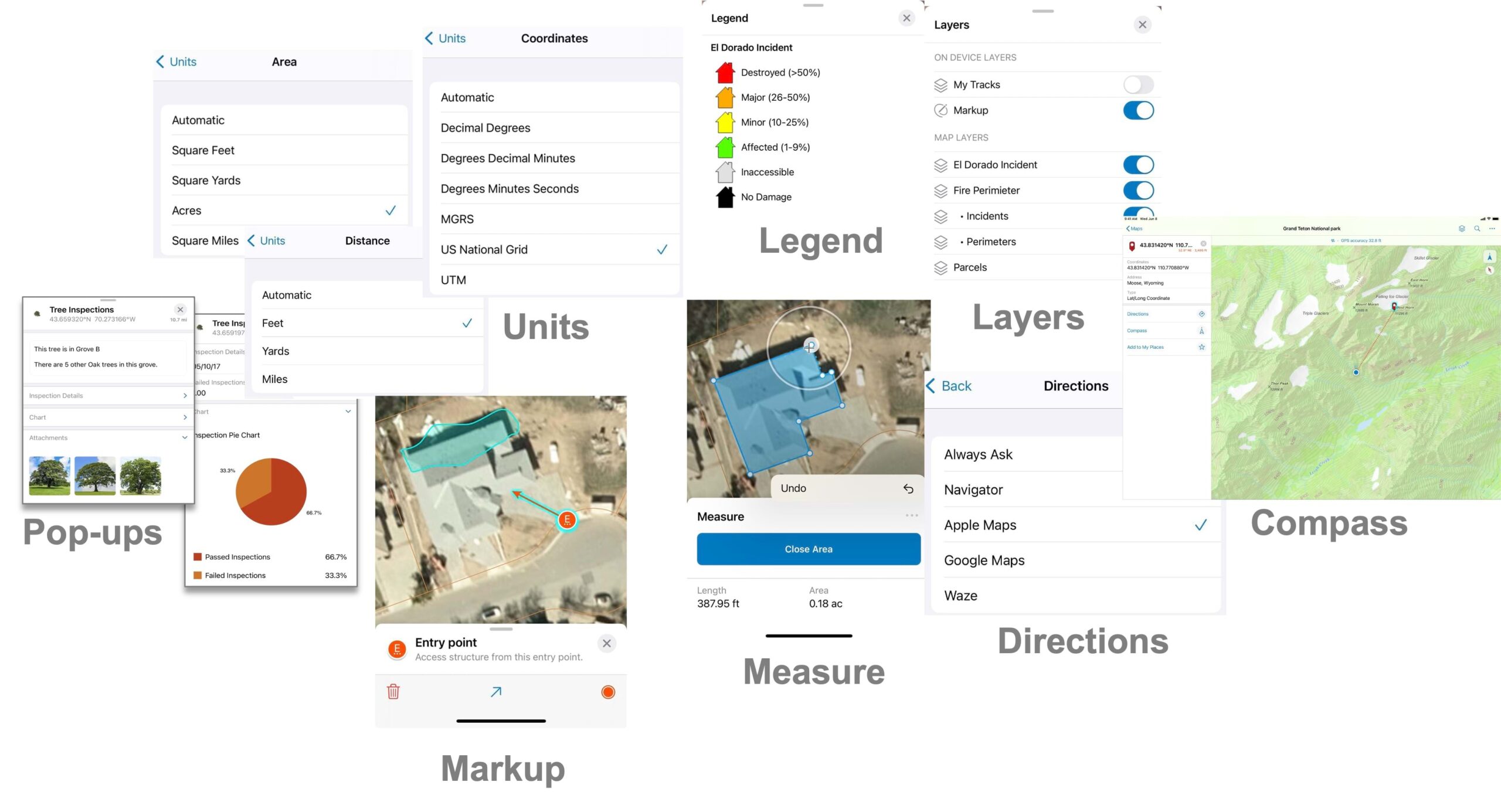 Do more with maps
Maps are nothing without content, and the capabilities within Field Maps bring that content to life. Let's look at 4 things you can do using maps and a simple Viewer User Type license.
Geofencing
Geofencing is commonly used as a marketing or advertising tactic to draw consumers into nearby stores. But what if your location could use your map data to notify you? You can trigger notifications by location, proximity, motion, categorization of data, and time of day. Messages can be text messages, field values from map data, or Arcade expressions.
Use geofences to notify ecologists when entering sensitive habitats, construction workers when exiting a project site, or service technicians with critical information when arriving at a customer site.
Configuring a map with Field Maps Designer, you can add geofences to point, line, or area feature layers. Creating a new Location alert action, you can send custom messages when entering or exiting an area. Optionally, filter map layers to provide multiple, focused messages, and apply a buffer to messages on advance of entering/exiting areas.
For more information about Geofencing, read about it in our Configure the map help topic.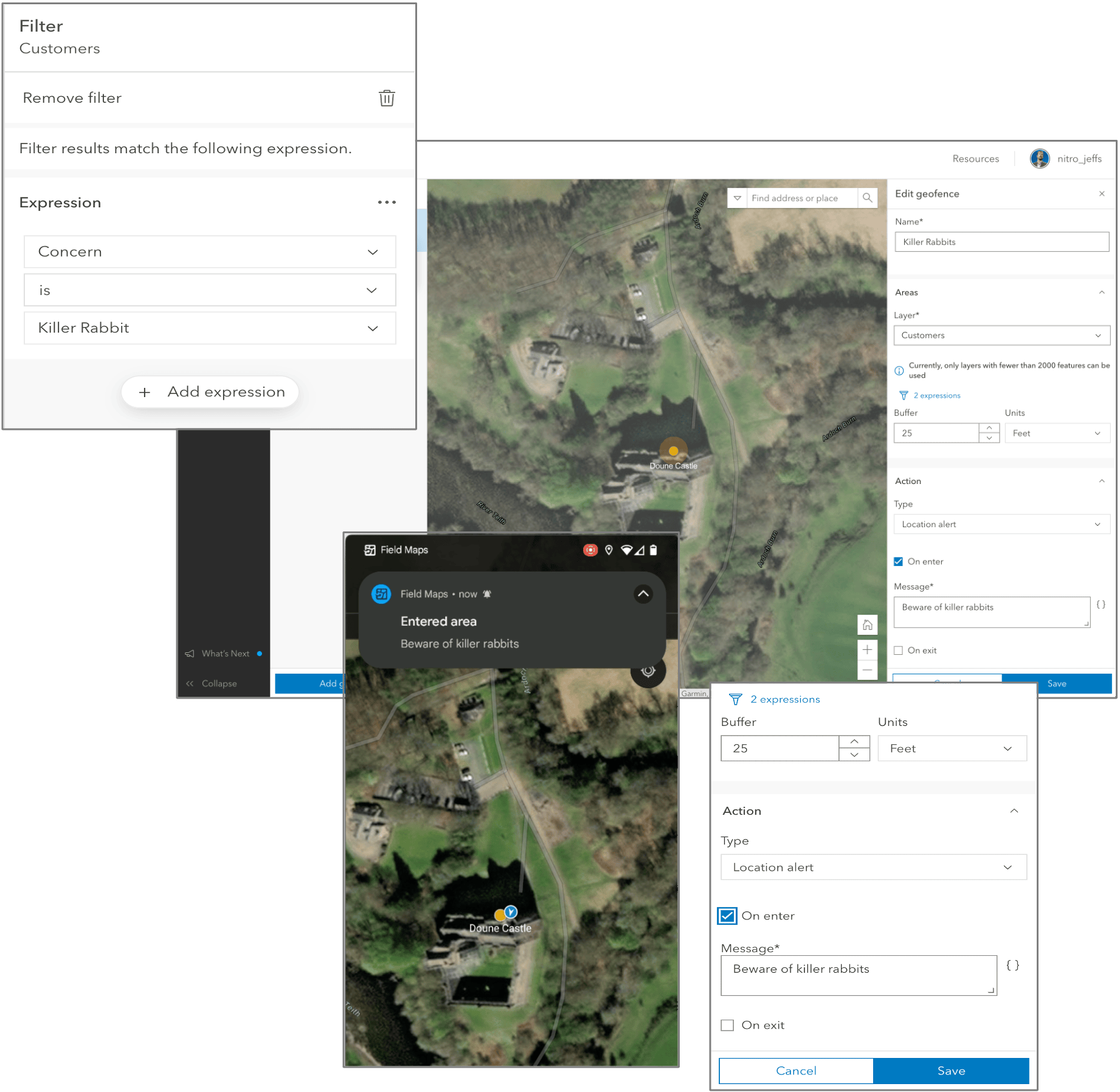 Utility Networks
Utilities have used GIS as their system of record for quite some time. Mobile apps, like Field Maps, are put to work by field crews to capture and inspect critical infrastructure, respond to emergency events, and more. However, with utility networks in maps, you can do much more:
Connectivity – using Connectivity associations, discover the connectivity between two assets that are not coincident, like a transformer and an electric distribution line. Discovering associations between critical assets improves awareness when troubleshooting outages or performing routine maintenance.
Containment – with Containment associations, you can discover the complex network infrastructure contained within an asset. For example, a water engineer can select a meter vault and discover, the flow valves, meters, elbows and tees inside.
Named Traces – traces analyze paths in a utility network so you can discover information or ask questions of data without needing to understand its configuration details. For example, tap the map to perform an isolation trace and quickly locate valves that need to be closed so you can shut off water supply to a leaking main line, stop flooding and perform necessary repairs. To perform traces in Field Maps, they must have the ArcGIS Utility Network user type extension.
For more information about Utility Networks, read about it in our Work with utility networks help topic. To see Utility Networks in action, watch this YouTube video.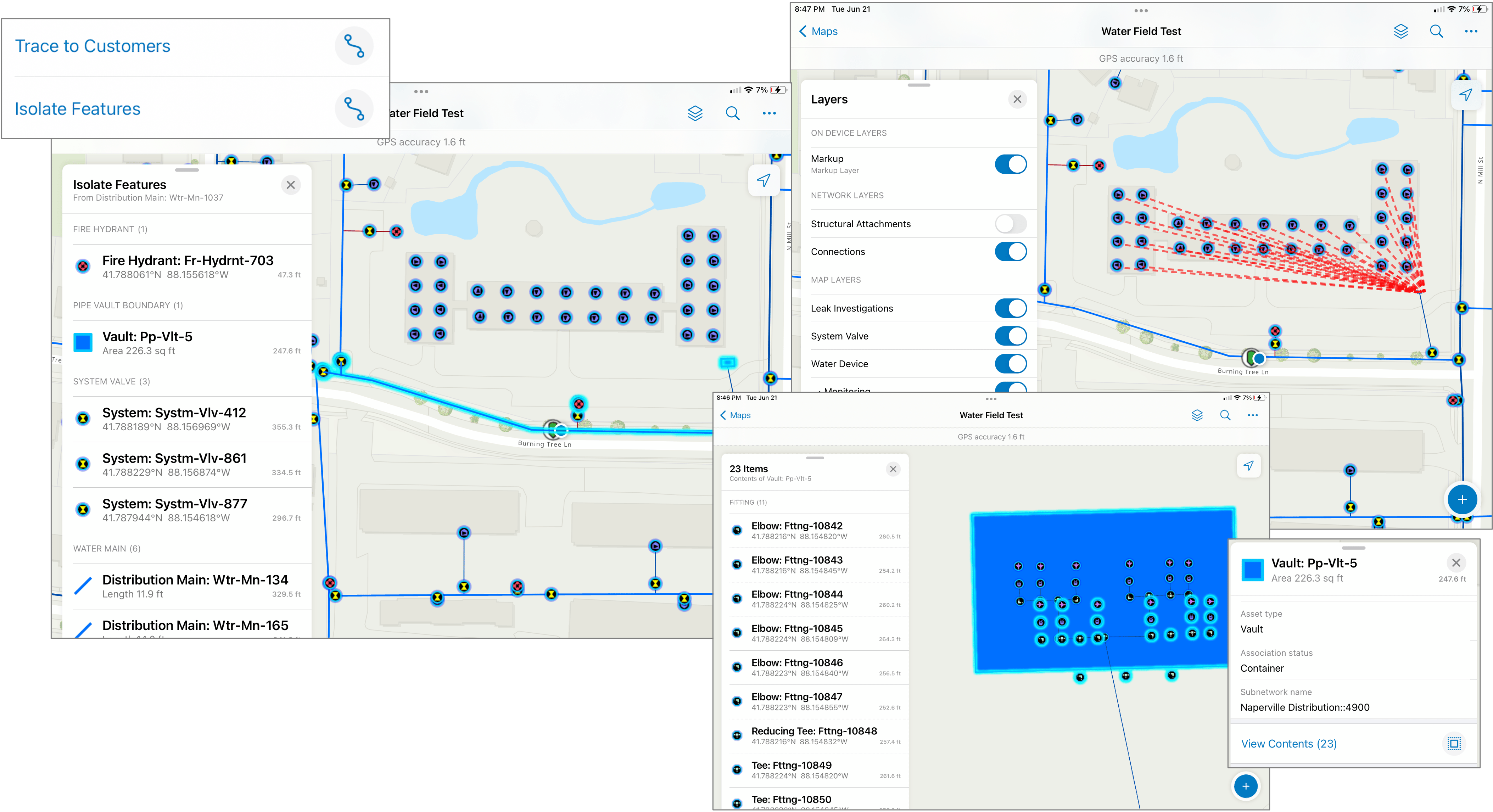 Linear Referencing
Location of a highway sign can be described as "50 feet past mile marker 100". This method of describing location is common in the engineering, construction, and management of infrastructure tied to linear assets like roads, railways, or pipelines. Relative measurements are stored in GIS data using a concept called Linear Referencing.
You can locate and even capture measurement values in Field Maps by selecting a road or pipeline and tapping the Find Measure tool. It will interpolate the closest measurement to your location, let you search for measurements, and drop a pin at the found relative location.
For more information about Linear Referencing, read about it in a featured blog article called Linear Referencing Comes to ArcGIS Field Maps.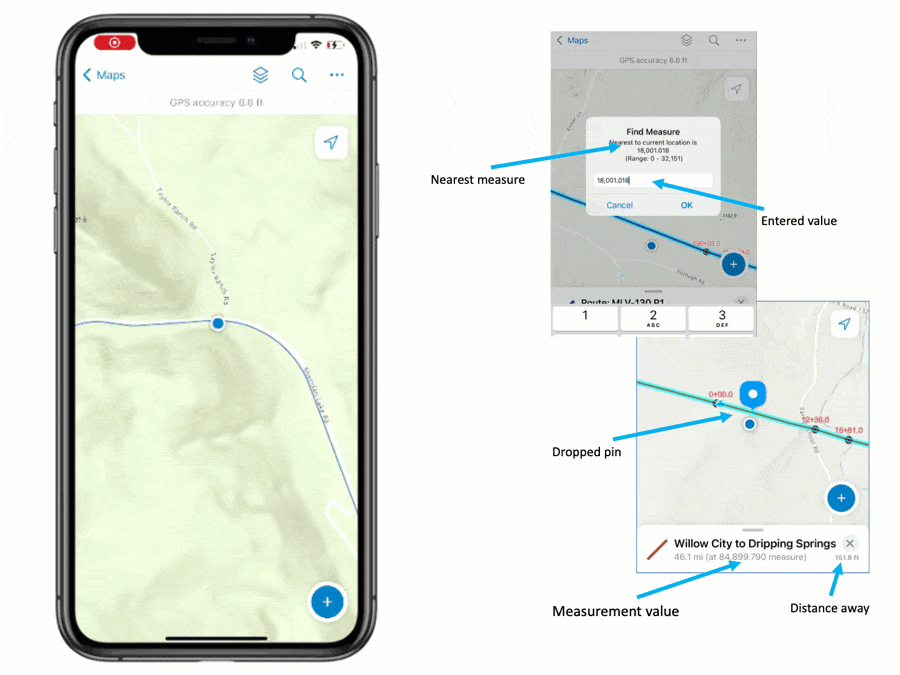 Indoor Maps
Build and manage indoor spaces using ArcGIS Indoors and implement ArcGIS IPS, for indoor positioning. When in place, ArcGIS Field Maps will work seamlessly indoors and outdoors!
If your maps are floor-aware, you can filter floors to find the information you need. If you implement an indoor positioning system, you can show your indoor location on the map, filter floors, and provide floor-aware geofence location alerts!
For more information about indoor maps in ArcGIS Field Maps, read about it in our Create a floor-aware map documentation topic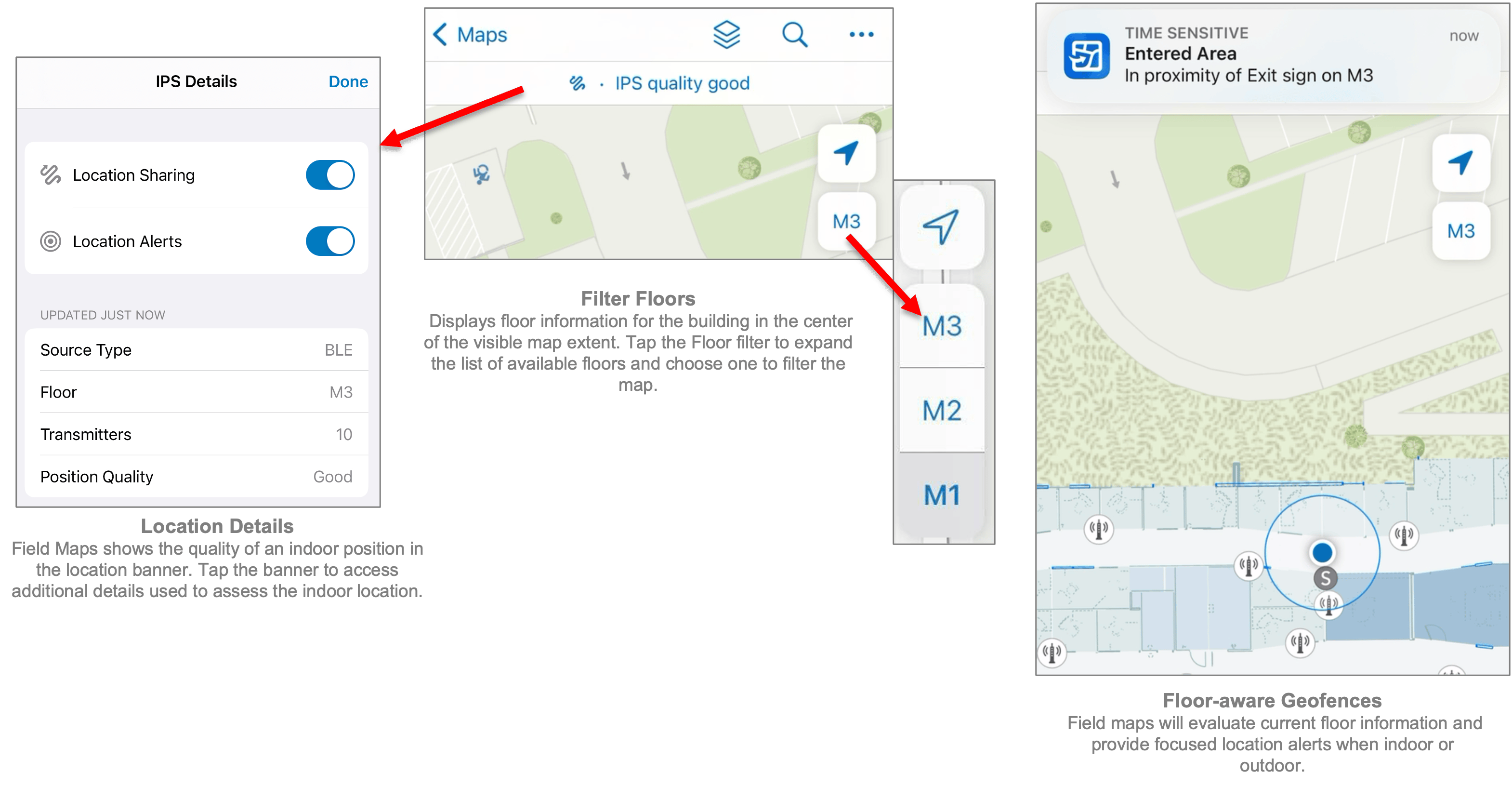 Maps, maps and more maps
If you've read to this point, congratulations! Hopefully you'll leave this article informed and aware of what you can do with maps on mobile devices using ArcGIS Field Maps and inspired to deploy maps for more than just field data collection in your organization.
I didn't talk about location sharing in this article. It's supported with the Mobile Worker user type and available as an add-on license for other types (including Viewer). Recording and sharing locations for all mobile users can improve overall operational awareness and worker safety.
As always, we want to hear from you and your experiences using maps in the field or in the office. So please, post your thoughts, ideas, and feedback to Esri Community or as comments on this article below.