As our climate continues to change, our infrastructure ages, and our underlying community stressors increase, the risk to communities from threats and hazards is greater than ever before. The increasingly systemic risk we face must be understood to develop strategies that build, improve, and sustain the emergency management mission to build more resilient communities.
Just as threats and hazards constantly evolve, the tools, technologies, and procedures of emergency management agencies must also evolve. Geographic Information Systems (GIS) technology is uniquely positioned to help emergency managers better understand the risks around us, and to anticipate when and where action is needed. Here are 4 key evolutions in GIS that will help emergency managers build resilience for the next crisis.
1. Artificial Intelligence / Machine Learning for Disaster Response and Recovery
Industry and government leaders today are working on ways in which artificial intelligence (AI) can help with disaster response and recovery efforts. After the catastrophic 2018 Woolsey Fire in California, the United Services Automobile Association (USAA) needed to identify damaged structures for which is was responsible for providing insurance coverage. USAA turned to the deep learning capabilities of ArcGIS, which were applied to thousands of aerial images to quickly identify damaged structures within the fire perimeter. This information allowed insurance adjusters to fast-track the claims of affected residents and business owners.
Similarly, disaster management agencies can use the same techniques to identify damaged structures in remote areas that are geographically cut off from surrounding communities. In some hard-to-reach places, when lines of communications are down after a disaster, it can be challenging for decision-makers to understand where to send response and recovery assets. By applying deep learning models to imagery, ArcGIS can identify buildings that are damaged or undamaged. In this example, ArcGIS Image for ArcGIS Online is used to quickly model burn severity after a wildfire and to extract potential structures that may have been impacted by using new ready-to-use deep learning models in ArcGIS.
Another example of using AI at scale after a disaster is how the U.S. Department of Defense, Joint Artificial Intelligence Center (JAIC) is bringing together AI and geographic information system (GIS) workflows for disaster response and recovery. This short demonstration answers the question, After a hurricane, what roads are available for first responders to use to provide aid?
2. Real-Time Data and the Internet of Things
The amount of real-time data available for emergency managers continues to grow exponentially. From flood and seismic sensors to real-time weather forecast and predictions to field observations, the amount of data coming at decision-makers is both empowering and potentially overwhelming. Turning this data into actional information is key for making mission-critical decisions.
With new tools like ArcGIS Velocity, or on-premises tools like ArcGIS GeoEvent Server, agencies can begin to turn information into action. Connecting to real-time data feeds and applying machine learning that can analyze, alert, and inform help ensure that situational awareness dashboards focus attention on the right things.
The US Army Corps of Engineers uses real-time data and analytics to respond to disasters in the community, delivering resources to help residents recover more quickly. Watch the video.
The Argentinian Coast Guard relies on the same technology to monitor poaching. Read the story.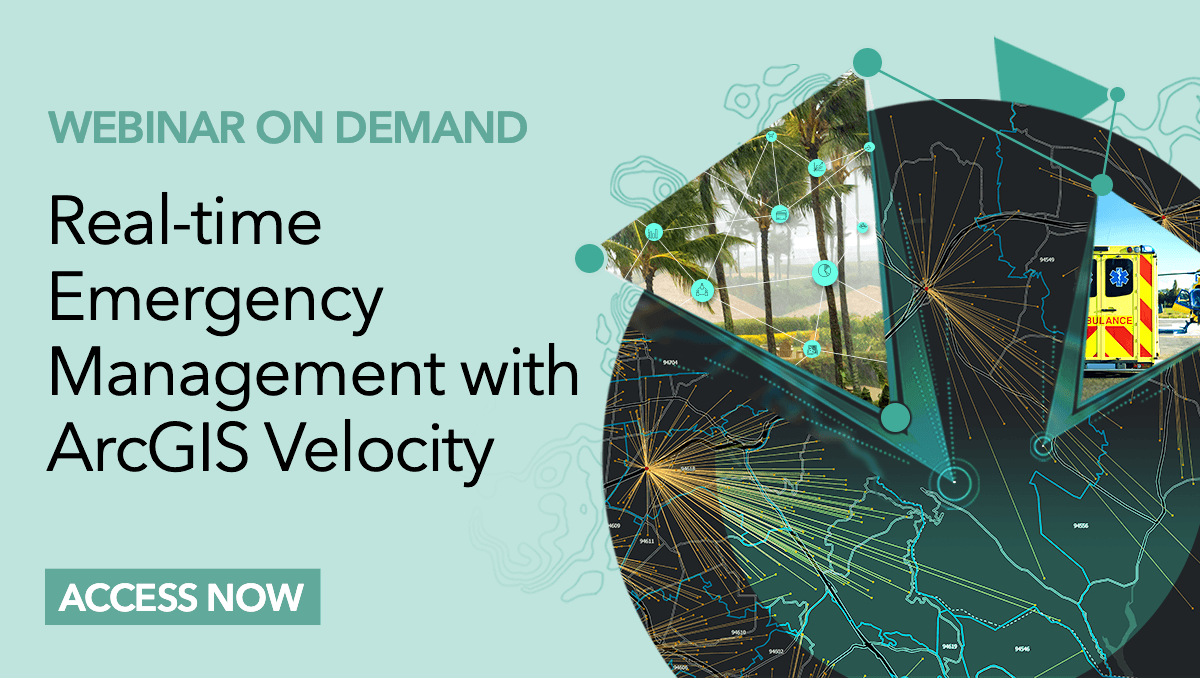 3. Engaging the Whole Community
It's no longer enough for emergency managers to write an emergency response plan and put it in a binder on their shelf. The Federal Emergency Management Agency (FEMA) has a Prepareathon program that is focused on providing technical assistance to local groups that want to organize a whole community event—with an integrated strategy of public communications and outreach through institutions, leading to community events like tornado or earthquake drills. When everyone is part of practicing the plan, we know that communities are stronger and more resilient to emerging threats of all kinds.
Organizations around the world are using ArcGIS Hub to manage public information and provide authoritative data to the public.
For example, Emergency Management Southland (New Zealand) is responsible for the delivery of Civil Defence and Emergency Management responses throughout its region. It maintains a public-facing web app, configured using ArcGIS Hub, to communicate critical information with the community.
The California Department of Forestry and Fire Protection (CAL FIRE) also uses ArcGIS Hub to provide data, tools, and resources to the public.
The state of Oregon and its emergency management partners use ArcGIS to communicate what is happening before, during, and after a disaster.
With the focus on the whole community, organizations are also opening up their tools to collect information from people directly impacted after a disaster. When record-setting rainfall caused historic flooding in the spring of 2019, 27 counties across Oklahoma were officially declared disaster areas. Approximately 2,200 homes were damaged as the storm produced water levels that caused reservoirs, lakes, and rivers to overflow.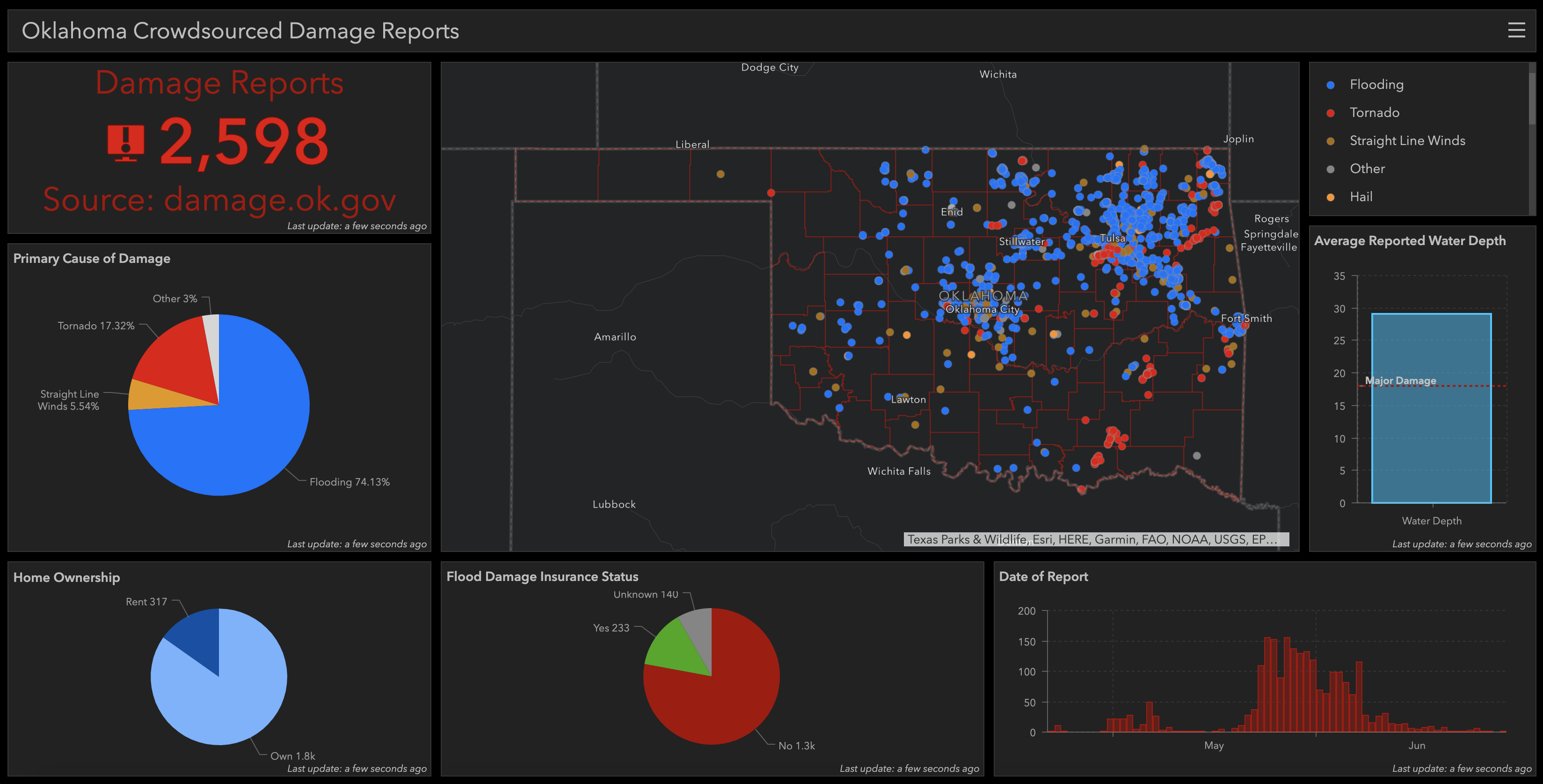 The Oklahoma Department of Emergency Management (OEM) immediately activated its disaster response and recovery protocol, kick-starting a workflow that begins with recording damage information and concludes with government assistance being allocated to survivors.
The Oklahoma Crowdsourced Damage Reports dashboard shows how damage reports have been submitted and filters various types of damage using pie charts and maps. For this disaster, OEM took an innovative approach to this workflow. The OEM team used ArcGIS Dashboards to display crowdsourced damage reports compiled from ArcGIS Survey123, which provides a simple web-based form to be completed by people who were affected by the floods.
Now, this mobile GIS solution serves as the centerpiece of a new workflow that enables OEM to speed up the recovery of impacted communities after a major disaster.
The International Red Cross and Red Crescent, with their more than 97-million volunteers and staff worldwide, have proven to be invaluable partners in disaster management operations. The GIS office at American Red Cross, for example, is deeply involved in international disaster response and disaster preparedness programs throughout the world.
Mark Wallace, manager at Esri Australia, discusses how the Red Cross uses ArcGIS for large-scale national disaster relief operations.
Ryan Lanclos, director of public safety solutions at Esri, talks about how the Lebanese Red Cross uses GIS to accurately map conflict zones, balance blood supply and transfusion demand, and manage volunteer activities.
4. Public/Private Partnerships Are Vital for Adequate Disaster Response
Public/private partnerships are crucial to bridge future gaps, particularly in critical infrastructure, supply chain, and community lifelines. It is crucial that information is shared between partners to ensure better coordination and communication when a crisis hits. Delivering real-time, actionable information on the current conditions, government orders, and supply chain disruptions allows everyone to have shared situational awareness to do their part and work collectively to resolve the crisis as quickly as possible.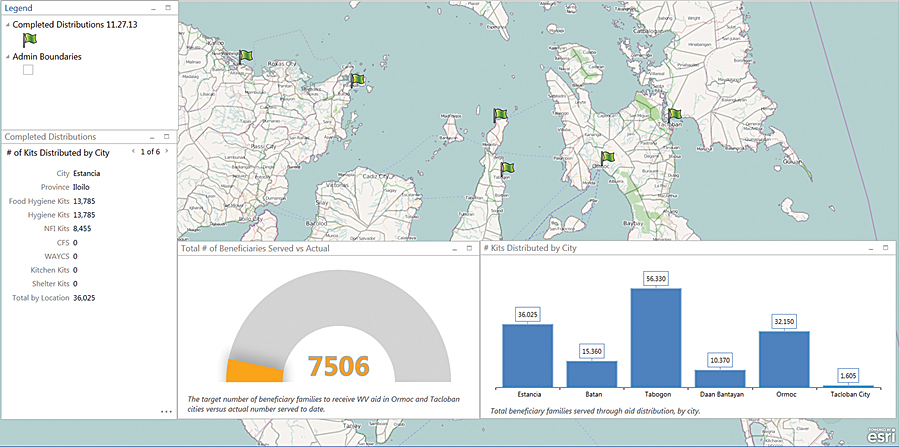 As the coronavirus disease (COVID-19) started to emerge, Bass Pro Shops began monitoring the coronavirus threat early on, including through reports from the World Health Organization and the US Centers for Disease Control and Prevention. This data informed early responses, including restricting staff travel to affected geographies even before the US State Department issued limits. Bass Pro also acted quickly to modify operations at a sourcing office in Hong Kong, switching those employees to remote work. Read more about how Bass Pro use GIS to help ensure business resilience: During COVID-19 Outbreak, Bass Pro Shops Manages Operations with Location Data (esri.com)
One of the most critical lifelines for a community is power. Brunswick Electric Membership Corporation (BEMC) serves more than 96,000 electric services along the southern coast of North Carolina. In 2016, Hurricane Matthew impacted BEMC's service territory, causing serious flooding and damage to infrastructure. A later review by FEMA emphasized the importance of prompt and accurate damage assessment. This motivated BEMC to add GIS capabilities that would improve both the utility's storm response and its normal operations. Read more here: Brunswick Electric Case Study (esri.com)
Staying a Step Ahead of Disasters
We know the threats and hazards we face continue to evolve around us every day. As emergency managers we have to evolve as well—by exploring new tools and solutions, advancing our techniques and procedures, and constantly working to build our organization's resilience for the next crisis. GIS can help us in each phase of the emergency management life cycle. It's up to each of us to apply these tools and technologies to create safer and more resilient communities for tomorrow.