An easily overlooked detail in a story about the sale of IBM's Watson Health division offers an important reminder for executives seeking business success: a geographic approach matters more than ever.
IBM's Watson Health business was built on the company's groundbreaking AI technology, and sought to help medical providers combat cancer and other conditions. After years of investment, IBM sold most of the unit to private equity shop Francisco Partners in January 2022, ending a once-promising business venture.
According to GlobalData analyst Will Stofega, medical professionals outside the United States resisted Watson's recommendations for patient care in part because they were based solely on US data. In health care, location can be a significant factor in understanding patterns of illness and health risk. Similarly, data on local markets and consumers, also known as location intelligence, is key for manufacturers, retailers, and professional services companies as they evaluate business opportunities in the postpandemic economy. After more than two years of disruption, global executives are looking to rebuild and strengthen revenue streams. Nearly two-thirds of CEOs expect their organization's growth to be "very strong" or "strong" over the next 12 months, according to a recent survey by Deloitte.
With geographic information system (GIS) technology, business development teams can take a geographic approach to growth, using market and city data to analyze areas of interest and possible investment. Ultimately, they can tailor product and service offerings to regional or local preferences.
Through market segmentation, for example, decision-makers can compare neighborhoods based on socioeconomic variables and demographics. Development teams study recent shifts in established communities and pinpoint revenue potential in areas of population growth. That kind of geographic approach has been key to expansion planning for companies as diverse as John Deere, DICK's Sporting Goods, and Cushman & Wakefield.
Geographic Approach Uncovers Customer Preferences, Sharpens Sales Strategies
Location intelligence drawn from market data can reveal details that shape consumer behavior, including the geographic and physical features of an area. GIS can help a planning executive spot seasonal tourism patterns that determine which products sell well and when, or understand how online shopping in a suburban area influences customers' interaction with physical stores. Understanding this geographic nuance—rather than applying a one-size-fits all approach—reduces the risk of a failed investment.
One global quick-service restaurant takes a geographic approach by using customer and market data to understand local food preferences and refine store menus to suit local tastes. By using GIS to collect and analyze information about product sales at specific locations, the company's decision-makers create location intelligence for future openings in markets with similar profiles. After an opening, managers monitor sales data with GIS and adjust menus based on the patterns they see.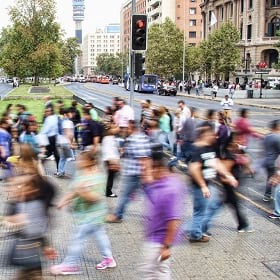 Data on global cities and markets is available through modern GIS technology, helping executives tailor a business to local conditions. A geographic approach increases the potential of developing reliable new revenue streams and decreases the risk of failed investments.
---
Location Data Strengthens an Established Brand
Global agriculture equipment leader John Deere has taken a geographic approach to market expansion for years. Prediction and customization are key to success for the company's network of carefully placed dealer locations.
Deere's development team uses location intelligence to support market research and dealer positioning. Its planners use GIS to analyze thousands of variables, estimating income levels, average property sizes in a community, and land cover, which might reveal crops or lawns. Comparing sales data from locations with similar profiles helps Deere's development team assess the ideal product mix and sales potential for new markets.
As executives chart the road back from pandemic disruptions, many are looking for a map to guide them. A geographic approach to domestic and international markets—informed by location intelligence—lowers the risk and improves the prospects of any business expansion.