The world's biggest GIS event is just around the corner. From July 13-17th 2020, the Esri User Conference will be held as a virtual event for the first time in history. The ArcGIS Indoors team will take you through inspiring presentations and technical demos and update you on some very exciting news around our latest release.  In addition, all users will have the opportunity to chat with our Indoors experts via virtual booths. 
Agenda Overview
ArcGIS Indoors Virtual Showcase 
Tuesday, July 14th 2020, 10:00-11:00am (PDT)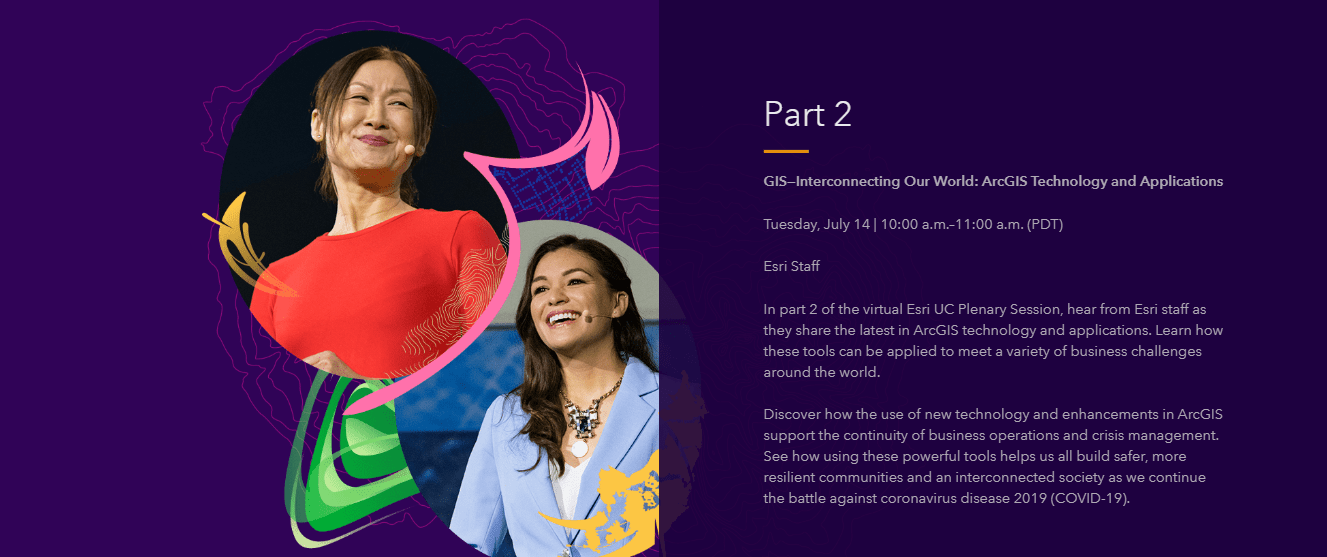 The virtual Plenary session is where the 2020 Esri UC begins. Hear from Jack Dangermond himself, Esri staff and special guests about how GIS is making a difference in the world, over the course of three Plenary sessions. ArcGIS Indoors will be part of the second plenary session on Tuesday that is dedicated to Esri staff presenting the latest in ArcGIS technology. Discover how ArcGIS Indoors can support organizations in their Covid-19 response and recovery phase. 
Live Sessions
Streaming Live 
Tuesday, July 14th 2020, 7:30 am – 8:30 am (PDT) 
Presenters: William Isley, Jeff Archer, Shreya Singh 
In this session, learn about ArcGIS Indoors, Esri's indoor GIS that supports indoor mapping, space planning, workspace reservations, location sharing, incident reporting (for facility up-keep), indoor person tracking, and wayfinding. Discover the system that has the turn-key applications for office moves / space planning, indoor visitor way-finding, employee occupant experience built on an indoor mapping platform that can be applied to a number of problem spaces including indoor asset tracking and management, emergency planning, and more. 
Streaming Live 
Thursday, July 16th 2020, 3:30 pm – 4.30 pm (PDT) 
Presenter: Beau Ryck 
Industry experts from IBM, Microsoft, U.S. General Services Administration, and Toast join us to discuss the past, present, and future of the real estate and facilities industry. Find out what innovations lead the industry to its current state. Hear about common problems we all still face. Learn how these thought leaders see the industry transforming. See you there! 
The ArcGIS Indoors team has prepared a wide range of demo theater presentations and technical workshops around all kinds of topics. The following sessions have been pre-recorded and will be available on demand. More information  
ArcGIS Indoors: Developing Indoor Mapping Apps 
Presenter: Jason Hine 
Learn how to develop custom indoor web and native mobile applications on top of ArcGIS Indoors, or simply augment an existing application with indoor mapping. In this session you will be exposed to the ArcGIS Indoors Information Model and how to leverage the JavaScript API for ArcGIS and the Runtime for ArcGIS to add indoor mapping capabilities to your applications. 
ArcGIS Indoors: Contact Tracing Indoors
Presenters: Tom Hahka
As employers are actively devising plans to bring staff back to the workplace after months of working from home. They are taking measures to ensure that if an employee becomes exposed to COVID-19, that they can understand what people and spaces that person has come in contact with. In this session, learn how to leverage ArcGIS Indoors to track the real-time location of people indoors, and do proximity analytics to support contact tracing workflows.
ArcGIS Indoors: Indoor Positioning
Presenter: Gaurav Jobanputra
An Indoor Positioning System (IPS) is a system used to locate objects or people inside a building using Wi-Fi, Bluetooth beacons, pulsating lights, and other sensor information. Learn how Indoors supports providing mobile users their location on an indoor or outdoor map using Indoor Positioning Systems. Understand the different IPSs supported by Indoors, considerations your organization should make when selecting an IPS provider, and provisioning your organization for indoor positioning.
ArcGIS Indoors: Office Moves and Space Planning 
Presenter: Jeff Archer 
In this session, see a demonstration of Space Planner, the newest application provided by ArcGIS Indoors that supports a visual mapping experience for employee office moves and can setup area definitions for office hotels and hot desks. 
ArcGIS Indoors: How to Create an Indoor Routable Network 
Presenter: Jason Hine 
Learn how to use Indoors to automatically generate an indoor routable network that can support multiple buildings and multiple floors in those buildings. 
ArcGIS Indoors: Work Order and Asset System Integration 
Presenter: Mohd Faraz Siddiqui 
So you want to leverage Indoors for space management, asset management, safety & security, or to build a visitor or workplace occupant experience. The only catch is, you have an existing asset management system or work order management system that you would like to integrate with. Fear not! This session will demonstrate the patterns of integration for work order and asset systems using CityWorks and ServiceNow as working examples. 
ArcGIS Indoors: What's New in ArcGIS Indoors 
Presenter: Will Isley 
Learn about the new capabilities releasing in Indoors, including space management and analytics, office hoteling and hot desking, meeting room scheduling, Office 365 integration and more. 
ArcGIS Indoors: Indoor Asset Tracking 
Presenter: Mohd Faraz Siddiqui 
In this session you will see a demonstration of how to support indoor asset and person tracking  by integrating ArcGIS Indoors with real-time tracking hardware solutions, with working examples leveraging solutions from Fujitsu and Cisco. 
ArcGIS Indoors: Bringing the Workforce Back to the Work Place 
Presenters: Maya O'Brien, Andy Stewart 
See a demonstration of how to apply ArcGIS Indoors to help with planning to bring your organizations workforce back to the work place post COVID-19 "lock down". Learn how to use Space Planner to consolidate space assignments and reduce building operation costs, how to visualize and do analytics to understand areas that may need to be addressed to support social distancing, and how to collect person tracking data to support person proximity detection in support of contact tracing workflows. 
ArcGIS Indoors: Office Hoteling and Workspace Reservation 
Presenters: Gaurav Jobanputra, Shreya Singh  
In this session, learn about the tools to use to improve space efficiency and promote a productive work culture through space consolidation and building an activity-based work environment. Reduce the ration of employees to offices and desks to consolidate space, save money, and promote self-organization around organizational initiatives. In this session you will learn how to use Indoors to build an employee experience to support staff that don't have assigned desks or offices. 
ArcGIS Indoors: Building a 2D and 3D Indoor GIS 
Presenters: Junru Chen, Greg Waite  
In this session we will teach you how Indoors can be used to aggregate your project based CAD and BIM floorplans into a multi-site, multi-building floor-aware GIS, which can serve as a foundation for a number of workflows including asset management, space management, safety & security, indoor way-finding, and building an activity-based occupant or visitor experience. We will show you how to load and maintain floor plan data, point of interest information, employee office assignment, and build an indoor routable network. We will also show you how to publish this data to support enabling your organization with the capabilities mentioned on premise or to ArcGIS Online. 

ArcGIS Indoors Virtual Showcase
The ArcGIS Indoors team will be available for individual chats at our virtual booths. Reach out to our experts to learn more about the product, how you can use it for your facility and ask any questions you may have. Depending on your interests, you can learn more about the IPS (Indoor Positioning System), ArcGIS Indoors Product and Professional Services.  
Here is an overview of the individual booth IDs: 
Booth ID 
Booth Name 
Booth Area 

SH-21-01

 

ArcGIS Indoors – Indoor Positioning System

 

ArcGIS Indoors

 

SH-21-02

 

ArcGIS Indoors – Product

 

ArcGIS Indoors

 

SH-21-03

 

ArcGIS Indoors – Professional Services

 

ArcGIS Indoors

 
The booths will be open during the virtual showcase hours: 
Monday, July 13 

 

12:15 pm – 4:00 pm (PDT)

 

Tuesday, July 14 

 

7:30 am – 9:40 AM and 11:10 am – 3:50 pm (PDT)

 

Wednesday, July 15 

 

7:30 am – 9:40 AM and 11:10 am – 3:50 pm (PDT)

 
Esri is offering all users the opportunity to put their GIS data through a health check for specific areas, and Indoors is one of them. Submit your maps, apps and data to get professional feedback and guidance on how to best design, implement, and strengthen your geospatial solutions.  
Sign up for an appointment with an ArcGIS Indoors subject matter expert now. 
Make sure to register for the 2020 Esri User Conference today and experience the Expo and Esri Showcase online. Registration is complimentary for all Esri customers who are current on their maintenance plan or subscription.  
We hope to see you there! 
Learn more about ArcGIS Indoors
Interested in indoor GIS? Visit the ArcGIS Indoors webpage to learn more about what it can do for your organization. 
Follow us on Twitter: @Arcgis_Indoors 
Commenting is not enabled for this article.