Today we celebrate GIS Day 2020. A day that is dedicated to educating oneself and others on anything related to Geographic Information Systems and sharing it with the community. With this blogpost, we want to shed some light on a relatively new form of GIS and what it can do for your business. 
With GIS data at their hands, users can see the big picture others can't. It builds the foundation of thorough spatial analysis and decision making in all kinds of areas of our lives. GIS data is indispensable for field operations management, disaster response, construction, sustainable development, and much more.
The outdoor space has a long history of GIS applications, yet to this day the indoors remains widely unexplored. However, indoor GIS has been gaining popularity over the last decade with more and more industries joining the community. But what exactly makes indoor GIS so attractive for businesses?
Activat
ing
buildings with location intelligence
In 2019, Esri launched ArcGIS Indoors, the company's first product that brings GIS to the indoor space. ArcGIS Indoors is a comprehensive system of record for all workplace data and configurable app templates. It allows users to make their buildings and operations happening inside transparent by providing a common operating picture to all stakeholders at the workplace.
With ArcGIS Indoors, GIS managers can configure 2D and 3D maps of their buildings. They can analyze, visualize and manage location data on maps and dashboards that support decision-making processes.
Providing
 a competitive advantage
Most facility managers today are still relying on pen and paper reports, CAD drawings or Excel sheets as references for spatial planning, maintenance, navigation, and security. Resulting in slowed, inefficient workflows, these resources leave a lot of potential for improvement. Indoor GIS can be the competitive advantage organizations are looking for.
Digitalizing processes and putting them in spatial context in one central system of record helps share information across departments faster and facilitates collaborative planning. Workflows can be streamlined to reach maximum efficiency. Thorough geospatial analyses generate deep knowledge on the facility and its operations, which allows for smarter decision making.
Reducing costs by maximizing efficiency
Organizations that don't monitor space utilization in their facility don't get the full picture of how they can run their operations on maximum efficiency. Perhaps also their workplace layout is suboptimal, having a negative impact on productivity levels of employees.
ArcGIS Indoors introduces the Space Planner app, which visualizes space on maps and spatial analytics on dashboards. Are space capacities exhausted or is there unused space? Should space be expanded or consolidated? The app allows managers to look at historical and real-time space utilization patterns to make fast and informed decisions.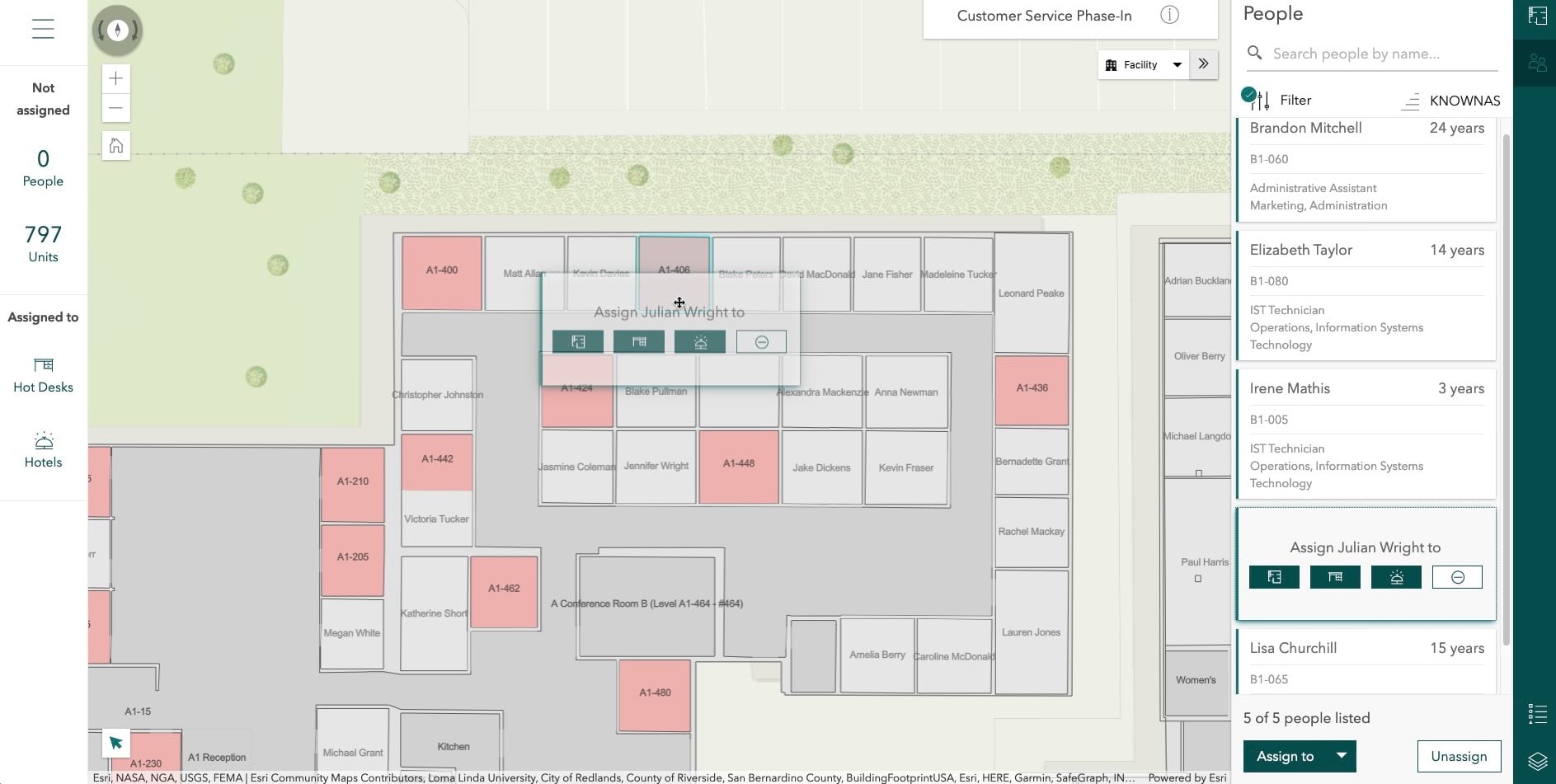 One of the most recent examples where GIS has proven invaluable is in the response to the Covid-19 pandemic. Post Covid-19, a lighter version of the work from home (WFH) model many employees have become quite used to over the past few months is likely to continue. WFH suggests that part of the workplace space can be used more flexibly, e.g. turning fixed office spaces into office hotels or hot desks that can be booked by any employee. As a result, organizations can reduce their space holdings and alleviate their lease costs.
Helping save lives through situational awareness
Increased situational awareness is critical for safety and security. If given a clear and full picture of the environment and situation, first responders can react faster and better. If a fire breaks out at the workplace, a quick look at the Indoors enhanced workplace map tells you where to find the nearest fire extinguisher or exit and the quickest route to get there.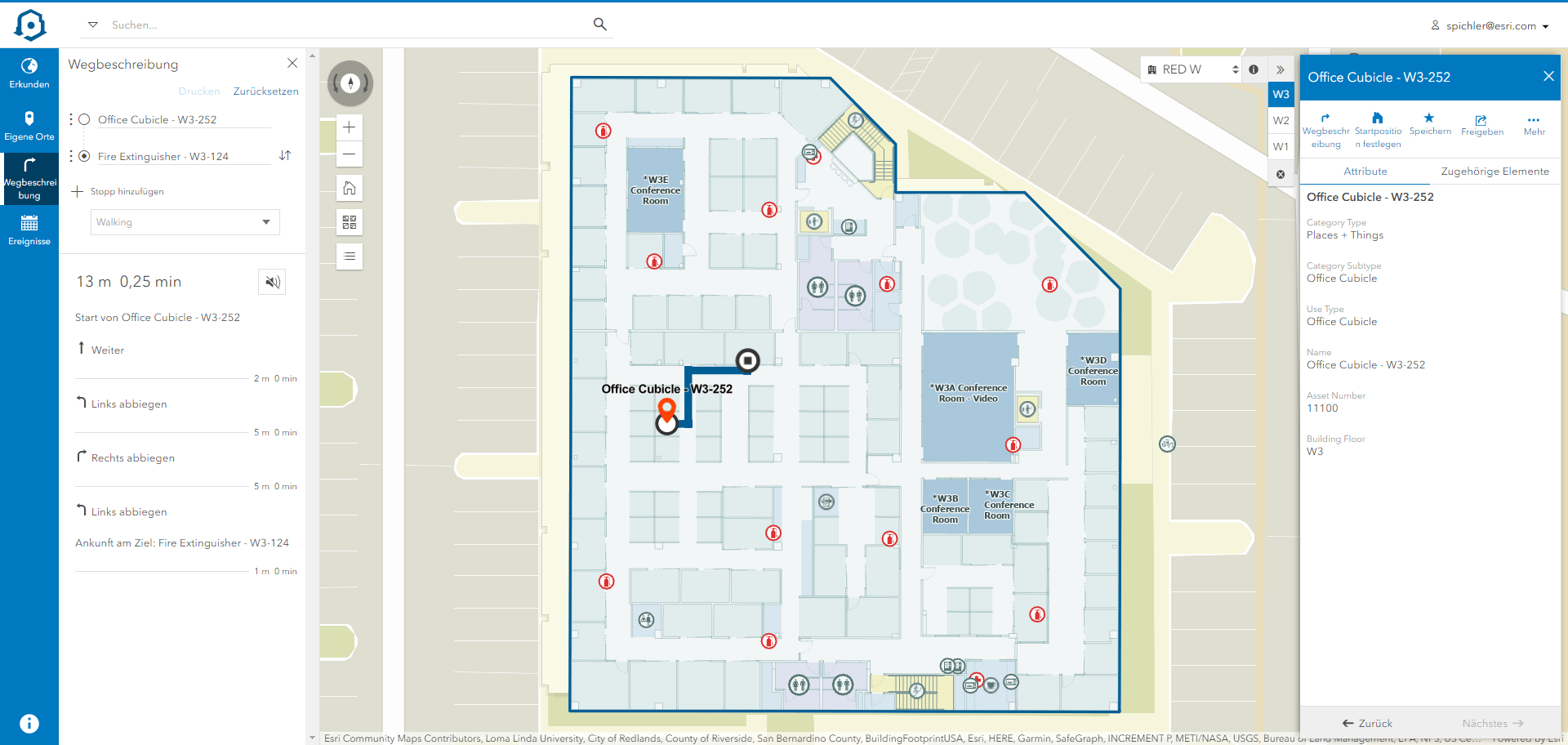 Moreover, all users are empowered to request maintenance, or report incidents, and mark the location on the map. This could for example be a lighting fixture hanging precariously from the ceiling that needs fixing, or a conference room that needs to be sanitized to mitigate the risk of Covid-19 infections at the workplace. Facility management has all information – type and location of work order – at their hands and can route to the work order optimally prepared.
Enhanced situational awareness allows facility managers to respond to incidents faster and other building occupants take an active role in making the workplace as safe as possible.
Helping keep people safe at the workplace during Covid-19 recovery
As workplaces reopen in the recovery phase, employee safety is one of the top priorities. A thorough occupancy and density analysis via Indoors helps determine how many employees can come to the office and which changes must be made to seating arrangements to honor social distancing. Indoors enables planning of the new working environment from shared workstations and office hotels to identifying potential risks and making sanitization stations easily locatable on the map.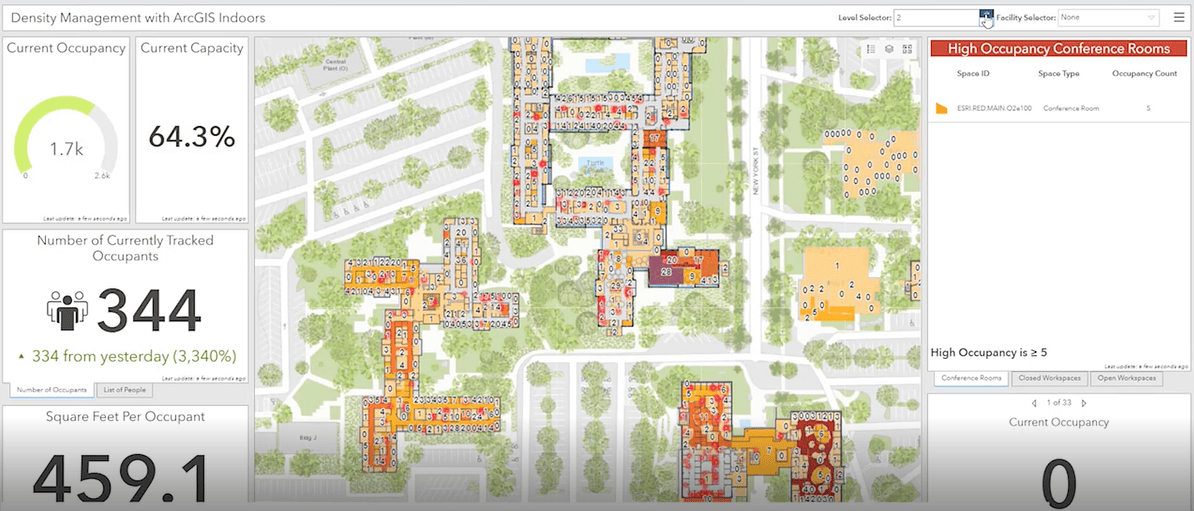 ArcGIS Indoors offers:
2D and 3D maps of your workplace

 

Indoor wayfinding for web and mobile

 

Efficient work order management

 

Resource

 allocation and management

 

Space analysis and planning

 

Proximity based room booking and office hotelling

 

Covid-

1

9 response and recovery solutions

 
The benefits of investing in a professional indoor GIS strategy at the workplace are clear. ArcGIS Indoors helps organizations turn their buildings into smart buildings and their workplaces into smart workplaces. The results are increased efficiencies, productivity, employee satisfaction, enhanced safety and reduced costs. 
Watch this video on how ArcGIS Indoors supports smart building management:
Happy GIS Day!