Important news regarding this event
Esri has decided to cancel the 2022 Esri Federal GIS Conference.
In response to feedback from our customers, partners, and staff, the current COVID situation, changing government policies around conference attendance, and in the interest of the safety of all attendees. All paid registration, sponsorship, and exhibit fees will be refunded in full. No additional action will be required.
As an alternative, we will be hosting a two-hour special broadcast hosted by Esri President Jack Dangermond, starting at 1 p.m. EST on February 22, 2022. This livestream will feature updates on your work and Esri's vision and direction for 2022. Please save the date on your calendar and we will be providing more information soon.
Visit the FedGIS website to learn more and read FAQ.
Still, we hope you'll take a moment to review the innovative startups who had planned to exhibit and speak and connect with them directly to learn more.
Your health and safety are of the utmost importance to us, and we hope to see you next year!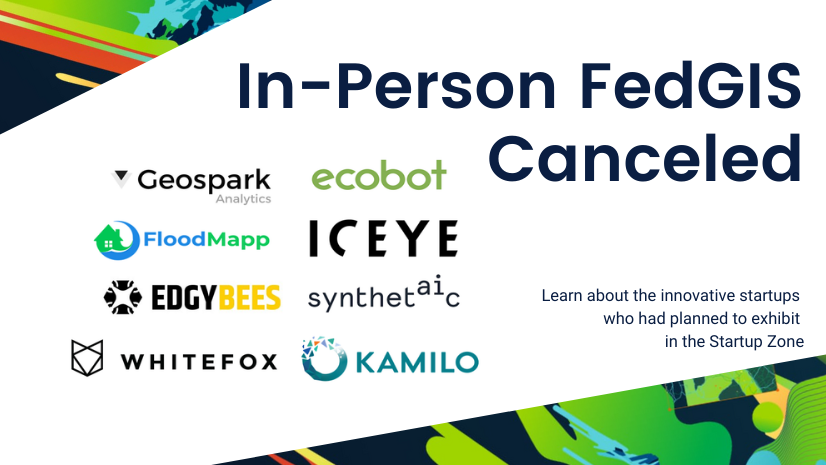 PREVIOUSLY SCHEDULED – STARTUP ZONE DETAILS:
The Esri Startup Program had planned to support a focused zone within the expo showcasing leading emerging businesses with ArcGIS-ready product and content offerings working across an array of markets. Check out these innovative companies and consider connecting with them directly!
CANCELED – Startup Zone Exhibitors:
| | |
| --- | --- |
| Company |    Description |
| Ecobot | Ecobot is a cloud-based platform that speeds construction starts by optimizing mandatory environmental permitting. Ecobot enables customers to then leverage field data collected at permitting into massive improvements throughout the construction lifecycle. |
| Edgybees | Edgybees' AI software aligns real-time operational imagery and data with the ground truth of the physical world, bringing clarity, accuracy, and speed to mission-critical and lifesaving operations that rely on satellite imagery and aerial video for situational awareness. |
| FloodMapp | FloodMapp delivers world-first real-time flood inundation intelligence specifically for emergency and asset managers. Our mapping products: ForeCast, NowCast, and PostCast can detail flood predictions and situational awareness at a specific asset or street-level and seamlessly scale up to national view.   FloodMapp's dynamic flood intelligence improves safety and prevents damage. |
| Seerist (Geospark Analytics) | Geospark Analytics' Hyperion AI engine enables better decision-making faster by identifying and forecasting events and stability levels to recognize threats and mitigate risks. Hyperion detects abnormal activity levels, assesses stability, and forecasts risks for every spot on the globe providing intuitive data discovery, robust threat monitoring, and insightful analysis. |
| ICEYE | ICEYE delivers unmatched persistent monitoring capabilities for any location on Earth. Owning the world's largest synthetic-aperture radar constellation, the company enables data-driven decisions for its customers in sectors such as natural catastrophe response and recovery, or security. ICEYE's data can be collected day or night, and even through cloud cover. |
| Kamilo | Kamilo tracks and provides the verified outcome of any physical item, from plastic waste destined for recycling to other material resources. The Kamilo technology platform uses unique digital identifiers and Esri tools to map material movement and provide environmental attribute data such as pollution prevented and GHGs avoided. |
| Synthetaic | Synthetaic was founded in 2019 with a mission of revolutionizing AI in medical, geospactial, security, media, conservation and other applications through state-of-the-art generative (self-learning) AI algorithms. At Synthetaic, we believe deeply in data parity and in helping organizations transcend data-access and data-quality issues. Synthetic data democratizes AI and unleashes its full impact in all fields, no matter the starting dataset. |
| WhiteFox Defense Technologies | WhiteFox's mission is to keep the sky open for responsible pilots by creating solutions that advance drone technology for a better world. As the global leader in pioneering the safe integration of drones into society and offering worldwide drone airspace security solutions, WhiteFox is securing trusted autonomy through transparency and accountability in our skies. |
| Amazon Web Services (AWS) | Area Sponsor: Amazon Web Services provides on-demand cloud computing platforms and APIs to individuals, companies, and governments on a metered pay-as-you-go basis. |
| Esri Startup Program | Area Host: Global program supporting qualifying early-stage startups building ArcGIS mapping technology and location intelligence into their products or content offerings. Get resources to develop or migrate your solution, successfully go to market, and create a lasting partnership with Esri, esri.com/startups. |
CANCELED – Past Schedule for Reference
Startup Zone Spotlight Theater Schedule: