ArcGIS Business Analyst provides unique, presentation-ready infographic templates that you can use to share key data indicators for a variety of purposes, audiences, and industries. You may be familiar with Standard infographics including What's in My Community? which groups places in a neighborhood  into civic themes and At Risk Population Profile that supports businesses evaluating the impact of COVID-19 on their community.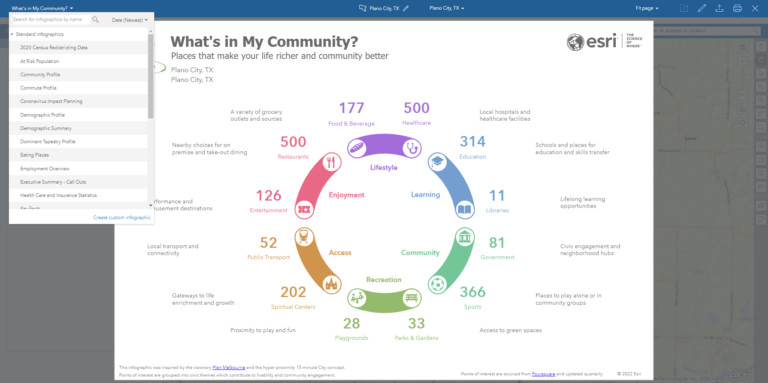 Did you know that there are additional premade templates in the infographics gallery? The gallery is a collection of infographic templates designed for specialized goals, some of which use premium data sources from global partners such as Esri Japan and Esri France. These templates are open to enhancement based on feedback. You can find the gallery in ArcGIS Business Analyst Web App Advanced under + Add template then Browse gallery.

What is the ArcGIS Business Analyst infographics gallery?
The ArcGIS Business Analyst infographics gallery is a collection of templates designed for a particular dataset or country. Many of the available gallery templates have been created by Esri partners, such as users, and Esri teams like Sales or Professional Services. These types of infographics are created on an as-needed basis, driven by requests and opportunities that we learn about through conversations with Business Analyst customers.

How can I access templates in the gallery?
The gallery templates are configured in ArcGIS Business Analyst Web App Advanced. They can be run from a variety of Business Analyst products, such as Web App, Mobile App, ArcGIS Pro extension, or through the GeoEnrichment API.
To add a template from the gallery, go to the Build Reports tab and select + Add template then Browse gallery. Explore the curated gallery of infographics and click Add to save the template under the My templates tab. You will notice the template is added to a separate section, Added from gallery. The template is now available for you to run from My infographics. Feel free to customize ArcGIS Business Analyst infographics to better suit your business needs.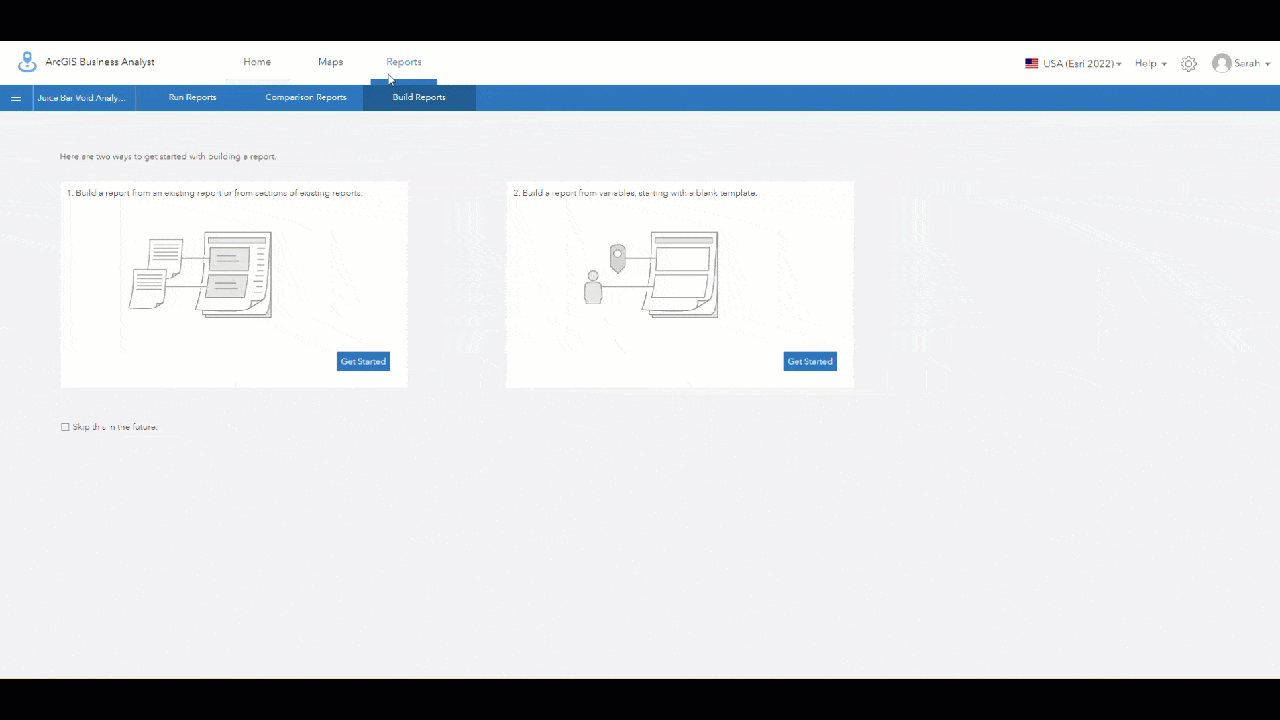 Advanced license users can work directly with gallery templates, then make them available to collaborators in the organization, including Standard license users. Templates are customizable in edit mode, then saved under a new name in the Created by me section. Advanced license users can then Share the template with collaborators.
What data sources do templates in the gallery use?
Templates in the gallery are currently available for the United States in both the Esri 2021 and Esri 2022 data sources. In late 2022, gallery templates were added to the Esri Japan and Esri France data sources. The templates that appear in the gallery depend on which data source you have selected.
Esri 2022 template migration
The June 2022 release of Business Analyst included a major update to the United States data source, with Esri Updated Demographics and the new Census 2020 geographies. With the release of the Esri 2022 data source, multiple vintages of data were made available in the United States to help users migrate to the updated Census geographies. This migration process extends to infographics and ensures the template is using the most up-to-date variables. The gallery in the Esri 2021 data source provided many useful templates and we have migrated eight of these templates over to the gallery for Esri 2022. We are continuing to grow the new gallery for Esri 2022 with the addition of new templates, including the Financial Profile and Economic Development Profile templates.

Demographic and Income Profile infographic
With the November 2022 release, we adapted a popular report template into a sleek new infographic template, the Demographic and Income Profile. Using the same variables as the classic report version, this new interactive experience provides important capabilities such as identifying key indicators and trends in population, household income, and more. We would love to hear your feedback on using this new version as compared to the classic report. Please try this new version of the Demographic and Income Profile template in your workflows and let us know what you think.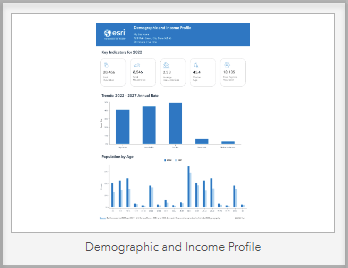 Premium data sources
Business Analyst Web App is supported in five different languages, including English, French, Japanese, German, and Portuguese. This allows the numeric and currency formats in infographics to automatically adjust depending on the language setting in your browser. Our partners at Esri Japan and Esri France have designed new templates for the gallery in the November 2022 release using text in the language for each respective country. We are continuing to work with our global partners to add English translations of these templates in the future for wider use. These international templates represent an exciting opportunity for us to extend support for users all over the world in multiple languages.

What infographics do you need?
We welcome your feedback! The infographics gallery serves as a space for the Business Analyst development team to explore enhancements. What types of infographic topics would be useful for your workflows? Please share your recommendations for new infographic templates with our team. Or, if you create your own template, reach out to us about adding it to the gallery. Please use the feedback option at the bottom of this blog article or post on Esri Community.