Chief sustainability officers had a busy 2022, and there's no sign of a slowdown. Developments at both the global and US level—from oil price hikes sparked by the war in Ukraine to renewable energy tax credits in President Biden's Inflation Reduction Act—are motivating companies to embrace green power sources like wind and solar.
Cost savings, a quest for resilience, and net-zero commitments have spurred business leaders to invest in solar systems. Through the first half of 2022, almost 19 gigawatts of commercial solar was installed in the US, according to SEIA, the national trade association for the solar energy industry. That's roughly 14 percent of total solar capacity in the country.
Geographic information system (GIS) technology has long guided business and infrastructure planning for companies that install solar and wind energy projects. GIS dashboards give company leaders a single operational view of energy demand, development plans, construction, and ongoing operations.
This geographic approach can be just as powerful in assessing the solar potential of a corporate campus, airport, retail center, manufacturing plant, or undeveloped piece of land. Now, business planners can take inspiration from the Croatian city of Koprivnica. Developers there created a GIS app that estimates the ROI and net-zero contributions of solar panels on buildings throughout the city.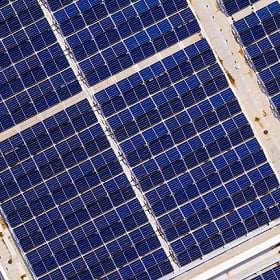 GIS software uses science to analyze sun angles, cloud cover, roof positions, and other factors, revealing where solar panels will have the biggest impact on net-zero goals and energy costs.
---
Optimizing Solar Potential and the Bottom Line
The video below shows Koprivnica's GIS-powered app at work. Once a user selects a location and inputs that structure's monthly electricity costs, the app predicts the size of the solar system needed to support the building's energy needs.
The app also delivers investment calculations, predicting the cost, savings, investment return period, and an estimate of total profit the system will generate by the end of its life cycle.
The location analysis furnishes key data points for facilities managers or sustainability officers who may be presenting the benefits of solar to C-suite leaders. GIS software automatically calculates how much an investment will save the owner in carbon dioxide emissions, and even represents the equivalent of that reduction in saved car and train rides.
With this location intelligence, a company can optimize the placement of solar panels to maximize net-zero gains and cost savings.
The same geographic approach could also assist executives in making more complex decisions about solar potential. While many companies are embracing on-site panels, off-site commercial solar arrays are also quickly gaining steam, and now account for over half of all commercial use.
Tech companies—with their massive data centers and outsize energy needs—have been at the forefront of the solar revolution, as many are building large off-site storage facilities. As of this writing, Meta owns the largest solar portfolio of any company in the US.
With the kind of location technology showcased in the video above, a facility manager or chief sustainability officer could plan for the optimal combination of off-site and on-site solar panels.
Before any investment is made, company leaders can use a digital twin of a business's physical operations to forecast outcomes based on variables like population density, access to transmission lines, and the presence of endangered species.
Many Data Layers, One Operational Picture
Businesses today need technology that can blend data streams and inform strategy. GIS brings geographic, financial, and other considerations into one operational picture, revealing the costs and benefits of sustainability investments like solar panels.
It's yet another step in the evolution of GIS software. The technology has grown far beyond its roots organizing dots on a map to become an essential source of location intelligence and decision support across the enterprise.