Businesses around the world are doubling as laboratories in a great postpandemic experiment to define what the future of work will look like.
Two-thirds of companies are considering physical redesigns that facilitate hybrid work, in which employees split time working in the office and at home, Microsoft says. Google is dedicating roughly 10 percent of its work space, totaling millions of square feet, to experiments in hybrid design that include modular pods, inflatable privacy walls, and paneled spaces in which the faces of videoconferencing employees are prominently displayed alongside in-person meeting attendees.
Old ideas are being overturned for approaches that would have seemed radical two years ago. Personal desks may be a thing of the past: JPMorgan Chase CEO Jamie Dimon speculated that the bank may need only 60 desks for every 100 employees. Open floor plans, once thought to facilitate collaboration, have been shown to decrease face-to-face interaction—and increase the spread of germs. Desk layouts or corporate cultures that stress presenteeism—showing up and being visible to a boss or manager, even when sick—could damage a company's ability to keep its workforce intact.
The outcome of this ferment isn't yet clear, but as employees return to office spaces, companies working with indoor location intelligence are already edging ahead in a global race for top talent and workplace safety.
Indoor Location Intelligence Illuminates Pathways to the Future of Work
Before rearranging workspaces and practices, some business leaders are using a form of smart building technology to gather data and study patterns of engagement.
For example, COOs, HR executives, and facilities managers can learn from a phenomenon known to urban planners as "desire paths." It's common to see such walkways pounded into the ground on university greens by students who ignore sidewalks, proving some plans that look good in a blueprint don't match the needs of real life.
In a business setting, management can commit the same error by instituting postpandemic measures that send the best talent fleeing to employers who offer more innovative workplace options. Indoor location intelligence produced by a geographic information system (GIS) can help identify the desire paths leading to the future of work. A tech-enabled view of indoor spaces reveals how teams operate spatially and what types of spaces employees gravitate to. It's a relatively new application of GIS technology, which for decades has guided the planning of global supply chains, sustainability, and national retail networks. As COVID-19 disrupts indoor spaces, GIS is increasingly being adopted to unlock insights in smart building data.
One design and engineering firm with headquarters in London and nearly 100 global offices has been using GIS to plot a safe, organized return to the office and visualize the new ways in which workplaces might operate. Employees can access the indoor maps to book a desk, locate colleagues, and orient themselves in offices. Administrators use the maps to optimize cleaning schedules, ensure that safety protocols and regulations are met, and monitor the flow of people through spaces.
The data and trends surfaced by this type of system support C-suite decision-making in an uncertain time, helping business leaders anticipate how their office footprint might need to change and how to craft work from home policies that cater to the needs and abilities of each department.
By April 2021, the design firm's indoor location intelligence program had racked up 20,000 internal bookings with 1,500 staffers actively using it.
"There is extra information that we're now using to [analyze] how are people using these spaces, and actually, do we need to change how we're using our spaces? That's going to be a big thing," says one of the company's digital leads and GIS experts.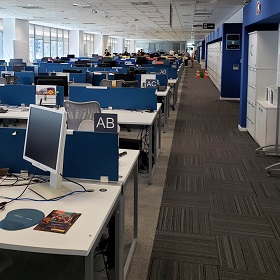 There are a lot of things, particularly if we had new [hires], which made people a bit apprehensive about going to the office. So this just allowed people to understand: What does that office look like? How am I going to plan my route?
---
Digital lead
Self-Testing Postpandemic Office Solutions
Known for its nonhierarchical structure and free-thinking approach to problem-solving, the firm had begun experimenting with a desk-booking system in January 2020 when a renovation at the Wales office scattered employees around the building. Since people weren't at their typical desks, colleagues had to hunt around floors to find each other. A rudimentary desk-booking or hoteling system to help workers find each other became a prototype for the company's indoor location intelligence program.
When COVID hit in full force, the firm, which often advises clients on smart building applications, saw an opportunity to meet the moment through technology. They would use the spatial planning and data analysis tools of GIS on their own offices before advising clients of the benefits. "Coming from a software development background, there's a phrase I like to use," says one of the company's product leadership directors, "we eat our own dog food."
The digital lead and his team began scaling up the indoor concept during the lockdown period to prepare for a return to the office in spring and summer 2020. As employees began trickling back into buildings, company executives focused on safety, cleanliness, and calming the nerves of an anxious workforce.
Even before stepping foot back into the office, new and returning workers could look at smart maps to familiarize themselves with the updated space layout and identify where bathrooms, hand wipes, and sanitizer stations were located. At an office where many people bike to work, it was even possible to book time slots for on-premises showers.
Using spatial simulation, the program designers could forecast the flow of people through hallways and offices and see how that might create crunch points or overcrowding. These insights were fed into GIS-based apps that gave employees turn-by-turn directions to navigate the office and avoid congestion. The technology also helped administrators understand how to situate desks to comply with social distancing measures.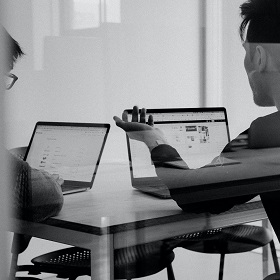 What does our office of the future look like? How much of our space should be collaboration spaces? Using a dataset like [the one] we're capturing gives us a huge amount of evidence to understand and scenario plan.
---
Digital lead
What a Spreadsheet Won't Show
When the facilities manager at the London office heard of the project, she immediately asked to enroll in the development process. The office she runs is massive, covering 20,000 square feet per floor across five floors, as well as basement and ground levels. Prior to implementing the GIS indoor technology in November 2020, she and her team had been using a spreadsheet to track who was coming into the office and which desks they were using. At first, it was 200 employees, then 300, and before long the number was creeping toward 400. "There was no way we could do that with a spreadsheet," she says.
The GIS indoor-mapping program integrated with the London office's hoteling system. It empowered employees to locate their own seats and made it easy for them to find colleagues by glancing at a smart map or searching by name. The facilities manager knew the accurate number and location of employees each day, which helped her locate enough fire marshals and first-aid responders on each floor.
Adding to workplace safety, the indoor program's ability to remember where employees sat throughout the day enabled a track-and-trace capability. If a COVID outbreak were to occur, the company could warn any employees who might have been exposed.
The hoteling system and indoor location intelligence also paved the way for solving broader operational issues occasioned by the office's size and complexity. The facilities manager linked the hoteling platform to an online learning course that educated employees on how to navigate the building safely; they could only book a desk once they had completed the course. The system also enforced a rule that a new floor would only open for booking when the floor below had reached 75 percent capacity. This encouraged the efficient use of cleaning and energy resources.
Hybrid Era Workplace Design
While indoor location intelligence brings efficiency to daily office operations, it also unveils insights of a higher order. The design firm's HR leaders found data in GIS that helped shape the hybrid work paradigm. For example, Thursday was the most popular day to be in the office, and junior workers booked desks more often than senior employees, most likely because they feared remote work would hurt their chances to grow. These findings could inform C-suite decisions about which days to make mandatory for in-office work, if any. (Some companies have begun insisting that executives work remotely a few days a week, along with the rest of the staff, to avoid in-office employees gaining an unfair advantage over remote workers.)
As a multidisciplinary company, the design firm had a vested interest in ensuring that different teams interacted. The indoor location intelligence program made it possible to book "neighborhoods" of desks in various configurations. Instead of marketing always sitting next to sales, they might rub shoulders with members of the IT team one week, or executive leadership the next. These reconfigurations could spark the kinds of ideas and innovations that the office of the future will be expected to produce.
Spatial usage patterns in the office, supplemented with data like employee surveys, could inform decisions unique to the hybrid era. Based on that data, a COO might choose to shutter a sprawling urban headquarters in favor of smaller, cheaper satellite locations in the suburbs. On a more granular level, spatial insights could push leaders to invest in cutting-edge solutions like virtual reality or augmented reality to unite a geographically fragmented staff.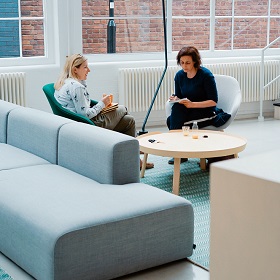 We want to know, how well are the 'market square' areas used? Have we got the right furniture in there? Are we supporting the business in the correct way?
---
Facilities manager
The Hidden Geography of Office Life
Unwritten spatial rules quietly shape much of office life: an alcove well suited to sharing gossip, an elevator where the CEO might be caught on the way to lunch, a staircase that makes it easy to slip away for an early exit. Indoor location intelligence helps uncover trends in office geography and turn them into better workplace design. If, for example, no one books desks in a certain section of a floor, managers might consider whether there's an issue with lighting or temperature control in the area. If groups of employees tend to work in the office on certain days, managers and HR executives can find better configurations for collaboration.
These are the kinds of workplace challenges business leaders will need to address, and indoor location intelligence can guide decisions on the future of work. "I think facilities management is going to become more of a crystal ball," predicts the engineering firm's London office manager. "You'll know what it is that people want before they know that they want it, because you've got the data and because you're seeing the trends and patterns."