redesign of the Site Editor
to make it easier for those with edit privileges to
create and build sites
and
pages
. We followed up with an easier way to start editing your site with a new edit icon, and we also released
enhancements to the text card
, making it easier for your team to quickly edit your sites and pages.  As we start off March, we'll continue to release feature enhancements that improve overall navigation within ArcGIS Hub, provide you with more options to customize and brand your site's header, and make it easier for you and others to find and explore your content.
Will my site be updated?
Yes. No matter what you call your site, be it an open data site, a data portal, or a hub site, your site was created using ArcGIS Hub (formerly ArcGIS Open Data) which means that it will be updated.
Here's what's included:
New global navigation bar and enhanced search functionality
More space and options to brand your site header
New edit mode icon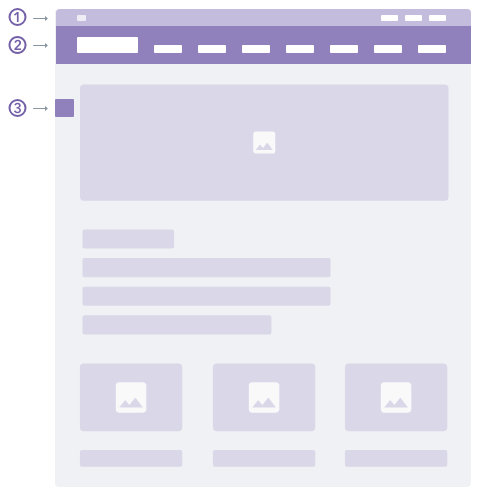 1. A new global navigation system
In March, we'll be replacing our existing navigation bar, which contains search, my data, and sign in, with a new global navigation system. You'll notice this element move to the top of your site where it will exist as a universal wayfinding point for others who are exploring your content.

With the new global navigation button, Initiatives, Events, Apps & Maps, Data, and Documents, are just two clicks away. Everyone, including admins, visitors, and collaborators, can click this button (the first option in the new navigation bar) to open the side navigation panel to begin exploring their ArcGIS Hub content.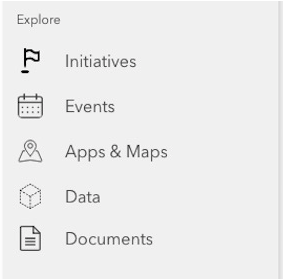 Search faster, find more
As part of your ArcGIS Hub's new universal navigation bar, your new search bar provides you and visitors to your site with a more robust search experience. Enhancements to our search capability, which will move out of beta on March 5th, make it easier to find content, including more content types, like sites, pages, and initiatives types. With a redesigned autosuggest that shows your recent history and suggested topics, you can find what you're looking for faster. The search results page itself has also been redesigned with a cleaner layout for facets and search results, highlighting important topics relevant to your ArcGIS Hub.

2. Brand your site with your new header

We'll begin releasing enhancements in March to the headers on published hub sites by moving sign in, search, and My Data from your existing header to get out of your way and give you more space to brand yourself with the following new options:
If you are using our standard header option today, we will automatically convert you to our new standard header layout with your logo and/or name, where you can then add links or social media if you choose. You can also change the colors for the header background and header text.
If you are using a custom header, we will automatically keep this header, but it will now be 1 of 3 options (Standard, Prominent, and Custom HTML/CSS). You can view the other two options by toggling them and this will not delete the code saved with your custom header.
3. Editing made easier
Need to make edits? We recently added a new edit icon to the far left of your site for those who have edit privileges, eliminating the need for you to navigate within the app to begin editing a site. Just pull up your site, ensure that you're signed in, and click the edit pencil to launch directly into edit mode.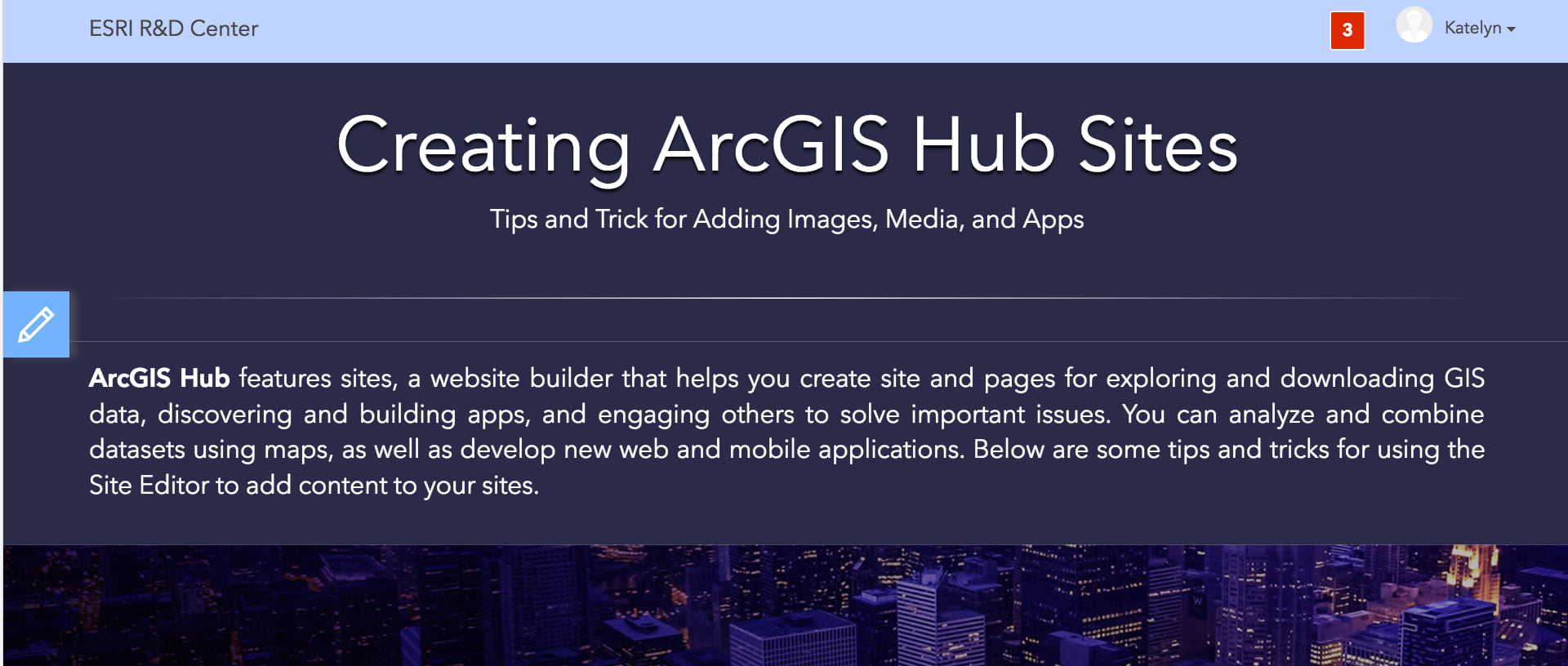 If you have privileges to create or edit your organization's sites, you may have already noticed your Site Editor's new Customize side panel and edit mode navigation. We've added these enhancements to make it easier for you to not only access content related to your site, but to also help you get around your ArcGIS Hub.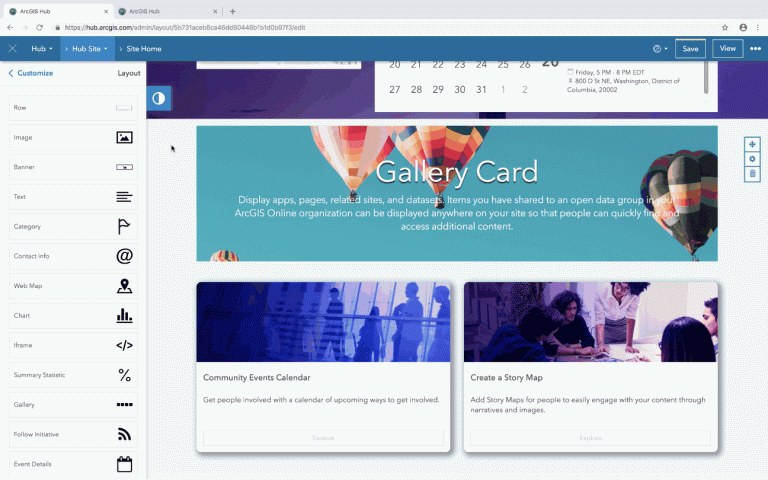 As feature enhancements get released, you can check them out by signing in to ArcGIS Hub and viewing your existing sites and initiative sites. Want to test things out? With ArcGIS Hub, you can create as many sites as you want, so feel free to save a site internally just to check things out. We'll continue to keep you updated on feature release dates as they get closer with updates on Twitter, GeoNet, and the ArcGIS Blog. 
New to ArcGIS Hub?
From apps and surveys to web maps and dashboards, ArcGIS Hub supports organizations in organizing and sharing web GIS content related to initiatives, projects, activities, and goals. This content can be shared on sites and pages that are accessible internally or publicly, providing you with the space to connect your team and community with the information they need to stay in the know. With ArcGIS Hub premium features, share surveys and events to invite others to join the conversation as members within your ArcGIS Hub community, and work with teams of collaborators to create and maintain your ArcGIS Hub sites and content.
Organizations who have a subscription to ArcGIS Online already have access to ArcGIS Hub basic. Get started with these steps:
Enable open data for your organization.
Organize the data and apps you want to share on your site in a group in your ArcGIS Online organization. Make sure to check the box Allow this group to be accessed in Open Data sites in order for your group to be shared on a site. For more information on creating and managing groups, read the Create groups ArcGIS Online documentation.
Access ArcGIS Hub by selecting the app switcher next to your user profile. You can also sign in to ArcGIS Hub at hub.arcgis.com 
Start by creating your a site. More information on adding data, designing your site's layout, and sharing, can be found in our documentation.
For more information, check out our FAQs and take the Hub Readiness Assessment to learn more about how ArcGIS Hub can support your goals. Follow us on Twitter for updates, and reach out to us on GeoNet with any questions.
We'd love to hear from you
Whether you're just getting started with ArcGIS Hub or already use it to create sites or manage initiatives and events, please take this brief survey.
We began with a 
Commenting is not enabled for this article.