The 2020 Esri User Conference is just around the corner and the ArcGIS Hub​ team is excited to meet you there. We will be hosting a variety of sessions, as well as open hours in the Esri UC Expo where you can meet with us to get all your questions answered. Below you will find a list of recommended ArcGIS Hub focused live and on-demand technical sessions, as well as a selection of on-demand industry, special interest group, and user presentations that will also feature ArcGIS Hub.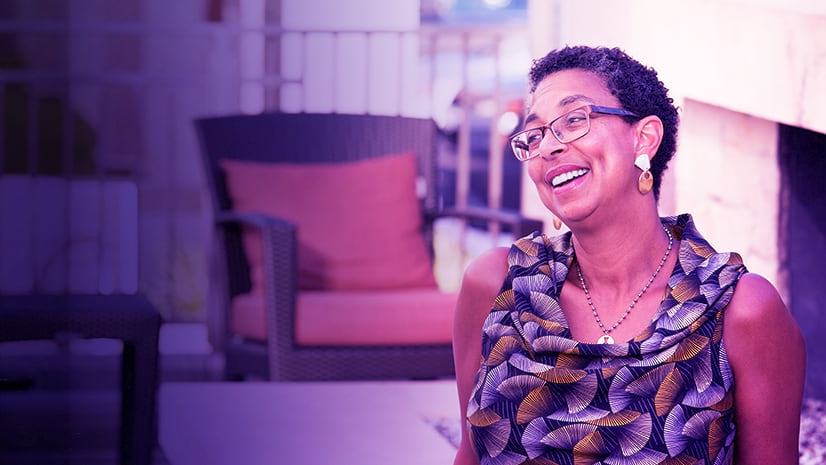 ArcGIS Hub focused tech sessions with live Q&A
ArcGIS Hub: Collaborating and Engaging with Your Community
Tuesday, July 14, 2:50 pm to 3:50 pm PDT
ArcGIS Hub is a cloud-based engagement platform that helps organizations work more effectively with their communities. In this session, you will see Hub workflows for coordinating and engaging with external agencies, volunteers, NGOs, and residents to tackle issues and projects in your community. The use of ArcGIS Hub sites, initiatives, teams, community identities, and feedback tools will be illustrated.
ArcGIS Enterprise: Designing Sites and Pages
Tuesday, July 14, 7:30 am to 8:30 am PDT
Using ArcGIS Enterprise Sites you can create a tailored experience via websites and pages that supports easy discovery of maps, apps, and other content in ArcGIS. This session will provide an overview of Sites, design tips and tricks, as well as steps to build intuitive web pages that reflect your organization's branding and support users of all experience levels.
An ArcGIS Hub focused Special Interest Group (SIG) meeting
Law Enforcement SIG- Building Trust Through Transparency and Inclusive Engagement using ArcGIS Hub
Thursday, July 16, 1:00 pm to 2:00 pm PDT
GIS helps bring police agencies, and the communities they serve, together to better understand, communicate, and engage on long standing community-wide issues. It also provides a way for agencies to improve trust within the community by providing greater transparency on activities, data collected, and how police-community initiatives are designed and performing. In this session the Esri law enforcement team will discuss ways your agency can use ArcGIS Hub, a community engagement platform that provides a variety of tools for sharing data, increasing accountability, connecting with residents, and supporting inclusive engagement initiatives that can build trust within the community.
Expanding Our Historical Narrative Implementing Hub Premium Community Platform
This presentation highlights the work of One Shared Story, a small minority-led nonprofit organization, which is using GIS to raise awareness of hidden histories and make them more accessible. URISA's GIS Corps provided guidance for implementing a Hub Premium subscription to support and engage partners. Configurable Hub Initiatives provide a platform for small organizations (with limited technology/web resources) to become powerful collaborators and build community.
Best Practices for Communicating to the Public During a Disaster: Hub and Enterprise Sites
Recently there have been a large number of Hubs and apps created to share information related to COVID-19 and other disasters.  During this session, we will discuss strategies, best practices, and lessons learned to design and deliver information using Hub and Enterprise Sites.  We will cover several different ways that Hub can be used like Open Data sites, public information sites, collaborating with the community, and initiatives.
Current Trends in Environmental and Natural Resources Agencies
GIS technology continues to advance at an exponential rate, making it challenging for agencies to take advantage of the latest developments. In order to overcome this challenge, agencies must understand how common workflows are being addressed across various environmental organization types, as well as new technical solutions created to address these needs. Join us to learn about these emerging tools for workflow components like field inspections, sensor and operational data monitoring, performance management, basic to advanced analytics and constituent engagement patterns, as well as to gain a more comprehensive understanding of technology implementation for your market. Whether you are dealing with permitting, environmental impact analysis or civic engagement, Esri has new solutions and templates to help your organization continue performing at its best.
Development of an ArcGIS Hub for the Florida Geographic Information Office
The Florida Geographic Information Office (FGIO) works to support the State's efforts to improve the quality of Geographic Information Systems (GIS) through coordination and collaboration with the larger GIS community. This presentation explores the utilization of ArcGIS Hub to develop a web space for disseminating statewide geospatial information and open data. An overview of the development process, lessons learned along the way, and the impact on the state GIS community will be discussed.
Web GIS for Parks and Conservation: Hub Sites, APIs, and TNStateParks.com
Tennessee State Parks utilizes ArcGIS Hub Basic to fulfill multiple internal and public facing business needs. Public Hub Sites are near-seamlessly integrated with TNStateParks.com through custom CSS and brand standards. Up-to-date GIS data concerning park boundaries, facilities, and resources are served to the cloud via scheduled Python scripts and ArcGIS Pro. These data feed Web Maps on TNStateParks.com and the TN State Parks mobile app via the ArcGIS API for JavaScript.
Building Maternal Health Communities of Practice with ArcGIS Hub
While maternal and child health has improved dramatically worldwide, childbirth remains a dangerous endeavor for many. Direct Relief implemented ArcGIS Hub and support communities of practice working in maternal and child health. These hubs, focused on issues of midwifery, safe delivery and obstetric fistula surgery,provide opportunities for maternal and child healthcare providers to engage, access open data and improve health outcomes through targeted services and enhanced policy advocacy.
Implement Next-Generation SDI with ArcGIS
Spatial Data Infrastructures (SDIs) are rapidly evolving. Together, the internet and cloud computing are transforming the way organizations manage data and collaborate. Web GIS is significantly easier to use, deploy, and integrate into an SDI ecosystem than traditional systems. Whatever you call your SDI, in this session you will learn how to leverage the ArcGIS platform to create new value for your SDI. Use ArcGIS Online and ArcGIS Hub with Open Data to set up a standards-compliant multi-organizational data sharing portal that will delight your partners and end-users.
Broward County Data Sharing
Broward County has a legacy GIS data sharing site that does not reference the sde database. This data must be maintained regularly. This creates an overhead that a streamlined GIS staff finds challenging to manage. The Open Data capability of ArcGIS Hub Level I is being utilized to manage and update GIS data sharing.
Transform Assessment, Property Tax and Land Records Operations
ArcGIS is the infrastructure to modernize the assessor's office. ArcGIS for Assessment, Property Tax, and Land Records is a configurable solution that delivers purpose-built parcel management technology with defined workflows for more efficiency and new spatial analysis capabilities for improved valuations and visualization. A new ArcGIS Hub configuration specifically for assessors delivers open data, web maps and services directly to citizens and taxpayers, simplifying your workload. Leverage the full value of your GIS investment, understand the status of work in your office, better manage data, work more efficiently and improve customer service with ArcGIS for Assessment, Property Tax, and Land Records.
The Modern Regional Government: The Rise of Collaborative Hubs
Regional government is only as strong as its participation and input from member agencies and stakeholders. Regional governments are modernizing their approach to create and share data, analyze development, improve communication, and provide information products through ArcGIS Hub initiatives. This session will present emerging patterns to take your organization through a digital transformation by exploring the GIS tools to consider, best practices, and lessons learned from early adopters who have embraced the Esri Method. Topics to be covered include Creating a regional GIS strategy; Identifying Esri platform tools that will enable success; Staging a technology roll out; and Gaining buy-in from member agencies.
Scaling Your Data Collection with Adventure Scientists
Join Ricky Jones of Adventure Scientists to learn about how they equip their partners with the tools they need to scale data collection efforts using Esri's Hub platform. From combating illegal timber harvest to rafting stretches of class 5 wild and scenic rivers, Adventure Scientists can help researchers accomplish their data collection needs to solve environmental and human health challenges.
Rebuilding Puerto Rico's Health Infrastructure after Hurricane Maria Using GIS
Over two years after Hurricane Maria devastated Puerto Rico, Direct Relief, a nonprofit humanitarian aid and disaster response organization, remains highly involved in rebuilding the health system across the island. ArcGIS Online and ArcGIS Hub have been instrumental in the monitoring and evaluation of over a hundred Direct Relief funded projects in Puerto Rico, allowing us to analyze program impact and share information easily with healthcare providers, donors, patients and communities.
Connecting Californians to Food Resources During COVID-19
As governments and community organizations mobilized to respond to COVID-19's impact on access to fresh and healthy food for families, it became apparent that a centralized hub of resources for Angelenos was necessary. My office created and released maps detailing the locations of Food Pantries and Grab & Go food distribution sites run by Los Angeles Unified School District. The response was immediate, and it was clear that the need was not limited to just our city.   We expanded our scope and less than a month later, released a suite of additional maps, including a map of grocery stores offering special hours for seniors and immunocompromised residents to shop for groceries through L.A. County and updated our Food Pantry map to include the entire state of California.
Renville County Leading the Way with Parcel Management and ArcGIS Pro
Renville County achieved extraordinary milestones in its land records modernization strategy by leveraging new Esri technology. As part of an enterprise GIS deployment, the existing parcel fabric was migrated into the new Parcel Fabric in ArcGIS Pro. Hub was rolled out to connect citizens with critical business information and GIS solutions. Embracing the ArcGIS Platform has enabled Renville County to support its citizens and county staff, and embody what it means to be a smart county.
Awards and Innovation: The Roswell, GA Story
The City of Roswell, GA's three-year success, from isolated pockets of GIS use to being awarded URISA's Exemplary Systems in Government award, can be attributed to a purposeful GIS implementation guided by key performance indicators (KPIs) and a systematic plan. This presentation will focus on the City's rapid GIS ascension, and special attention will be given to a few showcase projects, including ArcGIS Hub, 3D Historic District leveraging Spike by ikeGPS, and Parks and Recreation solutions.
Enabling Digital Collaboration for Engineers (AEC Project Delivery and Hub Story)
AEC firms need to provide affordable and intuitive project deliverables that can be accessed by all stakeholders anytime, anywhere, and on any device. The ArcGIS platform enables complex data collaboration, improves project review by simplifying access to project data, and provide real time information on demand. In this session, you will learn how to streamline your project collaboration, protect your customer data and enable innovative ways to deliver better project outcomes.
Other Esri User Conference activities you won't want to miss
Be sure to register for the event (it's free, and it's virtual, so there's really no excuse not to join us from the comfort of your own home this year). Don't forget to tune into the plenary and visit the expo too! Other highlights not listed above include:
Esri UC Plenary Session Part 1 | Interconnecting Our World
Esri UC Plenary Session Part 2 | Interconnecting Our World: ArcGIS Technology & Applications
Esri UC Plenary Session Part 3 | Interconnecting Our World: Making Geographic Knowledge Pervasive
Esri UC activities by products and capabilities
Esri UC activities by industry
Special Interest Group (SIG) Meetings
For a full list of this year's User Conference technical workshops, click here. Remember all times listed are PDT.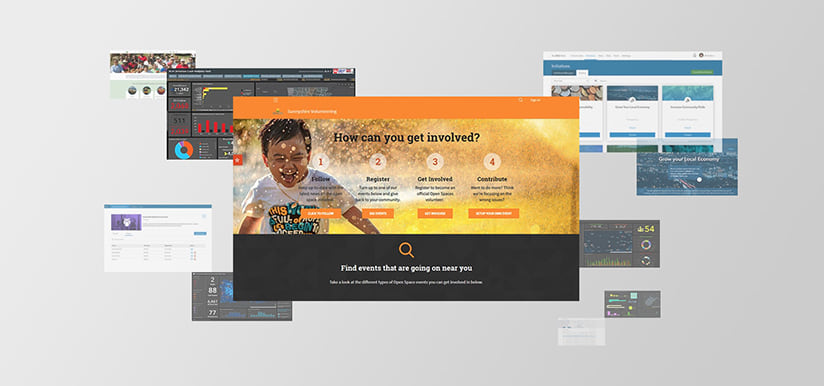 Hungry for more ArcGIS Hub content and learning?
Virtual Expo
During the conference you'll be able to connect directly with our team in chat and one-on-on meetings. Visit the Esri Virtual Expo page and search for the ArcGIS Hub showcase where we'll be standing by to talk with you, answer your questions, and listen to your feedback.
The hours of the expo are as follows (PDT):
Monday, July 13th               12:15 pm – 4:00 pm
Tuesday, July 14th               7:30 am – 9:40 am
Tuesday, July 14th               11:10 am – 3:50 pm
Wednesday, July 15th         7:30 am – 9:40 am
Wednesday, July 15th         11:10 am – 3:50 pm
We'll see you soon!
Connecting with you is our favorite thing to do each year and we look forward to seeing you at our virtual event!
P.S. If you're a person who prefers having a printed guide that you can cross off as you attend sessions, we have one of those for you too.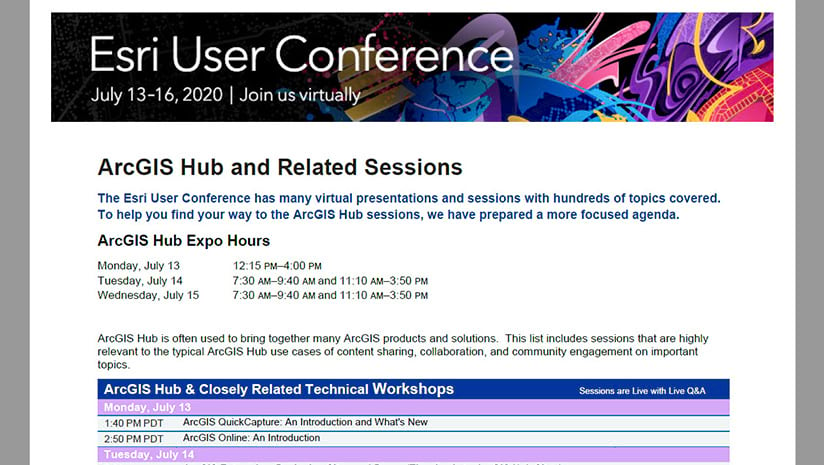 P.P.S. Don't forget to sign up for the Esri UC Virtual Run/Walk 2020. We can't run together in San Diego this year, so we are turning the run into a virtual mapping adventure! Run anywhere, any distance, anytime during the Esri UC. Every step you take helps to contribute to your individual and our community goals.
Did you know? ArcGIS Hub was used to create the Esri UC Virtual Run/Walk 2020 website. We're also using the capability included with ArcGIS Hub Premium that allows anyone to capture data using the ArcGIS QuickCapture mobile app without needing an ArcGIS account.
We are trying to run around the world together. Will you help us reach our goal? Sign up to run with us!