When is the last time you heard about local happenings in your community? Maybe you saw a poster at a bus station, heard about an event from a neighbor, or saw a post on one of your social media threads. With ArcGIS Hub, community organizers, local officials, and non-profits can deliver these messages right to your inbox. All you have to do is click Follow on an initiative site to subscribe for updates.
We've recently released new messaging capabilities which enable teams to send emails to anyone who has signed up to receive updates related to a project, goal, or event. This release includes the following enhancements:
A re-designed list view of everyone who clicked on a configured Follow Initiative card on an initiative site. Administrators and core team members can access this list by opening their initiative in edit mode, and clicking Community in the initiative dropdown menu.
A rich-text editor for sending emails to individual followers or everyone on the list. Any member of the initiative core team can send these emails updates.
Let's take a closer look at how you can create your own call-to-action.
First, start an initiative
When an organization, like a local non-profit, government, or school, wants to share a project with their community, they can start an initiative to create a site and to organize content like web maps, apps, datasets, and more
. They can even invite community members to help out so they can create and share their own maps and story maps. ArcGIS Hub premium customers can start their own initiatives by following these steps. 
By default, each initiative has a site so you that you and your team have a place to display content, share your message, and create calls-to-action. Your initiative site is shared privately (with its Core Team members) so you can work on your site until you're ready to share with the public.
Don't worry if you don't have all your content, yet. You might think your initiative site would look better with apps and a web map, but you don't need anything to get started except for a name for your initiative. When you're ready to design your site's layout, take a look at your initiative site in edit mode. Our site editor features a selection of drag-and-drop cards so you can design your site's layout without needing to know HTML.
Next, create a call-to-action
A call-to-action is a button that people click on an initiative site.
If the person has an account (either a member of the hub's employee organization or a community member), they will
be prompted
to sign in, if they haven't already
.
Doing so adds the person's contact information (name and email associated with their account) to the initiative's followers group
.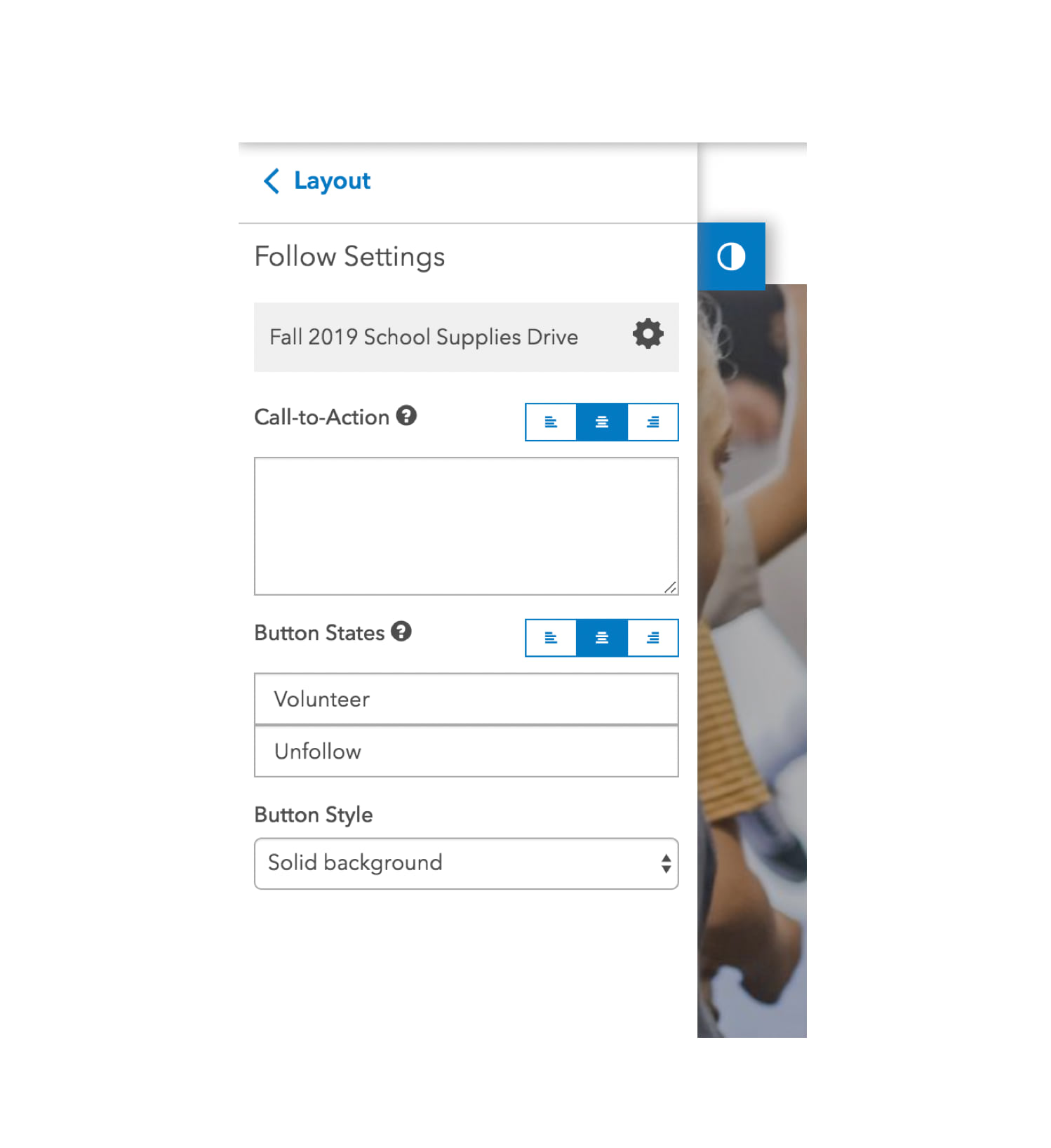 When configuring a call-to-action for your initiative, consider what kind of messages you plan on sending to your followers. Maybe you want to send monthly emails with status updates. You might also want to follow-up from a meeting with a survey. You can also reach out to individual followers to coordinate data contributions, answer questions, etc. Whatever it is you plan on sharing, the Follow Initiative card lets you configure your call-to-action with your own phrasing (i.e. Learn More, Sign Up, Volunteer, Tell Us More, Get Involved).
To create one for your initiative, follow these steps. Be sure to sure to share your initiative with the public when you're done!
Then, send your first message
When you're ready to send a message, open your initiative, click the initiative dropdown menu, and choose Community to a view a list of followers.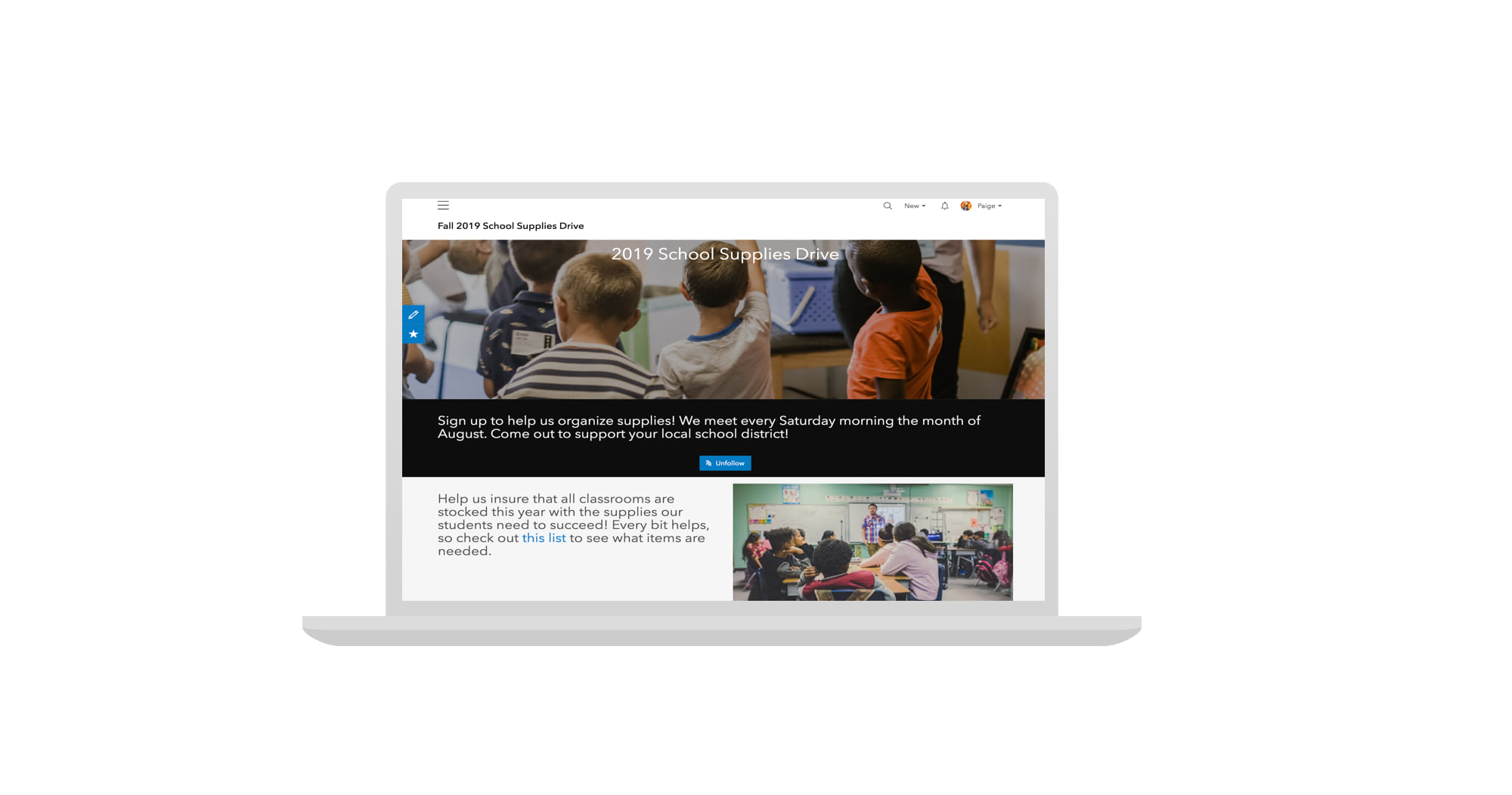 Next, compose your email with whatever message you want to share.
Welcome people who've recently joined by saying hi to the people at the top of your list filtered by Date Joined.
Add a link to a survey to request feedback or to get more information. For example, an initiative to encourage school supply donations could include a survey to find out more about when people are interested about volunteering.
Include a follow-up to a survey to let people know how their input impacted the initiative. Don't forget about the summary statistic card, too. This is a quick way to share key metrics about your initiative right on your site.
Send monthly updates to keep people in-the-know on an initiative's status.
And, don't forget the subject line! Subject lines are best when they're short, sweet, and to the point.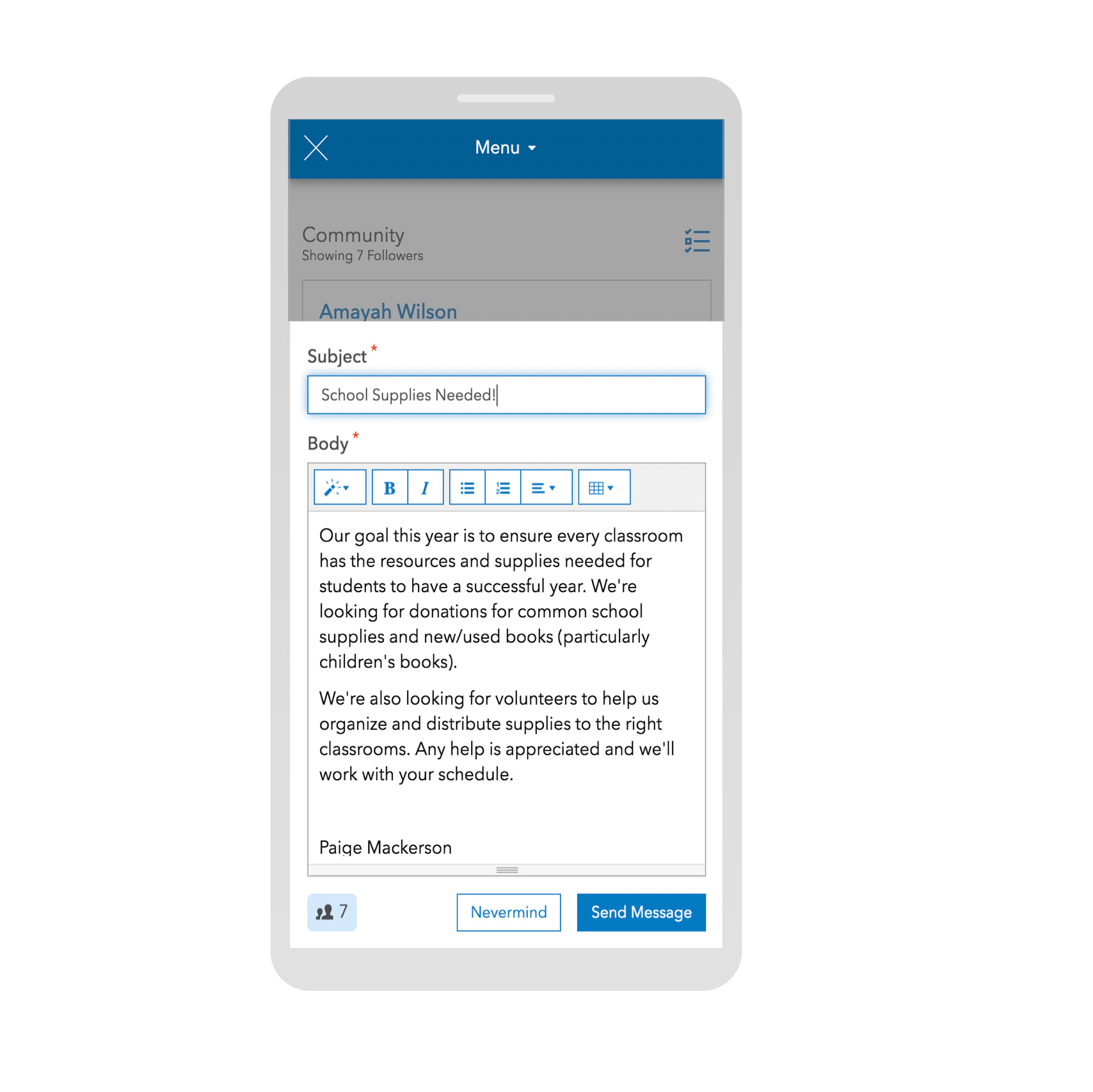 Next steps
Get your initiative out there. Share the link for your initiative site on social media. Know someone who might be interested in your initiative? Invite them to join your ArcGIS Hub Community and give your initiative a follow.
If you're new to ArcGIS Hub, try ArcGIS Hub basic to get started with sites. Premium features, including messaging, events management, and initiatives templates require additional licensing.
For product updates and tips and tricks, sign up for our e-newsletter. We're also looking for feedback. Join the Hub User Lab to tell us what you think and to learn more about what's coming!