ArcGIS Hub
is a cloud-based engagement platform that lets organizations work more effectively with their communities. Together, organizations and stakeholders can create informative and engaging digital content around any project, plan, event, or goal. Here are some examples of how you can use ArcGIS Hub:
A way to create websites.
A tool for kick starting a project by bundling the resources and content you need.
A solution for making your content discoverable to internal and public audiences.
A place to collaborate with the right people, including colleagues and stakeholders.
An engagement platform for connecting with your community.
Our team releases weekly to provide you with new ways to share content and connect with the right audience. Here's a roundup of the enhancements we've made to close out the year.
Look for ArcGIS Hub in your app switcher
In case you missed it, ArcGIS Hub no longer requires an administrator to enable open data for your organization. This means that any ArcGIS Online member who has a Creator user type and has a Publisher role can quickly get started with ArcGIS Hub basic.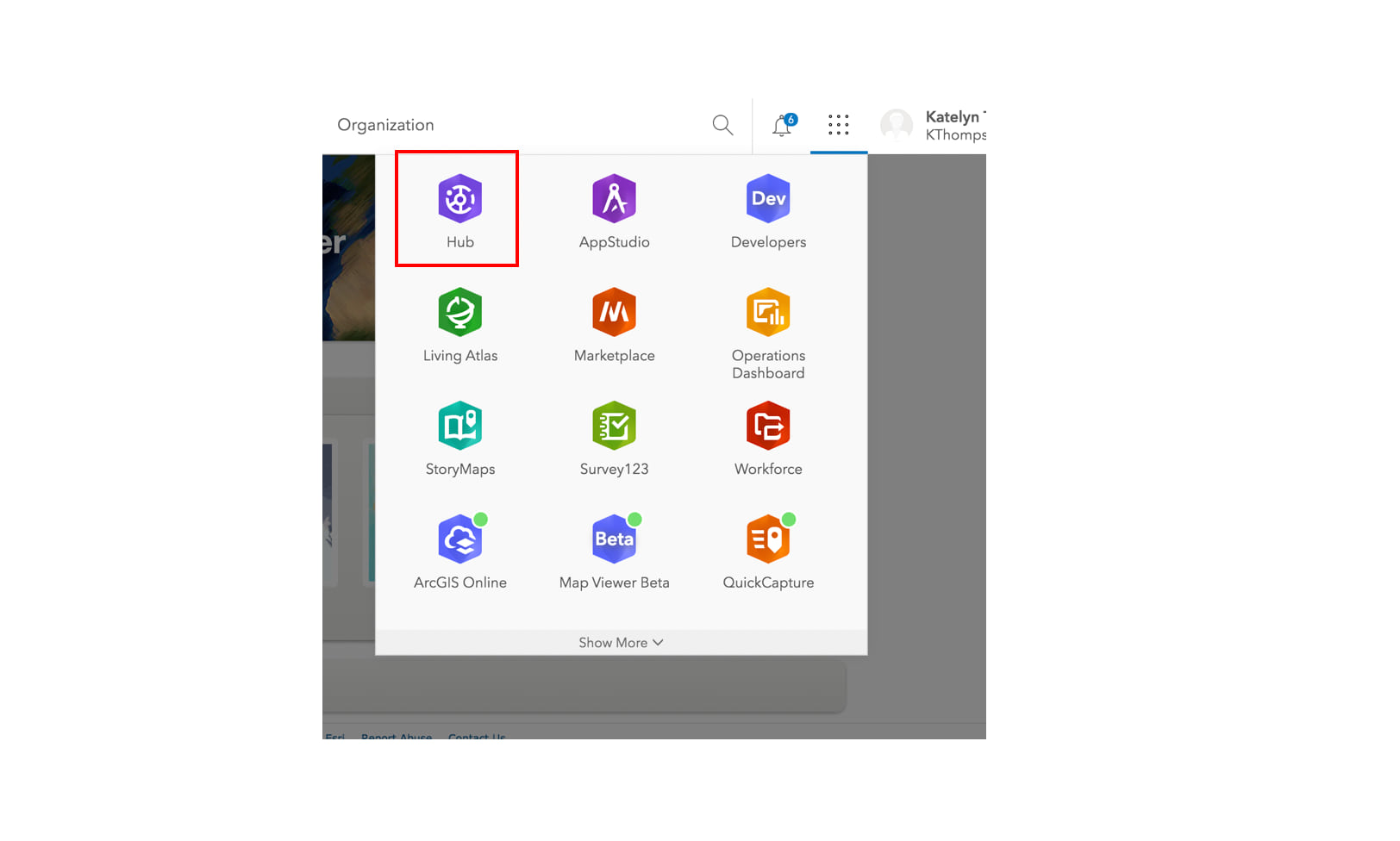 Here's how:
Sign in to your ArcGIS Online account.
Click the app switcher next to your user profile.
Choose ArcGIS Hub.
For more information, see Making hub even easier to use.
One place to manage your hub
ArcGIS Hub premium includes an additional ArcGIS Online organization for managing community content and accounts. To make management easier, administrators now have a central place to configure settings for both of their organizations.
We started with new ways to configure your Hub's sign-in experience. Whether you're a member of the public who's
been invited
to join a core team or you're signing up to attend an event, you'll need a community account.
That's why we've made it easier for administrators to configure their Hub's sign in experience.
Got questions?

Sign in can now include a community support contact so that you have someone to go to if you have questions.

Trusted branding.

Know that you're signing in to the right place by looking for an organization's trusted logo on your sign in experience

.
Administrators can also configure the following to meet their organization's specifications:
Know who you want to collaborate with?

Collaborate with specific stakeholders by disabling social and email logins for community members. Then, invite only the people with whom you want to collaborate with to join your team. 

Add custom terms and conditions.

New community members can see terms and conditions when creating a new community account

.
We'll continue to release enhancements to Hub Settings in the coming months, including a new layout that makes it easier to identify what settings are needed for specific workflows.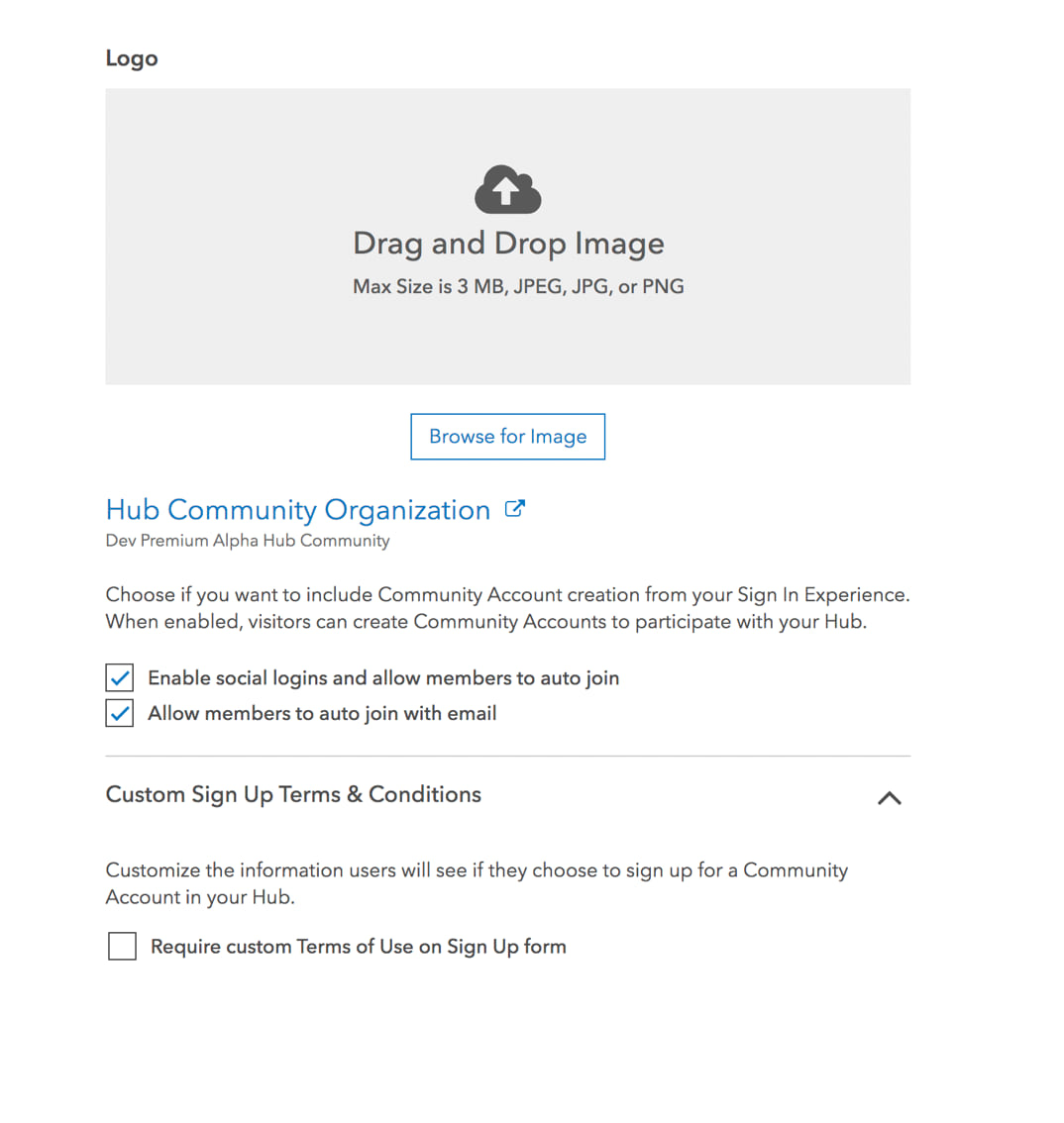 Followers and events
Every initiative can have followers. A follower is anyone who wants to stay up to date on the status of your initiative, whether it's a plan, project, or goal. Now, members of your initiative's core team can quickly send email updates to people who want to stay in the know. For more information, see How to connect with your community using ArcGIS Hub.
Additionally, any community member who belongs to an initiative's core team can now quickly share upcoming events sponsored by the community or outside organizations. This new capability makes it easier for teams to work with students, volunteers, non-profits, and other organizations to keep their initiative updated with the most recent and relevant events.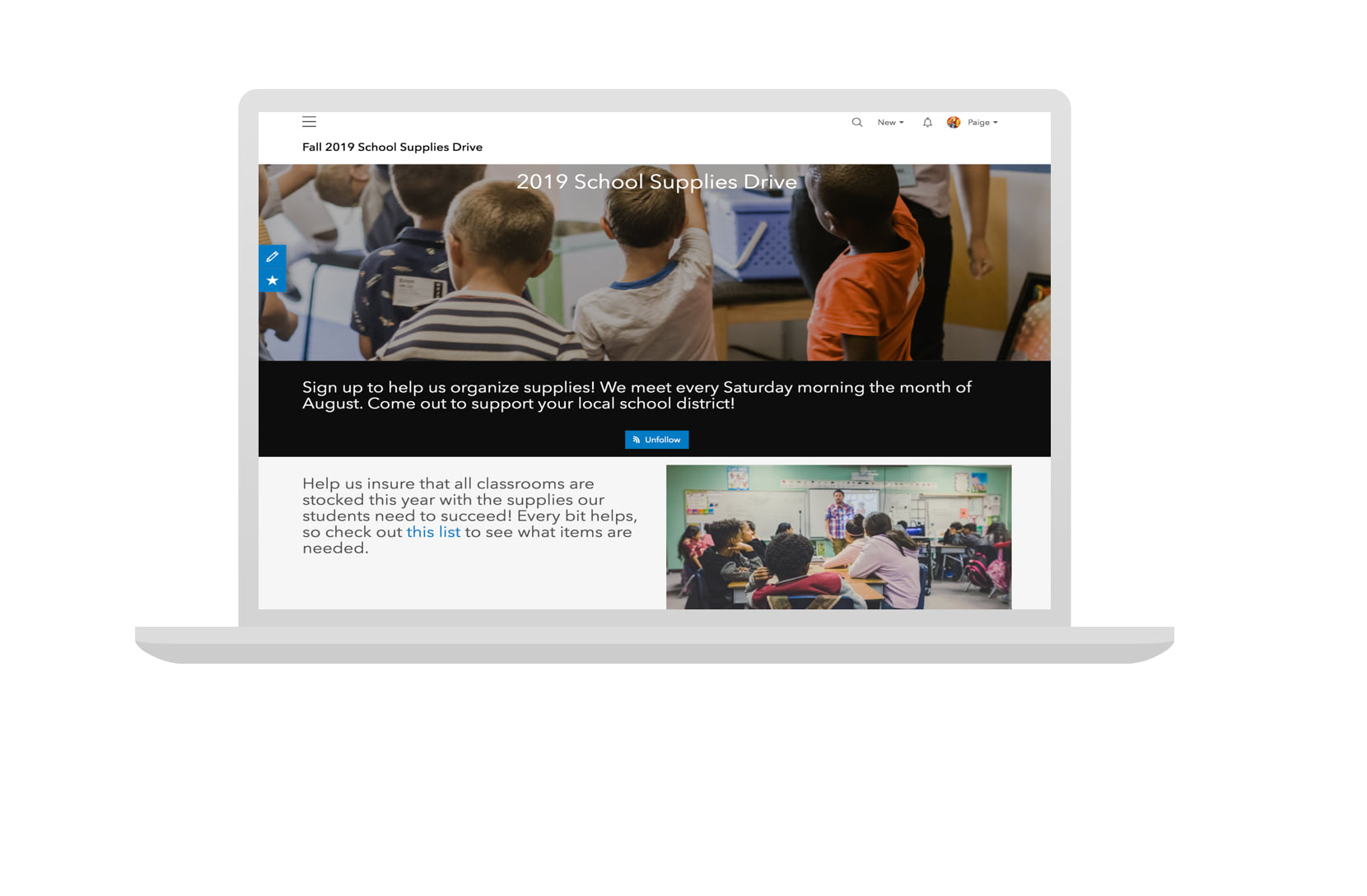 Support for 3D maps
A good map can speak to anyone, making it a great tool for sharing complex spatial analysis with any audience.
Now, with support for 3D maps, you can quickly visualize impacts on new planning projects in ways that 2D maps can't. This new capability is a product of our recent switch to version 4 of the ArcGIS Javascript. To learn more about how this switch improves your ability to create and share maps with ArcGIS Hub, see 3D web scenes, vector tile basemaps, and more coming to ArcGIS Hub.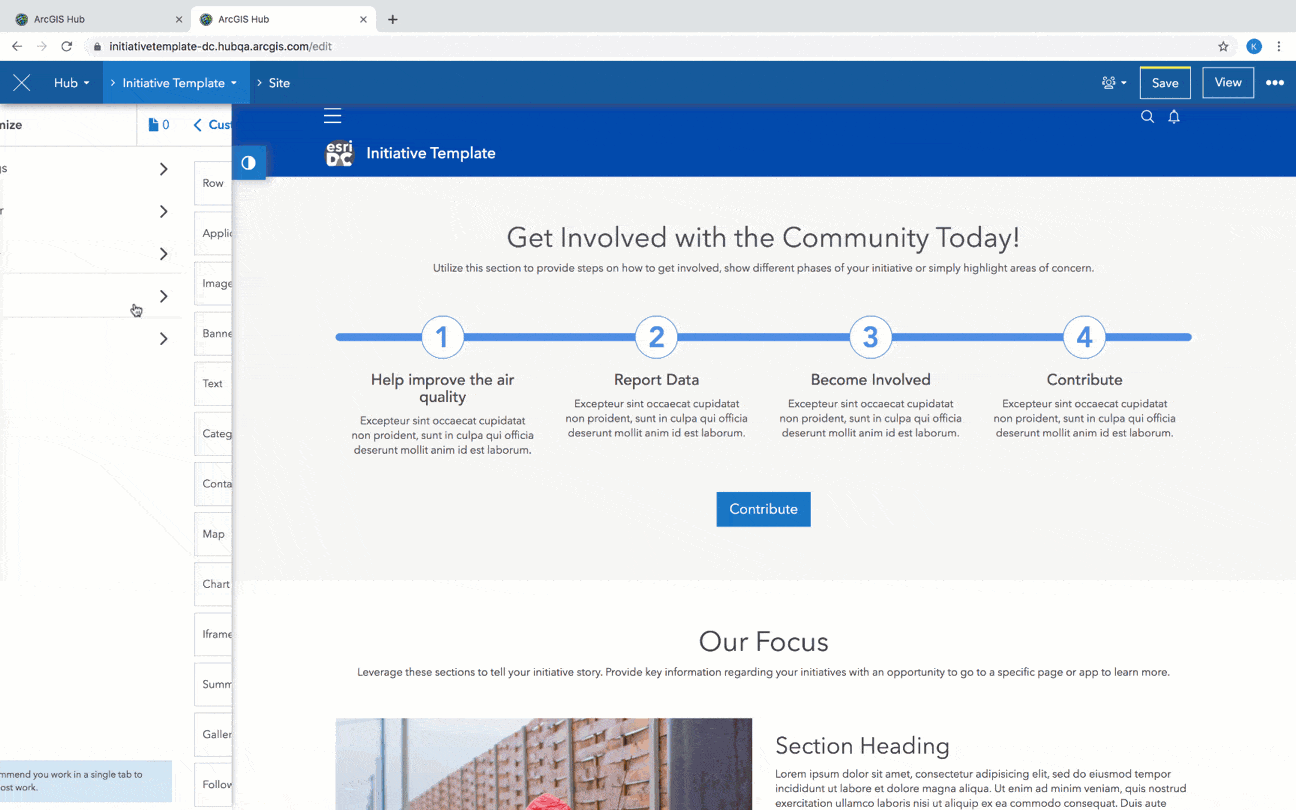 New ways to share and discover content
In the past year, we've released a series of enhancements to our search algorithms, improving how you, your teams, and the public search for and discover content.
In March, we officially rolled out a new search experience which features support for more content types (initiatives, sites, apps, data, and documents) and private data, a smart search bar, and faster, more reliable indexing.
Since then, we've rolled out a series of enhancements including:
Unified search– any content, private and public, all in one search.
Filters– build your search to find exactly what you're looking for using filters.
Categories– categories are way for you to manage content more easily. We now support them in our search so that more content is discoverable.
Looking to try it out? Head over to hub.arcgis.com and enter a search for something in your community. Or, create your first site or initiative to start sharing your own content.
Additionally, core team members no longer have to worry about adding items to their site's or initiative's groups in ArcGIS Online. Instead, they can select items right within ArcGIS Hub to share them to a site or initiative.
What's coming
As we close out the year and look forward to 2020, we'd like to give you a sneak peek into what's coming.
Survey integration
Soon, you'll be able to create and share surveys within ArcGIS Hub, providing you with an easier way to gain feedback from people across your organization and within your community. Every site or initiative will have a central place (called Feedback), for viewing all surveys shared to that site or initiative. We'll also automatically share your site's theme to the survey to give you a head start on customization. Additional enhancements, including the ability to send surveys to people and easily embed survey results on your sites, will follow.
Support for multiple teams
Every initiative includes a core team so that you can collaborate with colleagues and stakeholders. Now, with supporting teams, you can add teams to your initiative to share content with a specific audience. For example, a core team member can create a survey using Survey 123. By default, this new survey (item) is shared with other members of the core team. However, you want to share the survey only with specific stakeholders. So, you create a new supporting team for that specific audience. Then, you can add a menu link on your initiative site that links to the survey for supporting team members only.
Create WebMaps in Hub
In the new year, people will also be able to create Hub maps and save them to their user profile using a light-weight version of the new map viewer (beta). Stay tuned for more updates on this exciting feature!
Easy content upload
With new ways to upload content, adding new web maps, datasets, and documents will be as simple as pasting a link. You'll also be able to create new content within ArcGIS Hub, making it easier for you to add content right in one place.
Tell us what you think!
For more updates like this one, sign up for our monthly e-newsletter.
Questions or feedback? Connect with us on Geonet. If you'd like to have a hand in future ArcGIS Hub developments, join our User Lab to provide insight and get sneak peeks on what's coming.
Commenting is not enabled for this article.