Here's what's new in the latest ArcGIS release—in mapping, visualization, analytics, and more.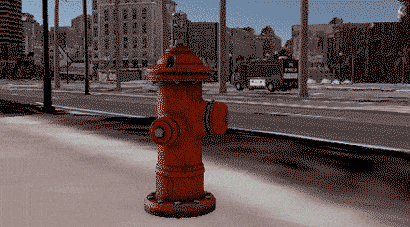 ArcGIS Pro
Do more with ArcGIS Pro 2.4. The latest release of ArcGIS Pro features enhancements to visualize your 2D and 3D spatial data, edit and analyze data, and connect across the entire ArcGIS platform. Display large point features in aggregate using dynamic feature binning. Enhance the realism of your 3D views with new 3D models, water symbolization, and lighting effects. Export models created in ModelBuilder to Python. Upgrade, import, and edit parcel data. And so much more.
See what's new in ArcGIS Pro 2.4.
ArcGIS for Aviation
The latest release contains updates to:
• Analyze LAS Runway Obstacles to produce lidar output for visualization and sharing.
• Generate OIS Obstacle Data and Terrain and Obstacle Profile element tools for obstacle labelling and curved approach depiction.
New tools have also been added, namely:
• Create Aviation Communication, Navigational, and Surveillance surfaces to generate protection surfaces around navigation equipment.
• Analyze Airport Features to analyze specified point features around airfield and report distance, direction and designation of nearest runway.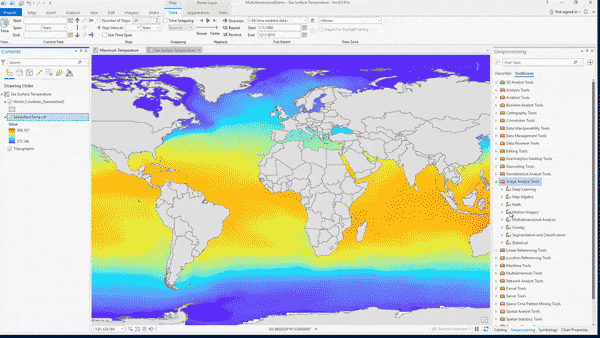 ArcGIS Image Analyst
The ArcGIS Image Analyst extension has been augmented with several enhancements and features. Working with multidimensional datasets is now easier in this release with the addition of a new set of tools and capabilities to aggregate data over time and calculate anomalies across multiple variables and dimensions. The raster object has new multidimensional capabilities, supported by several new ArcPy functions. More raster analysis capabilities are available through raster functions. Based on customer demand, we introduce the Pixel Editor. Users can now interactively manipulate pixel values for raster and imagery data. Pixel Editor allows you to edit an individual pixel or groups of pixels at once. Editing operations include editing of elevation datasets and multispectral imagery, redaction and noise removal, and reclassification of categorical data.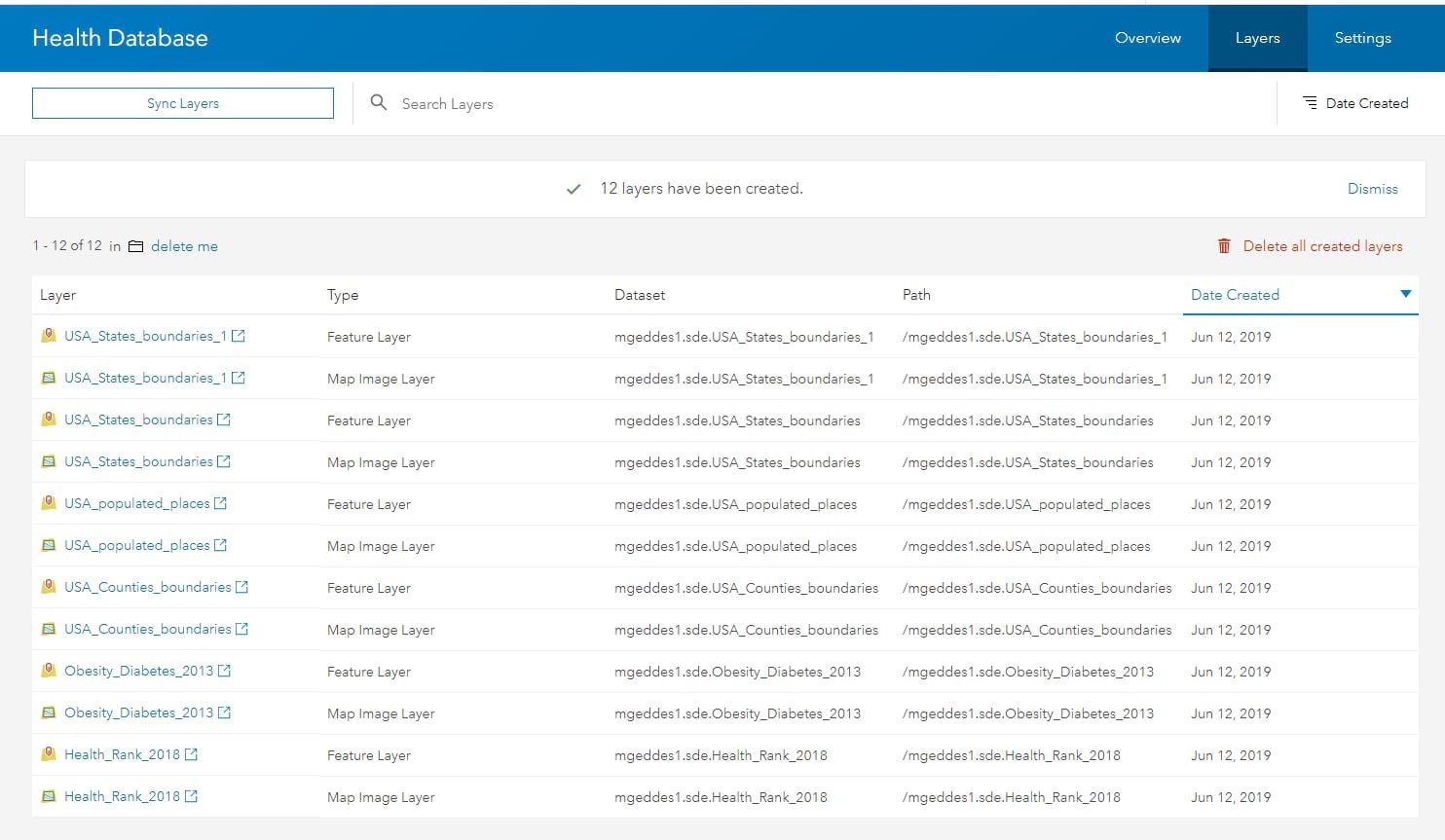 ArcGIS Enterprise
ArcGIS Enterprise 10.7.1, that builds on the comprehensive 10.7 release earlier this year and is the next long-term support release of ArcGIS Enterprise, features several new functionalities in sharing and collaboration, administration, working with data, and more. Here are a few highlights.
Fine-grained administrative privileges
New location and collaboration filters
New ways to register and publish data from user-managed data sources
Bulk publishing directly within the portal
Editing and sharing parcel data in multi-user environments
See what else is new in ArcGIS Enterprise.
ArcGIS Image Server
ArcGIS Image Server has several enhancements and features, including new on-premise image hosting capabilities, web-based image processing user experiences, and enhancements to deep learning capabilities when run in an enterprise environment.
A new user experience is available in portal, that simplifies the publishing of imagery from both local and cloud storage systems. Now anyone in your organization can publish imagery through the portal map viewer.
Easily author, edit and share raster function templates in a web browser. The familiar raster function editor user experience from ArcGIS Pro is now available in the web map viewer.
Significantly speed up your deep learning tasks by using all GPUs available on federated image servers.
ArcGIS GeoEvent Server
ArcGIS GeoEvent Server introduces new improvements at ArcGIS Enterprise 10.7.1, including stability enhancements and improved functionality throughout the product. Key highlights include:
New documentation for each of the available input connectors and output connectors.
Additional updates to the embedded help for processors and connectors in GeoEvent Manager.
Updates to GeoEvent Server SDK libraries.
ArcGIS for INSPIRE
The latest release of ArcGIS for INSPIRE—Esri's Web GIS solution to ensure compliance with the European Union's spatial data sharing requirements—now supports the Annex III: Human Health and Safety data theme. This release also includes enhancements to INSPIRE Server Extension, Esri GeoPortal Server, and INSPIRE Metadata.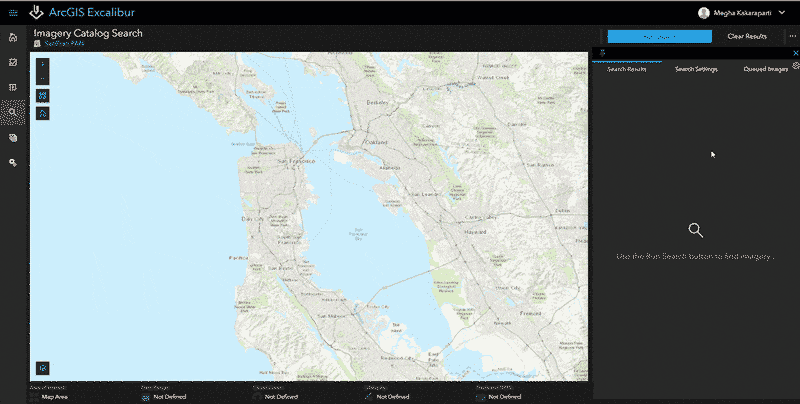 ArcGIS Excalibur
The new release of ArcGIS Excalibur v1.1 includes additional search settings filters and added functionality for layers. Additional search settings will enable users to refine results. Users can search observations based on the time that they were collected. Tools for the creation of a new observation layer has been added. The layer list lets you easily view and interact with layers in your imagery exploitation canvas has been improved so that you now have the ability to change the transparency on any context and project layers and allows you to easily toggle the visibility of the time slider for project layers.
Find out what's new in ArcGIS Excalibur.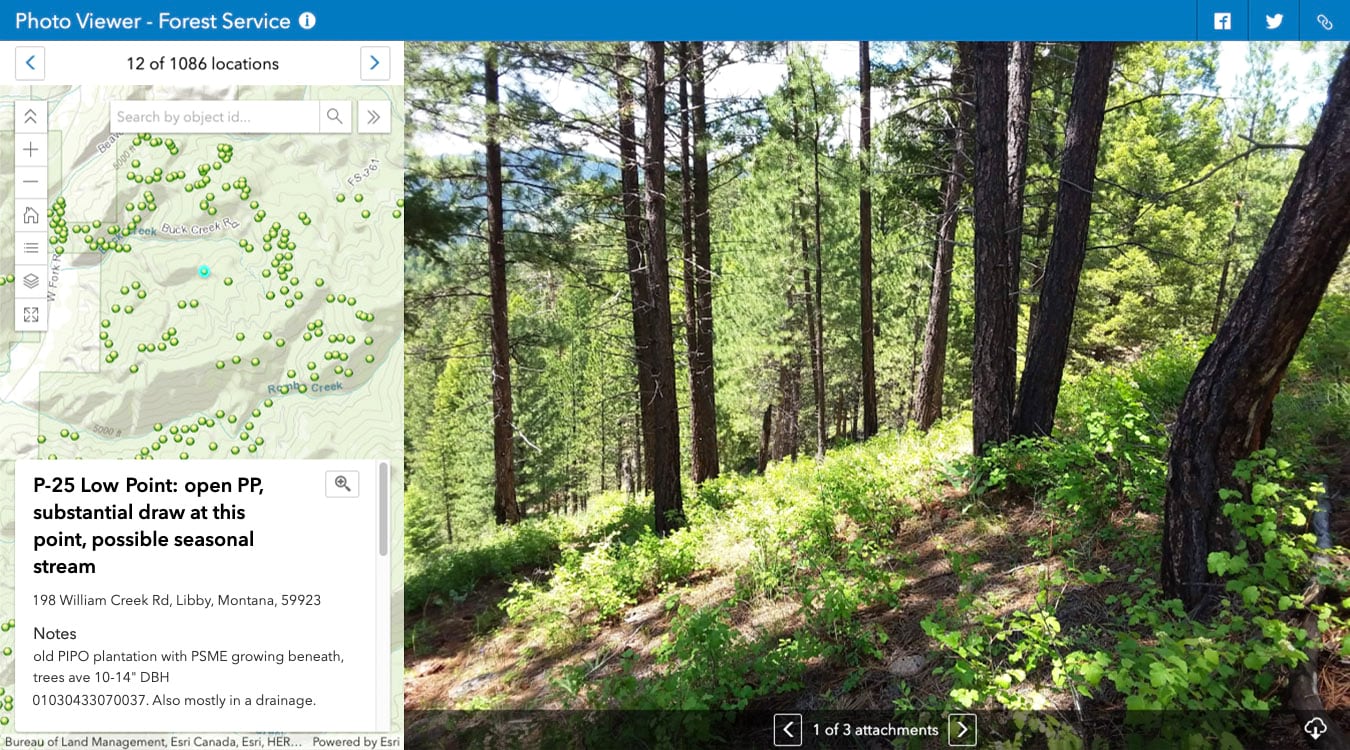 ArcGIS Online
ArcGIS Online was updated on June 25. Added features include new configurable apps, improved member management, mobile readiness, and complete smart mapping capabilities in Scene Viewer.
Attachment Viewer, a new configurable app, provides an immersive experience for users to review features with image and video attachments. App authors can present data and images collected with ArcGIS apps such as Collector for ArcGIS and Survey123 for ArcGIS.
Conveniently perform bulk member management tasks using the new filters and flexible search on the Members tab.
ArcGIS Online is now mobile ready. Administrators will notice the Licenses tab of the organization page works well on mobile devices. All users will experience an optimized mobile experience within the gallery, content, and group pages.
New smart mapping styles in Scene Viewer provide complete styling capabilities for lines and polygons. For example, you can now create attribute-driven 3D extrusions from building footprints and color them by usage type.
This is only an introduction to what's new in ArcGIS Online. Explore all the new features in our What's New blog post.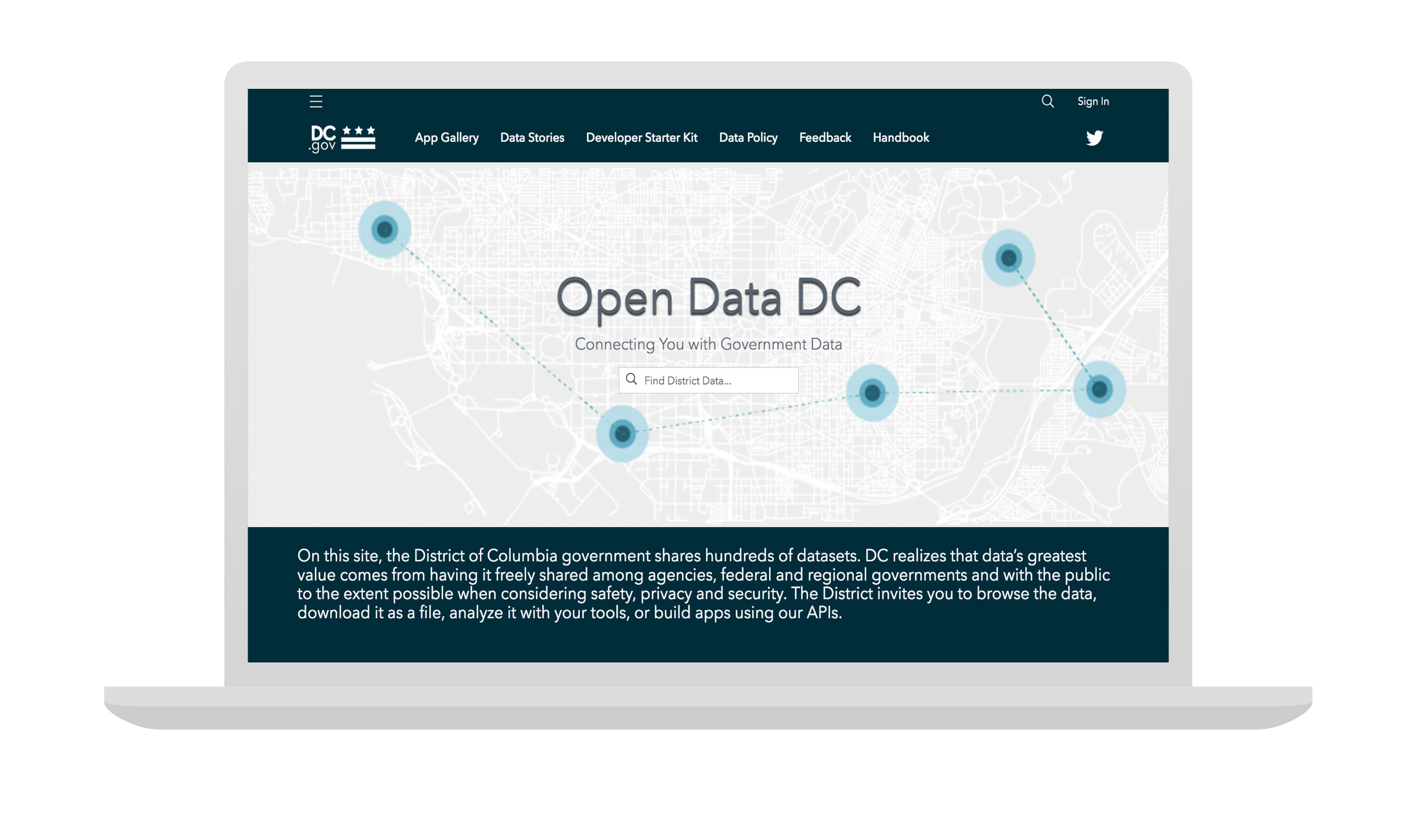 ArcGIS Hub
ArcGIS Hub continues to grow, shaping how you build sites, share content, and connect with your community. Recent enhancements include new global navigation and header options that are mobile responsive and easy for non-html users to configure. You can also now configure your hub to support SAML so that community members can sign in using your organization's identity provider. These are just a few of the things we've been working on. Check out our blog post to see what else is new and coming soon to ArcGIS Hub.
ArcGIS Apps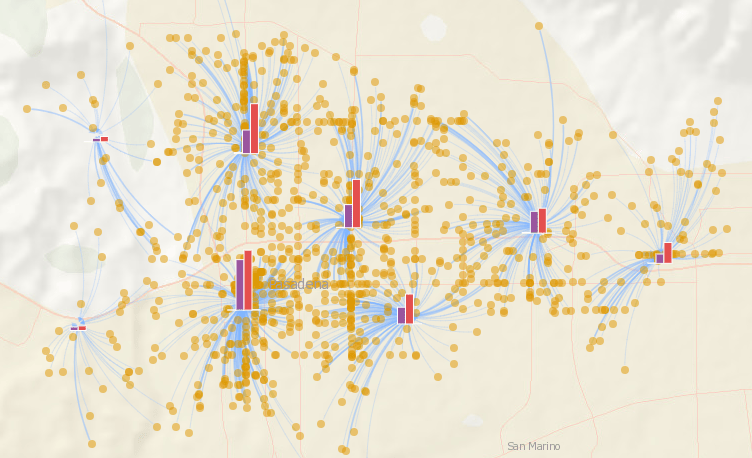 Insights for ArcGIS
Insights for ArcGIS, the analysis software that delivers self-service location analytics, keeps getting better. Our June release offers updates made to maps, charts, tables, and data in ArcGIS Online and ArcGIS Enterprise. Now, use pie charts and bar charts within a map to geographically understand the distribution of your data. We've also made it easier to work directly with shapefiles. Drag and drop shapefiles into the data pane to start analyzing, just like you would a spreadsheet. Additionally, take data sharing to the next level by saving feature layers as shapefiles and CSVs to share with colleagues and use in other applications, such as ArcGIS Pro, Excel, and more. Lastly, Summary Tables now support an unlimited number of variables, so you can group your data by as many categories as you want.
What else is new in Insights? Read our blog.
Who's using Insights? Read our case studies.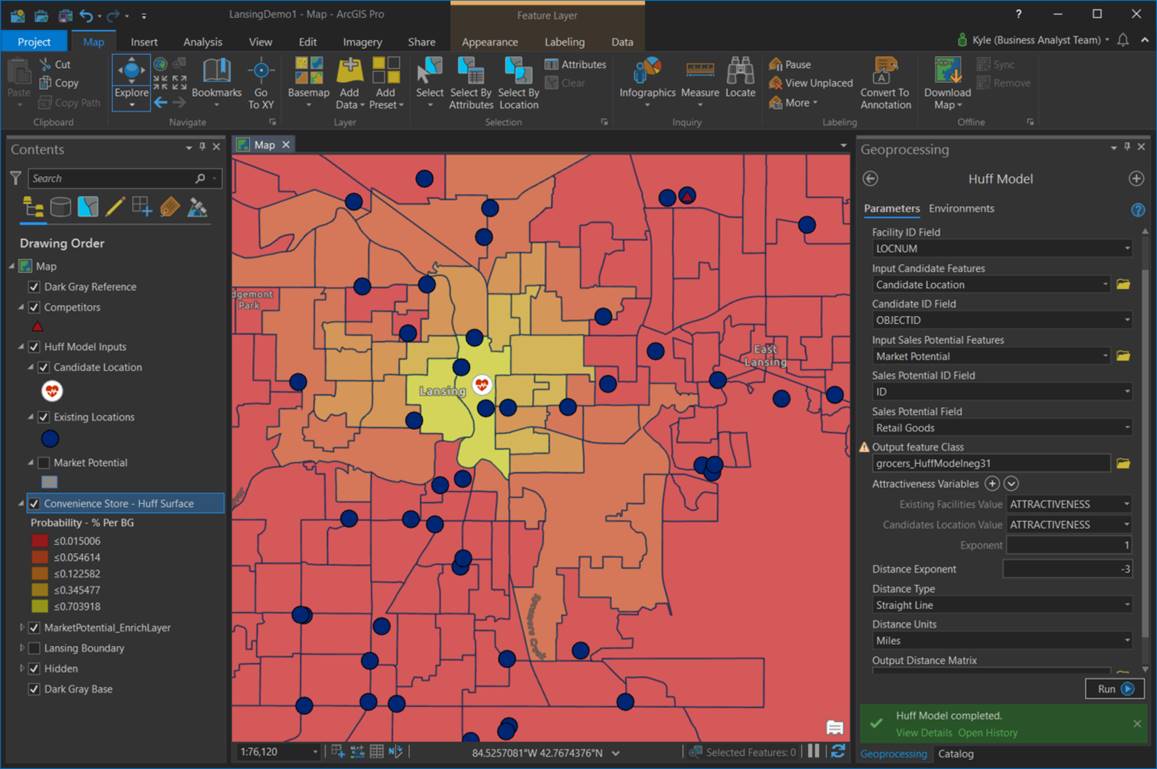 ArcGIS Business Analyst
The midyear updates for ArcGIS Business Analyst are here! We've included a brief description of three new features below, but you can explore the full list in our What's New in Business Analyst blog.
Easily Add Business Analyst Content to Esri Story Maps
Share your work in Business Analyst with Esri Story Maps! We've built a new workflow to add sites, maps, infographics, and reports to Story Maps in just a few clicks.
New Business Analyst Widget for Web AppBuilder
This new widget gives users the power to use infographics and classic reports in their Web AppBuilder applications. Access the starter infographic and report templates created by Esri or the custom templates in your ArcGIS Online organization.
Analyze Locations Using Huff Model
We've added a brand-new tool to Business Analyst for ArcGIS Pro that uses the Huff Model to analyze market potential of a new facility based on the impact of competitors, distance, and attractiveness values.
Check out everything new in ArcGIS Business Analyst.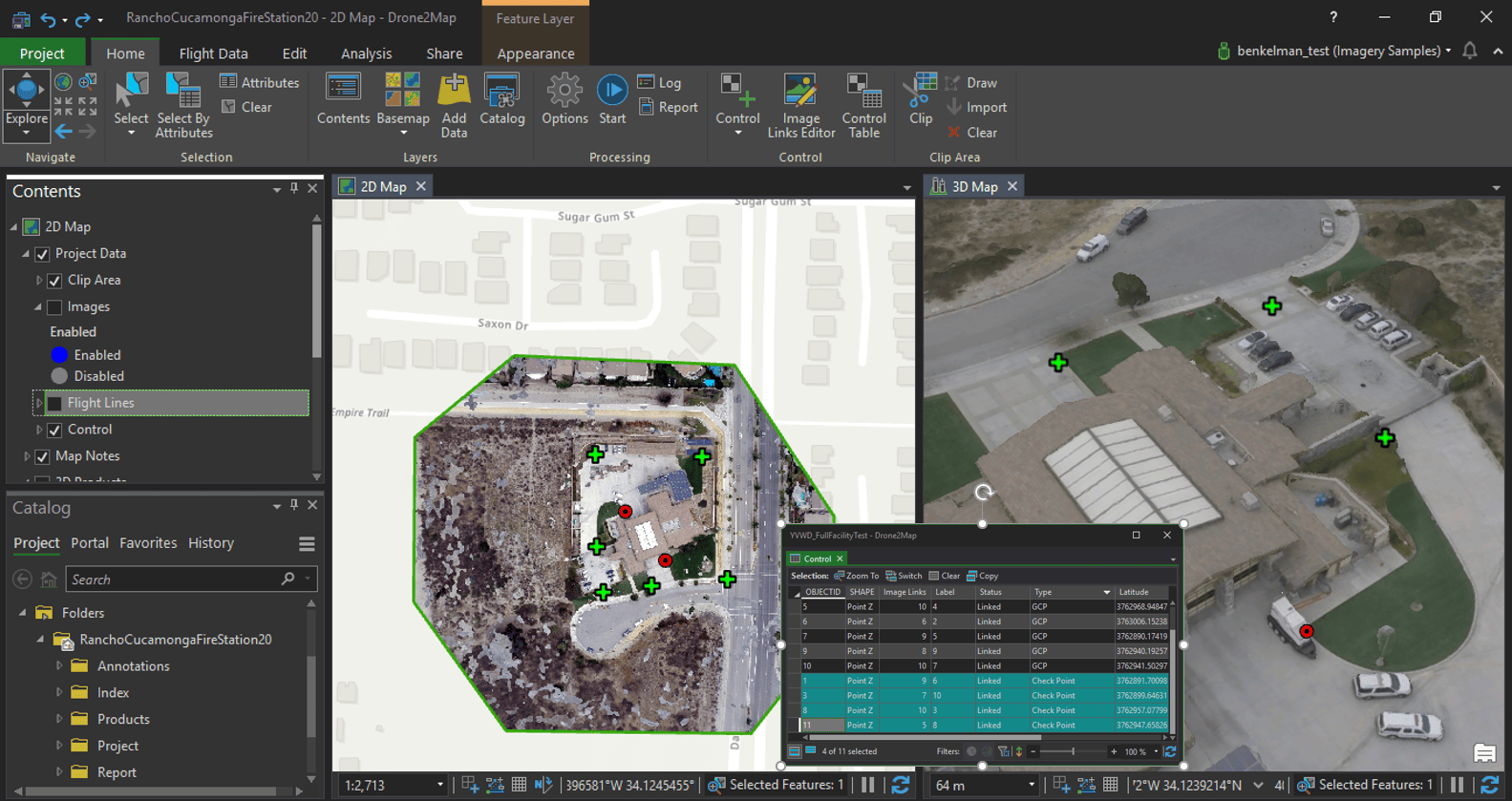 Drone2Map for ArcGIS
Drone2Map for ArcGIS 2.0 has a new underlying architecture to provide a deeper integration with the ArcGIS Platform, while still delivering a simple-to-use application for the non-GIS User. As a result, advances in image enhancements, 3D products, product accuracy reporting, and data management have been made. In image enhancements, options for changing the appearance of imagery and surface layers have been expanded to include dynamic range adjustment, histogram display, custom histogram stretches, more. E.g. Harvard U. just asked, "Can we get each image point labeled with the filename?" The answer is yes! New indices have been added for visualizing multispectral data. Better visibility to products and the built-in geodatabase without leaving Drone2Map for ArcGIS are possible with the addition of a catalog pane. Users can have more than one instance of Drone2Map running simultaneously.
In 3D, users are now able to load and visualize photogrammetric point clouds. Points may be rendered by elevation, class code, or RGB values, and the rendering may be customized. We have added the ability to display and query DSM elevations values. A mathematically rigorous accuracy report option is available as you can input independent check points (known coordinates for locations within the project area that are withheld from processing) to quantify the spatial accuracy of the output products.
Users will be happy with new support for ArcGIS mosaic dataset, the optimum data model for imagery in ArcGIS. Referred to as the Dynamic Mosaic in Drone2Map for ArcGIS, where each individual image is converted to the output (map) coordinate system "on-the-fly". This enables users to access individual images separately, to view an item of interest from multiple view perspectives, and to use as a rapid mosaic to scale projects.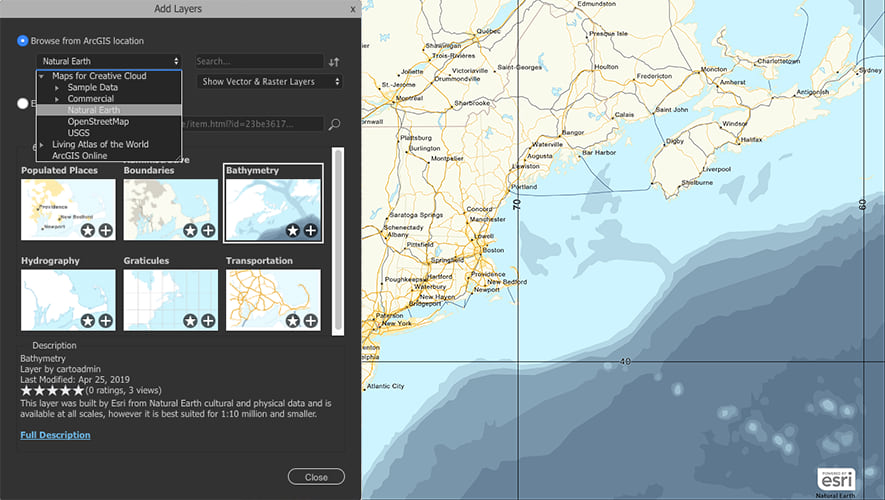 ArcGIS Maps for Adobe Creative Cloud
ArcGIS Maps for Adobe Creative Cloud has a fresh new look along with a fresh new way to access. Welcome "Plus", the user option that can be found directly within the product. Up until this point, this design focused product has been complimentary with a limited number of features and function. Now, Maps for Adobe Plus opens the door for designers and creatives alike by allowing users to access premium maps and layers, along with all new advanced features. See how companies like Cushman & Wakefield are utilizing this Plus option. Reimagine mapping all within ArcGIS Maps for Adobe Creative Cloud.
ArcGIS StoryMaps
ArcGIS StoryMaps, the next generation of Esri Story Maps, builds on the capabilities of the classic story map templates and adds a number of new features. For authors, StoryMaps has a single builder for assembling any type of story from content blocks such as narrative text, multimedia, maps, and embedded web content. Authors can create express maps with new simple mapmaking tools and add existing web maps and scenes. The story theming and the publishing processes have also been improved to support common workflows. Story viewers can read stories on any device, share social links, and embed stories in their own web pages.
For more information, see the ArcGIS StoryMaps FAQ. To get started with ArcGIS StoryMaps, go to esri.com/storymaps.
ArcGIS QuickCapture
ArcGIS QuickCapture is a new mobile application, included with Field Worker, Creator and GIS Professional user types. QuickCapture is specifically designed to help you capture field observations fast, with the single tap of a button. Its 'big button' user experience makes it ideal for at-speed data collection workflows, where field users must be able to capture information while travelling in a vehicle such as a car, helicopter, ATV, etc.  Use ArcGIS QuickCapture to support at-speed asset inventories, aerial surveys, rapid damage assessments, crop scouting or simply quick field observations. It is supported on Android, iOS and Windows devices and can be integrated with external GNSS receivers for higher location accuracy.
You can create ArcGIS QuickCapture projects through QuickCapture designer, a web-based experience where you can configure the look and feel, layout and behavior of your QuickCapture big buttons.  You can kick-start you projects on top of existing feature services from either ArcGIS Online or ArcGIS Enterprise. To get started with ArcGIS QuickCapture, go to https://quickcapture.arcgis.com  (available on June 25).
Collector for ArcGIS
The Collector 19.1.0 release of Collector for iOS includes improvements to disconnected workflows. Downloading an offline map area is now optimized by referencing a basemap already on the device. Users can deploy and manage basemaps using the Files app which supports the latest tile package format, CompactV2 (.tpkx). In addition, support for image services enables more information to be taken with you offline. For ArcGIS Enterprise customers, deployment to new users or devices has been simplified through app links that can be shared. For high-accuracy data collection in difficult environments, remote locations can be captured using a laser rangefinder in conjunction with an Eos GNSS receiver. When collecting related features, collection behavior can now be configured to achieve the desired workflow.
See what's new in Collector for ArcGIS.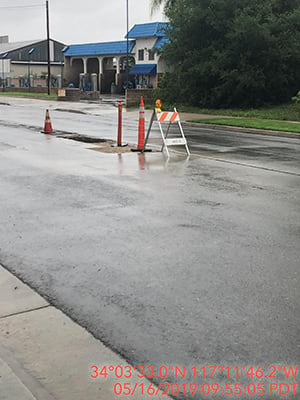 Survey123 for ArcGIS
Survey123 for ArcGIS has had two incremental releases since the previous ArcGIS Online update. Users can now trigger webhooks when a survey has been edited via the field app or web app. In the Survey123 website, the feature report functionality is now officially supported and the Data page supports viewing related tables. Surveys that are created and shared by others can be previewed and saved. Those using multiple accounts can switch accounts without signing out. In the web designer, users can control multiple submissions, set the open/close status of a survey, and set the read-only properties of some question types. The field app now supports creating watermarks on photos, a new grid theme layout and has a new improved inline validation of error messages. The user interfaces of Survey123 Connect and the field app have been updated in addition to other improvements.
See what's new in Survey123 for ArcGIS.
Esri Demographics
The June release of ArcGIS Online will include updates to demographic data for several countries. See what's new in North America, Central America, Caribbean, and Oceania regions. In the United States, new historical time series data is now available for Population, Households, and Housing Units. Discover the Wealth and Housing Affordability Indexes, Life-stage and Age Dependency Ratios, and expanded New Worth datasets. Looking for predictive datasets? Five-year trend data is now available for Consumer Spending.
Web AppBuilder for ArcGIS
The Web AppBuilder for ArcGIS June 2019 update includes continuous support for accessibility, a new widget, and improvements to a number of existing widgets. The new Business Analyst widget provides a way to generate Business Analyst Infographics and Classic Reports. Other enhancements have been made to Query, My Location, Near Me, and Threat Analysis widgets – see the What's New documentation for more information.
New Developer Capabilities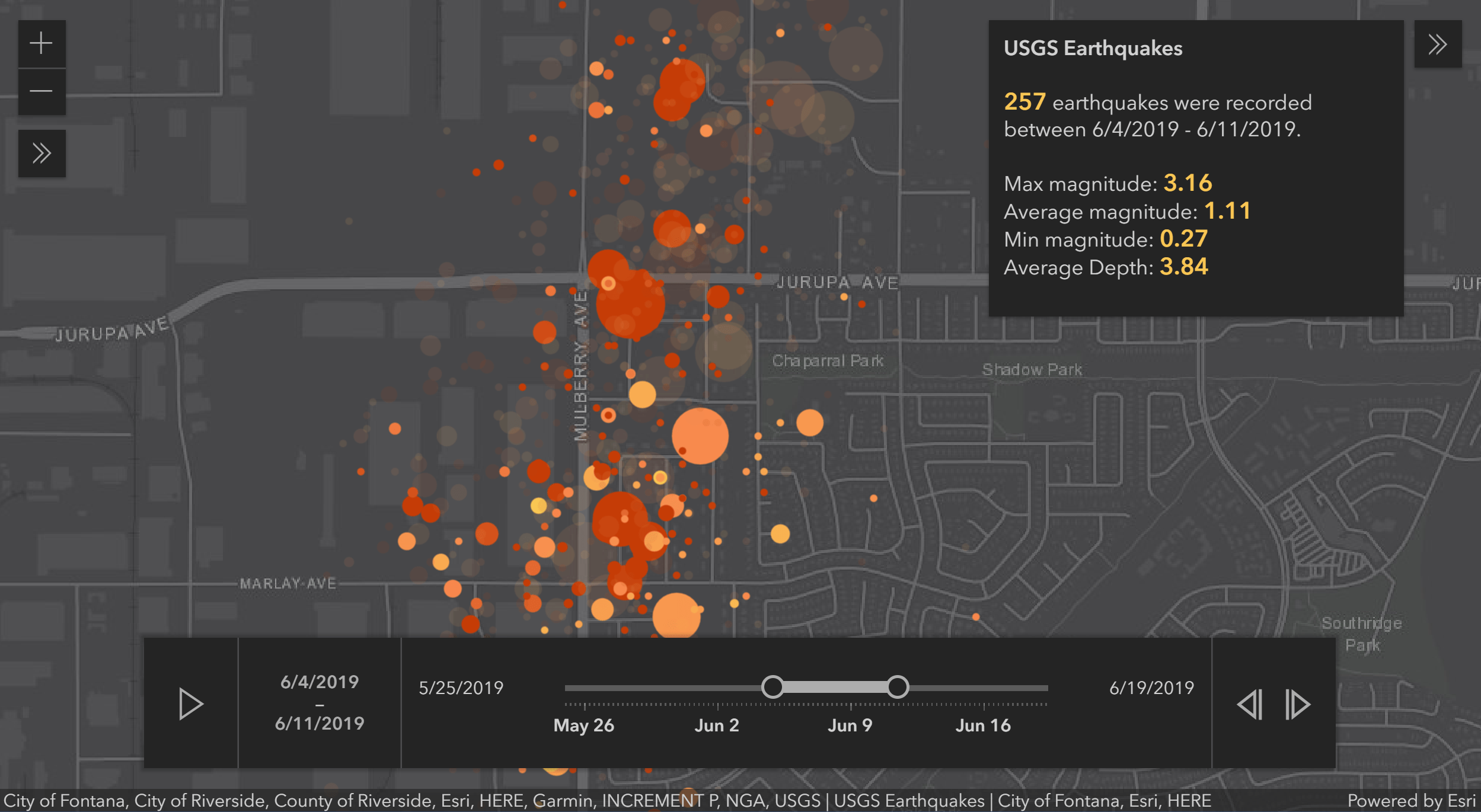 ArcGIS API for JavaScript
The July update to ArcGIS API for JavaScript (version 4.12) is here. This release both enhances 4.11 capabilities such as adding a time slider for temporal-based rendering, and introduces new features that are completely new to the API like realistic water rendering in 3D scenes. 4.12 also has performance optimizations which will have a noticeable positive impact on the overall user experience of your app. Learn more.
Commenting is not enabled for this article.