ArcGIS Business Analyst helps organizations make informed decisions for marketing, resource management, and site expansion. With this release, ArcGIS Business Analyst Web and Mobile Apps are more secure, have enhanced analysis outputs, updated data, and a simplified mobile sign-in process. This release brings many behind-the-scenes updates, but this blog will focus on a few of my favorites.
Here are the December 2020 updates that will be highlighted in this blog:
Report sharing via links or zipped files.
Void Analysis enhancements with a new map option.
Mobile App login via fingerprint and face recognition.
Data including new premium Esri Thailand data and other updates.
NOTE: for those using the on-premises version of ArcGIS Business Analyst Web and Mobile Apps available through ArcGIS Business Analyst Enterprise, the following changes will be included in a future release, tentatively scheduled for March 2021.
Report sharing
The Business Analyst team is working diligently to achieve Federal Risk and Authorization Management Program (FedRAMP) certification for ArcGIS Business Analyst Web App. Cloud security is a major concern for us and for those who use Business Analyst. Attaining FedRAMP authorization in the future will ensure that our users are working in an environment that meets the highest standards in cloud security.
Prior to this release, Business Analyst Web App users were able to enter an email address where notification of reports could be sent. To make the system more secure and to meet FedRAMP security requirements, this email address field was removed. In lieu of this field, users can copy the URL of the report and paste the link directly into an email message or download the reports as zipped files.
For more information about this update and screenshots of the update, check out this blog by my colleague Helen Brown.
New map option for Void Analysis report
Using the Void Analysis tool in Business Analyst Web App, you can identify gaps in specific businesses and services, compared to similar areas. With this release, you can now add a map of the analysis area (your study area), the reference area (the region you are using for comparison), or a map that includes both boundaries and businesses within them. The example map below is a Void Analysis example that includes the analysis area, reference area, and business locations.
Pro tip: If you are new to Void Analysis and want a bit more instruction, the in-app guided tutorials can be launched by clicking your Account Details on the top-right of the screen next to the username and selecting Guided Tutorials from the dropdown.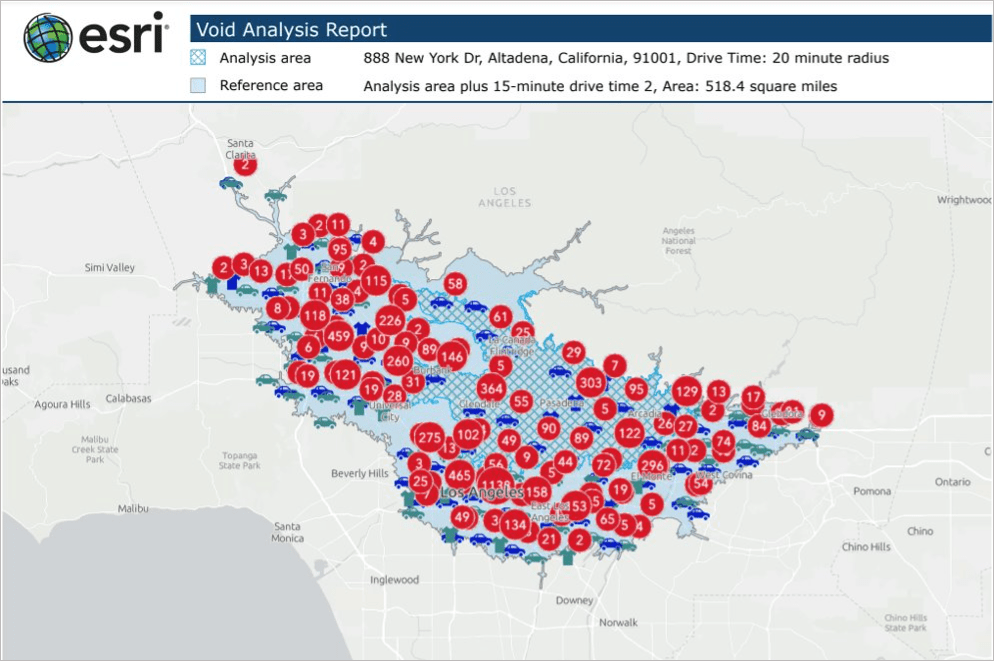 Log in to Business Analyst Mobile App using face recognition or fingerprint
ArcGIS Business Analyst Mobile App can be used to access site and demographic data when you're away from the office. With this release, we have streamlined and enhanced security by adding biometric authentication using face recognition or fingerprints for faster login. For both security and convenience reasons, biometric logins will last for up to 90 days before a manual login is required.
For more information about biometric authentication in Business Analyst Mobile App, check out this blog article by my colleague Jonathon Hazlett.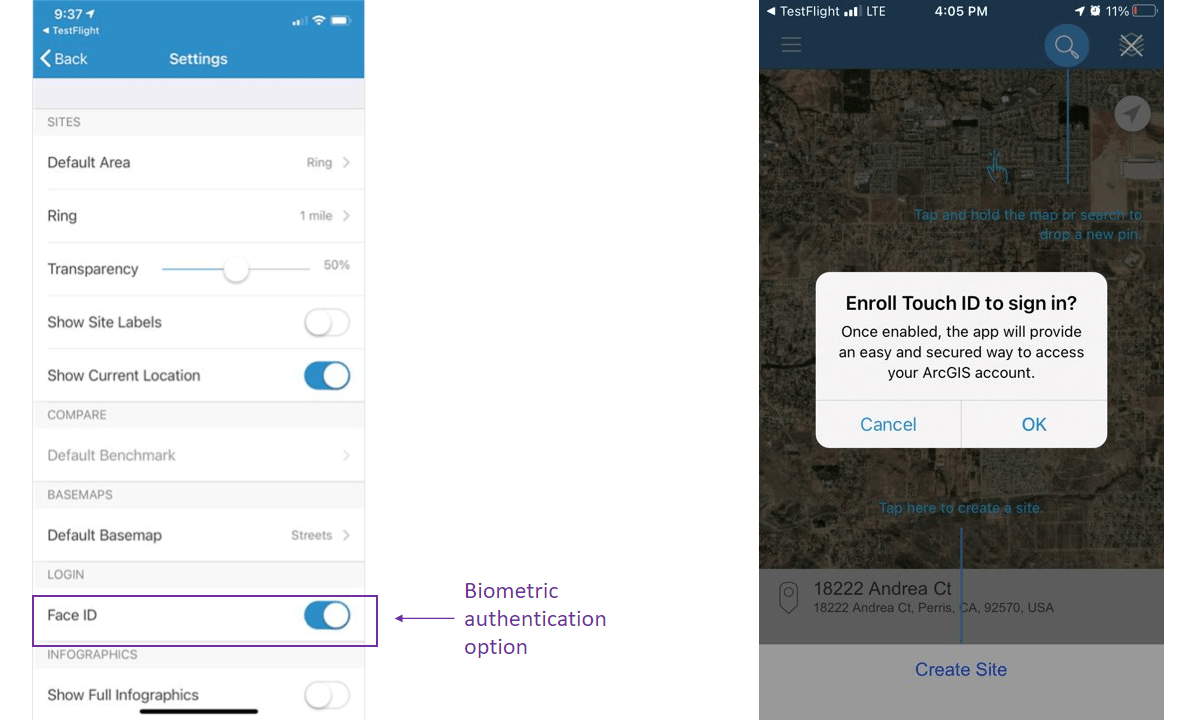 Data updates
New Esri Thailand data
Brand-new advanced Esri Thailand data is now in ArcGIS Business Analyst Web App. This new data includes four geography levels, including "subdistricts" to help you get even more granular data than before. The data includes 478 variables (for the year 2019 vintage) and comprises topics such as household spending and income, household and population totals, and population by age, education, and occupation.
Other data updates
With this release, we've updated Esri Japan demographics data, USA businesses and traffic, and Michael Bauer Research (MBR) 2020 data updates for Hong Kong, Singapore, and Colombia. To read more about the data updates, please visit the ArcGIS Business Analyst data documentation page.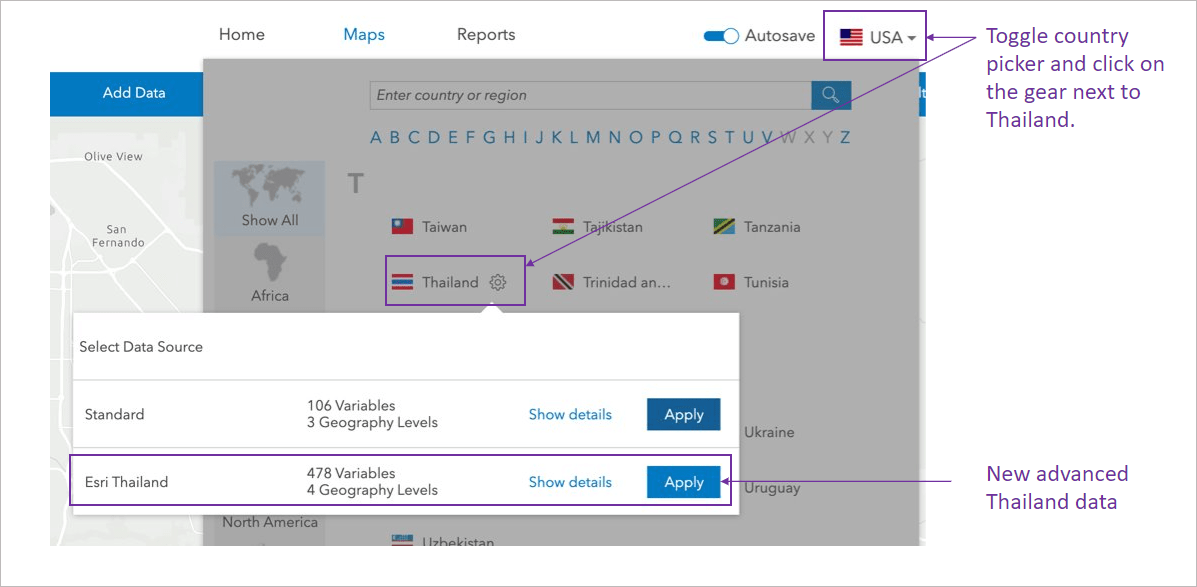 Additional Resources
We hope you are enjoying the December 2020 release of ArcGIS Business Analyst Web and Mobile Apps! Additionally, please visit the following sites for additional information on ArcGIS Business Analyst: