Electric Utilities
---
Esri's location intelligence system is a complete GIS for utilities. Helping you work better and smarter. Empowering transformation through innovation. Advancing your grid modernization, safety, asset management and customer experience efforts.
USER SUCCESS STORY
ArcGIS allows El Paso Electric to stay in compliance
Utilities today must use information effectively, and foster collaboration with all their stakeholders. Read how El Paso Electric is using Collector for ArcGIS to help identify sensitive environmental zones to stay in regulatory compliance.
Mobility
Use the power of location to improve coordination and operational efficiency in field workforce activities. Reduce or even replace reliance on paper. Ensure that both field and office workers use the same data to reduce errors, boost productivity, and save money.
Emergency Management
Preparing for the new normal requires awareness of increasingly complex threats and hazards. Esri provides a complete solution suite for the most mission-critical operational challenges.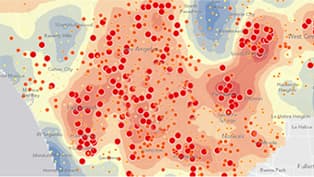 Analytics
The business of a utility is inherently spatial, spatial analytics tools allow data to be analyzed over geographic space and time to turn that data into actionable intelligence.