The Great Recession of 2008 and 2009 had a devastating impact on the architecture, engineering, and construction (AEC) industry, leading many firms to lay off staff. The leadership team at engineering and environmental services firm Langan saw something different in the wake of the crisis: a growth opportunity.
Leaders sensed that by applying the latest technologies to emerging sectors like e-commerce and sustainable design, the firm—founded in 1970 in New Jersey—could emerge from the economic downturn stronger.
One of the assets at the forefront of Langan's growth plan was a geographic information system (GIS). Location is the common point of reference for nearly everything in the world of engineering and construction. GIS-based smart maps enable Langan's designers and clients to plan and monitor infrastructure projects or track energy usage across a corporate campus.
When company leaders saw the technology's ability to analyze and visually model huge datasets, saving the firm time and money, they gave the go-ahead to form a small GIS team.
New Patterns of Growth
Tony Yates was one of the very first hires to the group run by Brett Milburn, Langan's director of applied technologies. A Pennsylvania native with a degree in GIS, Yates brought an unflappable demeanor and an agile mind for spatial problem-solving in Langan's areas of specialty, which range from environmental remediation to college campus development. In 2010, that made Yates an early member of the new analyst set—GIS professionals who understand business needs and apply location technology to address them.
As Langan expanded to 40 office locations globally, Yates's group grew from 3 members serving the Northeast US to 40 colleagues consulting nationwide, and he became a senior GIS manager.
"We made a focused effort at management level to expand [their] capabilities, which meant growing the group, bringing in different expertise around GIS and technology," says Jamie Barr, a principal at Langan. "It was a conscious decision that was catalyzed by Tony and Brett Milburn and their group."
In a validation of the firm's postrecession strategy, location intelligence—the spatial insight generated by GIS—boosted Langan's competitive advantage through more effective project management and the ability to guide clients toward new real estate opportunities. In an era of sustainable design, Langan also uses GIS to monitor its own efforts to shrink its carbon footprint.
A Leader in Sustainability
Langan achieved carbon-neutral status in 2018, and with the help of volunteer "green teams" in every office, reduced its annual paper usage by 53 percent and electricity usage to 16 percent below the US average. To track office-by-office metrics on paper use and carbon emissions and examine the trends behind the findings, company executives consult GIS dashboards created by analyst Olivia Godfrey.
"A lot of those factors that end up applying to overall sustainability really do need the [lens] of, Where is this all happening?" Godfrey explains.
Yates concurs. "One of the things we're seeing GIS play a huge role in is not only understanding that data, but then presenting it internally and externally through interactive dashboards."
Langan's dedication to environmental stewardship has attracted clients pursuing their own sustainability strategies. Recently, the firm was able to draw on in-house expertise when a campus client wanted to analyze and communicate trends in energy use across its many buildings. The client had a system to monitor energy consumption, but lacked an effective way to review the data and present it to others.
Yates and colleagues built a GIS-powered web viewer that allowed executives to see where energy use was highest and lowest and make determinations about which factors might account for the differences.
Langan's GIS team has also developed a map of sustainability-focused projects that are under way or complete. Through this interactive dashboard, employees can see how the firm helped various clients achieve LEED certification or reduce their carbon footprint, and can connect with relevant project leaders for more information.
"This is a new way of looking at the data and helping us understand not only our own initiatives but then, in turn, selling this to our clients and saying, 'This is the way to look at your data, to help you achieve your sustainability goals,'" Yates says.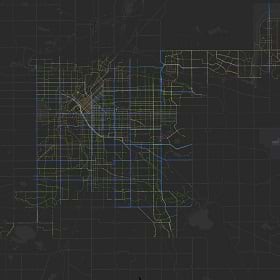 Carbon neutrality—that's the future, right? Having that sustainable mindset has become part of the core culture [at Langan].
---
Jamie Barr, Langan
"Find Me the Next Site and I'll Give You the Work"
Langan's sustainability success is just the latest example of its innovative use of GIS technology. Coming out of the lean postrecession days, AEC firms competing for bids were under pressure to gather, analyze, and present information quickly to win work. When Yates joined Langan, he was able to employ location intelligence to help the firm win more work and drive projects to completion.
"A lot of projects have very short fuses on which they need to close," Barr says. "The faster we can obtain our information, the faster we can make our decisions."
Members of Langan's site selection team knew this all too well. They advise clients on where to locate their next retail store, warehouse, or data center. Clients often said, "Find me the next site and I'll give you the [engineering] work." But properties that did reach the market often sold before the site selection team could recommend them.
Langan's site selection experts asked Yates if spatial analysis could identify ideal properties before they came up for sale. He and the team gathered data on the metrics that mattered most to clients—acreage, drive times to access the facility, local demographics, tax credit zones—and ran a GIS analysis on all relevant parcels, not just the ones currently on the market.
With this insight, clients could reach out to the owners and raise the prospect of a sale before the competition even caught wind of it.
When Yates presented the interactive site selection tool, the client said the time saved by the dashboard would be invaluable.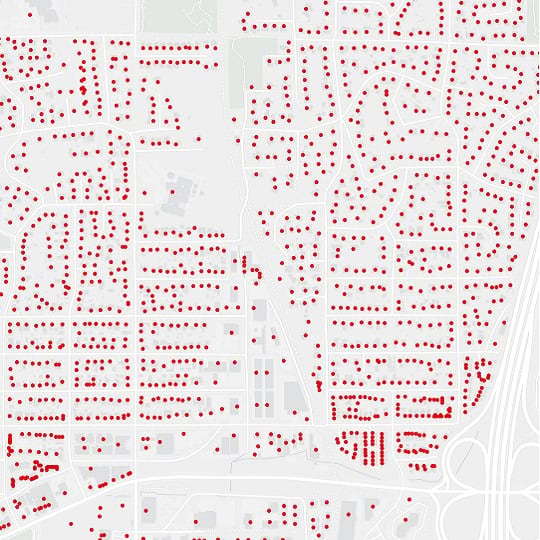 People are now seeing the power of [GIS], and they're understanding their projects at a higher level. They're not running into those unnecessary meetings [about] where things are located and spending extra time and resources to understand the picture before they move forward.
---
Tony Yates, Langan
Finding Spatial Solutions
With time, Yates and his fellow new analysts became known for this kind of enterprising problem-solving. Executives would present a business need, and the GIS team would find a technological solution that often wowed the customer. "He's an out-of-the-box thinker and extremely responsive," Barr says.
The location intelligence that Yates and colleagues were able to bring to projects often helped streamline workflows and uncover inefficiencies. In one project, Langan was tasked with helping a large West Coast city assess weak points in its aging stormwater system.
The team used GIS-based machine learning to automatically analyze aerial imagery and determine the permeability of each property's surface. That shaved weeks off the process of determining how stormwater moved through the city.
GIS technology's ability to amass and synthesize huge amounts of data also made it a natural fit for Langan's health-care or education clients based on large corporate campuses.
The firm helped one large campus, spread across nearly 500 acres, track a series of ongoing construction projects. Pulling from data painstakingly gathered by survey crews, Yates and the GIS team helped the owner determine where assets were buried underground, how new buildings would interface with existing infrastructure, and how to reroute and update projects to avoid conflicts.
"[Clients] know that if they access GIS, they are going to get the best available data possible, and they don't have to look and sort through five or six different contacts or departments to find the information they're after," Yates says.
When Yates first joined Langan as a ground floor employee on the GIS team, many of these solutions, both internal and external, might have seem far-fetched to an outsider. But like most new analysts, he was fueled by a sense of potential.
"The thing that's exciting me the most about the future is how much more we can develop and grow our team," he says. "The technology is constantly evolving."