ArcGIS Living Atlas of the World is the foremost collection of geographic information from around the globe. It includes curated maps, apps, and data layers from Esri and the global GIS user community that support your work. Visit the ArcGIS Living Atlas of the World website where you can browse content, view the blog, and learn how you can contribute.
Here's what's new since the last ArcGIS Living Atlas News (November 2020) and the ArcGIS Living Atlas update in What's New in ArcGIS Online (December 2020).
Quick links
Use the links below to jump to sections of interest. Use your browser back arrow to return to the top.
---
Living Atlas Apps
Content from ArcGIS Living Atlas of the World is used to make valuable apps for visualization and analysis. These apps can be found under the apps tab at the Living Atlas website.
U.S. Vessel Traffic
The Living Atlas U.S. Vessel Traffic application is a new and fun tool that lets you explore the paths of vessels in and around U.S. waters, look for patterns and trends by time, vessel type, and place, and it provides a simple and efficient way to download manageable-sized, area-specific, excerpts.
The data is sourced from the Automatic Identification System (AIS) provided by the USCG, NOAA, and BOEM through Marine Cadastre. For more information, see Introducing the U.S. vessel tracking app.
USA Wildfires
Updates have been made to the USA Wildfires app to enhance the visualization of smoke, including better control of time animations for smoke forecasts. Pop-ups have also been improved.
---
Basemaps
Esri basemaps are updated regularly with data from commercial, open, and community sources. All vector basemaps have been updated using data from Here, SafeGraph Places, and content contributed to the Community Maps Program. In addition to content updates, support for six additional languages is undergoing review and is scheduled for release in March.
OpenStreetMap
The OpenStreetMap (OSM) vector basemap that is available to ArcGIS users and developers is updated every few weeks. In addition, a new OpenStreetMap Daylight map (beta) continues to evolve, with regular updates and releases. The map is based on the latest version of Facebook's Daylight Map Distribution that includes enhancement to the OSM data made in collaboration with Microsoft.

For more information, see Dawn of OSM Daylight in ArcGIS or the OSM Daylight group. Other OSM basemaps and layers can be found in Living Atlas.
Other updates
The Arctic Imagery basemap has been updated to include TerraColor NextGen Imagery, featuring a new black background style.
---
World Elevation
Living Atlas provides foundation elevation layers and tools to support analysis and visualization across the ArcGIS platform. These layers are updated quarterly with high-resolution elevation data from various sources and the Community Maps Program.
World Elevation Servers hosting dynamic image services (Terrain and TopoBathy ) and tools (Profile, Viewshed and Summarize Elevation) were upgraded to 10.8.1 providing enhanced security and performance. World Elevation services support requests only over HTTPS in compliance with the ArcGIS Online HTTPS enforcement.
To view the coverage extents of each source comprising World Elevation services, see the Elevation coverage map.
---
Imagery
Landsat
Important changes are underway, representing a period of transition for Landsat content. In December 2020, the USGS released Landsat Collection 2, marking the second major reprocessing campaign on the Landsat archive.  Collection 2 processing delivers several data product improvements that harness recent advancements in data processing, algorithm development, and data access and distribution capabilities.
Over time, between January 2021 through June 2021, these new Landsat image services will be introduced in Living Atlas and existing services will be retired. For more information, see Introducing Landsat Collection 2.
NAIP
The NAIP Imagery basemap, containing high-resolution aerial photography from the National Agriculture Imagery Program,  has been updated with NAIP 2019 imagery and moved from beta to general availability. The NAIP Imagery basemap is now also available as part of the U.S. basemap gallery.
---
Environment
Live Stream Gauges
A new version of  Live Stream Gauges is now available in Living Atlas. The new version includes several significant upgrades, including improved scalability and performance, additional gauges from Canada and England, a new field that calculates and displays the hours since the last update, and improved cartography. The layer is updated hourly, though individual stations vary in their update frequency.

For more information, see New version of live stream gauges in Living Atlas. Additional resources for understanding current and potential flood conditions are detailed in ArcGIS Living Atlas layers for water resources.
USA Wind Turbines
USA Wind Turbines is a new feature layer showing location of wind turbines based on the U.S. wind turbine database developed by the United States Geological Survey (USGS) in collaboration with the Lawrence Berkely National Laboratory (LBNL) and the American Wind Energy Association (AWEA).

The data were created by combining publicly available data from the Federal Aviation Administration (FAA), USGS Wind Farm data from a prior effort, online sources, and data privately held by AWEA and LBNL. The locations of all turbines were visually verified to within 10 meters using high-resolution imagery. Attributes in this database include information on both the individual turbines (make and model) and the larger wind power project (commonly called a wind farm).
Critical Habitat
A new U.S. Fish & Wildlife layer is now available, representing the authoritative source for critical habitat.
Until recently, Living Atlas of the World has maintained 17 raster layers representing critical habitat, including 15 individual species of concern. Updated annually, these raster layers did not exactly match the FWS HQ ES Critical Habitat layer, which is updated throughout the year.
These individual raster layers will no longer be maintained and will enter mature support. These separate layers are now replaced by the FWS HQ ES Critical Habitat layer.

ArcGIS Pro users can create their own habitat rasters from the layer for specific uses and analysis. For more information, see Making critical habitat rasters with Living Atlas.
VIIRS
Three new VIIRS imagery layers featuring imagery captured daily by the NOAA-20 satellite are now available. For more details, see all of the MODIS and VIIRS layers available in Living Atlas. The layers are the result of collaboration with NASA's Global Imagery Browse Services (GIBS) team.
USA Flood Hazard Areas
The Federal Emergency Management Agency (FEMA) produces Flood Insurance Rate maps and identifies Special Flood Hazard Areas as part of the National Flood Insurance Program's floodplain management. Special Flood Hazard Areas have regulations that include the mandatory purchase of flood insurance.

The updated USA Flood Hazard Areas feature layer displays Flood Hazard Areas from the Flood Insurance Rate Map created by the Federal Emergency Management Agency. For more information, see the item overview.
NOAA Global Temperature Anomaly
NOAA Global Temperature layers have been added, representing climate analysis of global mean air and ocean temperature for each year compared to the 1971-2000 average provided by NOAA's National Centers for Environmental Information.
The resulting temperature anomaly (or difference from the average) is shown in this feature service, which includes an archive going back to 1880. The data updates monthly. For details and more information, see the NOAA global monthly temperature anomaly layers or Official global climate data now in ArcGIS Living Atlas.

European Centre for Medium-range Weather Forecasting
The European Centre for Medium-range Weather Forecasting (ECMWF) publishes a 6-day river forecast, with streamflow reported in 3 hour time intervals, updated daily.
The GEOGloWS ECMWF Streamflow System (6 Day Forecast) map image layer has been improved with new stream flow modeling and visualization, bringing the cartography in alignment with prevailing industry standards.
The map service is designed for fast data visualization. You can identify features by clicking on the map to display the pre-configured pop-ups and view the forecast data sequentially using the time slider, which is set to three hour intervals by default.

For more information, see the layer and map item details and Significant improvements to global stream flow services.
USDA Census of Agriculture
The Census of Agriculture, produced by the USDA National Agricultural Statistics Service (USDA), provides a complete count of America's farms, ranches and the people who grow our food. The census is conducted every five years, most recently in 2017, and provides a in-depth look at the agricultural industry.

Various layers based on the census have been published, including cotton production, corn production, soybean production, hog production, rice production, dairy production, cattle production, wheat production, and farm sales and value of farm equipment. For more information, see Explore the U.S. Census of Agriculture.
Hurricanes
The historic hurricane archive has been updated to include all events through 2020. These layers can be used within ArcGIS Pro to analyze hurricane patterns. For more information, see Analyze patterns of global hurricane data.
The 2020 Hurricane Season map has been updated with new cartography. The map displays the record breaking 30 named storms of the 2020 Atlantic Hurricane Season, along with storms from other basins throughout the year.

Other
The Significant Volcanic Eruptions feature layer was updated. The layer, utilizing data from the National Oceanic and Atmospheric Administration, displays global locations of significant volcanic eruptions.
USA Monthly and Seasonal Drought Outlook has been upgraded. The layer includes forecast drought for the contiguous United States and Puerto Rico from the NOAA Climate Prediction Center. The improvements include performance enhancements and improved pop-ups and cartography. NOAA Climate Prediction Center's forecast can be used in conjunction with the USA Drought Conditions layers to understand current and future drought impacts.
GIS for Climate Hub
The GIS for Climate Hub was created to provide a variety of resources to get you started in climate analysis or help develop more advanced workflows.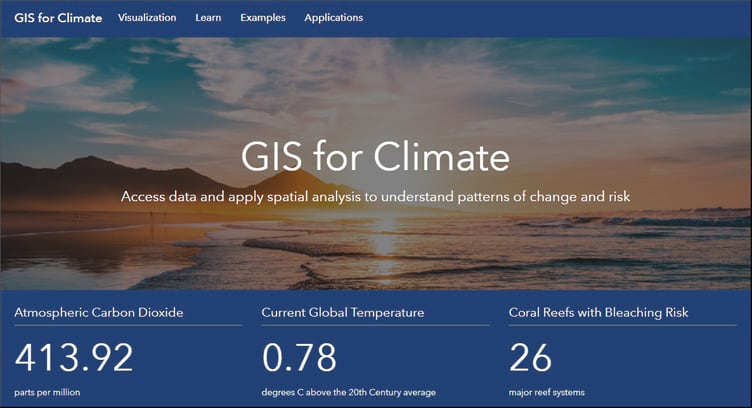 The Hub includes curated data and examples of visualizations, as well as Learn GIS lessons and web apps and storymaps to help understand climate.
---
Policy Maps
American Community Survey (ACS)
The Living Atlas Policy Maps team maintains a collection of 104 layers containing a wealth of data from U.S. Census Bureau's American Community Survey (ACS). ACS is an ongoing survey by the U.S. Census Bureau that provides vital information on a yearly basis about our nation and its people.
You can quickly map more than 1,700 ACS attributes covering a wide range of demographic topics such as income, housing, age, race, education and more. Each layer already shows an interesting subject on the map, with an informative pop-up so that you can immediately see important patterns anywhere within the U.S. or Puerto Rico.
You can also use the layers to create your own web maps, dashboards, and applications in order to tell an endless number of stories about the population or housing in your area. For more information, see What's new with Census ACS Living Atlas layers.
New maps based on ACS data have been recently published and are available in Living Atlas as well as Esri Maps for Public Policy. These include:
Where are Hispanic populations without health insurance?
Where are minority populations with no health insurance?
When was the housing stock built?
Where are single-family detached homes that are rented?
What percentage of housing units are single-family detached?
What is the median household income in the US?
Population that is Some Other Race in the US
Hawaiian or Pacific Island Population in the US
American Indian or Alaska Native Population in the US
Population that are Two or More Races in the US
Hispanic or Latino Population in the US
Black or African American Population in the US
You can view the entire collection of ACS content in the Current-Year ACS Map and App Examples group, or view all ACS layers in Living Atlas. To learn how to do more with ACS layers, see Reveal demographic trends over time with ACS layers.
FCC Broadband
The new Omnibus Broadband Scores web map is now available, built from a new layer showing broadband availability for every neighborhood in the U.S. and outlying areas, and showing a score for every state, county, tract, block group, and block.

These layers are also available:
FCC Form 477 Fixed Broadband June 2019 Version 1 Summary View shows the broadband service level in every neighborhood in the U.S. and outlying areas. Service level is categorized based on the number of providers and speeds available.
FCC Form 477 Fixed Broadband Deployment Summary by Census Geography with Provider Data shows broadband availability for every neighborhood in the U.S. and outlying areas. It summarizes the Federal Communication Commission (FCC) Form 477 data by transmission technology used and speeds offered at Census Block and larger areas.
Bureau of Labor Statistics
Monthly updates continue for US unemployment data from the Bureau of Labor Statistics with web maps that highlight changes in unemployment from month to month and year to year.

Johns Hopkins University / Esri COVID-19
Daily and weekly updates continue on this collection of global and U.S. COVID-19 layers, maps, and apps.
Esri Maps for Public Policy
Policy maps clearly show where there is an opportunity to intervene. Esri Maps for Public Policy provides instant access to useful maps that illuminate areas where your work can make a difference. Free to the public to view and use, these policy maps give your team a head start understanding the people, organizations and issues in your community.
Use the Policy Maps web app to browse focused, useful maps on specific topics about your community. Use the app to view maps and click Collect to add a map to your collection. Then share your collection of maps with anyone via email or social media, so they see the exact maps you want them to see.
Esri Maps for Public Policy Resources have recently been updated, providing links to documents, Learn GIS lessons, and best practices to help you get the most out of Policy Maps.
---
Community Maps
The Community Maps Program enables community contributions of authoritative data to help build the ArcGIS Living Atlas. You can provide feedback, create detailed features, and share data layers and services, contributing to Esri basemaps that anyone can use.
Recent updates include content from commercial and community sources. There are now over 1,800 active editors, having contributed over 210,000 features. For more information, see Basemaps and World Imagery service updated with community content.
---
More information
For more information, see the following:
Commenting is not enabled for this article.